Feterl's last season at Baumholder is an impressive debut
by
Rusty Bryan
May 29, 2003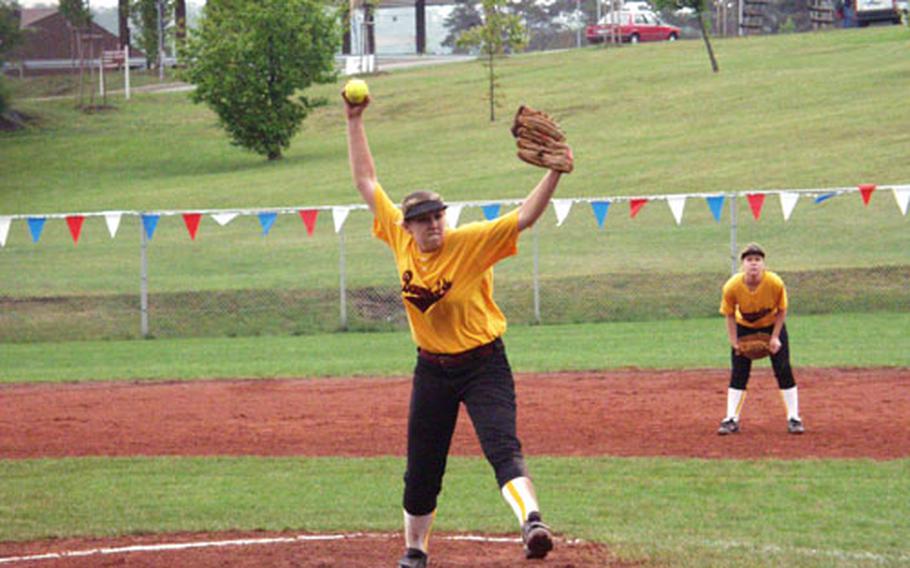 LANDSTUHL, Germany — What makes a five-time, first-team All-Europe selection in volleyball and basketball nervous?
Softball.
Moments after becoming the only player to hit a home run that wasn't inside-the-park in last week's European softball championships, Baumholder's Katie Feterl admitted to a case of the jitters.
"I'm more nervous here than in any other sport," said Feterl, who also pitched the Lady Bucs into the Division III softball semifinals last week. "Maybe it's because I've never been to Europeans in softball."
This is Feterl's first season on the diamond because she opted to play soccer in her junior year.
Feterl played better than your average novice, batting.696 (16-for-23), with five home runs and 14 RBIs.
"She would have a lot more RBIs and homers," coach Rob Bailey said, "but we didn't get to play very many games. She's a special player."
Feterl knows her way around the diamond.
"I've been playing baseball for a really long time — ever since coach-pitch in second grade," she said. "I stayed with youth baseball until eighth grade, when there was no team."
Even without softball or baseball, Feterl found plenty to keep her busy at Baumholder.
In three All-Europe volleyball seasons and two in basketball, Feterl played a key role in getting the Lady Bucs to the top level — three European Division III basketball championships and one in volleyball.
But it's the camaraderie with her teammates that ranks highest on Feterl's highlights of her high school career.
"It's the success and fun we've had together," she said. "The basketball teams I've been on have been to Europeans four times, and we've won three, and we were all friends."
She was hoping she and her friends would capture a softball championship, too, but Baumholder's season ended in Friday's semifinals, a 12-2 loss to Alconbury.
Feterl will turn her attention to playing volleyball for the University of Dubuque, a Division III school that also has softball and basketball programs.
She's sticking to volleyball. At least for now.
"They want me to play the other sports," she said, "but I haven't decided yet whether I'll try more than one."
She says she chose volleyball because she finds it more interesting and fun.
She plans to major in occupational therapy or sports psychology in college.
Baumholder basketball coach Carter Hollenbeck says Dubuque's gain is Baumholder's loss.
"She's a classy, well-rounded superior athlete, and one classy person, too," he said.
"I think she's a once-in-a-lifetime player."