Home Team
Feltner not interested in filling shoes, but walking own path
by
Dave Ornauer
April 12, 2018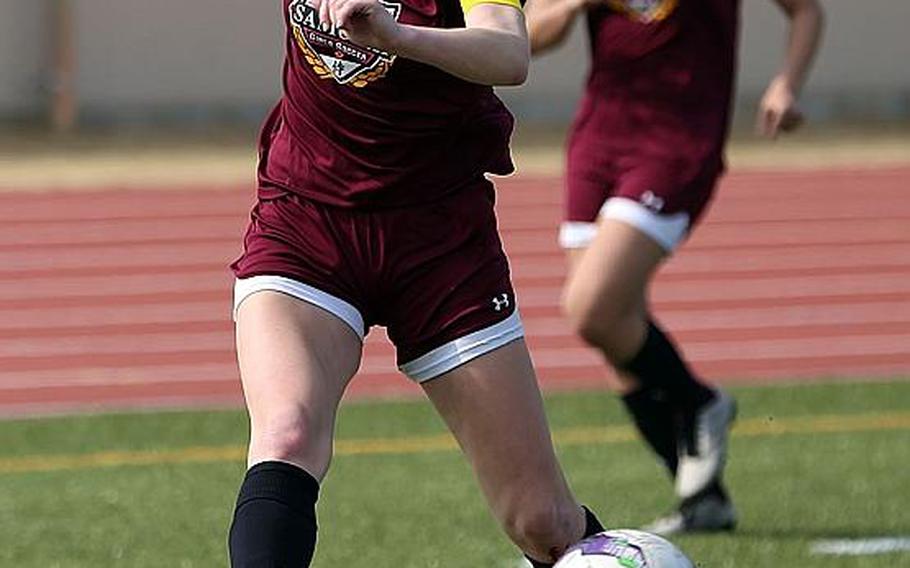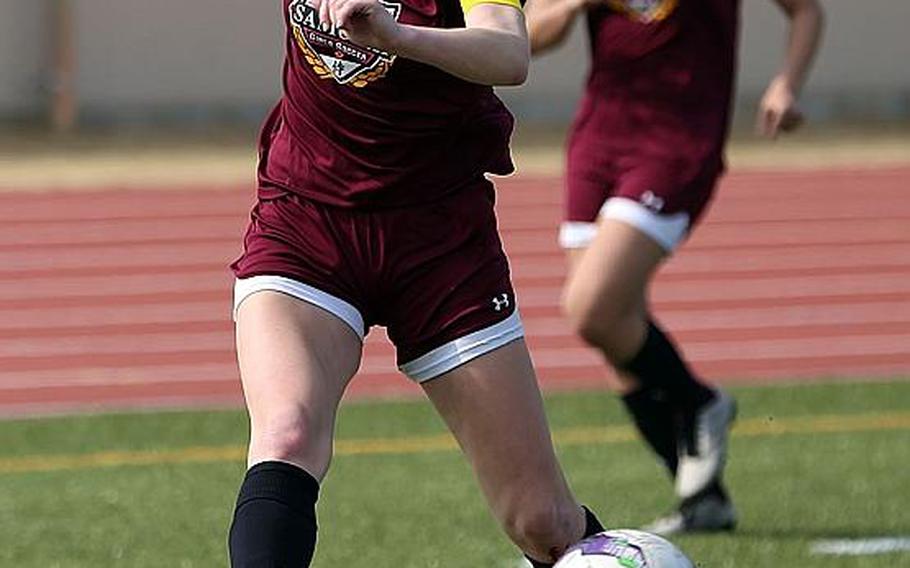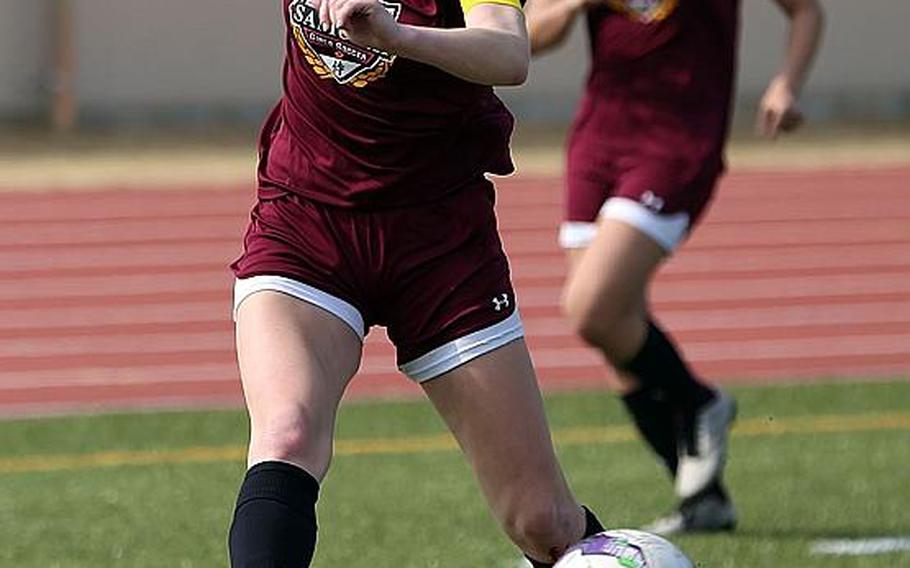 MARINE CORPS AIR STATION IWAKUNI, Japan – It's not often simple math for a champion team to replace one star player with another.
While the PCS Plane was good to Matthew C. Perry girls soccer, depositing former All-Europe standout Micayla Feltner at Iwakuni, to say the junior is replacing departed Samurai star Bobbi Hill would not be quite accurate.
Feltner says she isn't following Hill's act, but trying to create one of her own.
Hill and the Samurai, 18-2-2 a season ago, won the second Far East Division II banner in school history. But that was a veteran-laden squad with six seniors, while Feltner's Samurai are comprised mainly of underclassmen, and struggling as a rebuilding entity, 3-10-2 thus far.
"She's not like a Bobbi Hill," coach George "Tige" Tarleton said of Feltner, a striker, while Hill played attacking midfielder. "She's a whole different type of player, a specialized individual. She's a pure scorer, a pure finisher."
"I'm my own kind of player. I know what my level is and what I'm capable of," Feltner said.
It might seem that they are both pure scorers, given how Hill finished her Samurai career with a DODEA Japan-record 155 goals. But Hill also dished out 87 regular-season assists in her four years. Feltner has 19 goals thus far, with a little more than half the season left.
Only three players from last year's team played alongside both Hill a season ago and with Feltner now. The rest of the Samurai's lineup features freshmen and sophomores, most of whom are playing soccer for the first time.
Feltner, who calls Dayton, Ohio, home, began playing soccer at the age of 8. She then moved to Naples, Italy, and played for two Italian club teams before moving to Iwakuni last summer. Her father, Samuel, is helping Tarleton out as an assistant coach.
"He has a huge background," Tarleton said. "Three or four things he can implement that I hadn't thought of."
And Feltner's teammates say they've tried to make her feel welcome. "We're happy to have her as a teammate," said junior midfielder Sarah Saiki, one of the Samurai who's played with both Hill and Feltner. Saiki says the two players are "pretty mature" in terms of ability, with Hill getting the edge with a bit more experience.
Feltner, Saiki says, "tries to keep everyone in control, doing what they need to do" on the field. "When we get in trouble in a game … she helps calm us down emotionally."
While she's developing those bonds with her current teammates, Feltner says she longs for Bella Italia. "It's different from Italy. I miss Italy a lot," she said.
The feeling is mutual on both sides of the world. "I think we miss Micayla more than she misses us," said Feltner's old coach at Naples, Rebecca Lucy.
Feltner should help the Samurai, Lucy said, by taking on the challenging role of striker that requires the degree of creativity and focus "that Micayla possesses."
"She is a risk taker, has a competitive spirit, high-game intellect, takes initiative and has great ambition to improve herself as a player, a leader on the pitch and a teammate," Lucy said. "She loves soccer and that passion is evident in her play and her preparation."
Feltner and Hill did have one chance to compare skills when the two got together for a brief practice, perhaps the soccer equivalent of a musicians' jam session.
Feltner has what it takes to be an all-around player, but "what stood out to me was her ability to shoot and be dangerous," Hill said.
Feltner came in second as a freshman and third as a sophomore in the last two DODEA-Europe Division I tournaments. Whether it happens this year or next, Feltner says she hopes she take home a least one banner while in high school.
"Every since I started playing soccer, I've wanted to win a championship of a huge tournament" such as a state-championship equivalent, Feltner said. "Winning a Far East would be it."
ornauer.dave@stripes.com
Twitter @ornauer_stripes