D-II soccer roundup
Favorites fight to keep seasons alive
---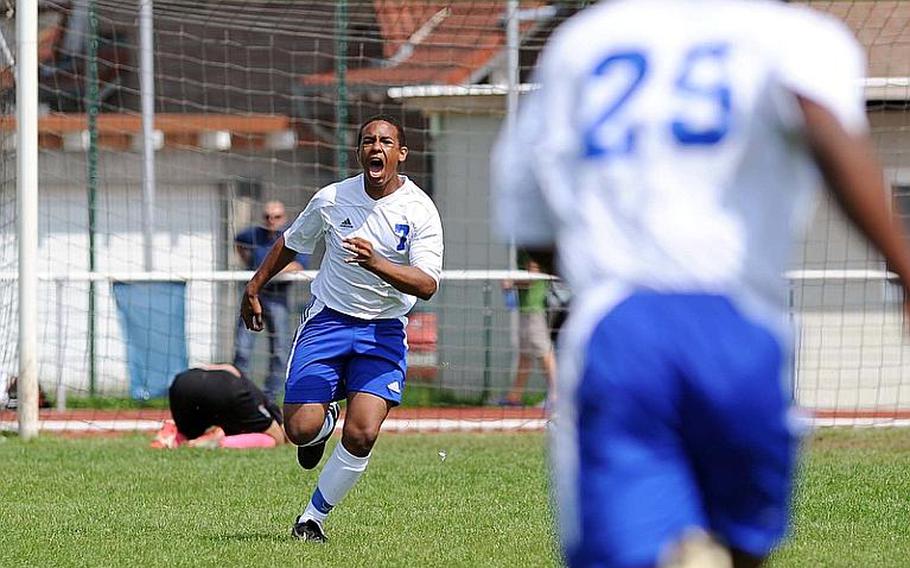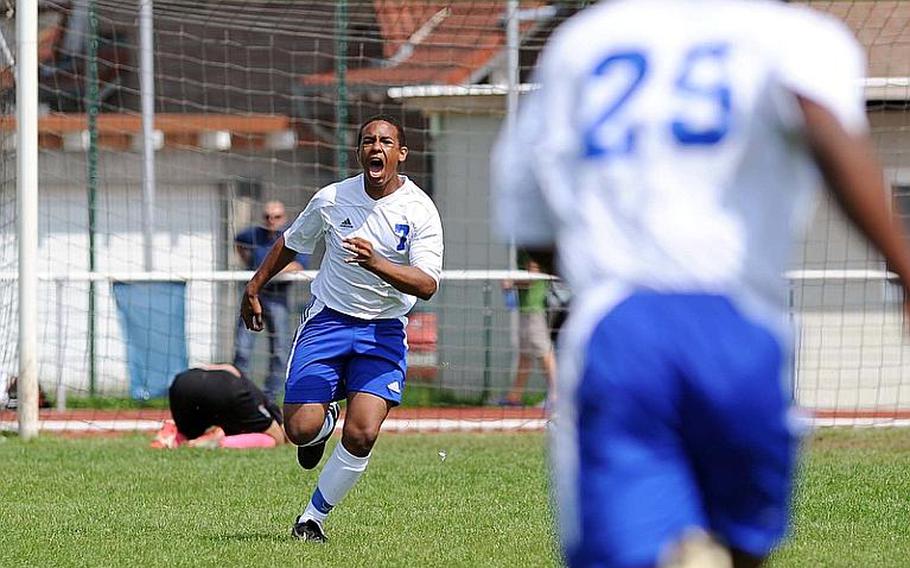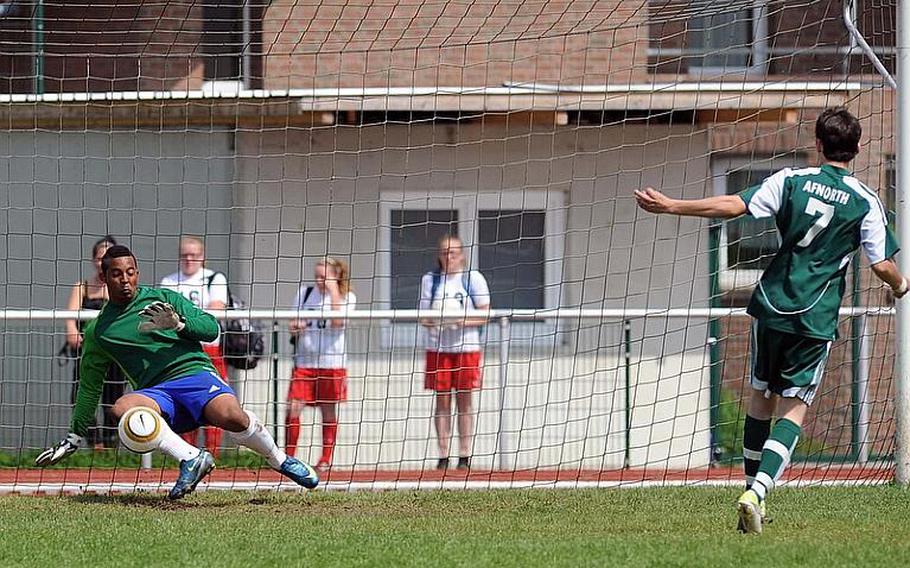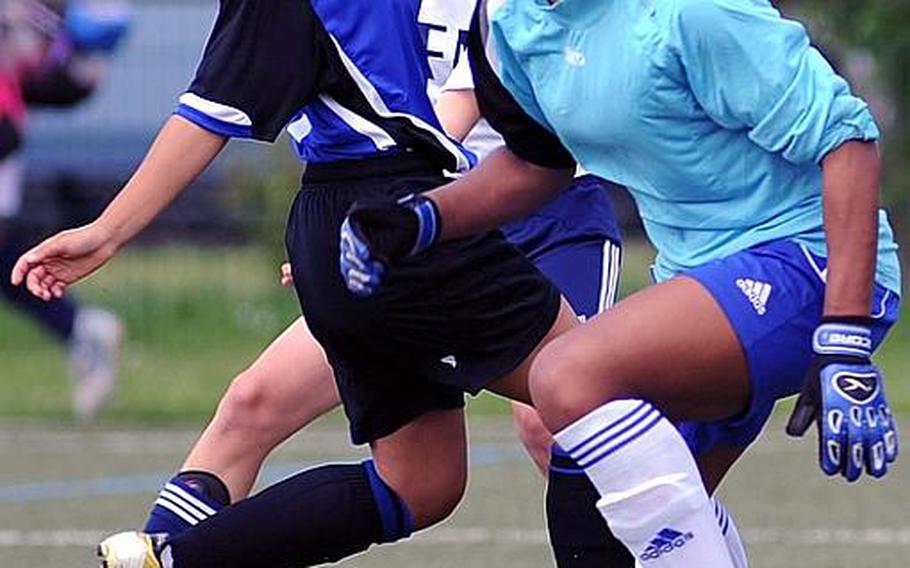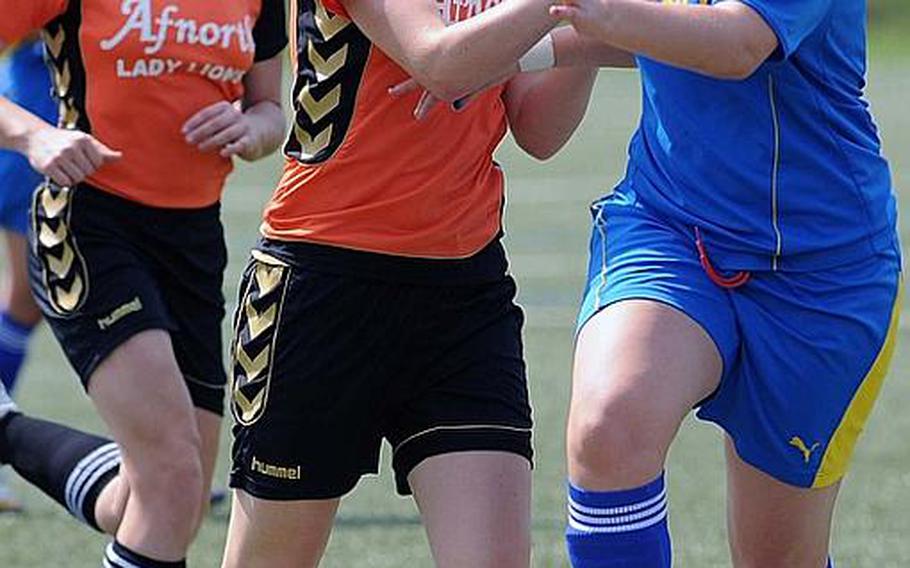 WALDMOHR, Germany — Day 2 of the DODDS European Soccer Championships for Division II schools was Day 1 of the win-or-go-home, single-elimination portion of the four-day event. And the sense of urgency that situation provoked blanketed both fields at the VfB Waldmohr grounds.
In the boys' tournament, how's this for urgency?
No. 5 American Overseas School of Rome, the runner-up in 2011 and champion in 2010, found itself trailing No. 11 Bahrain 2-0 before rallying for a 3-2 victory.
And one day after being upset 3-2 by No. 10 Vicenza, the top-seeded Hohenfels Tigers needed an 8-7 shootout victory over the AFNORTH Lions to reach Wednesday's quarterfinals.
Things were just as tight in the girls' event, where lightly regarded Baumholder, seeded 11th, and Hohenfels, the No. 10 seed, also reached the quarters with upset victories over No. 6 Aviano and No. 7 Black Forest Academy, respectively. And the girls' No. 4, Vicenza, needed penalty kicks to overcome No. 9 Bitburg.
Division II boys"My legs were shaking," said sophomore midfielder Jordan Akalaonu, the eighth Tiger to take a penalty kick said about setting up for what would prove his decisive kick.
It followed the second save by Hohenfels keeper Kevin White, registered just one shooter earlier. White's save meant that an Akalaonu conversion would end the game; a miss meant the shootout parade would go on.
Akalaonu converted, rapping a grass cutter inside the left post at which AFNORTH keeper Victor Black had no chance, and Hohenfels stayed alive and AFNORTH went home.
"It was a fantastic win," Akalaonu said. "AFNORTH is a great team."
The teams tied 1-1 in regulation. AFNORTH jumped on top when Desmond Elliott cut across the top of the box and rifled a low drive just inside the far post 20 minutes into the contest.
Hohenfels equalized three minutes into the second half, when Devon Fluker airmailed in the most unlikely of scores, a high-arching free kick of 40 yards or so from the left sideline that miraculously settled just inside the near post.
"Actually," Akalaonu said, "we get a lot of goals like that. We have a lot of big legs on this team."
And big hands and feet, too. White, who scored himself in the shootout, came up big, making seven saves in regulation and two in the shootout.
He made his first save on a shot by Black that would have clinched a 5-4 victory for AFNORTH. Then, three shooters later, kicked away a shot by Beau Timmons and put Hohenfels in the sudden-death drivers' seat imposed after the first five shooters have finished.
"I was lucky," White said of his decisive save in his first-ever tournament shootout. "I just got a piece of it, and it bounced off the (left) post."
Because of Monday's loss, Hohenfels was playing for its life Tuesday instead of taking the day off. Vicenza, which scored twice in the game's final two minutes in Monday's 3-2 triumph over Hohenfels, was enjoying a day of rest instead.
Division II girlsFreshman Mackenzie Ehrhardt made a strong solo foray into the box and calmly directed a low shot just inside the far post to bring Baumholder into a 1-1 tie with Aviano just minutes before halftime, and Junior Ku'u Villanin banged home the eventual game-winner during a second-half goal-mouth scramble.
It was up to Baumholder keeper Essence Patterson, however, to fend off an attacking Aviano side.
"That's part of my job," said Patterson about handling the pressure of defending a one-goal lead for a team that hadn't won a game in two years. "Mostly, my wall set me up."
Hohenfels, too, enjoyed a rare 2012 success, prevailing on two penalty kicks converted by sophomore Hannah Watson. The Tigers were 1-4 during the regular season, but most of the urgency on the girls' side came in the day's opener, a scoreless tie between No. 4 Vicenza and No. 13 Bitburg. Vicenza survived, 4-2 on penalty kicks, to earn a Wednesday quarterfinal berth against No. 3 SHAPE. Goalkeeper Rima Gasparini provided the impetus for Vicenza, converting a kick herself and saving two.
Top-seeded defending champion Naples had the day off.
---
---
---
---