Favorites established as European cross country season begins
by
Rusty Bryan
September 13, 2006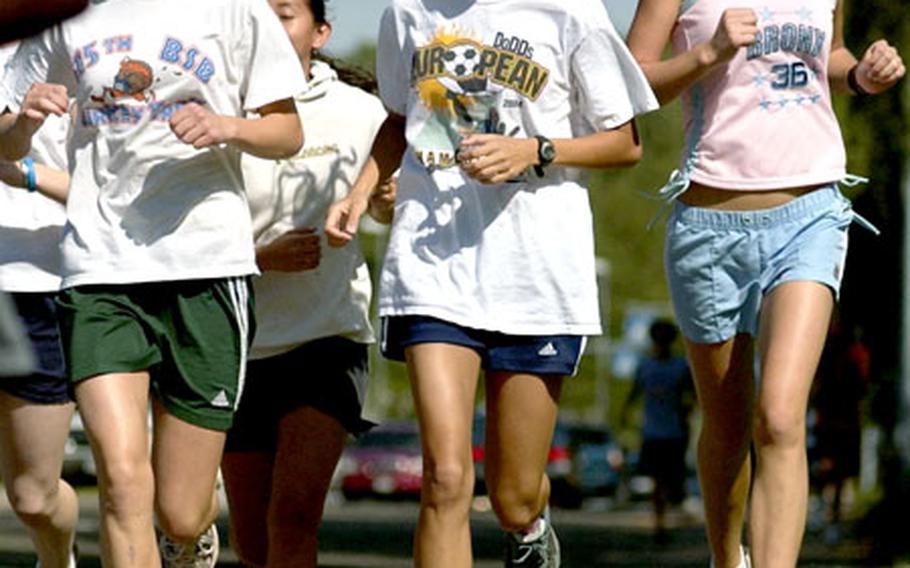 On paper, the races for the 2006 high school individual cross country championships are all but over before Saturday's opening gun.
Big Schools boys champion Greg Billington of Lakenheath is fresh from a summer that saw him place second in the U.S. national junior triathlon, and Big Schools girls champ Colleen Smith enters her sophomore year with nothing but improvement on the horizon.
Things are only slightly more optimistic for Small Schools challengers. While Ericka Anderson of Sigonella returns, the boys can take heart that runaway winner Landon Kemp of Alconbury graduated in June.
Billington's summer, which culminated in his traveling with the U.S. national team to the World Triathlon Championships in Lausanne, Switzerland, might be expected to be met by a feeling of hopelessness — and a bit of envy — by his running rivals. But Alconbury coach Ken Bell says that is not the case.
"All my kids, when I told them that Greg made the U.S. national team, pumped their fists and said, 'Way, to go, Greg,' Bell said. "They're thrilled for him."
For his part, Billington thrilled the crowd when he won last year's European meet. He ran a course record 15:52 over Heidelberg's 5,000-meter circuit, the first sub-16 time recorded on the course, which has hosted the last two European championships.
Teamwise, the major theme for the boys' battle will be the challenge of other schools to end Ramstein's six-time domination of the Big Schools — which is made up of Divisions I and II.
If the Royals, led by Kevin Edwards, seventh in Europe in 2005, and Kyle Southard, ninth last season, are to make it seven straight, they'll do so under a new coach. Dennis Edwards — father of Kevin and the graduated European runner-up, Danny — steps in for Steve Meadows, who's serving as a consultant to the team this year.
"I decided it would be nice to go out on top," Meadows said Saturday.
Ramstein, which won last year's title by 34 points over runner-up Mannheim, will find the Bison chasing it again this season.
Coach Dayna Carson's Mannheim team returns European qualifiers Davonte Cook and the Spicer triplets: Tim, Matt and Brandon.
"I feel confident we can catch Ramstein," Carson said.
In the Small Schools, for Divisions III and IV, Chris Vahrenhorst, coach of defending champion Brussels, welcomes back his top runner from 2005, Nathan Malinski, and his No. 2, Jimmy Russell.
They'll be joined by Patch transfer Nate Buckley, former gridder Aaron Ellis and "a strong cadre of boys."
"Success breeds success," Vahrenhorst said. "Our success encourages our students to take cross country more seriously."
Few teams had more success last year than Marty Kollar's girls runners at Kaiserslautern. With Smith and the Hrushka sisters, Joy and Anna, running 1-2-3 at the Europeans, the Lady Raiders rolled up a 20-point victory over Patch. Anna's now running in college, but the rest of Kollar's team returns.
"We'll be competitive," he understated.
In addition to Anderson, Sigonella coach Gen Rinaldi welcomes back Rebecca Smith, who finished 14th in Europe last year. But he is facing rebuilding the rest of his squad.
"We're down 50 kids this year," he said of the school's enrollment.
"We only have 125 students, and we have boys and girls volleyball and football, too."