Fauntleroy, Hanau have unfinished business in Division II hoops
by
Rusty Bryan
January 29, 2004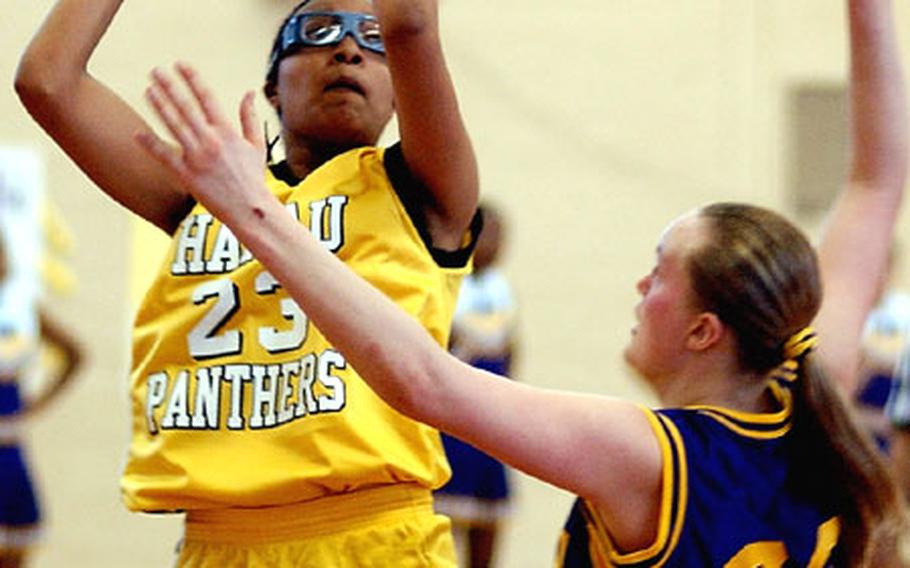 HANAU, Germany — Even in her final year at Hanau High School, 5-11 junior All-Europe forward Katisha Fauntleroy is still thinking about last season.
That was the season in which her Hanau Panthers swept through the regular season and the first four rounds of the European Division II tournament to a 16-0 record, only to fall to fifth-seeded but two-time defending champion Bitburg 45-41 in the title game.
"We think about it all the time," Fauntleroy said Tuesday as she and the rest of the core of last year's team — which includes second-team All-Europe center Courtney Smith, sophomore point guard Kyri Bye-Nagel, and senior off-guard Tiffany Loyal — prepared for a weekend encounter with winless SHAPE on their home floor. "Our goal this year is to win that last game. It's very, very important."
It's also a personal goal, Fauntleroy said, for her to repeat as an All-European selection. So far, she and the Panthers are right on track. Fauntleroy has matched last year's stats — 16 points, 12 rebounds and three blocks per game — with a renewed determination on defense.
"Defense is the key," said Fauntleroy, whose prowess at shot-blocking makes opposing players tentative down low. "You have to be in position all the time. You have to move your feet a lot."
Fauntleroy's dedication to defense has a downside, however. By contesting anything and everything, she often finds herself in enough foul trouble to spend portions of the game on the bench.
"Because she's able to block shots," Hanau coach Michael Hunt said, "she often gets called for fouls when she hasn't really fouled."
So far, Fauntleroy's rest periods haven't harmed the Panthers, who are usually well ahead when she sits and have a sub tailor-made to fill the void in 5-10 senior forward Kyla Bye-Nagel, Kyri's older sister.
"We go six deep," Hunt said, "and all of them can play good defense. Someone always steps up to pick up her scoring, too."
They'll have to next year, when, after three years in Hanau, Fauntleroy takes her talents back to the States. She hopes to make them even more formidable there, with hopes of playing college ball for her hometown team, UTEP.
"In terms of making myself a better player, I would have preferred to play in the States rather than over here," said Fauntleroy, who was introduced to the game by her father. "But I've had lots of fun here."
It hasn't hurt her game, tough, that her father, a former center, continues to work closely with his daughter.
"He's in Iraq now," Fauntleroy said, "but I send him tapes of my games. He still tells me what I need to work on."
The job ahead for Fauntleroy and the Panthers gets a bit more formidable after SHAPE.
Hanau closes out the regular season with road games at Bitburg on Feb. 6-7 and at AFNORTH on Feb. 13-14. At stake will be the No. 1 seed at the European tournament Feb. 19-21 at Mannheim, Germany.
Bitburg and AFNORTH have the scoring and inside presence to match up with Hanau — Bitburg in two-time All-Europe center Nadia Parker, a 6-2 junior, and 5-11 sophomore Carletta Hernandez, and AFNORTH in high-scoring 5-7 senior guard Laura Rivera and 5-10 freshman Victoria Webber.
Fauntleroy can't wait, especially for the rematch with Bitburg, who the Panthers swept in Hanau last season.
"It's fun to play against Nadia," she said. "She's a challenge."
Fauntleroy promised there'd be no gamesmanship against three-time defending European champion Bitburg. Hanau wouldn't hold anything back in the regular-season games to save for the tournament.
"We'd like to win them both," she said, "but we really want to win the championship."
If the Panthers don't, Fauntleroy said she'll still leave Hanau with a sense of accomplishment.
"We'd love to go all the way," she said, "but even if we don't, we've had a great time."