Father-son combos go head-to-head in Okinawa opener
by
Dave Ornauer
September 27, 2007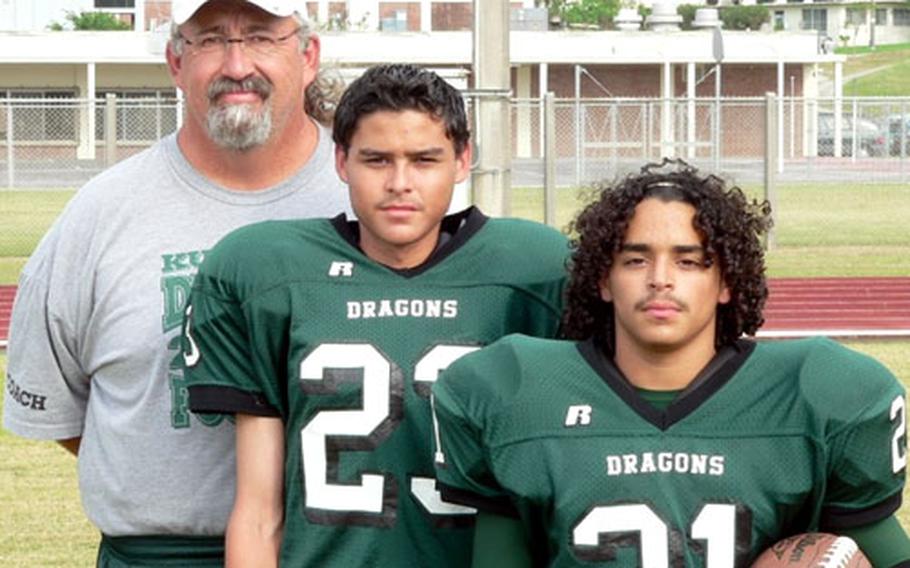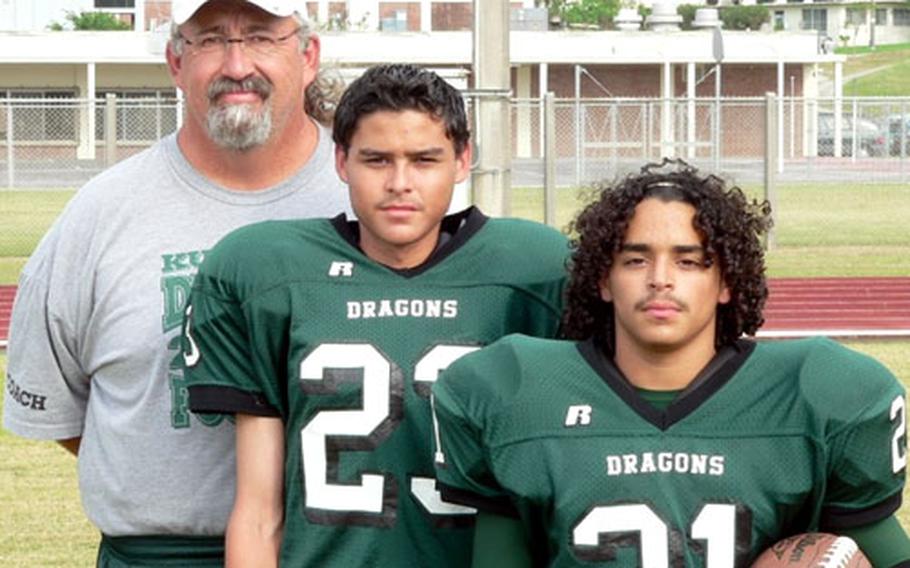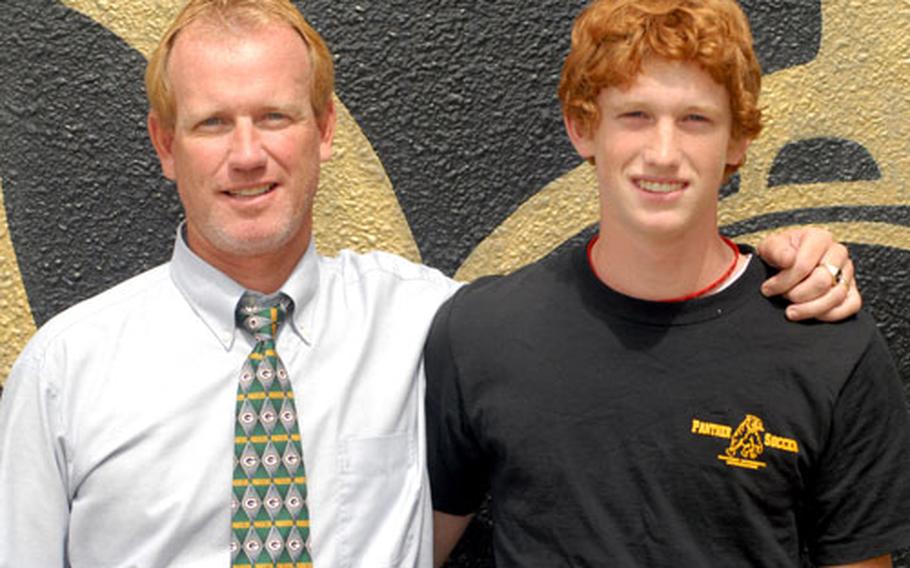 KADENA AIR BASE, Okinawa — The apple fell not far from the tree for two father-son combinations involved in Okinawa high school football.
The Okinawa Activities Council season will open Oct. 12 with the Kubasaki Dragons, coached by Fred Bales, fielding sophomore tailback Josh Bales in the starting lineup. They host the defending champion Kadena Panthers, featuring sophomore two-way star Stanley Schrock, son of offensive coordinator Steve Schrock.
"Both Fred and I get to work with our sons on a level a lot of fathers don't," the elder Schrock said. "It's a lucky situation, a special thing."
"He (Josh) has all the attributes I've looked for in all my players" in 30 years of coaching, Fred Bales said. "It just so happens it showed up in the body of my son."
The sons have been around sports and their coaching fathers virtually from the time they could "push a ball around," Fred Bales said.
Stan Schrock was born in Naples, Italy, 15 years ago to Steve and his wife Nancy. Steve coached his son in Little League and T-Ball. After the Schrocks — including older sister Helen — transferred to Okinawa in 1996, Stan played youth football for 18th Services at Kadena Air Base.
"I've always been around my father and sports," he said of Steve, who in his 25 years of coaching has helmed wrestling at Kadena since 1997 and won the school's first Far East tournament titles in 2006.
When Stan tried out for the Panthers' football team as a freshman and his father was an assistant, it was a case of "I'm just another player and he's a coach," he said.
Fred Bales and his wife Melanie adopted Josh and his older brother, Caleb, while living in Panama in the 1990s and Fred was coaching at Balboa High, where he mentored future NFL players Darryl Gardner and Michael Haynes.
Josh Bales said he became aware of football at 6 or 7, then began working as a ballboy at age 10, two years after the Bales transferred to Okinawa in 1999.
At house parties, where family and friends would get together to watch games on TV, Josh recalled his father "would talk to me about rules, positions, strategies and tactics. I was always around it."
Never did either coach twist the arms of their sons into playing ball.
"Dad kept saying if I wanted to do it, go ahead," Josh said. "But we both knew I was going to play."
One difference between the two is size. Stan is about the same height as his father, 5 feet 9 or so, but Josh stands 5-3, nearly a foot shorter than his father.
Josh says he behaves as the proverbial sponge, learning about tackling, ways to run, protecting the ball, attitude, demeanor and staying in shape during the offseason.
"Basic fundamentals," Stan said of the knowledge his father imparts. "Technique, executing plays, certain ways of doing plays."
And the sons get no special breaks from their fathers.
"I want to make sure that it's not because he's my son, but because he's the best man for the job," Steve Schrock said. "He contributes to the team. There's no free ride. He has to earn what he gets."
Not once, Fred Bales said, has he heard a peep out of a player or a parent about Josh. "He's earned his keep," Bales said of Josh, who'll be one of three "tailback-by-committee" ball carriers, joining Marquette Warren and Emanuel Finney.
"He's earned it," junior linebacker Kyle Patterson said of Josh. "He puts up as much effort as anyone."
From the beginning, the younger Schrock has proven his worth, head coach Sergio Mendoza said.
"He's shown he's serious, he's a player, he has a nose for the ball, and he's respected," Mendoza said. "He's paid his dues."