Far East wrestling tournament: Kadena defends dual-meet crown with lopsided win
---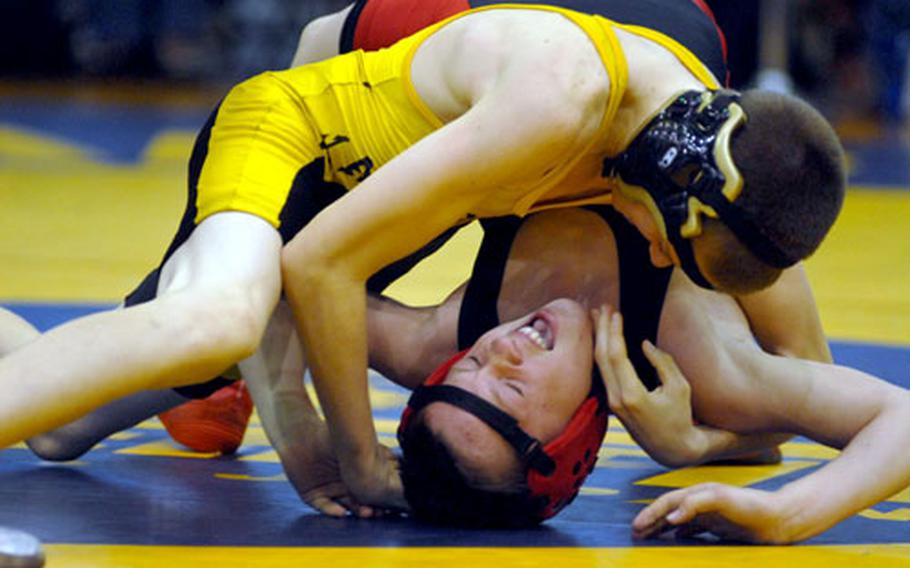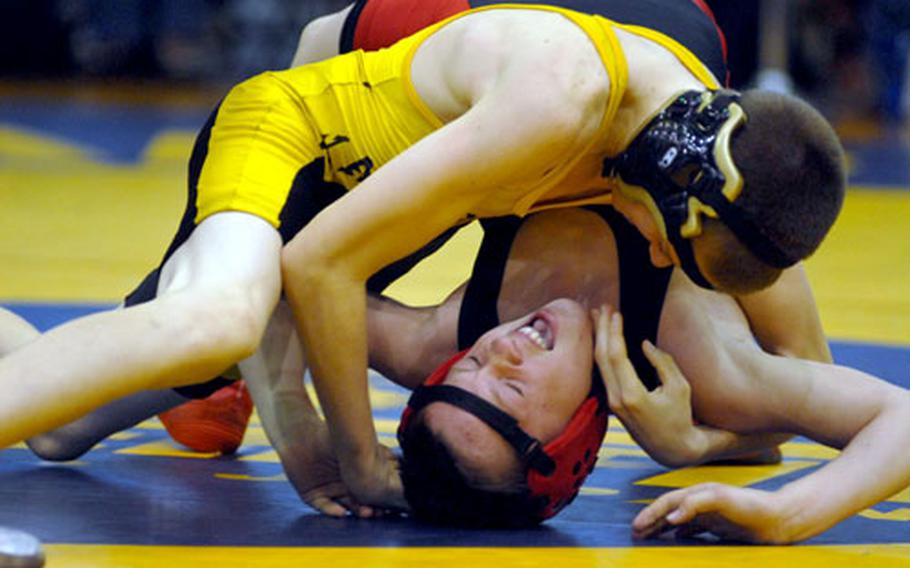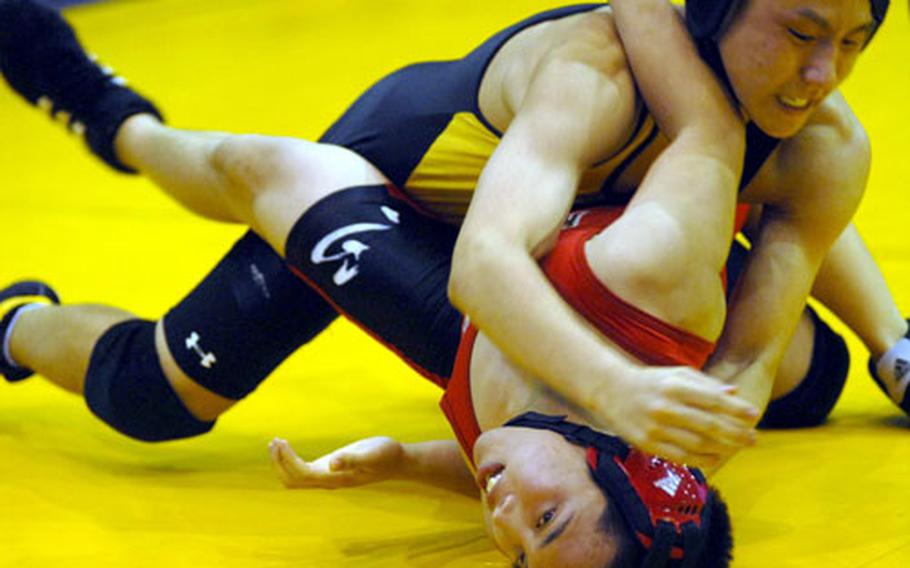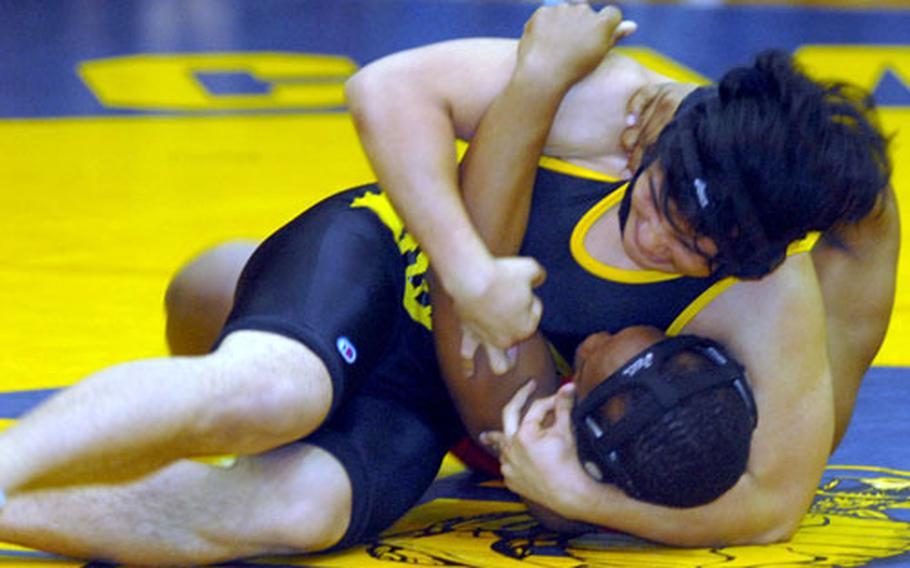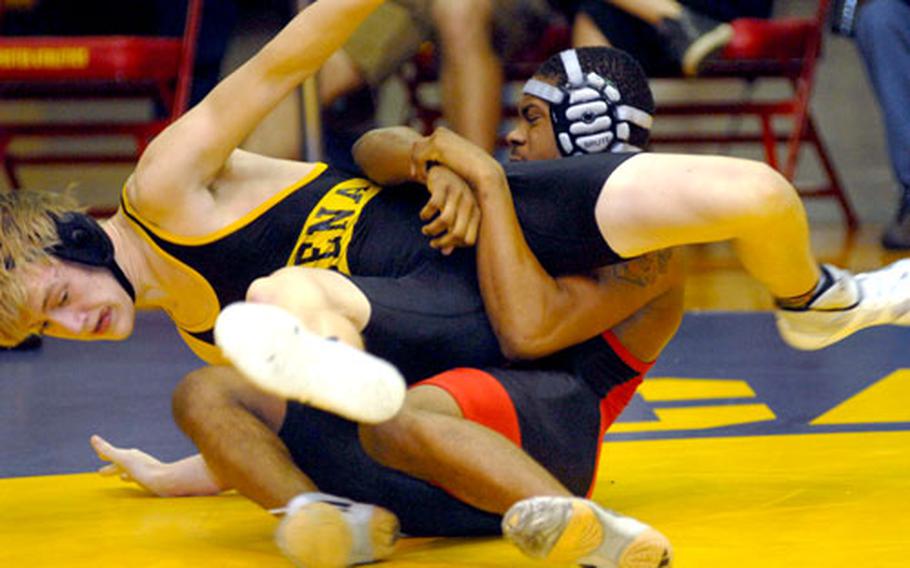 CAMP FOSTER, Okinawa — He began the season as a 158-pound backup. Cody Reyes ended it by clinching Kadena's third DODDS-Pacific Far East High School Wrestling Tournament dual-meet title in four years.
Junior rookie Reyes nailed David Ford with a head-in-arm throw, pinning him in 41 seconds as Kadena routed Nile C. Kinnick 45-14 in the most lopsided dual-meet championship in Far East Tournament history.
"I was like, 'Omigosh!' I didn't think it was going to happen," Reyes said of his throw and pin, which gave Kadena an insurmountable 34-5 lead. When the referee slapped the mat to signal the bout's end, "that was amazing," Reyes said. "I didn't believe it."
"He just kept working and working, took that No. 1 spot, and he got better and better with every match," Kadena coach Steve Schrock said. "He was at his best when he needed to be."
The Panthers bagged their fifth overall Far East team title, fourth all-time behind Kubasaki (21), Kinnick and St. Mary's International (six each). It came a day after Kubasaki dethroned defending champion Kadena in the freestyle team-title chase.
"The kids came to wrestle today," Schrock said. "We had some big pins when we needed them. They were at their best when the best was needed."
The big pins began right away, when 101-pounder Nick Breier shocked Kinnick freshman and Far East champion Marcus Boehler at 3:17.
"When Nick got that pin to start off on a Far East champion, everybody looked at each other and said, 'Let's do this.' This was like our team at Rumble," Schrock said, comparing his team to the one that won the Rumble on the Rock tournament two weeks ago.
Jeff Mizell pinned Alex Hathcock at 108, then Aaron Avila topped Daryl Guy 2-0 at 115. Kinnick didn't get its first technical point until Kadena's J.C. Henderson beat Marlowe Gonzales 2-0 (3-0, 5-1) at 122.
Another huge pin came at 129, with Taehon Paschal rallying from behind 9-4 in the second period to pin Elijah Gamble in 3:46.
Cameron Butts, last year's Far East Outstanding Wrestler, finally scored a victory for the Red Devils by 2-0 decision over Jacob Bishop.
Shanon Lautenschlager righted the Panthers with a pin of Philip Bayani in 1:42. Two-time Far East champion Harry Bloom then survived a 2-1 decision over Dereck Youngblood, setting the stage for Reyes.
Kinnick's Kenny Sampson (180) scored a superior decision and Mikka Curry pinned at heavyweight to put the Red Devils in double digits.
Kinnick might not have been there had it not been for a rally for a 26-24 semifinal victory over Kubasaki, with David de los Santos — wrestling on a bad right knee — and Curry scoring pins at 215 and heavyweight, respectively.
"That was a huge upset for us," Red Devils coach Go Yamada said, adding it was emblematic of a season in which Kinnick, with just four seniors, won its first Kanto Plain Association of Secondary Schools regular-season and tournament titles in four years.
"They improved lots from the beginning of the season," Yamada said. "They've stepped up to fill what was a dynasty. They're young bucks."
---
---
---
---