Far East wrestling tournament: Competition intense in early freestyle bouts
---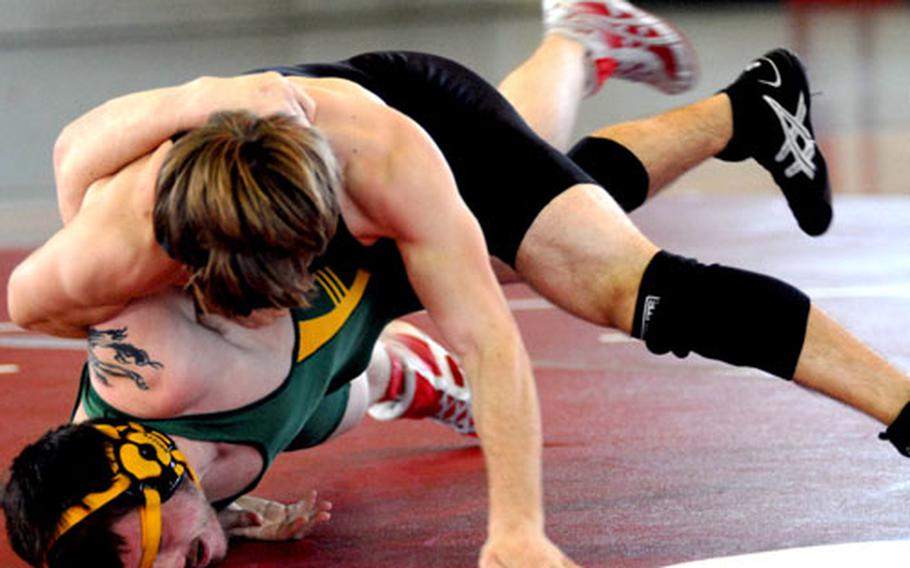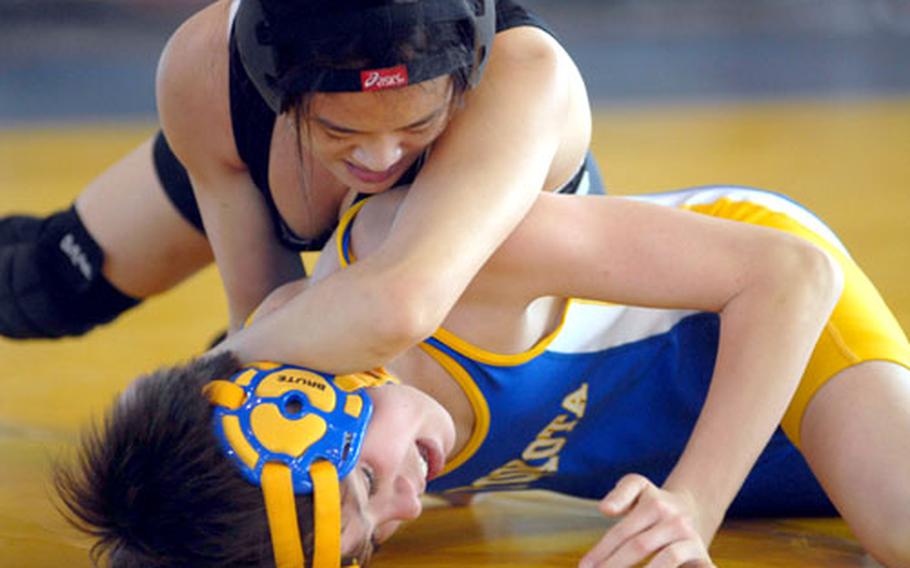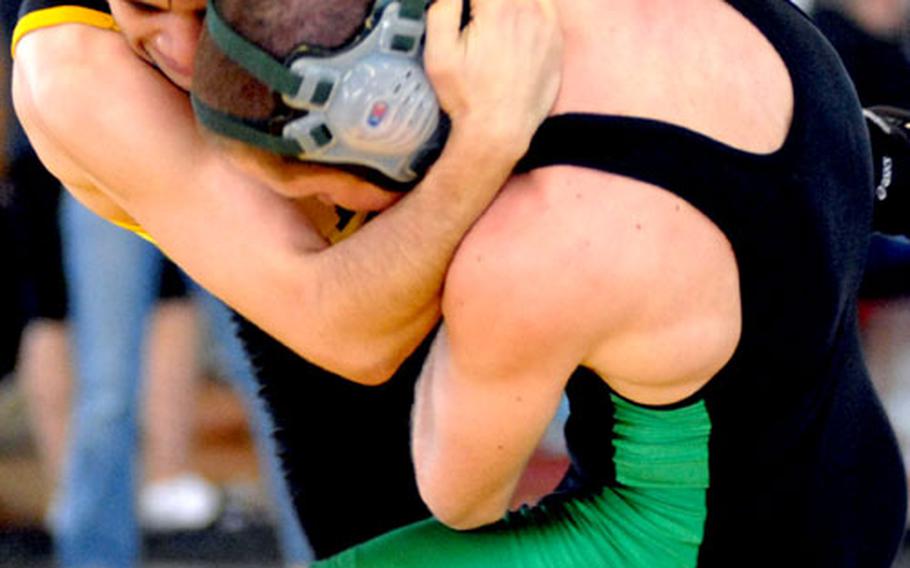 CAMP FOSTER, Okinawa — One wrestler wore athletic tape around his head to hold a gauze pad in place over his forehead, the result of a cut over his right eye the day before.
By the time the bout was over, the opponent bore the same look, the result of a cut over — yep — the right eye in the second period.
"That was a war," Kubasaki coach Terry Chumley said after three-time Far East Wrestling Tournament gold medalist Scott Wood survived Yokota's Nick Guzman in a three-period decision at 122 pounds.
The bout was interrupted frequently for each wrestler to have his wounds attended. The outcome propelled Wood into Friday's semifinals, and sent him to the hospital to have his cut stitched.
"Those two brought it," tournament director Fred Bales said. "Amazing."
Such was the level of intensity during Thursday's early-round individual freestyle tournament bouts.
Coaches and wrestlers said it was about girding for Friday's gold-medal bouts, preparing for what's to come and ramping up their games.
"There is no tomorrow," Seoul American coach Julian Harden said. "If you start saving something for the next guy, you end up not seeing tomorrow. One mistake will cost you. I tell my guys, don't save anything. Spend it all on the mat. Especially here. Even more so here."
Wood and Guzman have beaten each other once this season, Guzman topping Woods in last month's "Beast of the Far East" tournament. They could face each other again at least once before the titles are decided. Kadena's J.C. Henderson, who has beaten Wood, also looms as an obstacle.
"More intensity. More of the same," Wood said of a possible rematch.
More of the same took place at 135 pounds, as Okinawa rivals Jacob Bishop of Kadena and Jon Goddard of Kubasaki squared off for the fourth time this season, with Bishop squeaking out a 2-1 decision.
"He's a good wrestler," Bishop said. "I know he's going to work his way back up. Hopefully I'll wrestle him again, just once."
Then there was the 158-pound group, in which six wrestlers — Seoul's Demetrius Johnson, Robert D. Edgren's Darrel Morris, Daegu American's Greg Jones, Kubasaki's Jake Haynes, Yokota's Andrew Conkling and Zama's Michael Spencer — favored to challenge for gold were still standing.
"I feel like a NASCAR driver," Morris said after surviving Jones. "I can't think of anybody who isn't a challenge" in his weight class.
The other five defending champions had a fairly smooth ride, with Yokota's Mark Meade (108), Chris Cournoyer (115) and Tony Presnell (168), Kadena's Harry Bloom (148) and Kinnick's Cameron Butts (135) breezing into the semifinals. Nonetheless, all expected a dogfight on Friday.
"The caliber is there on both sides. It's whoever wants it more, whoever has more heart," Kubasaki assistant and two-time Far East champion Bobby Duncan said.
"It's going to be insane," Zama 148-pounder Elias Labrador said. "Tonight, we're all going to be buddy buddy talking, but tomorrow, we're going to be at each other's throats."
Ex-champ Stokes of Seoul hopes to return to top in finaleFrom champ in 2007 to runner-up in 2008 fell Justin Stokes of Seoul American, who lost last year's 180-pound title bout 2-1 to Edgren's Andrew Blankenship. Stokes, a senior, says he hopes to make amends.
"It was pretty hard for me," Stokes said of finishing second, adding he knows the route back to the top won't be easy. "Pretty competitive people here this year, and they know me. It would be nice to go out with the gold."
Zama's Spencer relishes glory of five-point throwWhich would a wrestler rather score, a pin or a five-point throw? Zama 158-pounder Michael Spencer enjoyed the thrill of the latter during his superior decision over Kadena's Cody Reyes. Spencer used a leg lift to elevate and toss Reyes over his head in the first period.
"It feels great. More dramatic" than a pin, Spencer said .
"We've been trying to get him to do that all year," Zama coach Chris Iredale said.
Edgren's Tanner joins girls' victory clubJoining Osan American's Emily Albonetti in the Far East girls' victory circle on Thursday was Edgren's Stephanie Tanner, a junior who pinned E.J. King's William Smith in the second period.
"We don't consider her a girl; we consider her a wrestler," teammate Morris said. "She's an amazing person, too. We're glad to have her."
Tanner lost her next two bouts, failing in a bid to join Albonetti, who last year won two bouts and placed fifth, the first girl to score points for her team in the Far East tournament.
---
---
---
---