Far East wrestling meet expected to be a wide-open test
by
Dave Ornauer
February 11, 2004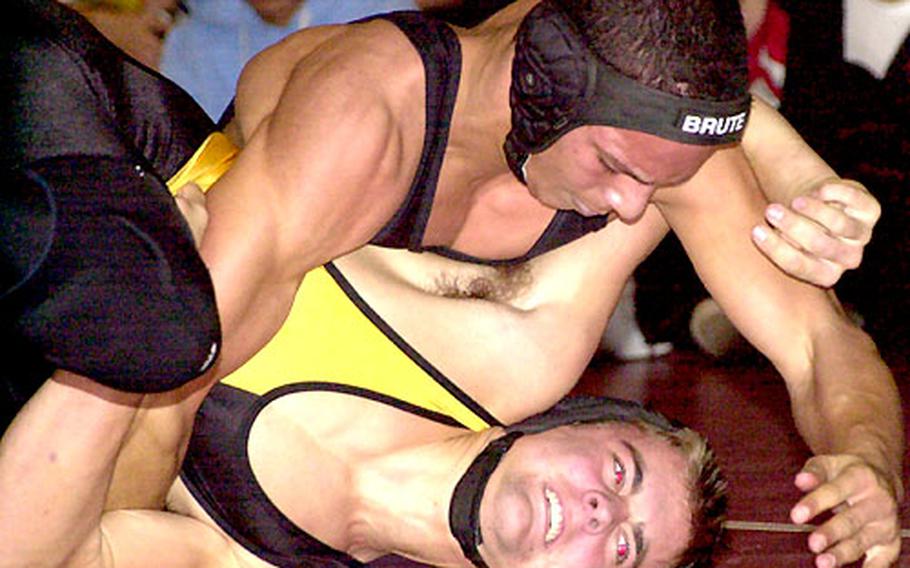 It seemed conclusive during a recent five-year stretch: the letter K, for Kubasaki or Nile C. Kinnick High Schools, usually would reign supreme in the at Far East high school wrestling tournaments.
The schools won every individual freestyle or dual meet team title from 1998 to 2002.
Those days are gone, however, according to a handful of coaches preparing for this week's tournament at Yokota Air Base, Japan.
"It's a lot more open than it has been in the past," said Kubasaki coach Terry Chumley, an assistant under Jeff Pellaton for four of those dominating years, 1998-2002, before taking the helm last season.
A quick look at the regular-season ups and downs in Japan, Korea and Okinawa bears that out.
St. Mary's International, American School In Japan and Kinnick, with 14 Far East team titles among them, took turns beating each other in Kanto Plain dual meets. They divvied up the in-season invitational titles, with ASIJ nipping closely at their heels.
After losing 90 of 91 previous dual meets since Kadena High opened in the 1981-82 season, Kadena swept its three Okinawa Activities Council dual meets with Kubasaki, owner of a Pacific-record 18 Far East titles. Kadena won 44-11 on Jan. 9, 29-23 on Jan. 28 and 32-21 last Friday.
Seoul American won all four Korean-American Interscholastic Activities Conference dual meets against Osan American. But throw out the weight classes the Falcons took by walkover and the Cougars won more of the bouts actually contested on the mat.
For that among other reasons, coaches suggest this year's Wednesday-Friday tournament at Yokota High's Capps Gym will be far from a foregone conclusion.
"It's a wide-open shootout," Seoul American coach Julian Harden said. "One week, one team looks good. The next week, another."
"If all the kids that are going to be wrestling bring their 'A' game," Kadena coach Steve Schrock said, "some wild things could happen."
Still, history shows that even in the tightest tournaments — just eight points separated the top four two years ago in the individual freestyle team race — St. Mary's, ASIJ, Kinnick and Kubasaki will figure heavily into any calculations about the winners.
The Titans have Shu Yabui (129 pounds) a two-time defending champion, and Mark Striegl (122). David Zielinski represents the Mustangs at 168.
ASIJ and St. Mary's "are going to have several kids in the finals," predicted first-year Kinnick coach Robby Rhinehart.
Chumley, whose Dragons attended the Kinnick Invitational on Jan. 31, likes what she sees in the Red Devils' lineup.
Yamato Cibulka, at 135 pounds, and Kenji Doughty at 141 "are seasoned, and (newcomer Joey) Wood is pretty dynamic at 158," she said.
Kadena "can be a spoiler," Chumley said, citing junior Devon Copeland at 168 and senior Cliff Johnson at 180.
Then there's host Yokota, rebuilding after its dream first championship season in 25 years. The Panthers return a defending champion, Jerry Moore, now at 115 pounds. With a slew of promising youngsters, they also could make a title run.
"You never know what they're going to do," Rhinehart said.
Even Zama American, which has not contended for a title since the 1980s, brings heavyweight David Burnett, with just one loss, to the table.
"You have a guy like Burnett who's going to come in and shake things up for teams that are in the running," Rhinehart said.
"If you get a tough draw, somebody's going to get knocked out early," said Harden said. "It's going to come down to who matches up well with whom, across the board."
"It should be really wild," Schrock said. "It may not be as onesided a tournament as it usually is. Everybody has to show up and wrestle. It will be fun. The intensity of it. I'll be smiling."
---
---
---
---