Far East wrestling champ Maxey already making his mark at Ramstein
by
Rusty Bryan
December 9, 2004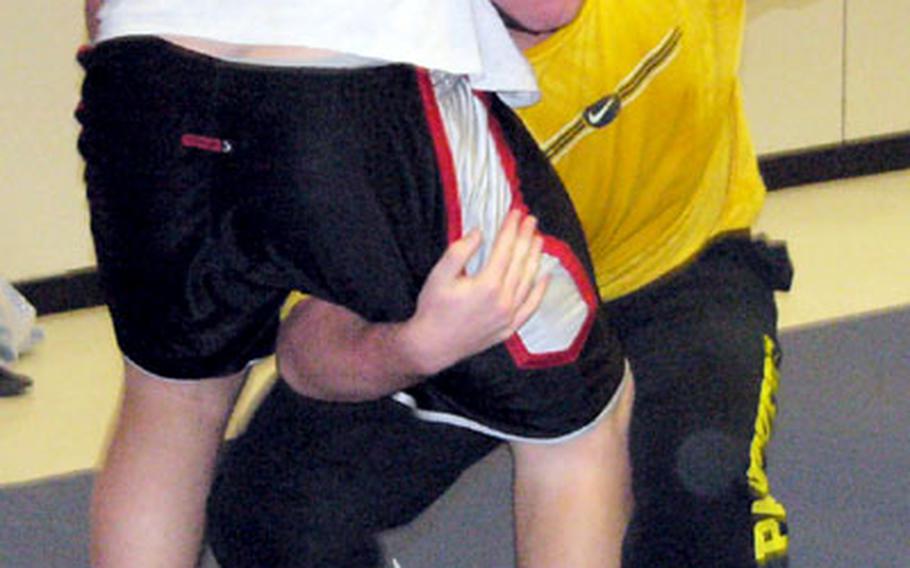 RAMSTEIN AIR BASE, Germany — When you're the new kid on the block, you can't waste time making your mark.
It didn't take long for the Europe wrestling community to learn the name of Ramstein High School senior transfer Cole Maxey.
"When I was wrestling my first match Saturday," Maxey said before Tuesday's practice at Ramstein, "I thought, 'right now would be the perfect time to let people know I'm here.'"
Never mind that Maxey had already informed the European football world of his presence, making the All-Europe team at linebacker. This is wrestling, where success is based on individual effort.
Maxey, a 215-pounder who won the Far East championship last season at Kadena High School on Okinawa, made the most of his chance in the opening meet of the season on his home mat. He defeated Kaiserslautern's Rocky Fischer and Patch's Joey Pirez en route to the meet title at 215.
It was the opening salvo in his quest to add a European title to his Pacific crown, a feat that would make Maxey a "DODDS world champion."
"It would be kind of neat to be able to say I'm a champion on two continents," Maxey said with a smile.
To accomplish that feat, Maxey will have to overcome some of Europe's best wrestlers: Ansbach's Mike Ewing, runner-up at that weight last season; and SHAPE's Richard Rendon, third at 189 last season.
Maxey, who began wrestling five years ago, looks forward to the challenge.
"I look at guys like Ewing and think, 'It's neat to have a chance to compete against guys like that.'"
In addition to the personal challenges, Maxey is having to adjust to the American college rules used in DODDS-Europe. It's a bigger change than one might guess, particularly after the takedown.
"In the Far East, we wrestled freestyle," Maxey said. "In freestyle, if you're on the mat and there's not much happening, they get you up. In this style, you keep wrestling. I've had to learn to wrestle on the mat, too."
So far, the change hasn't been a big impediment.
"Cole has been very quick to recognize the differences [between the two styles]," Ramstein coach David Izzo said. "He's forced himself to cope with them."
Maxey also is benefiting from top-level help in making the change, assistance Izzo calls Ramstein's "secret weapon."
Math teacher Gary Steffensmeier "is an assistant in name only," Izzo said. "He was a three-time All-American at Northern Iowa and a two-time Iowa state champion in high school. He brings that Iowa intensity to our practices."
Maxey gives the Ramstein coaches a good base from which to build, according to training partner James Horst, Ramstein's 275-pounder.
"He's strong," Horst said. "He's a good wrestler."
Added John Winston, a 189-pound sophomore who's also a transfer: "He has good mat sense. He has a really good feel for what's happening on the mat. If you're behind him, he forms a really good picture of where you are and what the situation is."
For Maxey and his team, the situation looks good. There are strong newcomers, including Maxey, Winston and Ohio transfer Coty Rinehardt — a freshman who beat European runner-up Jose Figueroa last week in a 135-pound bout. There are also solid returnees, such as Noah Sheppard and Logan Rainforth.
"You can feel good about your own wrestling," Maxey said, "but it makes it better if the whole team does well."
---
---
---
---