Far East wrestlers travel to Fargo to gain experience, improve skills
---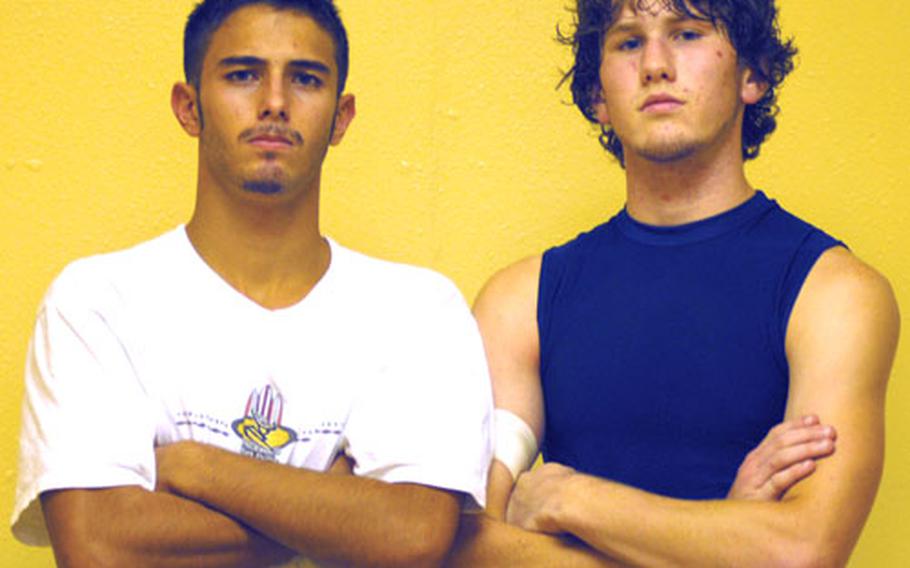 Sometimes, accomplishment is defined not by the win-loss column but by what one learns from a brutally tough competition.
For former Far East high school wrestling tournament champions Brandon McCullough and Jacob Bloom, such an awakening came last summer at the USA Wrestling Cadet and Junior National Tournament.
McCullough and Bloom, of defending Far East team champion Kadena of Okinawa, didn't fare so well at the Fargo, N.D., meet.
McCullough, the 2005 Far East 129-pound champion, lost his four bouts; Bloom, the 2005 129-pound champion, won just four of eight bouts: one Greco-Roman and three international freestyle. Daniel Sly of Kubasaki, sidelined the last two seasons by injuries, also exited in four bouts.
But the experience was worth its weight in gold to Bloom and McCullough because of the huge confidence boost that comes from mat experience against seasoned stateside veterans.
"The competition level was way above ours, especially some of the top, top people," said McCullough, a senior. "These are people who go for county, state and national championships."
McCullough and Bloom, said Kadena head coach Steve Schrock, "went into Fargo, got beat and that's an indication of how much higher level it is in the States. They got a taste of that. They'll work that much harder and we'll share that wealth."
Bloom and McCullough became the second and third Okinawa-based high-school wrestlers and Sly the fourth competing at Fargo under the banner of "Team Okinawa," a wrestling club assembled two years ago by Jacob Clark, a 2004 Marine Corps athlete of the year who until last spring was at Okinawa's Camp Foster.
The Fargo tournament and its accompanying clinics lasted eight days in late July and was "pretty overwhelming," said Brandon McCullough, the son of Kadena assistant coach Tom McCullough, who also traveled to Fargo.
More than 1,000 competitors grappled on 23 mats. "That big a stadium, so many wrestlers on so many mats," said the younger McCullough. "The most we have out here is three or four" in a Pacific tournament.
Preceding them to Fargo the previous two summers were Steve Courtney, a two-time Far East champion from Kubasaki, and Zach Dopslaf of Yokota High School in Japan. They also took a pounding — but the difference in their before-and-after-Fargo abilities was a major reason Bloom and McCullough said they wanted to attend themselves.
"They were fired up" entering the 2005-06 season, Tom McCullough said. "They learned what it takes to be top in the nation."
Where Courtney and Dopslaf changed most, Kubasaki coach Terry Chumley said, was in mind-set.
"You could see it in his eyes. ... He simply would not be beaten," Chumley said of Courtney, who went unbeaten last season en route to his second straight Far East gold as Dopslaf captured his first. "Zach's confidence level was way up."
Similarly, Chumley predicted that during the coming season, Bloom, McCullough and Sly "will be tough to beat."
Bloom, for instance, now is taking his 2006 Far East championship in stride. "I feel now, going into a match, I'm going to wrestle my best and do what it takes to win," he said. Fargo, he said, "helped everything."
Brandon McCullough said he's on a mission, thanks to his silver-medal Far East 135-pound finish and trip to Fargo. The biggest lesson they taught him, he said, was to not hold back. "You shouldn't leave the mat telling yourself, 'Oh, I could have done this' or 'I should have done that.'"
Schrock said he's hopeful what Bloom and the McCulloughs brought back will have a trickle-down effect and help the rest of the team in its effort to win back-to-back Far East team titles.
"I'm going to learn from it," he said. "My kids are going to learn from it. ... We'll continue to build on what we did last year. With their experience and with what coach Mac brought back, we'll be even a better team."
---
---
---
---