Home Team
Far East tourneys could be revamped next year
by
Dave Ornauer
January 19, 2017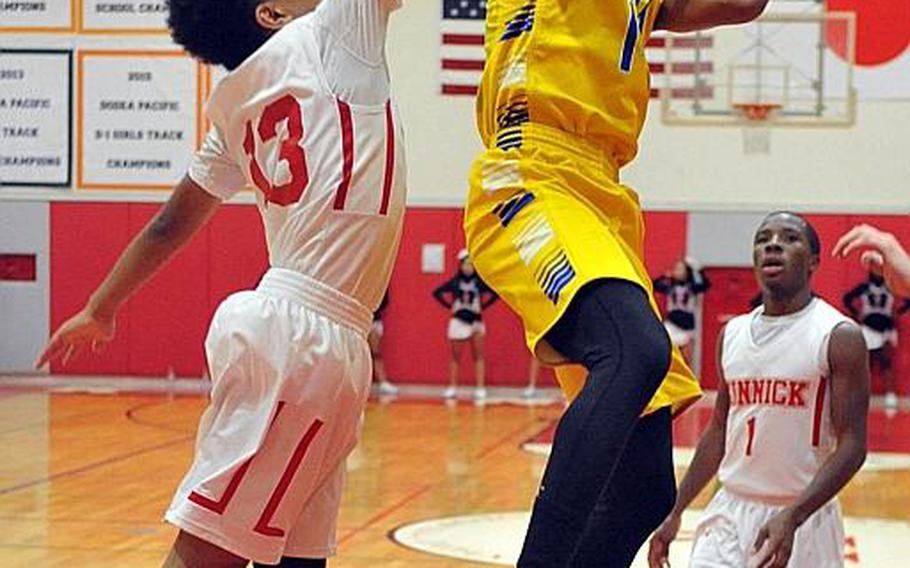 Far East tournaments could soon be making a trip back to the future, if a proposal fronted by a longtime DODEA-Pacific athletics director gains traction.
Tim Pujol, who's been Yokota High School AD the last eight years, sent a proposal a year ago to DODEA-Pacific leadership suggesting that Far East boys Division I and II basketball be combined and held at the same venue, instead of separate ones, as has been the case since 1983.
DODEA-Pacific athletics coordinator Tom McKinney is receptive to the idea, and suggested that Pujol's plan could be implemented as early as February 2018 as a pilot program to see if other Far East tournaments in other sports could be run the same way.
"It's something that's being looked at," said McKinney, in his first year on the job after the retirement of Don Hobbs last June.
The big reason: Division I has shrunk to the point where there are only four D-I schools left in DODEA-Pacific: Kadena, Nile C. Kinnick, Kubasaki and Seoul American. Robert D. Edgren went D-II in the mid-2000s, Zama in 2009 and Yokota in 2014. Guam High no longer participates in Far East events.
That means D-II has twice the number of DODEA-Pacific schools as D-I. Far East basketball tournaments slated for Feb. 20-23 feature 10 boys D-II teams at Yokota and 12 girls teams at Matthew C. Perry.
But D-I girls features only six teams and boys eight. Each used to customarily host 16 teams – half of them from Guam, until they were excluded in 2013 since their seasons don't match up with DODEA-Pacific.
DODEA-Pacific started in 2015 to place the D-I boys and girls tournaments in the same locale, Kubasaki, "more teams, more energy and a chance to support the opposite-gender teams in their quest for championships," Pujol recalled of an ADs video conferences.
"One problem with that is, you don't have any play between the two groups, you'd have matchups that would never be possible, and any time you have double gender in one location, you run into possible problems in lodging," Pujol said.
It would be worse come May, McKinney said, when the boys D-I soccer tournament, scheduled for May 15-18 at Kubasaki, will only feature four teams. "That really doesn't make a good tournament," he said.
Bringing all the boys teams to one location would "put some life back into the tournament, make it meaningful," Pujol said.
Under his proposal, tournaments would be extended by a day, with cross-over play between divisions taking place the first 2½ days to crown a combined champion.
Placements would be used to seed the D-I and D-II teams for their separate tournaments, followed by an elimination playoff to crown respective divisional champions, then perhaps an all-star game.
"I would be in favor of that," said Seoul American's 14th-year coach Steve Boyd. "I like all the possibilities."
One other coach, Humphreys' Ron Merriwether, suggested divisional tournaments first, then the combined, Pujol said.
Pujol's proposal, if approved by DODEA-Pacific director Lois Rapp and her closest aides, would be used as a trial balloon to see if such an event would work, McKinney said.
"The way the budget was set, it couldn't be done this year," he said.
Far East basketball tournaments used to be conducted in such manner, from their inception in 1949 for boys and 1976 for girls.
While volleyball and girls basketball were conducted with all teams in the same event regardless of division, boys basketball featured a unique format. The smaller schools would play first, and the top two finishers would be added to the large-school event to create a 16-team field.
Boys basketball tournaments were segregated into large- and small-school tournaments starting in 1983, girls in 1990 and girls volleyball in 1998.
While tennis, cross-country and wrestling tournaments crown separate D-I and D-II team champions, they are staged at the same site, Pujol said. "We already do it for those sports, so there is a precedent," he said.
Yokota has hosted track and field since 2012, and "we hand out six track banners in one location," Pujol said. "If we can do that, we can surely run a basketball tournament."
Twitter: @ornauer_stripes