Far East tournaments: Seoul American wins tennis titles; volleyball reaches playoff stage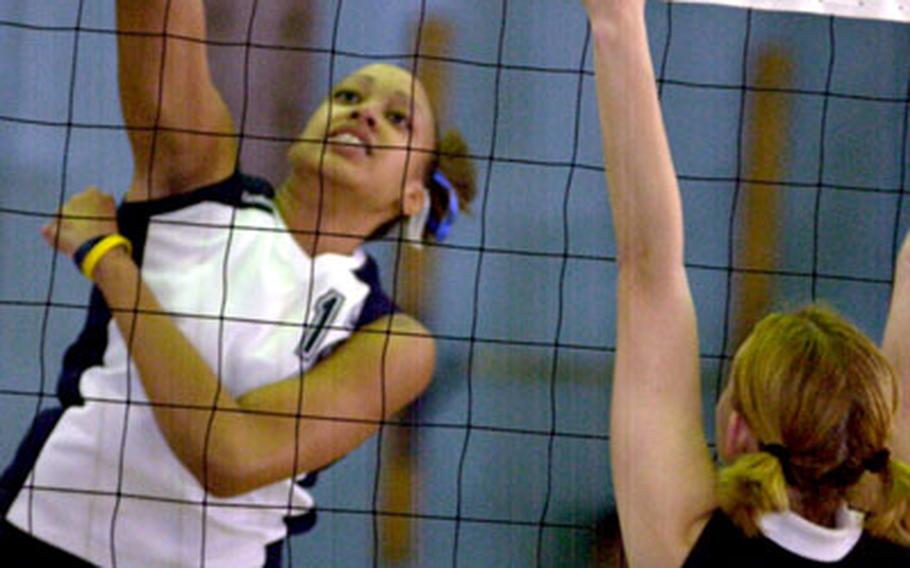 Singles player Allen Chin expected his Seoul American boys tennis team to contend for the Far East title. On the other hand, junior doubles player Anne Willie seemed overwhelmed by the Falcons girls team's success on Thursday.
"Happy, proud, surprised," Willie said after she and Lisa Choi won their doubles match, leading the Falcons past Okinawa's Kubasaki Dragons 2-1 as Seoul American swept the boys and girls team competition titles.
Chin and Seoul American's boys edged defending tournament champion Kadena of Okinawa 2-1.
With the dual victories, the Falcons took a giant step toward their first overall championship since the tournament's inception in 1979. The overall team title will be awarded Friday after the doubles and Elite Eight singles portion of the three-day event.
"I'm very excited," Chin said. "This is my senior year. It would be a nice way to go out."
"Even if we don't win it, I'm still very proud of them," Falcons tennis coach Emilia Flores said.
Meanwhile, the tennis team continued to pile up honors in what's become a banner week for Seoul American's athletic teams.
Two days earlier, Seoul American won its first overall Far East cross-country title at Misawa Air Base, Japan. Last Saturday, the football team handed Yokota of Japan its first on-field loss in 61 months in the Class AA semifinal, 13-10 at Seoul American.
Willie and Flores expressed surprise about winning the girls team competition; at season's beginning, Seoul American's girls were thought to be rebuilding, while the boys team was viewed as the experienced portion of the squad.
"I wasn't expecting this so soon," Flores said. "But I'm very happy."
"We didn't really understand and were unaware of our own skills," Willie said.
Accordingly, the Falcons girls entered the Far East tournament, which began Wednesday, a tad nervous - until they watched their potential opponents.
"I thought we were at the same level or higher," Flores said.
Seoul American's boys and girls teams each opened by shutting out Korea rival Taegu American 3-0 on Wednesday. The Falcons then got past Korea singles champion Amanda Reiff and Osan American 2-1 to reach the girls final, while Seoul American's boys blanked Yokota 3-0 to earn their championship berth.
Once there, each team split its two singles matches, leaving it up to Choi and Willie on the girls' side and Chris Paek and Song Ho Downes on the boys' side to win it for the Falcons.
"I'm sure they were banking on the doubles to win," Chin said of Kadena's and Kubasaki's opposing doubles teams, "but Chris and Song Ho came through, as did Lisa and Anne. I'm proud of them."
Willie credited the stern tests the Falcons endured in the Korean-American Interscholastic Activities Conference regular season against international school powers Seoul Foreign and Seoul International, which "put us in our place," Willie said.
"International schools are more skilled," she said. "They made us work harder and prepared us for this. It helped elevate the level of our play."
Volleyball teams enter playoff stageCoach Jim Lewis of Okinawa's Kadena Panthers likened the first day of the Far East High School Volleyball Tournament playoffs to a line from the movie Top Gun: "The game has begun. As of now, we're keeping score," he paraphrased.
While round-robin and divisional matches meant little more than determining playoff seeding, coaches such as Lewis viewed them, and the entire regular season, as "all about developing and preparing teams for playoff matches."
One team that looked prepared was Seoul American, host of the Class AA tournament. The Falcons reached the quarterfinals with a relatively young squad.
Amping up a team's level to match the sense of urgency that goes with the single-elimination format used by the Class AA tournament requires "a different mind-set," said 26-year Falcons coach Denny Hilgar.
Coaching young teams is a "constant battle to get them to believe in themselves as a talented ballclub," Hilgar said. "A lot rests with the tournament age of your team. The more experienced teams can shift into that gear."
That sense of urgency increases when a team falls into the loser's bracket of a double-elimination format, used by the Class A tournament at Sasebo Naval Base, Japan. Teams that stay in the winner's bracket play fewer matches. In the loser's bracket, the route to the finals is longer and more arduous, with some teams being forced to play back-to-back matches.
Tennis(Click here to jump ahead to volleyball scores and schedules)
At Ninete and Tiyan Tennis Centers, Guam
Thursday
Team competition
Boys championship draw
Quarterfinal
Yokota 2, Pusan American 1
Semifinals
Seoul American 3, Yokota 0
Kadena 2, Nile C. Kinnick 1
Third place
Nile C. Kinnick 3, Yokota 0
Championship
Seoul American 2, Kadena 1
Boys consolation draw
First round
Kubasaki 2, Guam High 1
Quarterfinals
Taegu American 3, Matthew C. Perry 0
Pusan American 2, Kubasaki 1
Robert D. Edgren 3, Osan American 0
E.J. King 2, Zama American 1
Semifinals
Taegu American 2, Pusan American 1
Robert D. Edgren 3, E.J. King 0
Seventh place
Pusan American 2, E.J. King 1
Fifth place
Robert D. Edgren 2, Taegu American 1
Girls championship draw
Quarterfinal
Kubasaki 2, Nile C. Kinnick 1
Semifinals
Kubasaki 2, Kadena 1
Seoul American 2, Osan American 1
Third place
Kadena 2, Osan American 1
Championship
Seoul American 2, Kubasaki 1
Girls consolation draw
First round
Pusan American 3, Guam High 0
Quarterfinals
Yokota 2, E.J. King 1
Nile C. Kinnick 3, Pusan American 0
Zama American 3, Matthew C. Perry 0
Robert D. Edgren 3, Taegu American 0
Semifinals
Nile C. Kinnick 3, Yokota 0
Zama American 2, Robert D. Edgren 1
Seventh place
Yokota 2, Robert D. Edgren 1
Fifth place
Nile C. Kinnick 2, Zama American 1
Class A volleyballAt E.J. King School and Fleet Gym,
Sasebo Naval Base, Japan
Double-elimination playoffs
Thursday
Match 1-Matthew C. Perry, Japan, def. Pusan American, South Korea, 17-25, 25-17, 15-12
Match 2-International School of the Sacred Heart, Tokyo, def. Osan American, South Korea, 25-20, 23-25, 15-8
Match 3-Taegu American, South Korea, def. E.J. King, Japan, 25-15, 25-13
Match 4-Faith Academy, Philippines, def. Robert D. Edgren, Japan, 25-9, 25-10
Match 5-Morrison Christian Academy, Taiwan, def. Matthew C. Perry 25-6, 25-3
Match 6-E.J. King def. Pusan American 25-11, 25-15; Pusan American eliminated
Match 7-Taegu American def. International School of the Sacred Heart 25-27, 22-25, 25-15, 28-26, 15-5
Match 8-Faith Academy def. Morrison Christian Academy 25-18, 21-25, 25-22, 25-19
Match 9-Robert D. Edgren def. Matthew C. Perry 25-17, 28-26; Matthew C. Perry eliminated
Match 10-Osan American def. E.J. King 23-25, 25-20, 15-13; E.J. King eliminated
Match 11-International School of the Sacred Heart def. Robert D. Edgren 26-24, 25-12; Robert D. Edgren eliminated
Match 12-Morrison Christian Academy def. Osan American 25-19, 25-7; Osan American eliminated
Friday's matches
Match 13-Faith Academy vs. Taegu American
Match 14-Morrison Christian Academy vs. International School of the Sacred Heart
Match 15-Match 13 loser vs. Match 14 winner
Match 16-Match 13 winner vs. Match 15 winner
Match 17-Match 13 winner vs. Match 15 winner, if Match 13 winner loses Match 16
Class AA volleyballAt Falcon Gym, Seoul American High School, and Collier Field House, South Post, Yongsan Garrison, South Korea
Single-elimination playoffs
Thursday
First round
Match 1-Christian Academy In Japan def. Guam High 25-8, 25-14, 25-3
Match 2-Seisen International, Tokyo, def. Southern, Guam, 21-25, 25-10, 25-20, 25-20
Match 3-John F. Kennedy, Guam, def. Kadena, Okinawa, 25-16, 25-21, 25-23
Match 4-George Washington, Guam, def. Simon Sanchez, Guam, 25-12, 27-25, 25-23
Match 5-American School In Japan def. Yokota, Japan, 25-16, 25-10, 25-7
Match 6-Academy of Our Lady of Guam def. Nile C. Kinnick, Japan 25-20, 25-12, 25-21
Match 7-Seoul American def. Zama American, Japan, 25-21, 20-25, 25-11, 25-16
Match 8-Kubasaki, Okinawa, def. Hong Kong International 25-10, 25-12, 25-8
Consolation
Match 9-Southern def. Guam High 25-7, 25-22, 25-18
Match 10-Simon Sanchez def. Kadena 25-20, 25-20, 25-20
Match 11-Nile C. Kinnick def. Yokota 25-22, 25-18, 25-17
Match 12-Zama American def. Hong Kong International 16-25, 25-13, 13-25, 25-13, 18-16
Friday's matches
Quarterfinals
Match 13-Christian Academy In Japan vs. Seisen International
Match 14-John F. Kennedy vs. George Washington
Match 15-American School In Japan vs. Academy of Our Lady of Guam
Match 16-Seoul American vs. Kubasaki
Semifinals
Match 23-Match 13 winner vs. Match 14 winner
Match 24-Match 15 winner vs. Match 16 winner