Far East tournament roundup Mulvany, Quallio win again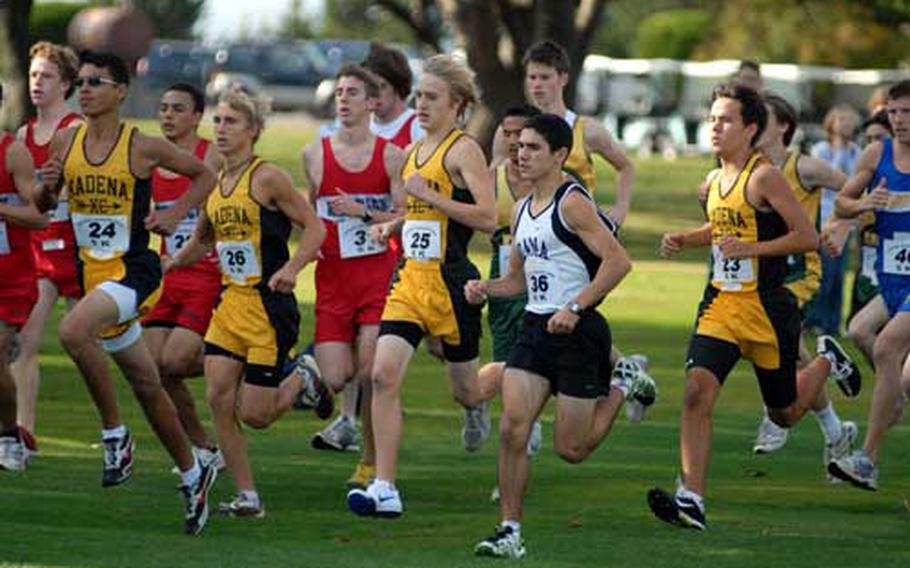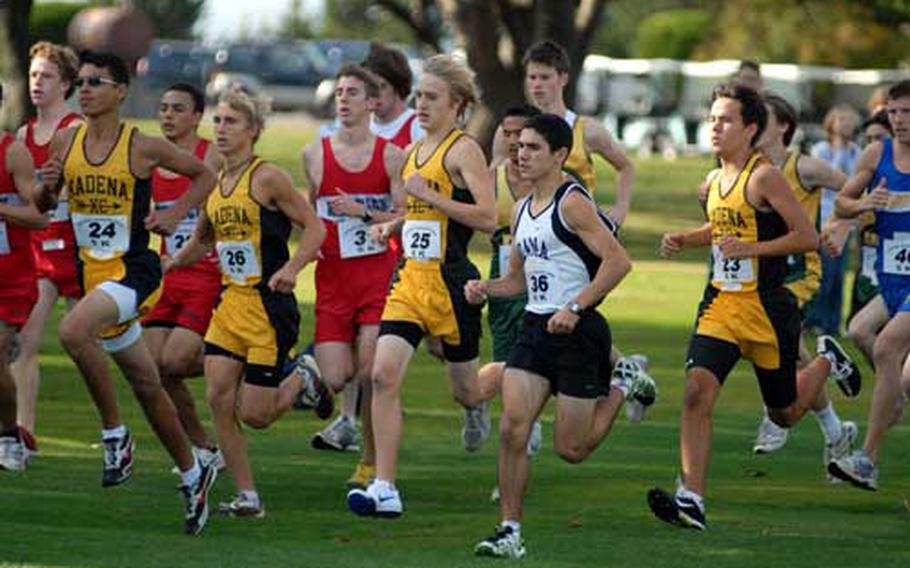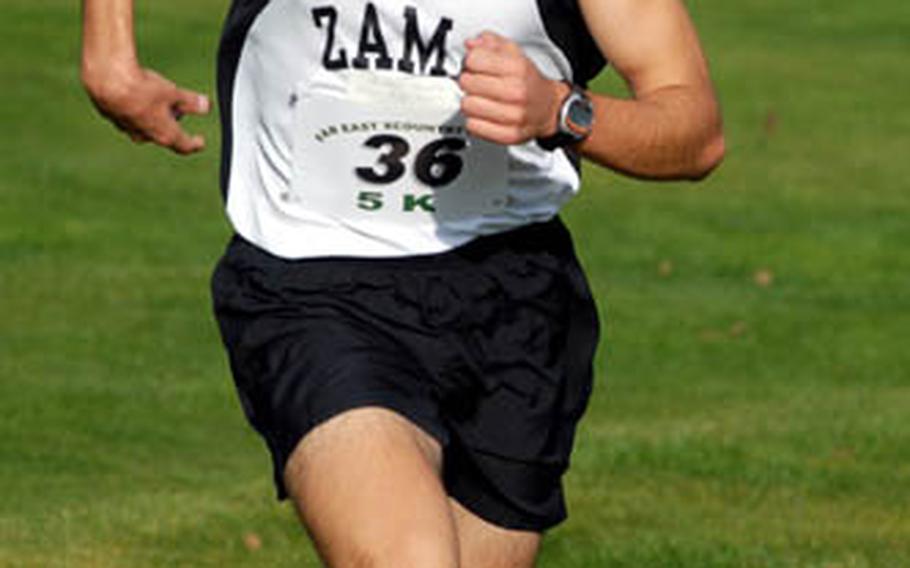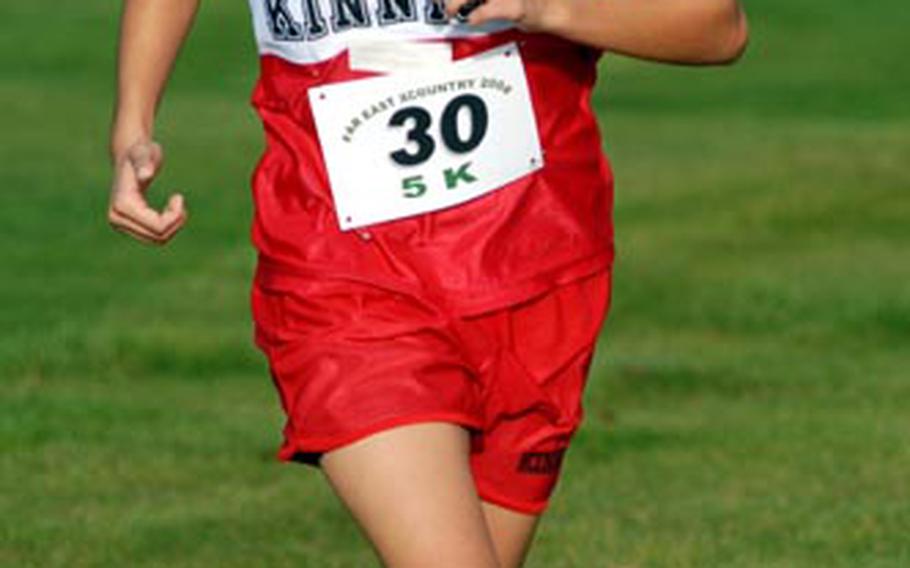 MISAWA AIR BASE, Japan – A look of grim determination on her face, running for all she was worth, Nadine Mulvany strained for the finish line, then tumbled to the ground once she finally crossed it.
Tired, weary but oh, so happy she was, as just two words repeatedly poured from her mouth as her chest heaved from exertion.
"I won! I won!" she said again and again, seconds after completing her season of redemption.
A champion in 2006 who fell on hard times during a winless 2007, the Nile C. Kinnick senior found her way back to the mountaintop by reclaiming the gold medal in Monday's DODDS-Pacific Far East High School Cross-Country Meet's girls 3.1-mile individual race.
She blazed across Misawa's Gosser Memorial Golf Course links in 20 minutes, 36 seconds, 16.85 seconds ahead of two-time runner-up Chasity Cordova of Kadena. In so doing, she became the third Kinnick runner to win the race in as many years, joining Gee Mi Jorde last year.
"I wanted to show everybody we still got it," Mulvany said. "It's an honor to do this back-to-back-to-back."
Repeat honors weren't limited to Red Devils runners and girls. Zama American senior Andrew Quallio made it two straight titles, gliding to victory in 16:20.37, 53.14 ticks ahead of Kadena's Patrick Edwards.
On a partly cloudy, breezy afternoon with temps in the upper 60s, Mulvany and Cordova ran neck-and-neck for more than two miles, with Cordova — who ran outside a course cone last year, costing her the race — leading at various points as they turned toward the final hill.
"She is a great runner. I have so much respect for her," Mulvany said of Cordova. "She had me. When I got to the hill, I had this energy. … That hill made me run faster."
Mulvany also credited her teammates for giving her an extra edge.
"They believed in me. And my coach [Philip Bailey] is always energetic and positive."
"They do all the work," Bailey said of his runners. "They push each other. It's a lot of team effort."
Quallio, meanwhile, credited the early strength of two Kadena runners, including Edwards, for helping him set a scorching pace.
As in last year's victory by almost a full minute over Kadena's Brant Casteel, Quallio on Monday pulled away, running the first mile in 4:43 and subsequent two miles in 10:04, before hitting the wind and the final hill.
He beat his winning time last year by 24 seconds, and his ninth-place time in the Florida 4-A championship two years ago by four seconds.
"I give thanks to them [Kadena runners] for taking me out that fast," he said, adding of his career finale: "For me, it's very, very special. To finish my high school career on a note like this is awesome."
Casteel, who finished second the past two years, stumbled near the finish and fell to 12th. He needed assistance to leave the course.
On the Class AA team front, Seoul American's boys made a first step toward reclaiming the overall crown it last won in 2005, scoring 31 points, five ahead of Kadena and Kinnick. Two-time defending champion Kadena won the girls title 24-26.
That meant Tuesday's team relay would decide the overall team crown.
"We're in good position," Kadena coach Tom McKinney said. "We just have to rebuild Brant."
"We're really comfortable at this point," Seoul coach Steve Boyd said.
Host Robert D. Edgren made it a clean sweep of the Class A boys and girls titles, the boys beating Osan American 9-18 and the girls tying Osan 11-11 but coming out ahead on a placement tiebreaker.
Edgren's David Blevins (18:41) was the highest-finishing Class A boys runner, taking 16th, while Osan's Kimberly Boucher (21:58) was the highest girls runner, in 10th spot.
Rain rules the first dayof Far East tennis at Kadena
Heavy rain forced organizers to call off almost all of Monday's Far East tennis tournament matches at Kadena's Risner Tennis Complex – the first time a full day's slate was suspended since 1995. Just four matches were completed.
Tuesday's singles championships were postponed until at least Wednesday, tournament director Hoa Nguyen said. The possibility of playing into Thursday's rain date for the first time since 1995 was very real, he added.
ASIJ, Osan get early jump
Indoors, where weather was hardly a bother, 2006 Far East Girls Class AA volleyball tournament champion American School In Japan swept its pool-play matches Monday at Guam High, and appeared primed for another title run, one opposing coach said.
"They are getting stronger with every swing," said Denny Hilgar, whose Seoul American squad was swept 2-0 by the Mustangs, sporting senior holdovers Gwen Thornton and Anna Lorentz from that 2006 team. "They're like ASIJ teams of the past."
Meanwhile, defending Class A champ Osan American also got the early jump on its opposition in Daegu, South Korea, winning its three pool-play matches and dropping just one set.
Besides chasing a repeat, the Cougars, coach Cari Pease said, want to make amends for their third-place finish in last week's Korean-American Interscholastic Activities Conference tournament at Seoul American.
"They were very disappointed with the way they played," Pease said, specifically citing their semifinal loss to Seoul American. "So far, so good. They're pulling together as a team."