Far East tennis tourney taking Davis Cup format
by
Dave Ornauer
November 9, 2005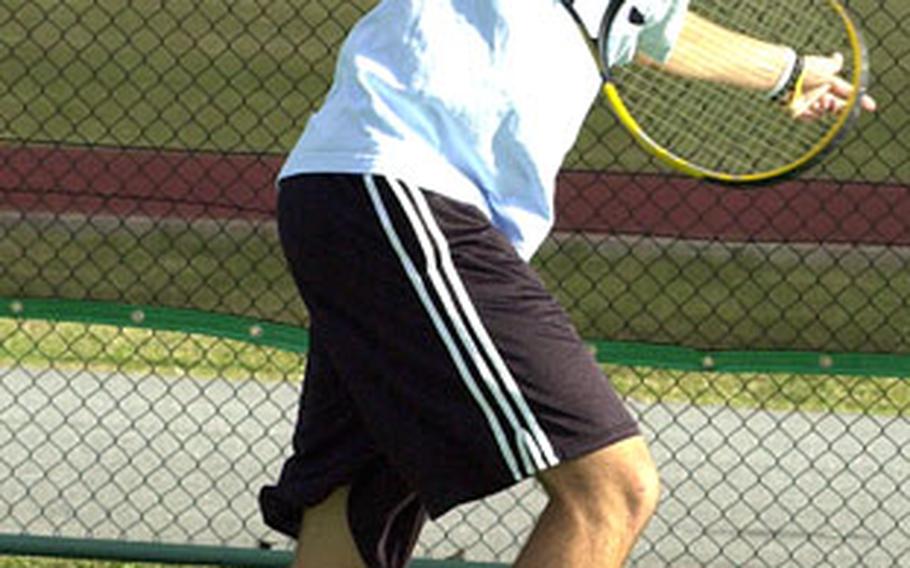 A new wrinkle has been added to the Far East High School Tennis Tournament — a Davis Cup/Federation Cup-style team event, which will count for most of the team points when the tournament is played Wednesday-Friday at Ninete Tennis Center in Hagatna, Guam.
The format has never been used in the 27-year history of the event, which previously employed boys and girls singles and doubles and, for the first time last year, a mixed doubles event.
Organizers of the tournament, being held for the first time on Guam and hosted by Guam High School, said the format is similar to those used in the Micronesia, South Pacific and Oceania Games staged periodically throughout Micronesia.
"This is the format we used to play in the international games around the Pacific," said Juana Aguon, the tournament director and a longtime competitor in such events. She promised a full, detailed format explanation at Tuesday's pre-tournament coaches' meeting. "I know the coaches will understand it once it's presented."
"I do like the idea of a team competition," coach Nico Hindie of Japan's Nile C. Kinnick Red Devils said. "We've never had that."
But in the run-up to the tournament, the format generated discussion among coaches, particularly the importance of depth, especially in the first round.
Each of the 13 participating schools list four boys and four girls players on their rosters. In the team event first round, two of them must play singles while the other two play doubles. After that, coaches may play any player combination they want, using all four players or just their strongest in both singles and doubles play.
"Deep teams hold a definite edge in the first round, but not after that," said coach Rick Kendall of Japan's E.J. King Cobras of the fact that teams with four strong players stand a better chance of advancing and playing for team points.
"Everything hinges on the first round," Kendall said, adding while it's nice to ensure all players see equal court time, "you're wanting to win. Why wouldn't anybody not play their best two players in both doubles and singles?"
Nerves might play a big part in a team's ability to survive that first round, Hindie said. "That round is the key. We need to get our first-round jitters out of the way and win those matches. After that, it will be interesting to see how it pans out."
Coaches said schools such as King, Kinnick and Robert D. Edgren of Japan, and Seoul American and defending champion Kadena which field full, experienced rosters would do well, while schools such as Pusan American and Seoul American in South Korea, with just one or two good singles players and marginal support players might suffer.
"As a team, we're not that strong," said senior James Edwards of Pusan, the defending singles and mixed doubles champion, adding that he and fellow senior Amanda Reiff of Osan American are in the same boat. "We're a weak team. It doesn't favor us. It's going to be harder for us, and I feel the same way for Amanda."
Edwards, Reiff and others in that same position might still benefit from the team event, for it also serves as a qualifier for the Elite 8 singles bracket. Players who win consecutive singles matches, be it in the main or consolation draws, will qualify to play for the singles title.
While it's called the Elite 8, more than eight may end up qualifying. "Maybe 15 players will emerge," Aguon said, adding that in that case, all 15 will be placed in a draw to play for those eight berths, and "those eight will battle for the top spot."
Though he must now qualify for the Elite 8 and a shot at defending his singles championship, instead of just being placed in a draw as in past years, "it's cool," Edwards said. "I have a chance to shine and defend. That's a good thing."
While most coaches polled favored the team format, a handful of folks dissented, including Edwards.
"It's OK to try new things, but I prefer the old format since we're used to it," he said.
"My kids wanted to play mixed doubles. They were sad about that," Osan coach Bruce Barker said. "Other than that, it's all right."
Coach Hoa Nguyen of defending champion Kadena expressed "mixed feelings" about it.
"You've always had individuals carry the team to the title and bring the banner home," he said. "This time, it's the team doing well that will help the individuals shine. But if a team only has one good player, it won't get there. Depth is important. The school with a lot of good players has the best chance."
2005 Far East High School Tennis Tournament
Dates: Nov. 9-11 (Nov. 12 rainout date).
Site: Ninete Tennis Center, Hagatna, Guam.
Host school: Guam High School, Nimitz Hill, Guam.
Participating schools: Seoul American, Taegu American, Pusan American, Osan American, South Korea; Robert D. Edgren, Yokota, Zama American, Nile C. Kinnick, Matthew C. Perry, E.J. King, Japan; Kadena, Kubasaki, Okinawa; Guam High, Guam.
Format: Davis Cup/Federation Cup-style team event, two singles and two doubles players, main and consolation draw; doubles, two teams per school, main draw only; Elite 8 singles, eight or more players who win consecutive matches while playing in team event, main draw only.
Schedule of events: Opening ceremony 8 a.m. Wednesday. Team matches from 8:30 a.m. Wednesday to 4 p.m. Thursday; championship match at 11 a.m. Thursday. Doubles matches from 2 p.m. Thursday to championship match at 1 p.m. Friday. Elite 8 singles matches from 1 p.m. to 4 p.m. Friday.
Players to watch