Far East H.S. tennis championships: Super sophomores Allen, Sprow take singles titles
by
Dave Ornauer
November 9, 2007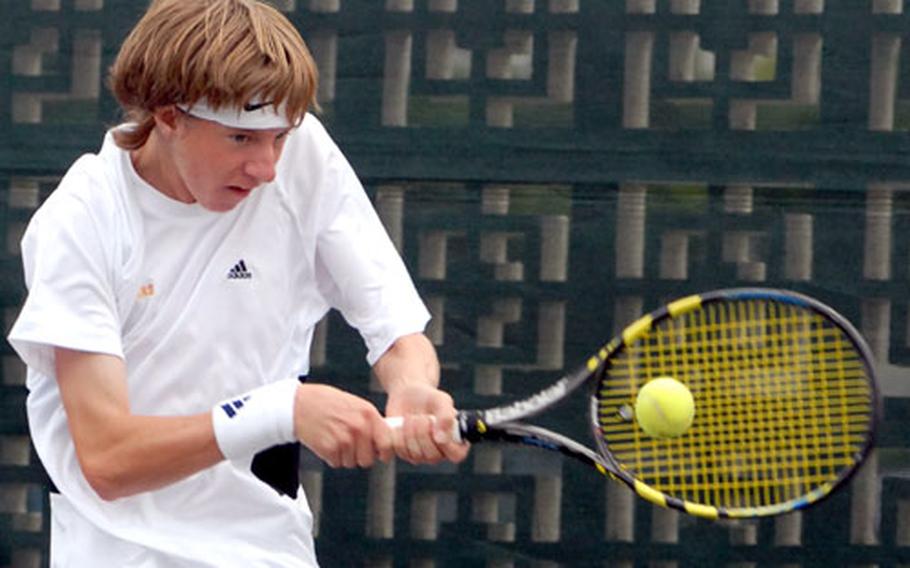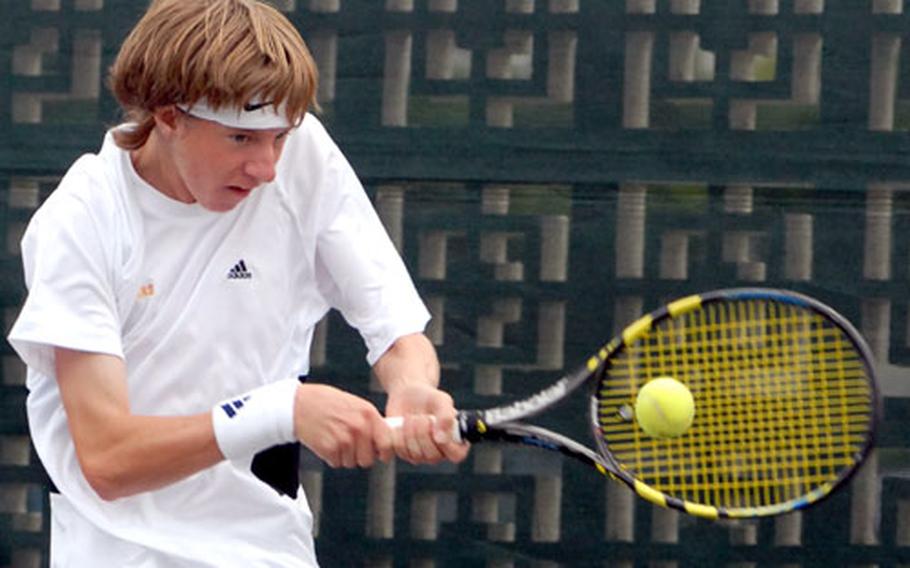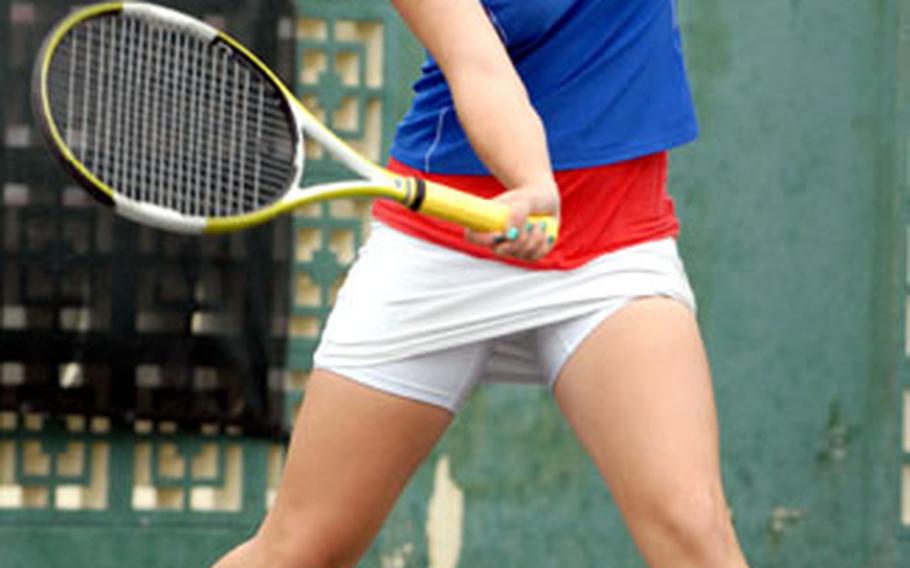 KADENA AIR BASE, Okinawa — It was a special Wednesday for super sophomores Kennedy Allen and Kyle Sprow, the proud Japanese tennis instructor who helped build their games and a Seoul American squad that continues to take delivery on Far East tournament team titles.
Seoul American's Allen dethroned two-time defending girls singles champion Kristia Suriben of E.J. King in straight sets, and boosted the Falcons to their third consecutive team championship. Sprow, of host Kadena, had a harder road, outlasting Kenta Takahashi of Yokota in three sets.
"She has all the strokes, the intelligence, she's patient and she's just like Kristia in that she never gives up," Seoul American assistant coach Robert Victoria said of Allen.
"It was an honor to play somebody like that," Suriben, a senior, said after falling 6-3, 6-4 to Allen, a top 10 singles player and state doubles semifinalist in Florida as a freshman last year.
Allen gave Seoul American its first girls singles gold medalist in school history, as Sprow won Kadena's first boys singles championship. Sprow started strongly, faded somewhat in the second set, then won the last five games in topping Takahashi 6-2, 3-6, 6-2.
"That was a heck of a match. He's the best opponent I've ever played. A great guy," Sprow said of Takahashi. "He deserves all the credit."
From the start, Allen took charge against Suriben, using her powerful forehand to keep the two-time champion back on her heels. Allen would either paint the sidelines with hard volleys or groundstrokes, or would deftly drop a shot over the net, leaving Suriben to chase it.
Despite being in control, Allen said she had to work for every point. "She got everything back" over the net, Allen said. "Very good groundstrokes. She didn't leave any openings."
A service break in the third set threw the door open for Sprow to take command against Takahashi. With the set level at 1-1, Takahashi broke Sprow's serve and looked to take control, but Sprow broke right back and won the last five games of the set.
"That was the biggest point" of the match, Sprow said of the break. "That gave me confidence and I felt I had more momentum than he did."
"His consistency is his biggest attribute," Kadena coach Robert Bliss said of Sprow, adding that he's turned his game around since struggling through the Okinawa district singles tournament with back spasms. "He started playing some of his best tennis then and it's carried over."
Takahashi and Suriben did not leave empty-handed, and each gained a measure of revenge on their singles conquerors.
Playing despite a sore elbow, Takahashi teamed with fellow senior Ken Brophy to repeat the boys doubles title they won last year on Guam. Takahashi and Brophy beat Sprow and Kadena's Elliot Mason 7-6, 6-4.
Suriben and her sister Rizalina, a sophomore, turned the tables on Allen and her girls doubles partner Esther Kim. The Suribens made quick work of the Falcons pair 6-1, 6-2.
Sprow and Allen each began their careers by taking lessons from 18th Services teaching pro Tokio Nakamatsu in the early part of the decade. He watched both his pupils capture their Far East gold medals from the spectators area at Risner.
"I'm very happy for them," said Nakamatsu, who's taught at Risner for eight years. "They have grown up as players."
Likewise, Seoul American continues to make strides. The Falcons outdistanced Kadena 62-48 in the final team standings, while E.J. King and Yokota tied for third with 36 points.
"Every year is a new experience, and I've enjoyed every single one of them very much," Falcons head coach Emilia Flores said.