Far East H.S. roundup: Osan's Richert falls one short of Pacific scoring mark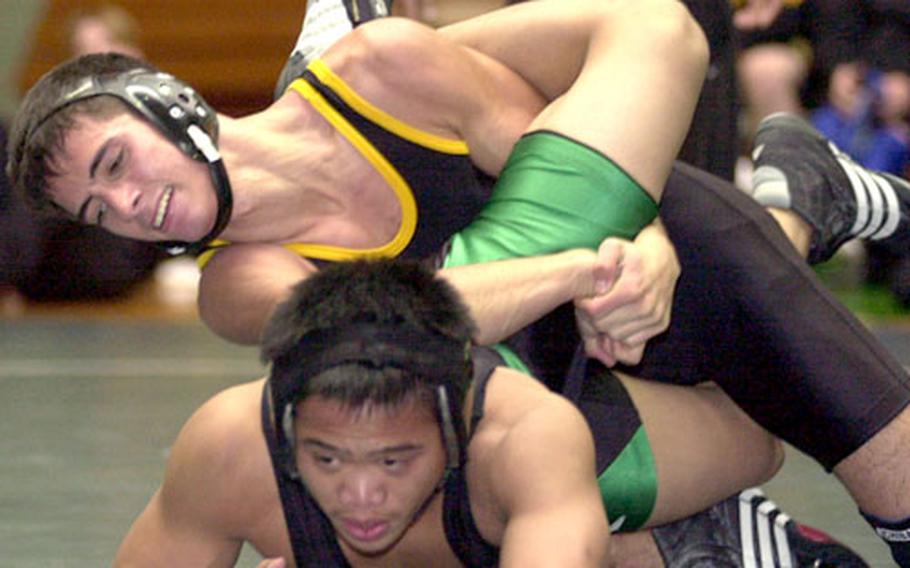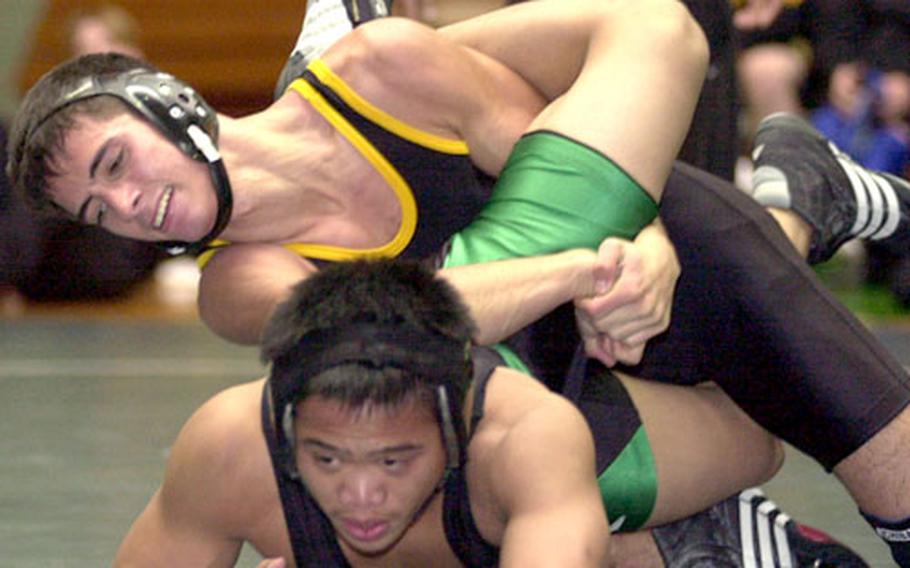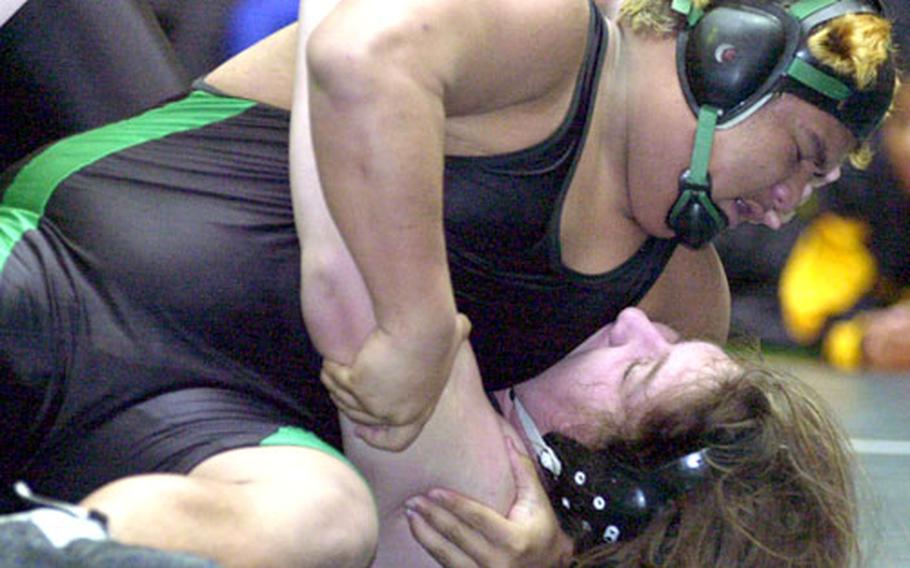 The Pacific girls basketball 41-point single-game scoring record periodically has been threatened. Last winter, E.J. King's Erika Alexander came close twice. This year the record has been approached nine times, the last by Zama American's Tiffani Wright.
But Wednesday, Osan American's Jessica Richert came as close as anyone in six years, scoring 40 points and grabbing 33 rebounds in the Cougars' 58-32 home win over the Taejon Christian International Dragons.
"I don't even think she realized it," coach Bruce Barker said of the 5-foot-9 freshman. "She's a very unselfish player. Sometimes, she'll pass off when she has a good shot, try to get everybody involved. Maybe too much, and that hurts her game."
But Wednesday, she took over, shooting 20-for-40 from the field (she missed both her foul-shot attempts) and dominating the boards with 33 rebounds, 16 on offense, with many of her points coming on putbacks. She even recorded five steals.
Can Richert surpass 41 points?
"She's capable but I don't think that's her intent," Barker said. "She just happened to be in a place where she shot a lot."
Richert has been a bright spot in a rebuilding year for the defending Far East Class A tournament champions, who lost forward Mina Davis and guard Sharon Kroening to graduation and 6-foot-5 senior center Margaret Nurse via transfer to Seoul American. Osan improved to 4-7 with the win.
Richert "probably is the team, in terms of scoring at this point," Barker said. "She does most of the rebounding and the hard work in the paint."
But Richert too is expected to depart after this school year. "If that's a bright light for us, it will go out sooner than I wanted," Barker said.
Senior forward Yevonne Sears of Robert D. Edgren set the 41-point standard during the 2000 Far East Class AA tournament.
"Records are made to be broken," said Edgren Eagles coach Sarah Richardson upon learning of Richert's 40-pointer. "I just hate it to be broken, because it belongs to Edgren. Realistically, I think it will happen this year. And may the best player win."
Copelands eager to match sibling's gold-medal exampleOnly once have three wrestlers from the same family captured gold medals in Far East Wrestling Tournament competition: the Doughtys of Nile C. Kinnick, Billy (2000), Jonny (2001) and Kenji (2005).
Kadena Panthers senior Ian and sophomore Austin Copeland hope to make the Copeland family the second to have that distinction. They want to follow in their older brother Devon's footsteps and step on the gold-medal podium later this month at the Far East tournament at Yokosuka Naval Base, Japan.
"That's always been on our minds since the beginning of the season, leading Kadena to a Far East title and also to win gold," said Ian, a 168-pounder. "That would be one of the best goals I ever had, the best feeling."
Devon, now at the U.S. Air Force Academy in Colorado Springs, Colo., defeated Joey Wood of Kinnick 5-4 in overtime for the 168-pound gold medal a year ago at Yokota High School.
"It would be awesome" to match that feat, said 148-pounder Austin. "Devon set the bar for us. We have to perform to his standards."
They made quick work of their Thursday opponents, with Austin pinning Jake Haynes in 51 seconds and Ian nailing Brandon Murphy in 1 minute, 14 seconds, powering the Panthers to their ninth straight Okinawa Activities Council dual-meet victory over Kubasaki 36-25.
Jacob Bloom (129), Ben Blake (141) and Brandon Stout (180) also pinned their Dragons foes, while Ben Zendejas (122) scored a technical fall and Ben Breazile (115) a two-period decision. For Kubasaki, defending Far East champion Steve Courtney (158) won a technical fall and David Miller (215) and Bucky Shaw (heavyweight) each won by pin.
The Copelands each said they believe Kadena could be primed for a shot at its first Far East tournament team title.
"Even though I'm a senior and I won't be here next year, I know the banner would be there and that would be enough," Ian said. "But we can't take anything for granted," Austin added.
Courtney didn't appear overly concerned by the growing losing streak to Kadena: The Dragons captured their 19th and 20th Far East team titles last year despite losing all three regular-season duals with the Panthers.
"We could be primed to do it again but we have a lot of work to do," he said. "We're getting better, slowly but surely. We'll up the intensity and work on our technique in practice. We'll be there."