Far East H.S. roundup: Luna emerging as the go-to guy for Seoul American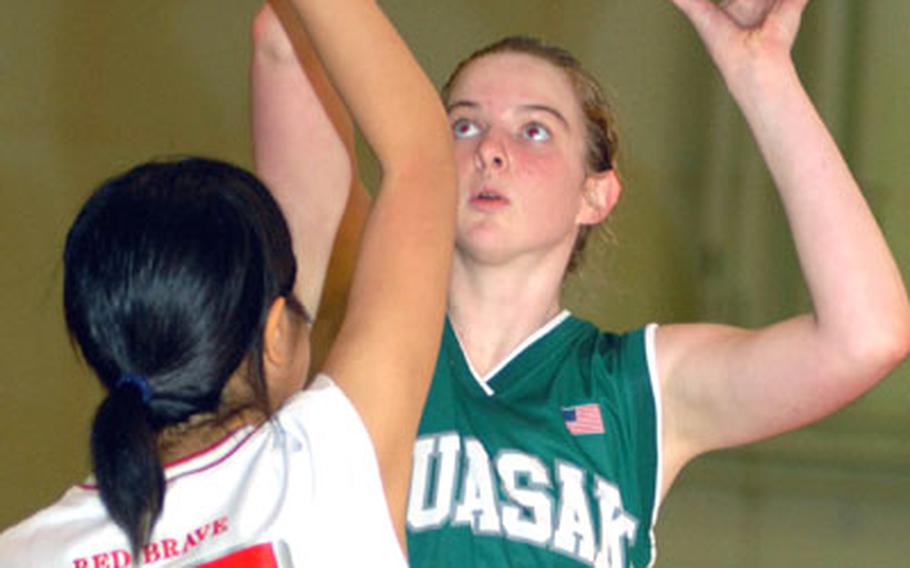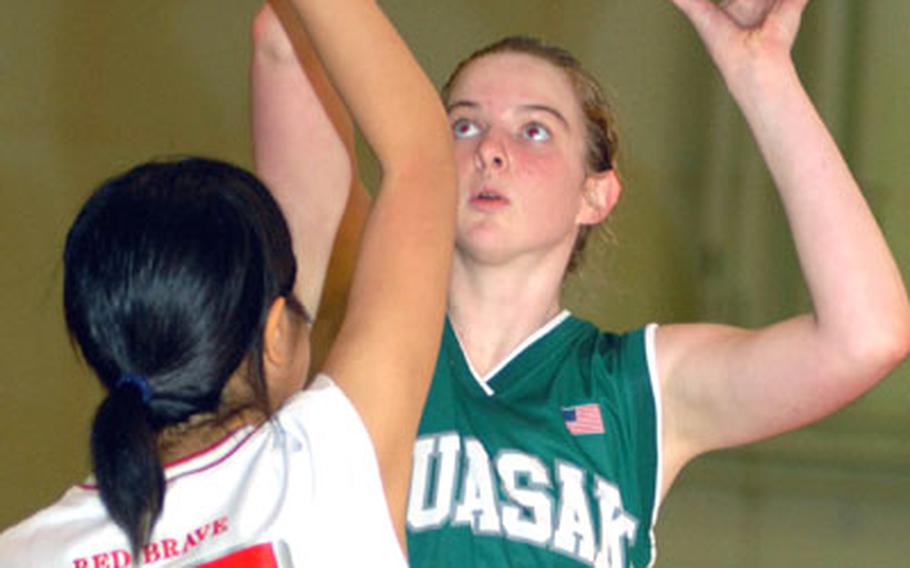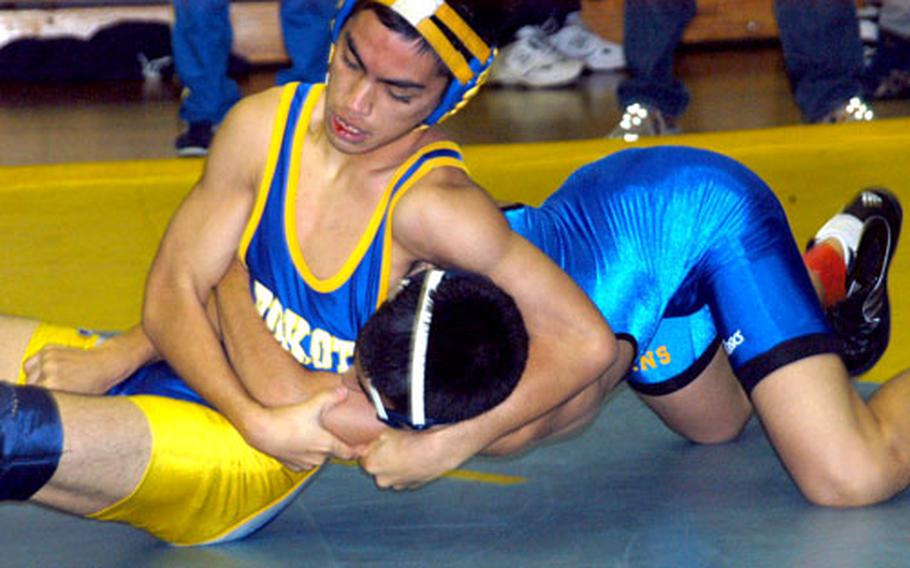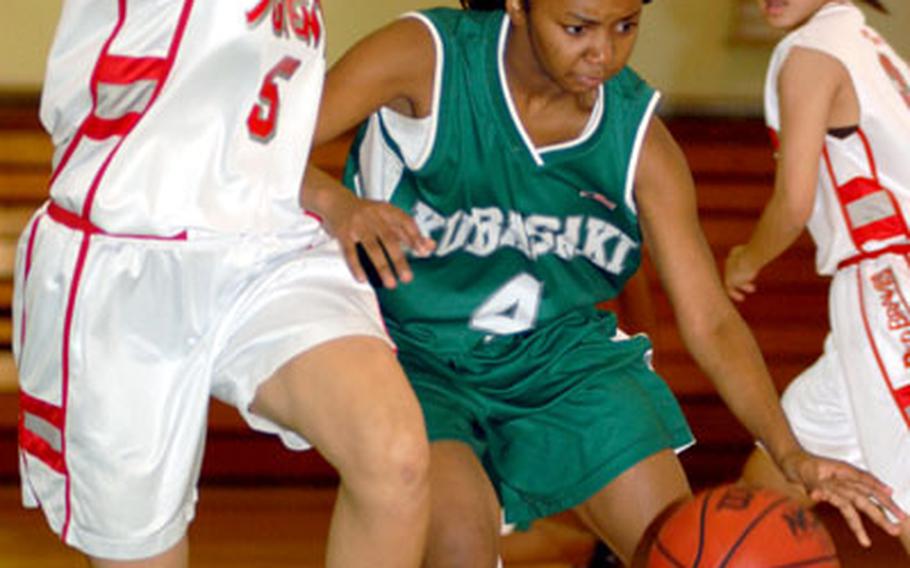 ¶ For game summaries, see today's scoreboard page.
After two seasons of living in other players' shadows, Seoul American junior Andrew Luna has begun asserting himself as the Falcons' go-to guy.
In Saturday's 95-68 victory at Taegu American, Luna had career highs of 27 points and 16 rebounds as the Falcons (12-4) outscored the Warriors 31-15 in the first quarter and 23-12 in the fourth.
"He was unstoppable," Seoul American coach Steve Boyd said.
The Falcons kept Luna on the varsity team as a freshman because of his potential. "He played a good bit last year and he's really come on this year," Boyd said.
Though 6-foot-1 and 185 pounds, Luna "plays a lot bigger than that," Boyd said, adding that the Falcons are trying him in different spots to better round his game and avoid opponents' double-teaming him. Luna was averaging 18 points and 11.8 rebounds entering the weekend.
"He's got long arms. He's the most consistent player we have, no doubt about it. You know what he's going to give you every time out," Boyd said, "but so does everybody else."
Kubasaki boys bounce back; Kadena boys, Yokota girls fallThe opening line of Charles Dickens' "A Tale of Two Cities" summed up the weekend for Kadena's and Kubasaki's boys and Yokota's girls basketball teams: "It was the best of times. It was the worst of times."
After stumbling 103-63 at Mirai Koka on Friday, Kubasaki rebounded against Konan on the Dragons' home court Saturday, winning 102-96 behind Quinton Mason's 24 points.
Coach Jon Fick admonished his players before Saturday's game to get back on transition defense and take better care of the basketball; the Dragons committed 41 turnovers against Mirai Koka, and just 21 against Konan.
"We were the aggressor tonight," Fick said. "Last night, they (Mirai Koka) took us out of our element, didn't let us do anything we wanted. Today, we came at them with defensive intensity. The guards really played well, took better care of the basketball."
Kadena's boys pulled away from Futenma on Friday for an 85-77 road victory, only to suffer a 100-66 defeat at Kitanakagusuku on Saturday.
"That's one of the best Okinawa teams I've seen, if not the best," Panthers coach Robert Bliss said. "They shoot, defense, trap, pass, they're deep and they're tall; they had three guys at least 6-foot-4, 6-foot-5."
Yokota's girls also endured a shoe-on-the-other-foot moment on Saturday. After defeating Matthew C. Perry 40-35 on Friday, the Samurai returned the favor as Cristina Sindac scored five points in the final 30 seconds Saturday as Perry beat Yokota 42-41.
"They played their heart out, they never gave up and they hit their foul shots," Yokota coach Ric Cabral said of the Samurai, who went 17-for-22 at the line. Ashley Taylor was 12-for-15, including 6-for-7 in the final quarter.
No gold medals, but Yokota wins Kanto wrestling tourneyIt's rare for a wrestling team to win a team title in a tournament without capturing any individual gold medals.
Yokota accomplished that feat Saturday on its home mat, outscoring St. Mary's International 50-42 in the Kanto Plain Association of Secondary Schools Invitational despite the Panthers' not winning a gold. The Titans won four. The Panthers placed nine wrestlers in weight-class finals; each won a silver medal.
"You don't see that often," said coach Duke Alexander of third-place Nile C. Kinnick, which earned three golds — heavyweight Phil Ergus, 215-pounder Chris Sanders and 129-pounder Harvey Gonzales. "But they had a lot of people in the finals. You get nine people second, you'll get a lot of team points."
Saturday's tournament was the first of the Japan season featuring DODDS-Japan teams and their international school counterparts, a much different lineup than in last week's DODDS-Japan event at Edgren.
"All the Japan schools are here," Kitts said. "It's probably the biggest tournament in terms of numbers of kids the whole season. Everybody sees everybody, how good are we going to be, everybody gets to see what they have to work on."
Two of the three reigning Far East gold medalists won their divisions at Yokota: Ergus and Edgren's Kevin McDonald (168). Edgren's Andrew Blankenship took fourth at 180.
Zama American's Adam Godfrey (148) and Josh Johnson (141) also were victorious, as was David Heitstuman (135) of E.J. King.
E.J. King girls improve to 10-0Defense continued to dictate the terms to opponents as the E.J. King girls basketball team improved to 10-0 — its best-ever record from the start of a season —by beating Zama American 50-29 on Saturday.
"The defense, I never expected it," coach Bridget Vertin said, pointing to the addition of one player, freshman Rizalina Suriben, as a key reason the defense has ramped up this season. "She doesn't score much, but she keeps other people from scoring. I can't imagine not having her on the team."
Suriben's sister, junior Kristia, scored 20 points and Yudia Johnson added 18 for E.J. King.