Far East H.S. roundup: Lieberg, Quallio open assault on Petty track meet records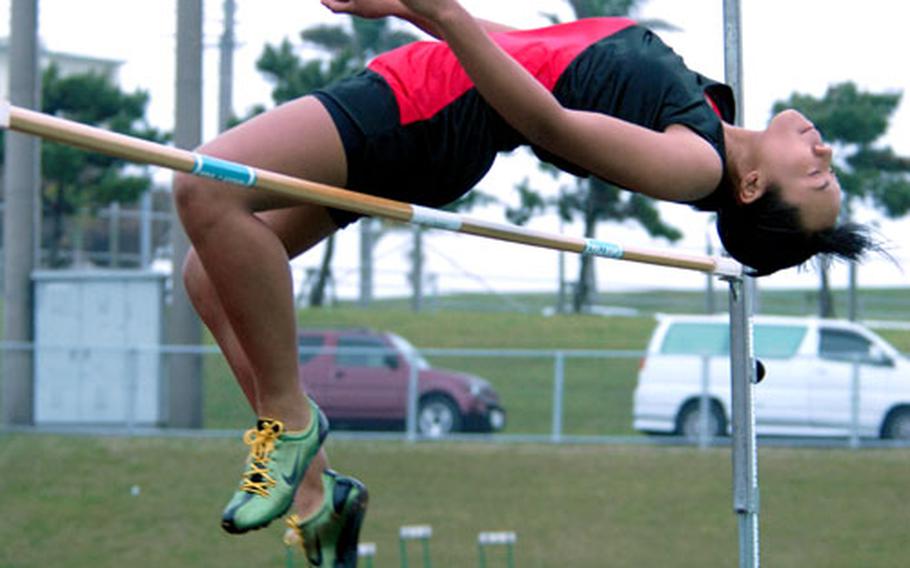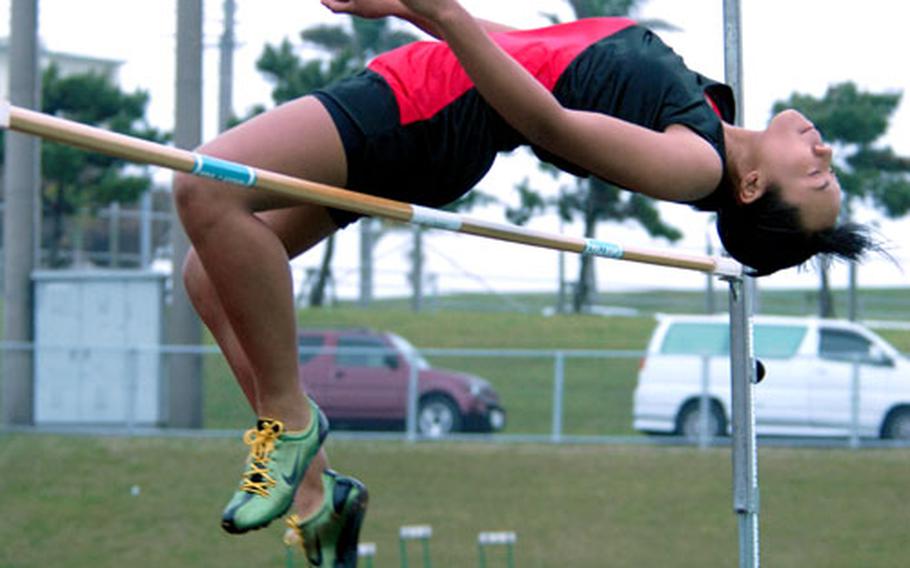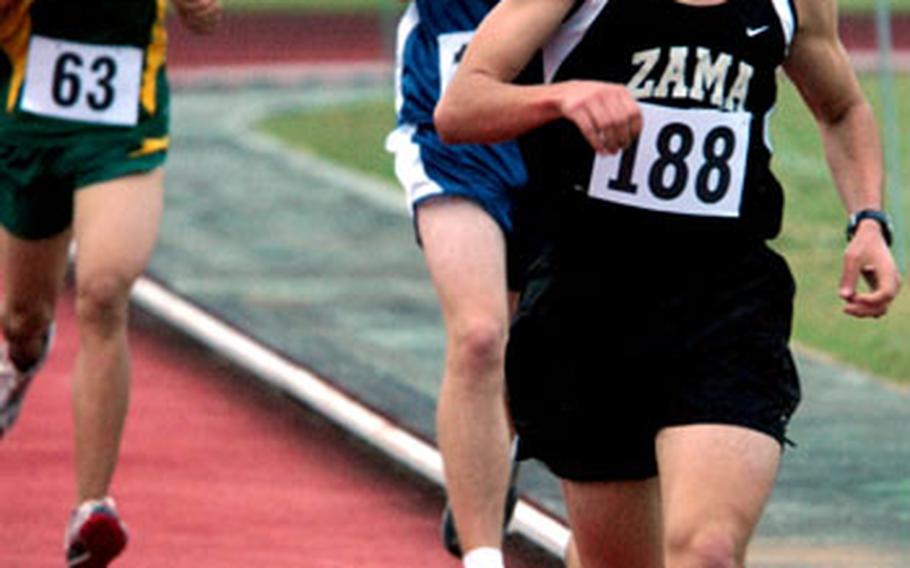 Another Mike Petty meet, another assault on the meet's record book.
Juniors Mark Lieberg of Seoul Track Club and Andrew Quallio of Zama American shattered records in the boys shot put and two-mile Friday in the 6th Alva W. "Mike" Petty Memorial Track and Field Meet.
"And that's just the start," meet organizer Charles Burns said. "We have another day to go."
On his first attempt on a cloudy, windy, misty afternoon, Lieberg fouled. He followed that with two throws, with the 12-pound shot reaching the outer edge of the 14½-meter sand pit.
The third toss went 14.79 meters, or 48 feet, 6 inches. That demolished the old mark of 13.87/45-6 set two years ago by James Grandi of Taiwan's Morrison Christian Academy.
"Not good enough. You told me you could do 50 (feet)," Seoul Track Club's founder and coach Kevin Madden said, jokingly, as Lieberg smiled and threw his head back.
Lieberg's throw beat the second-place toss of 12.34 by Morrison's Andy Dwight and 12.20 by defending champ Lawrence McClain of Kubasaki.
"He has the best work ethic of anybody I've had in 26 years of coaching," Madden said of Lieberg, who has improved his throws by 10 feet over last year.
"He works his tail off. And he gets good grades. He can throw 50. We're looking at getting him up to 50 this year and 60 next year."
Lieberg credits support from his coaches and family, hard work, viewing videos online and reading books on technique for his improvement.
How far can he throw? "Far enough," Lieberg said.
As for Quallio, the question is how fast he'll eventually run.
The junior clocked a 9:58.95. topping the four-year-old meet record by 21.05 seconds. Quallio lowered his personal best by seven seconds, broke Zama's school record and became the third runner in Japan to run the two-mile in less than 10 minutes.
In Friday's run, Quallio trailed Guam island cross-country champion Christopher Magtoto the first four laps, then took command on the fifth lap and pulled away to an 18-second triumph.
Quallio credited Magtoto's blistering early pace for the victory.
"If it weren't for him, I wouldn't have gotten that time. When I passed him, I thought he was going to catch me if I didn't race my own clock. And it worked out," Quallio said. "Awesome job. Great runner. Lot of people pushing each other. Great race. Totally excited about it."
"He looked really good out there," Zama coach Mitch Moellendick said.
Seoul Track Club was one of two teams to win two events on the first day of competition.
Sophomore sprinter, long-jumper and high-jumper Kristy Taylor was STC's second winner, leaping 4 feet, 10½ inches to capture the high jump. She beat International School of the Sacred Heart's Julieta Osella by 2½ inches.
"I'm surprised. I didn't think I'd do that well," Taylor said.
"She's a devastating athlete," Madden said of Taylor, who transferred to Seoul From Westfield High in Chantilly, Va. "Watch her in the 100 and 200. She's something to watch."
Kubasaki's LaKesa McClain repeated her discus title with a toss of 30.66 meters. Morrison's Rachel Schulz won the shot put (8.96), and Seisen International's Izumi Kershaw edged Sacred Heart's Nako Nakatsuka in the girls 3,200 (12:10.25-12:14.40).
St. Mary's International's Miles Atkinson (5-9½) won the boys high jump, St. Mary's Simon Ruiz (36.58) took the discus and Christian Academy in Japan's Daniel Park won the long jump (5.85).
Heckerl throws no-hitter as Korea baseball, softball openIt was a good opening day Friday for Seoul American's baseball and girls softball teams, who began Department of Defense Dependents Schools-Korea play. No star shined brighter, however, than Seoul's Tristan Heckerl.
The senior right-hander tossed a no-hitter and struck out 16 batters as the Falcons' baseball team routed Daegu American 16-1 under a sunny sky with the temperature in the 60s at Yongsan Garrison's Lombardo Field FourPlex.
Heckerl "was truly dominant, consistently pounding the zone with his fastball, curve and knuckle-change," said his coach and father, Robert Heckerl. "He struck out the first nine batters he faced, and we knew that if our bats stayed strong, we'd be in good shape."
Seoul's softball team beat Daegu 14-3 and Osan American 23-1. Daegu beat Osan 7-3.
"We have a good core of veterans, five seniors, four who've played all four years here. We have a nice nucleus, and they know the system," Falcons coach Julian Harden said.