Far East H.S. basketball: Zama boys win first DODDS-Japan title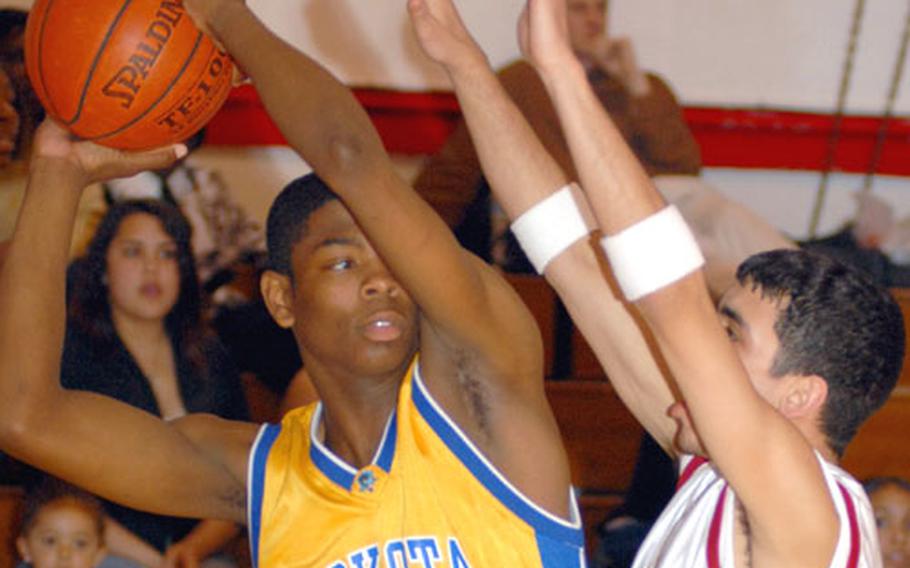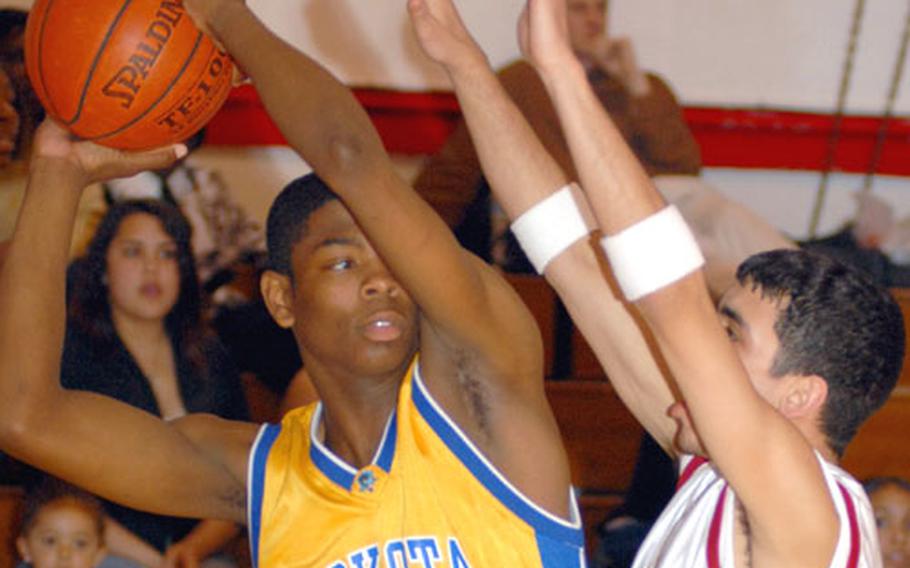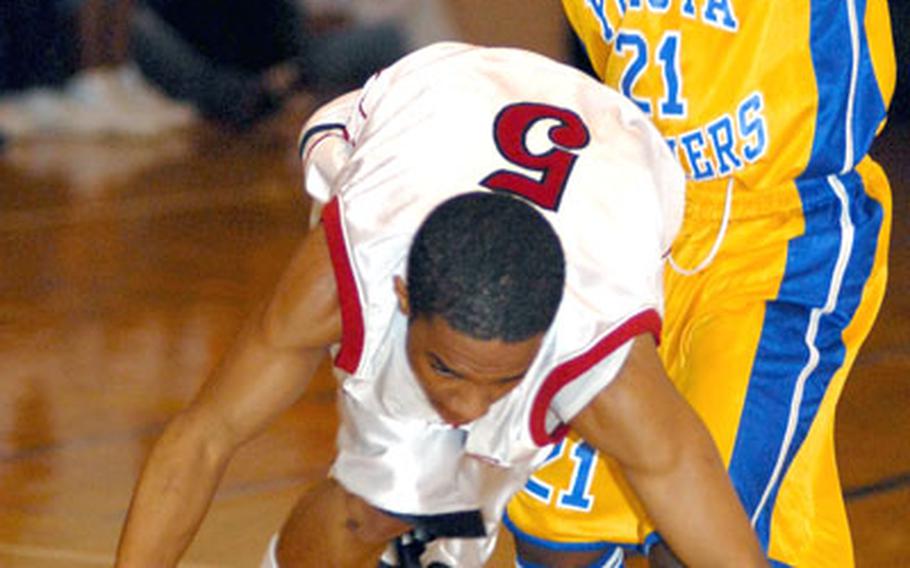 CAMP ZAMA, Japan — For the first time, the Zama American boys can call themselves champions of the DODDS-Japan Basketball League.
The Trojans (28-0) earned that distinction, plus their first Kanto Plain Association of Secondary Schools title in 13 seasons, by rolling to a 58-39 home victory Tuesday over last year's JBL, Kanto and Class AA champion, Yokota.
"Unbelievable," senior guard Wilberto Badillo said, adding that while the returning Trojans knew they would do well this year, "you never expect an unbeaten season. You only do what you know you can do."
Badillo scored 15 points and center Carlos Walter added 14, but it was the rebounding of senior Ben Bishop that played one of the biggest parts Tuesday, coach Tom Allensworth said.
"This was one of the best games he's played," said Allensworth of Bishop, who had 11 rebounds. "He's always going to get eight or nine rebounds for us."
Bishop spent the fall playing quarterback in Logan, Utah, but decided to come back to Zama for basketball season.
"A great reason to come back," Bishop said. "This has been a great season, a great team, great coaching leading us all the way."
Zama led from the start, scoring the first seven points. Yokota got as close as 10-7, but the Trojans blew it open with three straight three-pointers in the second quarter. Zama outscored Yokota 25-13 in the period.
Zama's defense took over in the third quarter, holding Yokota without a point until three seconds remained. The Trojans took their biggest lead, 54-26, with 6:15 left on Walter's rebound shot in the lane.
Zama improved to 12-0 in JBL and 11-0 in Kanto, four games ahead of Yokota (19-7, 7-4 JBL, 7-3 Kanto).
"We missed some shots, they would come downcourt and hit a three, we missed some opportunities," Yokota coach Paul Ettl said. "They (Zama) will definitely be a contender and probably a favorite" to win next week's Class AA tournament at Seoul American.
"Next week. That's what it's about," Bishop said.
Kadena coach: Kubasaki could be trouble in Class AA tourneyKADENA AIR BASE, Okinawa — Kadena boys basketball coach Robert Bliss celebrated his first sweep of the four-game Okinawa Activities Council season series by sounding a warning: Kubasaki could be a team to be reckoned with in next week's Class AA tournament.
The Panthers wrapped up the sweep by downing the Dragons 102-88 on Tuesday at the Panther Pit, going up by 26 points in the second quarter before Kubasaki cut it to 13 on outside shooting by Michael Bennett and Quinton Mason.
First-year coach Jon Fick "has done a good job with those guys," Bliss said. "They're going to do well next week."
Kadena's girls also made it four victories in four tries against Kubasaki, topping the Dragons 58-38. It was the Panthers' 12th straight win over Kubasaki dating back to the 2004-05 season.
Boys basketballTuesday
Zama 58, Yokota 39 At Camp ZamaYokota..........9 13 2 15—39Zama..........14 25 9 10—58Scorers-Zama, Wilberto Badillo 15, Carlos Walter 14; Yokota, Riki Byrnes 8, Desmond Shine 8, Peter Weaver 8. Rebounders-Zama, Ben Bishop 11, Carlos Walter 9. Noteworthy-Zama wins first DODDS-Japan League title and first Kanto Plain Association of Secondary Schools title since 1993-94.
5.
TuesdayKadena 102, Kubasaki 88 At Kadena Air BaseKubasaki..........14 12 34 28— 88Kadena..........22 31 22 27—102Scorers-Kadena, Shmarua Phelps 25, Terrone Sheffey 19, Alex Mierzejewski 15, Jamil Barney 15. Rebounders-Kadena, Alex Mierzejewski 13, Jamil Barney 8, Shmarua Phelps 6. Steals-Kadena, Alex Mierzejewski 5. Blocke shots-Kadena, Shmarua Phelps 7.
SaturdayGuam High 50, St. Paul Christian 40 At Santa Rita, GuamSt. Paul..........7 4 9 20—40Guam High..........21 11 8 10—50Scorers-Guam High, Jehan Brown 19; St. Paul Christian, Nate Pineda 25. Rebounders-Guam High, D'Andre Weaver 7, Devin Weaver 5. Assists-Guam High, Devin Weaver 9.
Girls basketballTuesdayYokota 52, Zama 34 At Yokota Air BaseZama..........5 4 8 17—34Yokota..........14 16 9 13—52Scorers-Yokota, Lauryn Thomas 10; Zama, Cristina Eustaquio 13.
Sacred Heart 50, Kinnick 38 At Yokosuka Naval BaseISSH..........12 17 8 13—50Kinnick..........6 9 13 10—38Scorers-Sacred Heart, Leyna Arbour 16, Emily Strack 12; Kinnick, Carl'Meisha Wourman 16, Charlemagne Cameron 11. Rebounders-Kinnick, Charlemagne Cameron 8, Larissa Davis 7, Misari Buckley 5. Steals-Kinnick, Larissa Davis 6, Yasmine Espree 5, Charlemagne Cameron 5. Blocked shots-Kinnick, Larissa Davis
TuesdayKadena 58, Kubasaki 38 At Kadena Air BaseKubasaki..........7 16 7 8—38Kadena..........17 7 23 11—58Scorers-Kadena, Brittney Gilliam 19, Monica Hayes 10, Zori Drew 10. Rebounders-Kadena, Brittney Gilliam 9, Monica Hayes 5. Noteworthy-Panthers beat Dragons for 12th straight time.
---
---
---
---