Far East H.S. basketball: Yokota boys are first defending champs to fall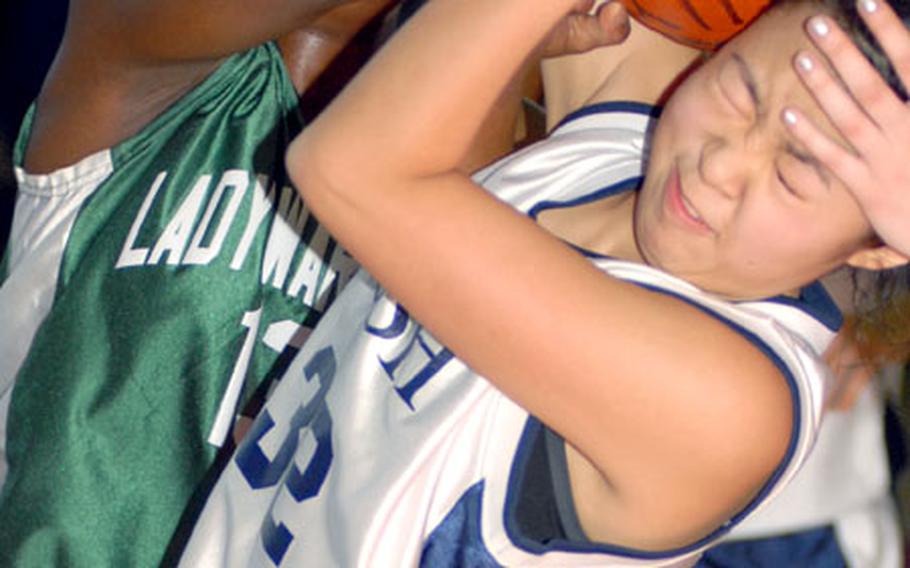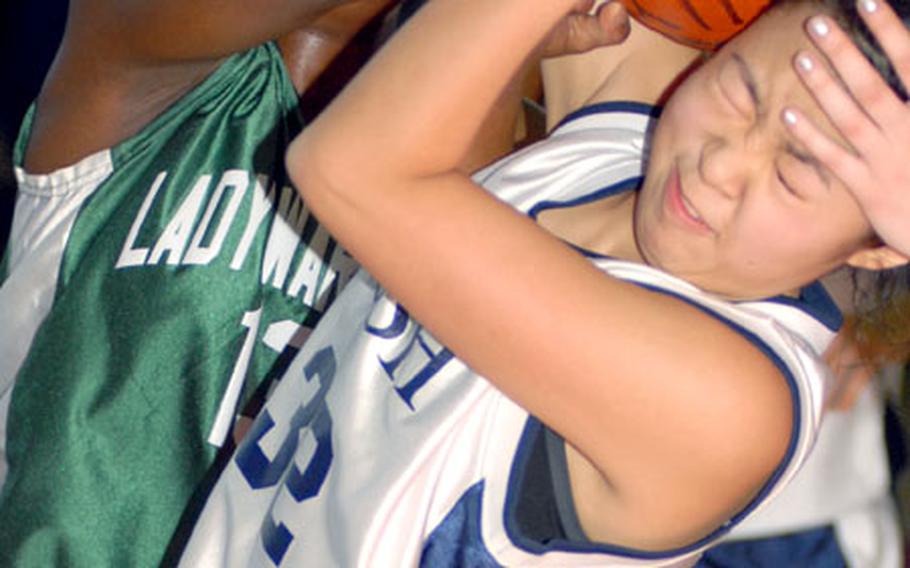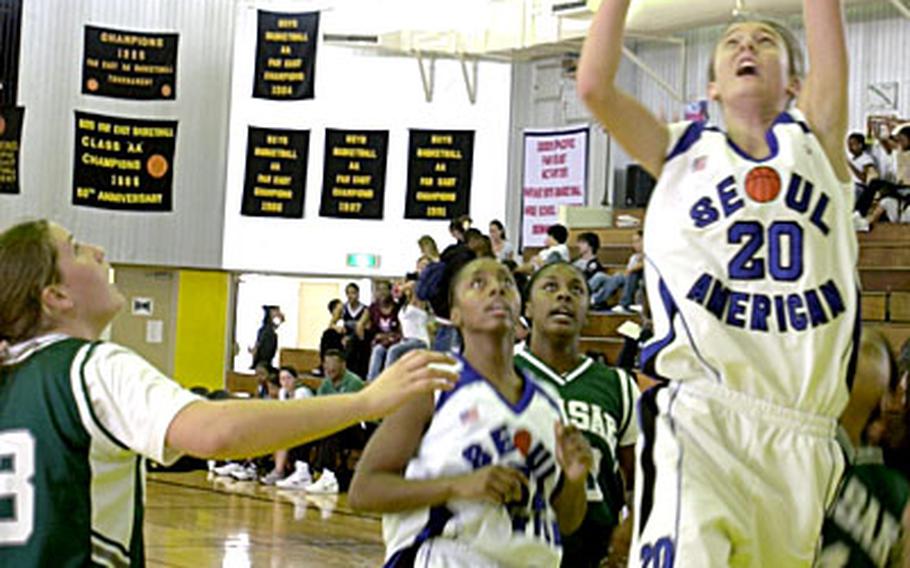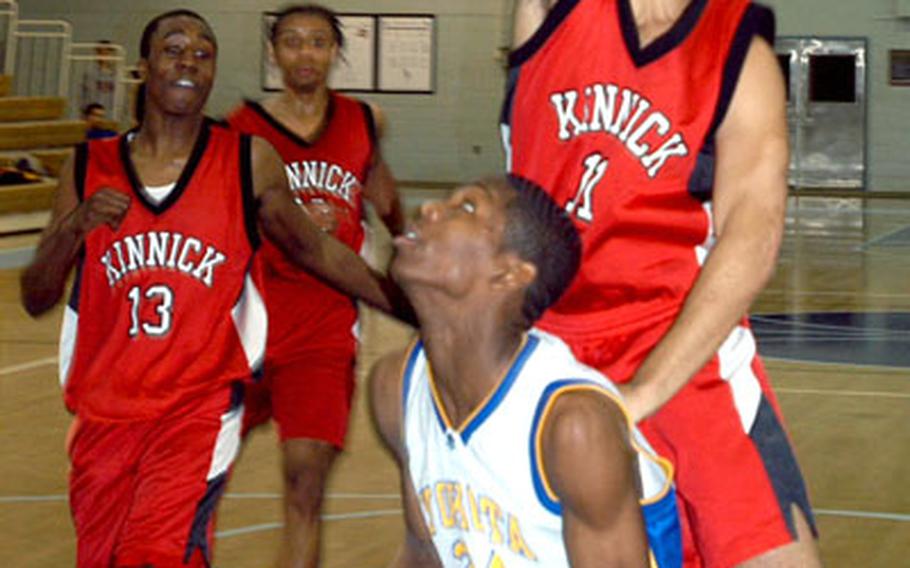 (See Wednesday's tournament scoreboard here.)
Wednesday was "turnabout is fair play" day for boys teams as the playoffs began in the Far East basketball tournaments.
The first casualty was Yokota, which fell 44-38 to Nile C. Kinnick, a team the defending Class AA champion Panthers topped twice during the season by an average of 14 points.
The Red Devils' winning formula: Clamp down on two-time All-Far East center Caiveon Thomas and get a hand in the face of perimeter specialist Cameron Shelton. Thomas was held to three first-half points and 16 total; Shelton scored just three points.
"We came up with a good game plan," said coach Nathan Brewster of Kinnick, which entered the tournament at 7-13; Yokota went 21-8. "We weren't going to let Caiveon or Cameron beat us. We played tough defense on them, made the rest of them beat us from outside. That was the difference."
It's an issue that Yokota coach Paul Ettl said the Panthers have been fighting all season.
"Any team that's worth its salt will try to sag down on the inside and force us to shoot from outside. And the shots didn't fall," he said.
In the Class A boys tournament at Iwakuni Marine Corps Air Station, Japan, Taegu American and Matthew C. Perry also turned the tables on teams that had beaten them each time they met during the regular season.
In the longest game played in the Pacific since the 1999-2000 season, Taegu finally broke through in its fourth try against Yongsan International-Seoul, but it took three overtimes for it to happen.
Thomas Brooks' finger-roll shot from the left baseline as time ran out won the game for the Warriors.
"It was nice to get them back," Taegu coach Phillip Loyd said.
His Taegu team lost twice during the regular season to the Guardians by an average of 12 points, then were eliminated by YIS-Seoul in the Korean-American Interscholastic Activities Conference Division I tournament.
The victory came in the loser's bracket of the double-elimination tournament.
"The kids decided they didn't want to go home," Loyd said. "They played disciplined, they handled the press. Wil Galbreath helped keep the offense patient, and Antonio Harris did a great job on the boards."
More was at stake for Perry and E.J. King, which had beaten the Samurai four times, including twice by 30 or more points during the regular season.
Perry outscored King 30-22 in the fourth quarter for a 71-65 victory that earned it a semifinal berth against Faith Academy.
"It feels great," said Samurai team captain Julio Rodriguez, who contributed 13 points to a win that he called a "confidence builder. We want to keep going. We believe we can win this."
The Cobras, who entered with title hopes, dropped to the loser's bracket and were to play an elimination game against St. Paul Christian on Thursday.
With the Class AA tournament's single-elimination format, Yokota has no shot at playing in a third straight final.
Kinnick broke out of the gate quickly, leading by eight after one period and holding that margin through the first half. Yokota made a third-quarter run, cutting the gap to one, before Kinnick pulled away in the final period.
"We didn't panic," Brewster said of the Panthers' third-quarter surge.
Despite two regular season losses, Brewster said, he and his charges "thought we could beat them" in Wednesday's rematch. "We knew what they had. We had expectations. If we followed the game plan and did things right, we felt we had a chance."
Ettl was philosophical after the defeat. The Panthers had reached the Class AA final the last two years, beating Seoul American 74-52 last year after losing at Kadena in 2005.
"No team stays on top forever," Ettl said. "We've had good fortune, we won a lot of close games. Our luck ran out. We came out flat and Kinnick came ready to play."
A 64-62 overtime loss to Kubasaki on Tuesday in round-robin play "took a little steam out of us and there was some carry-over into this morning."
The Red Devils' reward? A quarterfinal date with Seoul American, the team that beat Kinnick in the 2004 final and went 31-14 during the season.
"In basketball, you always have a shot," Brewster said of Thursday's meeting with the host Falcons. "It will come down to doing things right and working hard. We'll try to give everybody a run for their money."
---
---
---
---