Far East cross country meet figures to be wide-open affair
---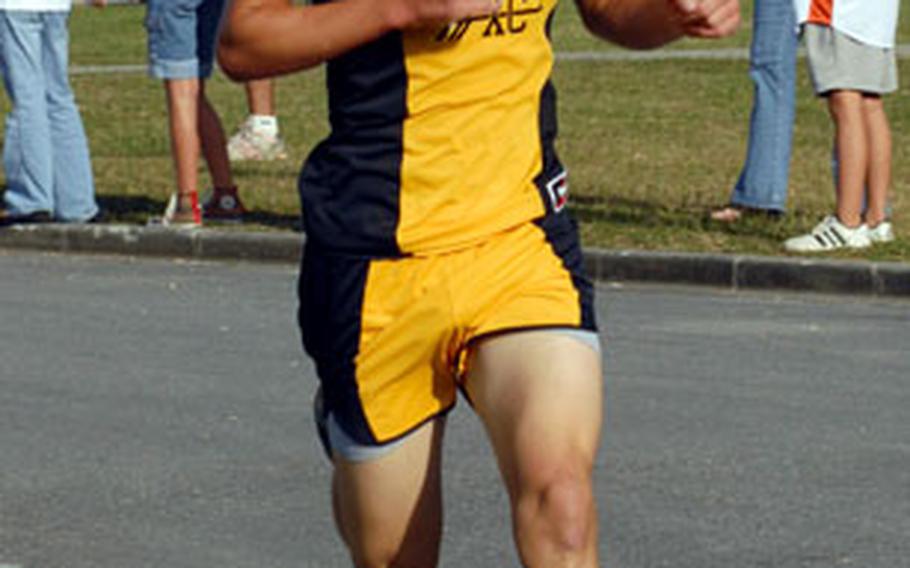 CAMP FOSTER, Okinawa — Tom McKinney knows too well that regular-season times mean little when the Far East cross country meet rolls around.
The coach of 2002 and 2004 team champion Kadena felt last November that his experienced Panthers were in good position for a three-peat. But Seoul American, which never before had a whiff of the title, upended Kadena at Misawa Air Base, Japan.
Things can go as expected for some, such as Guam High's Matt Evans, who last year won every regular-season and then took the boys individual title. In that same Far East meet, Kadena's Victoria Lyle, who hadn't won all season, captured the girls individual title.
"On any given day, an anybody can can just walk in and win it," said McKinney — or "any league champion can walk in and fall flat on their face."
Such is the nature of the Far East meet, which this year moves from Misawa's cool climes to the sub-tropical heat of Okinawa's Camp Hansen. Kadena High School is staging the meet for only the second time.
The meet opens Monday with the 3.1-mile individual races on a fairly flat Hansen road course. It ends with Tuesday's 31.5-mile team relay. Each team's five boys and girls pair up and run 2.5-mile legs; the fastest overall group claims team honors.
The meet will have a surplus of strong runners:
Kadena sophomore Brant Casteel claimed the Okinawa Activities Council's district championship last week with a region-best time of 16 minutes, 29 seconds. Kubasaki's rising freshman star Julie Monti did likewise for the girls title in 19:38, also the region's fastest time.Nipping at Casteel's heels will be Seoul American's John Lohr, who finished second in the Korean-American Interscholastic Activities Conference district meet in 16:44. Seoul American's Jillian Busby went through the girls season unbeaten.In Japan, Chris Tobiere and former two-time DODDS-Japan champion Jade Thrasher of Robert D. Edgren traded first place all season with Graham Will and Nadine Mulvaney of Nile C. Kinnick. Mulvaney clinched the DODDS-Japan girls title, as did Kevin Blackburn of Zama American on the boys' side.Guam High also might have a say, particularly on the girls side, where Cecilia Bickley, Auriaunna Fry, Sarah Jagodzinski and Johanna Jorgensen paced the Panthers to a two-loss season, best in school history.Many runners also will be seeing opponents from other regions for the first time.
"We don't know how it will turn out," said Jorgensen, a junior. "Some runners can have a bad race on different days. … But we'll have fun getting there. The course is flat; we're used to hills."
McKinney said many factors, including weather, will come into play in determining team and individual winners. With most teams traveling from cooler climates, such as Yokota, Edgren, Zama, Kinnick and Seoul, "Kubasaki, Kadena and Guam High, we have the weather," he said. "That's an advantage."
McKinney said he views Far East as "wide-open … I don't see a dominant team … Everybody's evenly matched."
Far East High School Cross Country Meet
Dates: Nov. 6-7.
Site: Camp Hansen, Okinawa, 3.1-mile road course.
Host: Kadena High School, Kadena Air Base, Okinawa.
Format: 3.1-mile individual race on Monday. Top four finishers score points for their teams. Ties to be broken in favor of team with fourth-place runner who finishes with best time. 31.5-mile team relay on Tuesday. Teams run in pairs, with one boy and one girl running two 2.5-kilometer legs each, total of 5 kilometers or 3.1 miles per pair. Ties to be broken in favor of team with fifth pair that finishes with best time. Overall scoring determined by combined placement in boys and girls 3.1-mile individual races and team relay. Ties broken in favor of team that places highest in team relay.
Schedule: Opening ceremony 8 a.m. Monday, Camp Hansen. Boys individual race 9:10 a.m., girls individual race 10:10 a.m. Monday. Team relay 9 a.m. Tuesday. Awards ceremony 11:30 a.m. Tuesday, Camp Hansen theater.
Participating teams: Robert D. Edgren, Yokota, Zama American, Nile C. Kinnick, Matthew C. Perry, E.J. King, Japan; Kadena and Kubasaki, Okinawa; Seoul American, Taegu American, Pusan American, Osan American, South Korea; Guam High.
---
---
---
---