Far East Class A H.S. football championship: Edgren trips up Taegu, 27-6
by
Dave Ornauer
November 5, 2007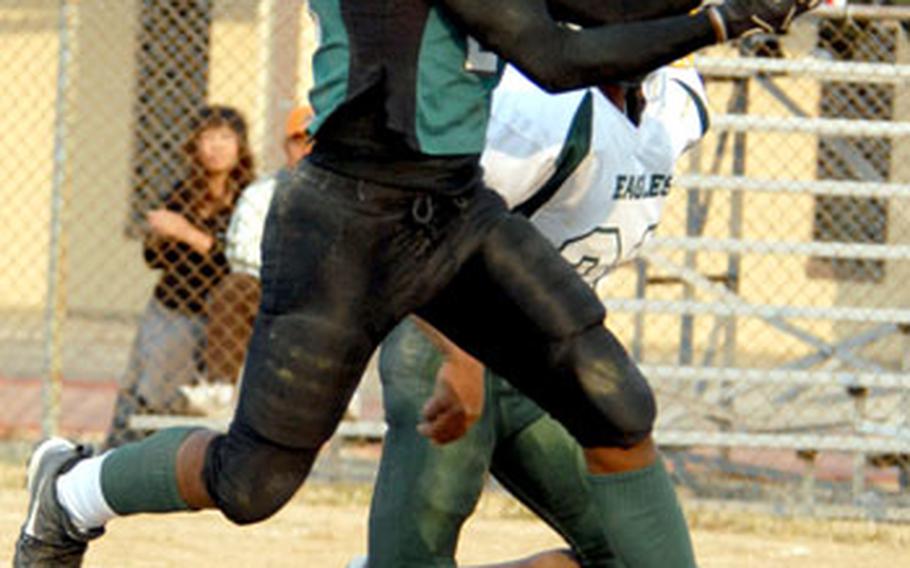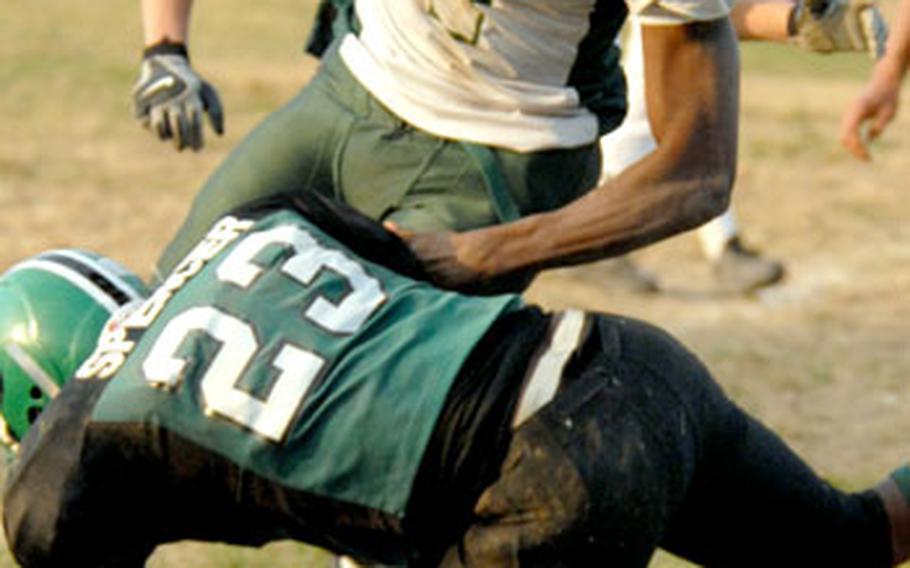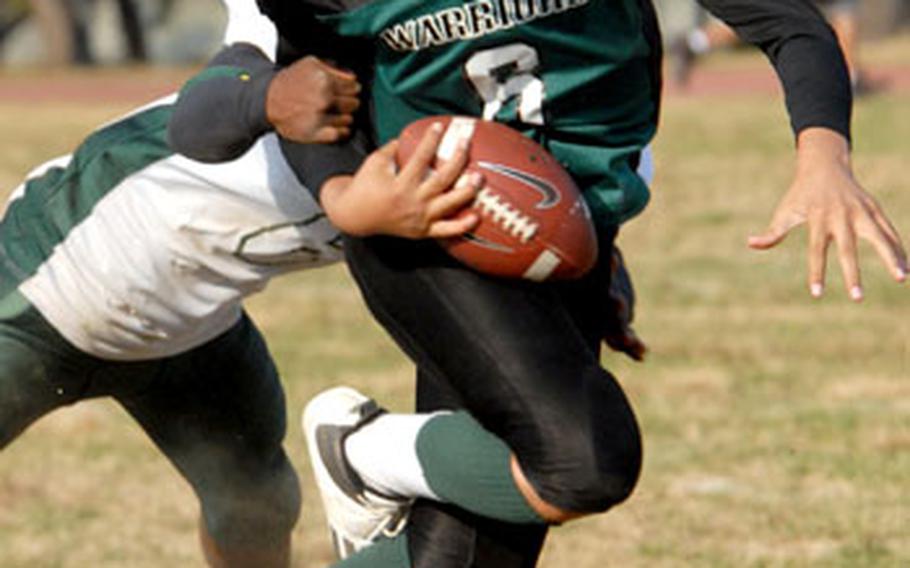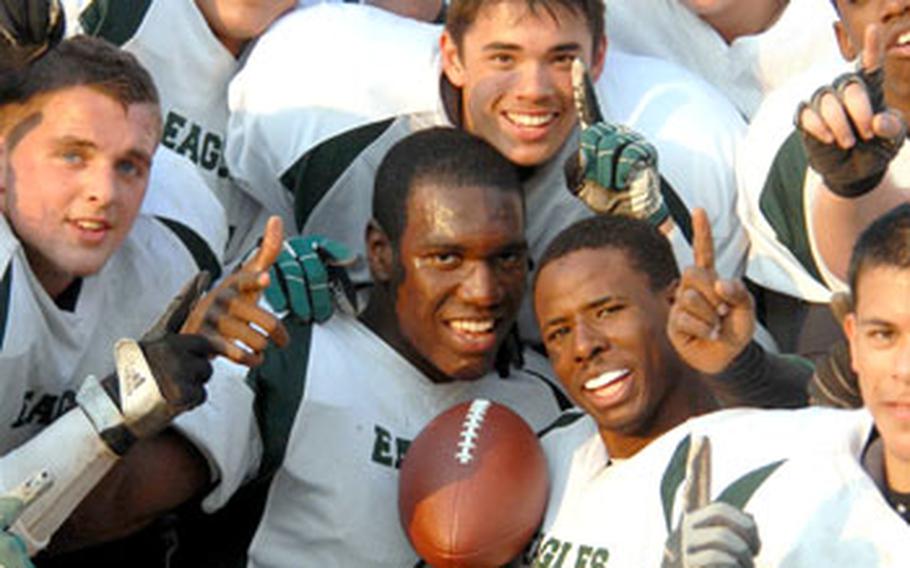 (See game summary and statistics on the scoreboard page.)
CAMP WALKER, South Korea — Robert D. Edgren got an unexpected spark on Saturday from a little-known quantity — defensive back Johnell Alexander.
Alexander, a junior cornerback, returned an interception for a touchdown and set up a TD with another interception Saturday to spark the Eagles to a 27-6 victory over Taegu American and their second consecutive Far East Class A football title.
"He's an excellent athlete," coach Chris Waite said of Alexander, who was used primarily as a punt returner this season but is being groomed to play quarterback next year.
"He has great ability, speed and he's smart. He knows what he's doing."
Alexander's two interceptions helped spark a 21-point Eagles run during a 2-minute, 40-second span late in the second quarter.
"He showed up big-time today," said Edgren senior quarterback Zach Latimore, who ran for his second touchdown after Alexander's second interception.
Prior to that second-quarter salvo, Edgren's offense was running "slow," Latimore said.
"Those plays were huge. He (Alexander) gave the offense some momentum."
Edgren (5-3) became the first visiting team to win the Class A title in the Far East playoffs' three-year history. The host Warriors (3-3) were appearing in their first Class A title game.
While the Eagles played virtually mistake-free football, with no turnovers and only two penalties, the Warriors had the two passes intercepted, lost a special-teams fumble and committed seven penalties for 60 yards. One wiped out a second-half touchdown.
"Three turnovers, three scores for them," Taegu coach Ken Walter said.
"Give them (Edgren) credit. They capitalized on our mistakes."
One of those errors came on Edgren's first possession. On fourth down, the Eagles punted to Taegu's Angel Hickman, who couldn't find the handle and Kevin McDonald fell on the ball, keeping the Eagles' drive alive — 65 yards, 12 plays, 6:15. Latimore's 7-yard keeper put Edgren up 6-0.
It stayed that way until 4:07 remained before halftime, when "Fantastic Four" senior fullback Andrew Blankenship dashed 65 yards for a touchdown.
That set the stage for Alexander's heroics. "Just part of the team. Just doing my thing to help the team," he said.
Walter felt the play on which the first interception occurred might have succeeded. "It was a good throw, we had a receiver open," he said. "The second interception, I shouldn't have been throwing it."
Taegu finally answered on the first drive of the second half, going 63 yards on 10 plays in 5:12 with senior Antonio Harris carrying 3 yards to paydirt. But it was as close as the Warriors would get, as Edgren went into prevent mode the rest of the way.
"Tenacious," Waite described his defense.
"They shut them down."
Blankenship gained 100 yards on 10 carries.
Harris paced Taegu with 93 yards rushing on 14 carries. Angel Hickman ran 14 times for 81 yards and had five returns for 102 yards.
Taegu outgained Edgren 183 yards to 182.