Far East basketball tournaments: Daegu, Edgren peaking at right time
---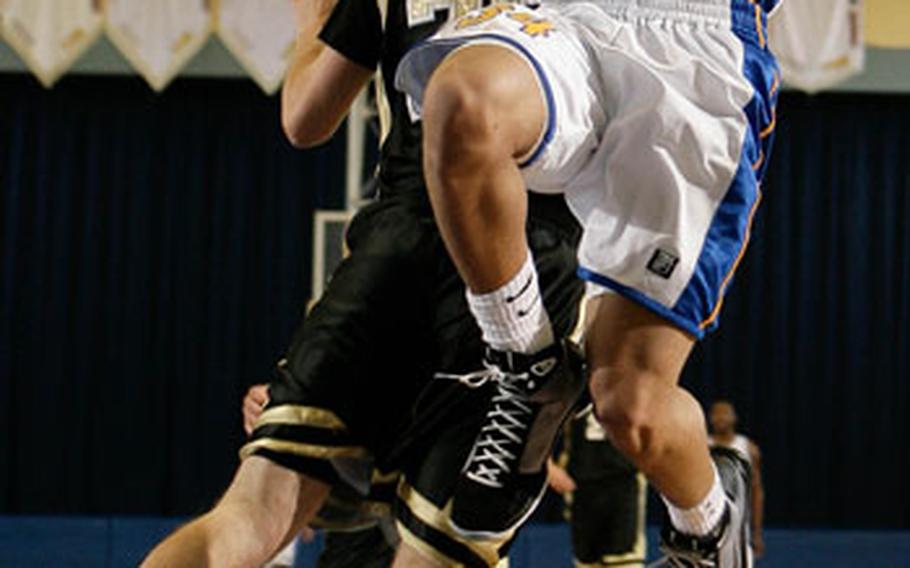 There's a reason coaches insist that it only matters what their teams do in the final week of the season.
That's Far East high school basketball tournament week, particularly the playoff rounds, in which teams that failed to distinguish themselves, whether during the regular season or even the first couple of days at Far East, can stand up and shine.
Take Daegu American's boys. They were 12-10 overall, 8-5 in the Korean-American Interscholastic Activities Conference and 2-2 in Far East Class A pool play.
Yet after a 66-62 double-elimination playoff loss Wednesday to Morrison Christian Academy, the Warriors came out swinging. Behind sharp-shooting Thomas Brooks, they pounded two foes Thursday, scoring 82 points in each contest.
"I know they were fired up after that first game," tournament director and former Robert D. Edgren coach Andre Thibert said. "They felt they were better than that, and they're showing it now."
Entering Friday's final day of play, the Warriors still held out hope for their first title since 1990.
Defending champion Yongsan International-Seoul was another team that turned it around in the playoffs, after going 0-4 in pool play. The Guardians handily beat E.J. King 61-34 before fading 55-47 against Morrison and dropping to the knockout bracket with Daegu.
"They play hard every game, and when you do that, eventually, good things happen," Thibert said.
Atop the girls Class A field, Edgren, 3-18 a year ago, has done its 10-6 regular-season mark one better. Entering Friday's last day of play, the Eagles had won all five of their games, and stood a game away from their first basketball banner in school history.
But putting a damper on the Eagles' celebration was freshman center Imani Wimbush spraining an ankle in Edgren's 52-40 victory over Daegu. The injury sent Wimbush to the emergency room and coach Sarah Richardson into full worry mode.
"I'm so nervous. She was my big rebound person," Richardson said, adding that defenses might now try more box-and-one or triangle-and-two zones designed to clamp down on scoring machine Ashley Hawkins.
With a healthy Wimbush, "I wouldn't have any fear at all," Richardson said. "I do feel good [about where Edgren stands], but I want to win. And the kids want it, too."
Meanwhile, two new faces graced Friday's semifinal round in the Class AA tournament fields – Simon Sanchez's boys and Notre Dame's girls from Guam.
"It's always good for Guam" when one of its teams reaches the Final Four, Guam High coach Joe Taitano said.
The Sharks boys hit 15 straight foul shots, with Dan Tubalot going 8-for-11, in the final period and rallied from a 21-17 deficit, outscoring Zama American 18-1 in the closing minutes to beat the Trojans 35-22. Simon Sanchez becomes the first boys final-four team from Guam since 2002.
Notre Dame has won the last two Guam league titles, but hasn't played since the Independent Interscholastic Athletic Association of Guam season ended in December.
Not given much of a chance as a result, the Royals have instead steamrolled five opponents, becoming the first Guam girls Final Four team since John F. Kennedy lost the 2003 and 2004 championship games.
Coach Henry Falk, whose Nile C. Kinnick team fell 56-30 to Notre Dame, said he was impressed at the Royals' all-around play. "I thought we were peaking at the right time, until that game," he said. "They (Royals) just clicked. Everybody knew what they were doing."
Coaching great Holtz addresses Class AA teams
The Girls Class AA tournament got a surprise visitor Thursday at the Yano Fitness Center — ESPN college football analyst and former Notre Dame and South Carolina coach Lou Holtz. He spoke for about a half-hour between playoff games and answered fan questions.
"We could have easily listened to him speak for a lot longer," said DODDS-Pacific Far East Activities Council chair Don Hobbs, who was in attendance. "He has a message, and he's very entertaining."
Holtz was visiting Camp Zama as a guest of Army Morale, Welfare and Recreation and Armed Forces Entertainment.
---
---
---
---