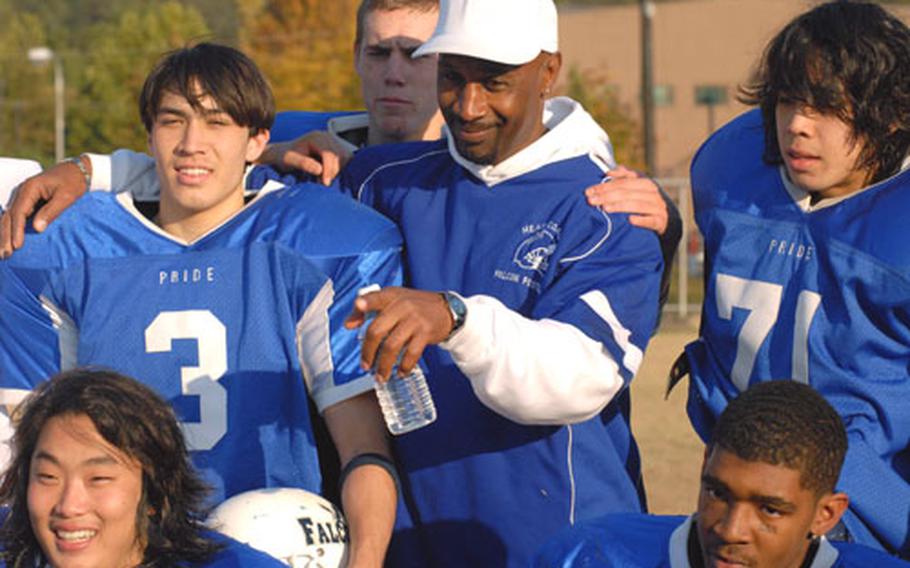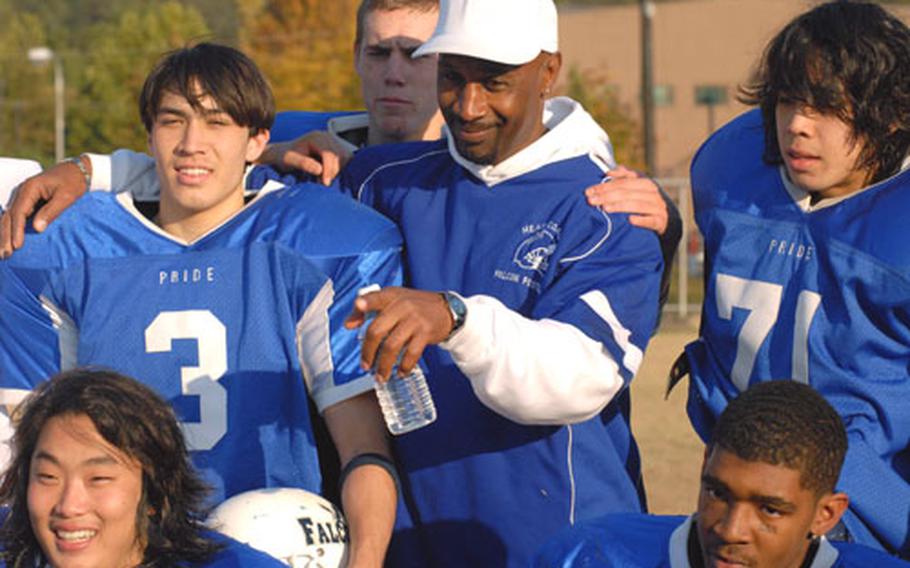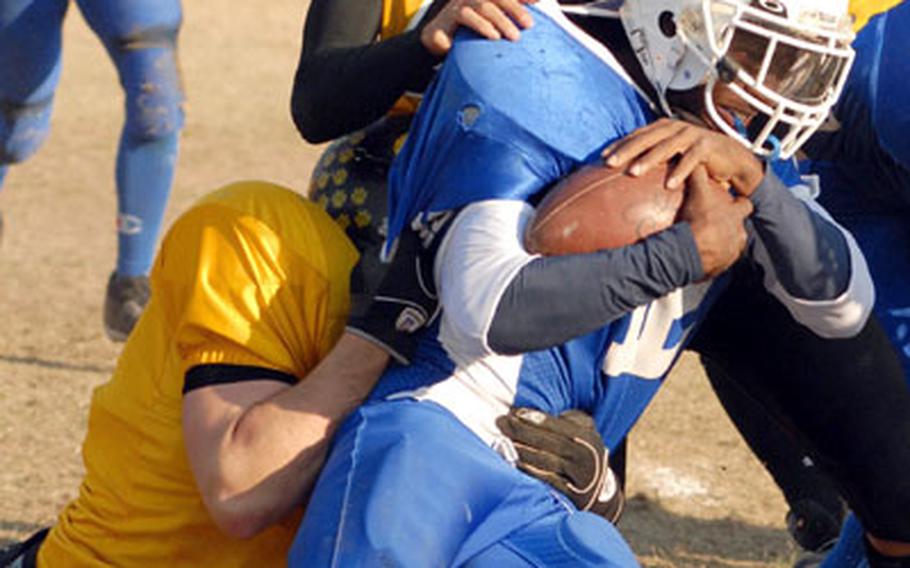 YONGSAN GARRISON, South Korea — Just the mention of the word "Okinawa" lit a fire in the bellies of senior running back David Smalls and the Seoul American Falcons football team.
The memories of their 38-8 loss last November to Kubasaki in the first Far East Class AA championship game still burned brightly as they took the field against Kadena last Saturday.
It wasn't the rematch they had hoped for, but it did pit the two premier powerhouse programs within the Department of Defense Dependents Schools-Pacific's Far East tournament system, Kadena of Okinawa with 14 tournament titles in the last five years, and Seoul American with nine.
Regardless of whether it was Kubasaki or Kadena, "we wanted to prove it to ourselves," Smalls said of chasing redemption for last year's defeat. "To get that close and lose that way left a bad taste in our mouths."
And with Saturday's 12-6 overtime victory, thanks to sophomore Joe McLean's touchdown catch and fumble recovery in the extra period, the Falcons won a record fifth DODDS-Pacific Far East tournament title within four academic/athletic quarters over two school years.
Not even Kadena, one of the Far East tournament title pack's unquestioned leaders with 21 championships in its 25-year history (Kubasaki of Okinawa leads with 42), has matched that feat.
Seoul American entered the 2002-03 season with two Far East titles, girls basketball in 1984 and boys basketball in 1996, and has moved into third place overall in short order, with 11 total.
Kadena's title haul bulked up exponentially thanks mainly to soccer. Starting in 2002-03, the Panthers have won at least three Far East titles every school year — Seoul and Osan American are the only other schools to do that.
What are the secrets to building a lasting power that wins championships across the board?
Great talent, desire, coaches to whom athletes respond and unwavering support of teachers, administration and community make for the sort of winning tradition that builds on itself, Smalls and coaches from Seoul and Kadena said.
"You have to have the type of student-athletes of great quality and character, and teachers who encourage them to do well away from the athletic field," said Smalls' coach, Julian Harden, who won his second Far East tournament title to go with his wrestling tournament crown three years ago.
"It takes the whole community buying into the school and people having faith in teachers, administration, coaches, to help support and sustain the programs," Kadena football coach Sergio Mendoza said. "It's the foundation that these programs grow from."
Part of that foundation is a coach who serves as a program's cornerstone.
"If the kids enjoy their coach, usually if you have a coach to whom they'll respond, they'll give you everything, and that's been one of secrets to our success," said Tom McKinney, who moved from Seoul American to Kadena in fall 2004.
He took an already strong cross-country program molded for 20 seasons by John Dawson and coaxed two Far East team titles in past three years out of it, giving the Panthers four such titles overall.
"You share your philosophy with parents, that you're willing to go the extra mile and keep parents involved. They'll drive the students to get them to go to practice and keep their grades up. And if you show you win a kids will gravitate to that team because they want to win and keep that program on top," McKinney said.
It also has a trickle-down effect to other sports, Smalls said. The Falcons' tennis and cross-country teams began that five-title, four-quarter run last fall, and Smalls said and his football comrades wanted a piece of that victory pie.
"We saw they were good and that Seoul American could be good in other sports, and we fed off that energy and success," Smalls said. "All our teams come together to go one basic goal, and that's to win. We wanted match the success of our other teams."
All of that spells one word: championship.
"This is the culmination of those things, hard work, determination and community support," Harden said.
Smalls and 11 of his fellow seniors will graduate in June, but 13 of the players on the Falcons' roster last Saturday are expected to return. But while the future appears bright, will the bull's-eye adorning the Falcons' blue and white jerseys.
"That will bring kind of a stress, but a good stress, to try to equal or better what we this year," Smalls said. "We're a contender Far East, now and forever."
---
---
---
---