Falcons' Gleaves, Kadena's Schrock share Athlete of Year honors
by
Dave Ornauer
June 11, 2010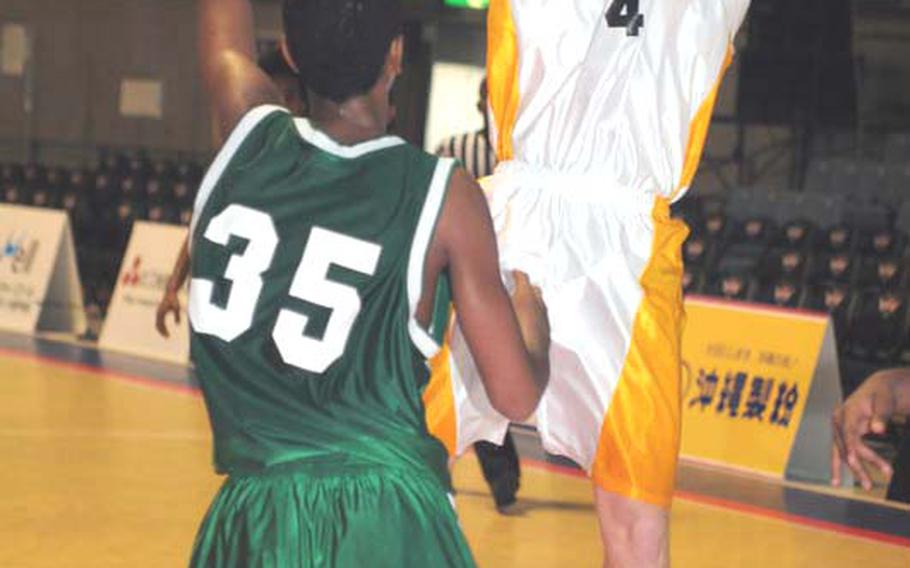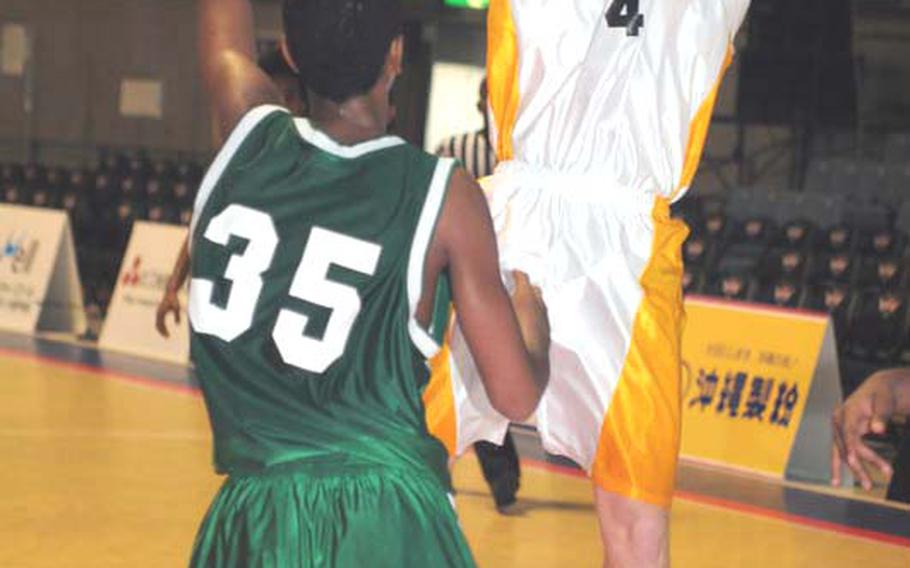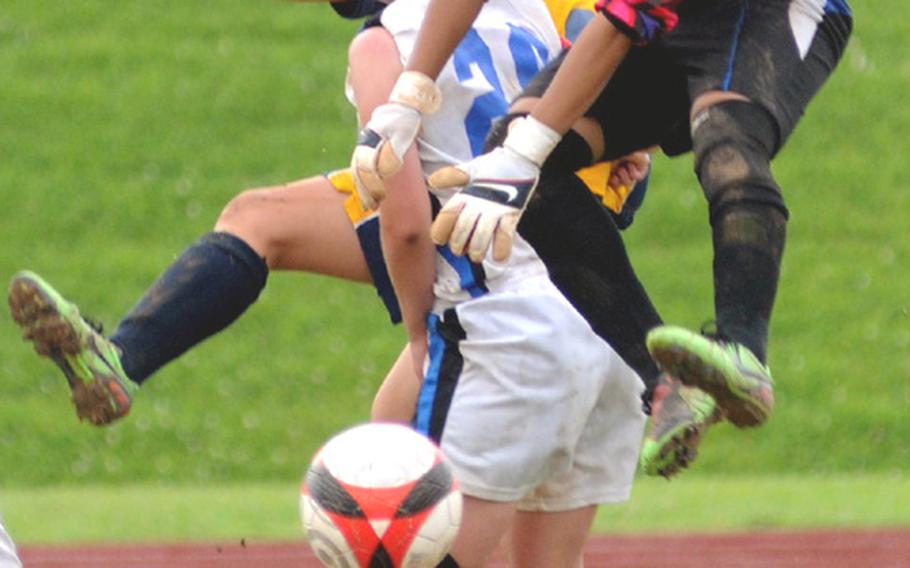 Merriam-Webster's definition of humble reads: "Not proud or haughty, not arrogant or assertive."
To hear their coaches talk, the word humble describes to a tee Kadena senior Stanley Schrock and Seoul American junior Liz Gleaves, who share Stars and Stripes Pacific high school Athlete of the Year honors for school year 2009-10.
Schrock quarterbacked the Panthers to their second Far East Class AA football title in three years, going 8-0 and outscoring opponents 349-25.
He next drew the toughest of defensive assignments in helping Kadena to its ninth Class AA basketball title in school history and a 32-9 overall record.
Schrock led Kadena in goals (18) as the Panthers went 13-10-1 but fell short to Hong Kong International in the Boys Class AA Soccer Tournament final; Schrock was accorded All-Far East honors for the fourth time.
Through it all, "he is never one to boast or act out, in fact he has remained rather shy," said his offensive coordinator and father, Steve Schrock. "He tends to lead by example rather than bravado. He competes for the love of competition and the sport he is involved in."
Schrock next heads to Mesa State College in Grand Junction, Colo. He'll play soccer for the Mavericks, who compete in the NCAA Division II Rocky Mountain Athletic Conference. He plans to major in journalism.
Gleaves had 269 spike kills in 575 attempts, 33 block points, 123 defensive digs and 19 assists as the Falcons earned the first No. 1 playoff seed in their Class AA Volleyball Tournament history, and finished third for the fourth time in school history.
She averaged 12.7 points, 4.6 rebounds, 3.9 assists and 5.3 steals for Seoul American (28-6), which won the Korean-American Interscholastic Activities Conference basketball regular-season and tournament titles and the school's third Class AA Tournament title in six years.
And on the pitch, Gleaves made crucial shootout save after shootout save, powering the Falcons to a 16-4-6 overall record, the KAIAC tournament title and Seoul American's first Class AA Tournament title.
"What makes her special is knowing she has considerable athletic skill, she's extremely humble," said her basketball and soccer coach Billy Ratcliff. "She doesn't brag. She looks after the team, not herself."
The rest of Stars and Stripes 2009-10 awards:
• COACH OF THE YEAR: Al Garrido of Nile C. Kinnick, who took his girls volleyball team to a school-first Kanto Plain Association of Secondary Schools title, an unbeaten 27-0 regular season and fifth place in the Class AA Tournament. Next, his girls track team also went unbeaten, won the Kanto regular-season and championship meet titles and the Far East girls team and overall titles.
• TEAM OF THE YEAR: Few utterly dominated their sport the way Kadena football did last fall.
• PROGRAM OF THE YEAR: Kadena, with Far East Tournament titles in dual-meet wrestling, football, boys basketball, girls softball and boys track and field and final-four finishes in four other tournaments.
• MOST IMPROVED TEAM: Michael Spencer and Zama American football staged the greatest one-season turnaround in school history, going from 0-7 in 2008 to 7-2 in 2009, its first Far East boys title of any kind since wrestling in 1979 and its first DODEA Japan title. Spencer chalked up DODEA Pacific Far East football playoff records of 45 carries, 312 yards and four touchdowns in the Class A title game, a 46-38 win at Daegu American. On the season, he rushed for a school record 1,154 yards and 12 touchdowns on 172 carries.
• MOST IMPROVED PROGRAM: Thought to be rebuilding on many levels, Christian Academy Japan's girls volleyball team became the lowest seed ever to win a Far East Class AA Tournament title. The boys basketball team played its first unbeaten Kanto season in 31 years. And behind three-sport star Miles Peterson, its boys tennis team dominated Kanto and the Asia-Pacific Invitational like none have in awhile.
• PLAY OF THE YEAR: On Day 3 of the 40th Hong Kong International Holiday Basketball Tournament, Kubasaki guard Dionte Watie tossed an entry pass to Gary Whitaker, which bounced right off the coconut, off the backboard and into the net during the Dragons' 75-70 fifth-place win over St. Mary's International.
• GAME OF THE YEAR: In a Far East Boys Class AA Basketball Tournament quarterfinal at Yokota High School, Kubasaki coach Jon Fick borrowed a page out of defending champion St. Mary's playbook: stall ball. It almost worked, as the Titans prevailed over Fick's Dragons 12-11 in a game in which two points were scored in the first 23:55.
ornauerd@pstripes.osd.mil
---
---
---
---