Girls Cross Country Athlete of the Year
Failure made Hernandez a champion
by
Dave Ornauer
November 14, 2013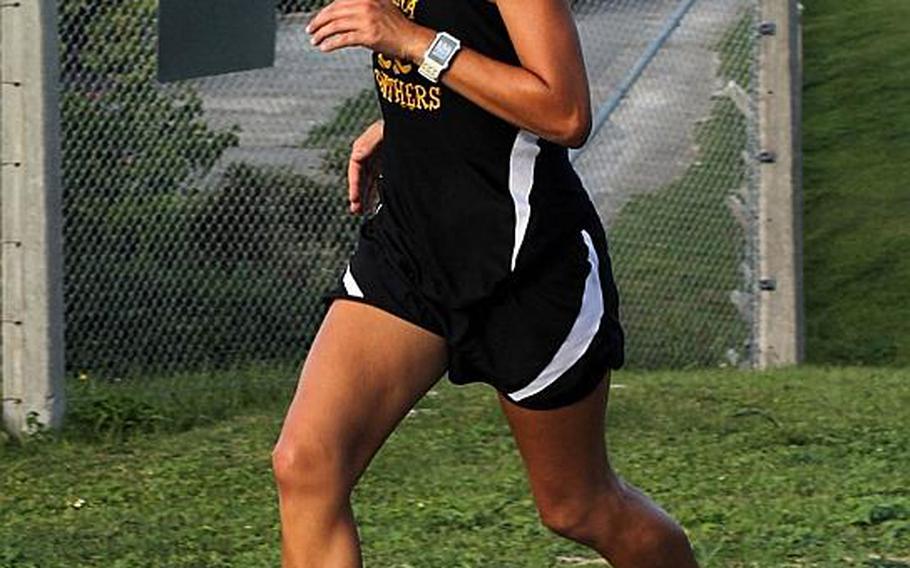 KADENA AIR BASE, Okinawa – What would Ana Hernandez have said if she'd been told as a sophomore, when she suffered from injuries and growing pains, that she would win the Far East High School Cross-Country Meet not just once, but twice, as a junior and senior?
"I probably would not have believed it," the Kadena senior said after capping a comeback from sophomore misery to championship joy, winning the island and Far East meet titles twice each and helping the Panthers capture an unprecedented sweep of all events at Far East this month.
"Perfect way to end the season," said Hernandez, named Stars and Stripes Pacific high school girls cross-country Athlete of the Year.
Hernandez went unbeaten this season, clocking the Pacific's fastest time of the campaign, 19 minutes, 7 seconds, in a meet Oct. 16 at Camp Foster's Kishaba Housing Area.
She won the island championship a week later, running 19:46 at Kadena's Jack's Place course. Kadena won all but the last two regular-season meets before prevailing in the island finals.
On Nov. 4 in the rain at Camp Fuji, Hernandez didn't come close to those times, but had enough to repeat her Far East girls title in 21:09.4, 11 seconds faster than teammate Wren Renquist.
The next day at Naval Air Facility Atsugi, Kadena accomplished something no other school ever has – placing all four of its pairs in first, second, third and fourth place in the team relay.
"We really worked for it," Hernandez said. "The work we put in this season really showed at Far East. That's what we trained for all season, to be champions."
It's a far cry from where she stood in the 2011 season, when she said she felt like she was spinning her wheels.
"I felt like I wasn't going anywhere. I felt like I wasn't progressing, I kept hitting the same times every week and I was really not motivated," Hernandez said.
After finishing sixth in the Far East meet as a freshman in 2010 at Tama Hills Recreation Center, Hernandez was left off the Far East travel team for the 2011 meet. That act sparked her to life and she became a changed runner, she said.
"I was able to experience rejection and failure and that motivated me and pushed me to get where I'm at today," she said.
Where she is today, Hernandez said, is doubly gratifying from an individual and team standpoint.
"Individual, it's for yourself; if you win individually, you know that you've done something great for yourself," she said. "If you do it as a team, you become family and you experience that together."
Stars and Stripes Pacific All-Far East girls cross-country team
Ana Hernandez, Kadena (Okinawa and Far East meet champion); Nicole Castro, Humphreys (Korea finals runner-up, Far East Division II bronze medalist); Emma Martin, Guam High (Guam champion); Hedvig Holmberg, Yongsan International-Seoul (Korea champion); Lisa Kwak, Seisen International (Kanto Plain champion); Carydaliz Fontanez (DODDS Japan champion); Lucille Nunnely, St. Maur International (Far East D-II champion); Casey Mary Sullivan, International School Beijing (Asia-Pacific Invitational champion).