Girls soccer preview
Experienced players power top teams, fuel gaudy goal totals
by
Dave Ornauer
May 17, 2018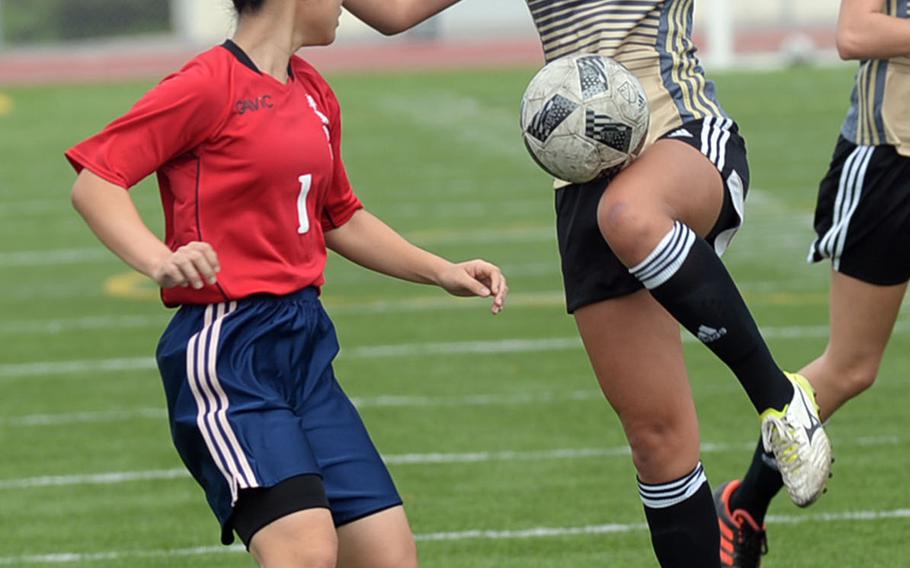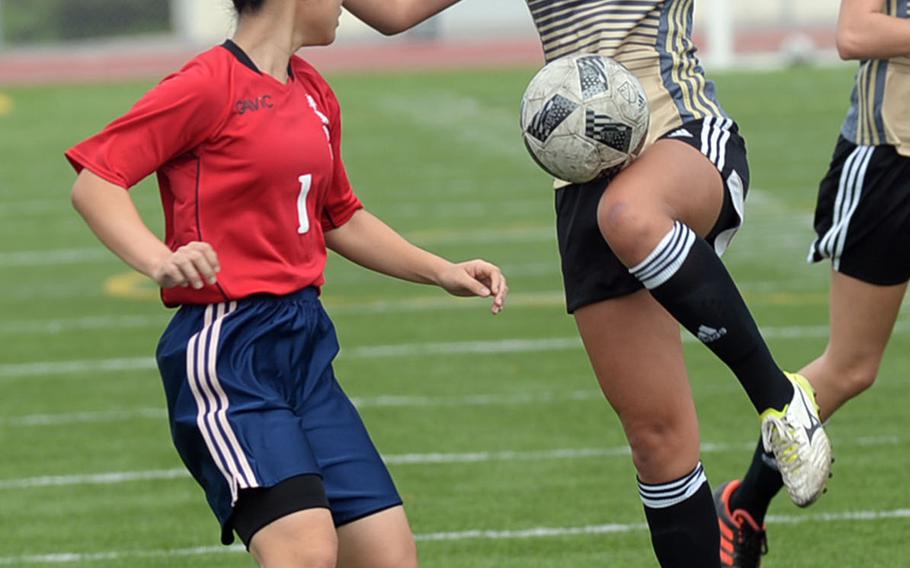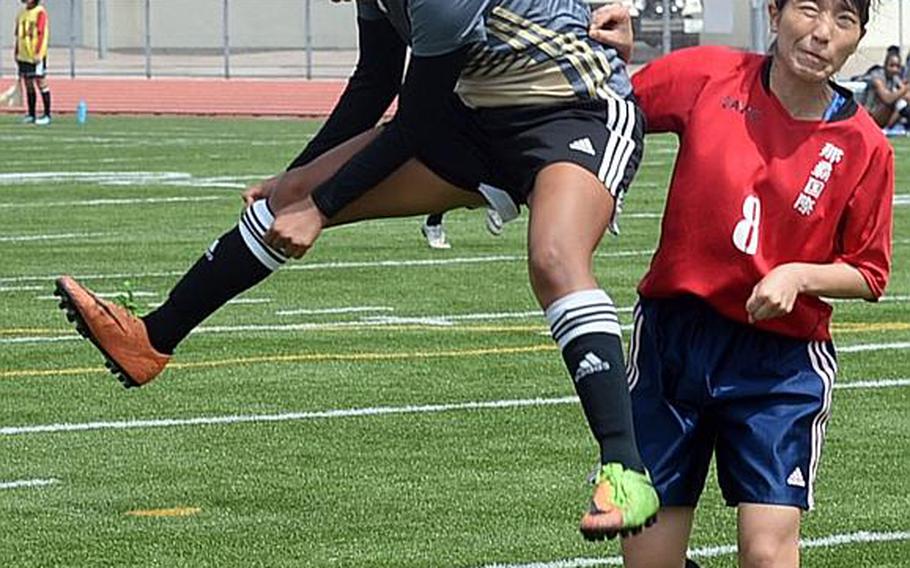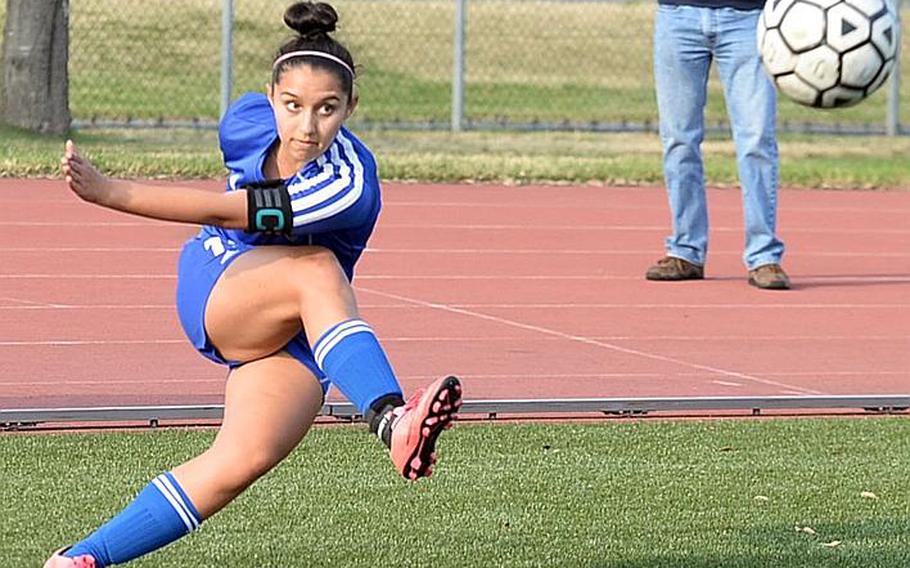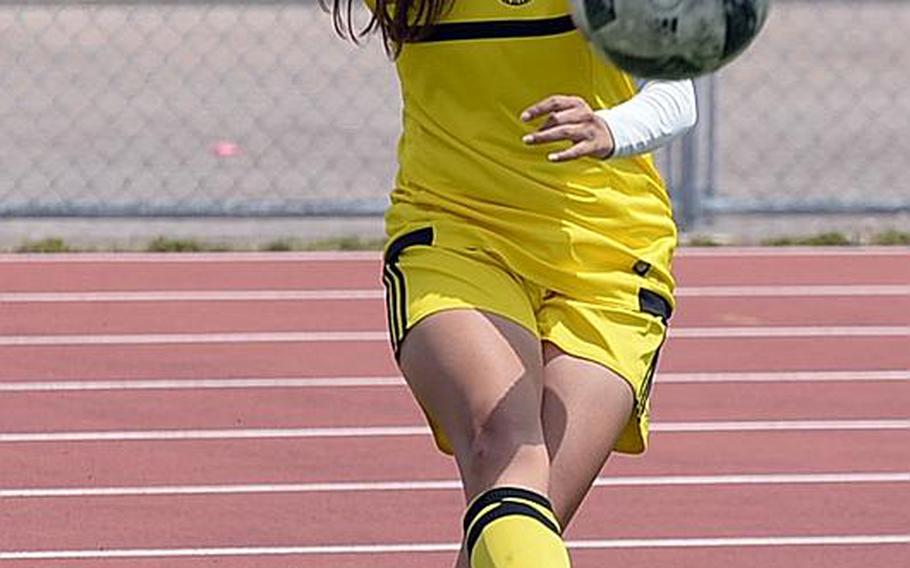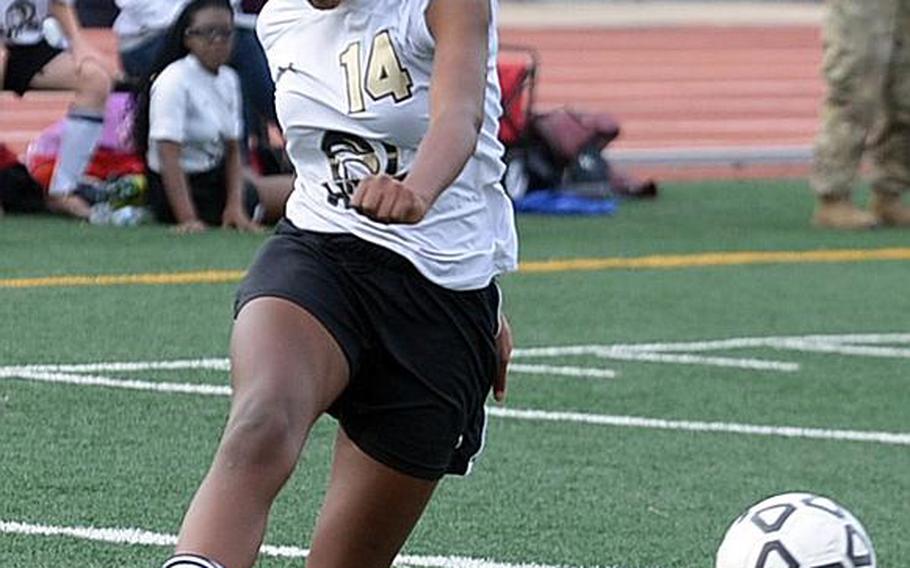 Gaze up and down the rosters of the teams seen as the favorites in Far East Girls Division I and II soccer tournaments and one might see an array of athletes who devote a vast part of the year playing off base in the Japanese club system.
Take Kadena seniors Adrianna Gomez and Pamela Barrett. Gomez has 36 goals and Barrett a Pacific-leading 29 assists. They've played for Deigo FC off base and have helped the D-I Panthers to a 23-0 record and the title in last month's American School In Japan soccer festival.
Then there's D-II Yokota (25-1-1), the DODEA-Japan tournament champion, which fields senior Regina Dukat (13 goals, 25 assists), junior Caleigh Garcia (32 goals, 18 assists) and freshman Sarah Schultz (11 goals). Schultz recently joined Tachikawa FC, for whom Dukat has played since she was 13. Garcia played club ball in the States.
"Playing year-round improves (players') touch on the ball and greatly impacts and improves their soccer IQ," Yokota coach Matt Whipple said.
"They're the ones who love the game, and the more they play, the better they get and the more they love it," Kadena coach Abe Summers said. "They bring more leadership, girls who know the fundamentals. And the other players then wish to aspire to that level."
A vast number of other players matriculate on club teams during the off season and generally play only soccer year-round. Their talents will be on display next week at Camp Humphreys for the D-I and D-II tournaments.
They begin Monday. The D-I is a combined round-robin and single-elimination tournament while the D-II is a straight double-elimination event.
Other teams' records don't quite match up to Yokota's and Kadena's, but there are quite a few players with a vast amount of goals.
Among those are Maggie Donnelly (Pacific-high 37) and Ella Eisenhardt of defending D-I champion Nile C. Kinnick; Kayesha McNeill (34) of Zama; Micayla Feltner (28) of defending D-II champion Matthew C. Perry; and Kadena's Korina Macato (21).
All have played club ball, which confers its qualitative advantages for both player and team, a handful of club veterans said.
"Your soccer thinking is definitely enhanced," Dukat said. "Quicker reflexes, timing, thinking. The repetition is definitely there. Quicker one-touches, open passes, all this is drilled into your mind."
"You learn to play more technical and with faster speeds," Gomez said. "In addition, I learned that the team's success is much more important than the individual."
Yokota is seeking its third Far East D-II title since it became a small school in November 2014.
But the Panthers aren't taking anything for granted, Whipple said. "Far East is always a battle," he said. "This year, we're confident, but we'll take it one game at a time."
Kadena, meanwhile, is looking to break a 12-year Far East D-I title drought. This Panthers team features a gaggle of seniors.
"It's been a while. Too long," he said. "This year, we have a good group of girls. Having so many seniors this year makes a difference."
Twitter: @ornauer_stripes