Experienced cast taking a run at cross country crowns
by
Rusty Bryan
September 15, 2010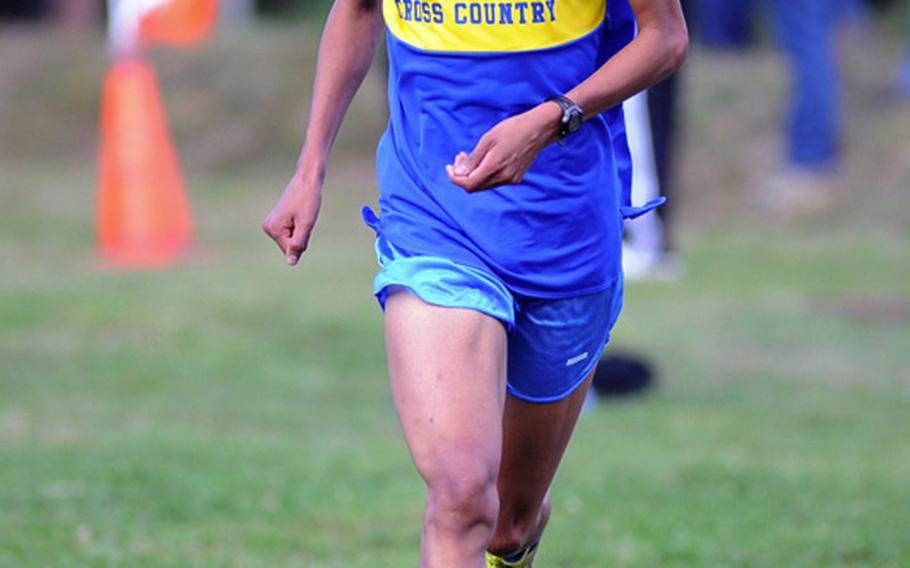 If experience counts for anything in the high school cross country campaign, which opens Saturday, count on seeing plenty of experienced runners leading the pack this season.
Patch sophomore Katherine Castro returns to defend the girls title she won last year, but it won't be easy. Barring injury or other mishaps, Castro will be taking on six of the nine girls who finished immediately behind her in last October's finale.
Things are almost the same on the boys side. Champion Baudoin Fort of the International School of Brussels has moved on, but no fewer than seven of the nine who finished in the 2009 top 10 are back for another go.
Even the team races will have a familiar look, although a repeat of the 2009 boys-and-girls title sweeps by Ramstein, Naples and Brussels in Divisions I, II and III, respectively, figure to be tough to duplicate.
Not that the Ramstein boys, 10-time defending Big Schools champions, won't be the prohibitive favorite for an 11th straight crown, given the information provided by Royals coach Dennis Edwards.
"We have a nice blend of returning runners (led by No. 8 Carl Lewenhaupt and No. 9 Thomas Amrine) as well as some good newcomers," he wrote of the Ramstein program brought to prominence by former coach Steve Meadows but which Edwards has directed for the past four years.
Edwards sees Vilseck star Zane Kennedy, fifth last season in 17:13.34 over the 5,000-meter layout at the Heidelberg suburb of Schwetzingen, which is again the site of the European championships, as the preseason individual favorite. This despite the fact that Archie Robertson of Lakenheath, the 2009 runner-up by about 10 seconds, and Dan Parker of Wiesbaden, third last year, are set for another go. Also back is No. 4 Sean Wilson of Aviano, who's honing his game this year with an eye toward running in college, according to his coach, Laura Corder.
Still, don't put Kennedy behind these guys again just yet.
"Zane … trained hard over the summer," Vilseck coach Kevin Anglim wrote of his star, "and looks strong."
Edwards figures Heidelberg, Kaiserslautern and Patch as the biggest challengers to topple his boys.
Ramstein's girls, on the other hand, saw their top 2009 finisher, Elizabeth Doe (fourth overall in 20:37.11) transfer to Lakenheath for her senior year. The Lady Royals retain plenty of power to defend their title with Laura Welch (No. 6), Tally Elbert (No. 11) and No. 33 Keaghan Rummage, but face significant challenges from 2009 runner-up Heidelberg, paced by No. 7 Olivia Darrow, No. 9 Lindsey Duckworth and No. 26 Stephanie Barlow.
For its part, Kaiserslautern returned 2009 runner-up Colleen Davis, No. 29 Emily Ciocca and several performers from its eight-time girls Division I track championship squad.
In Division II, the defending champion Naples boys are nearly as loaded as Ramstein.
According to coach Francis Noonan, the Wildcat boys will be paced by three 2009 European finishers: Ian Eversman, 12th overall in 17:39.78; Troy Reeves, who ran 18:17.69; and John Fain, who clocked 19:10.30.
The defending champion Naples girls, on the other hand, will have to replace their two best runners from 2009, both top-20 overall finishers at Europeans. Katey Chartier is the top returnee, Noonan reported.
Naples might benefit from the misfortune of Bamberg's Sydney Schneider, who finished just under 20 seconds behind champion Castro and less than two seconds after runner-up Davis in 2009. Schneider injured herself last spring and is out for the season, according to coach Donna Walker, who sees newcomer Mariko Azul, a senior, as a possible replacement as team leader.
The wild card this season in D-II is the return of historically strong Black Forest Academy to the cross country wars.
"I am excited about Black Forest Academy again running cross country after a two- or three-year absence," Ramstein's Edwards wrote. "They are going to have a very good team with Trevor Hope, the 800-meter champion in track in 2008…."
Mannheim, a D-II school that enjoyed some success in recent years, is to shutter its doors in June and won't field a cross country team this year.
Best chance for a boys-girls repeat comes in Division III, where Brussels coach Chris Vahrenhorst has the foundation for a sixth-straight European boys title and a "deeper, stronger girls team" than any in school history.
That team is led by returnees Courtney Pfalzer, Valerie Chausse and Jessica Vahrenhorst, and supplemented by freshman Ali DeFazio, from whom coach Vahrenhorst expects sub-20-minute times by October.
Brussels also returned a trio of boys who fueled last year's title run — David Westland, Tim Barry and Ben Bigelow.
Rota has 27 out for cross country, including All-Europe basketball wingman Tre'Von Owens, but Alconbury lost two runners, Peter Rydzynsky and Ian Armour to the lure of football, clouding the team's outlook.
Such is life in small-schools sports.
Competition starts Saturday at six sites. Five weeks of regular-season meets will qualify the runners who'll take the starting line for the 2010 European championships Oct. 30 at Schwetzingen.
---
---
---
---