Experienced beyond her years
by
Dave Ornauer
November 27, 2008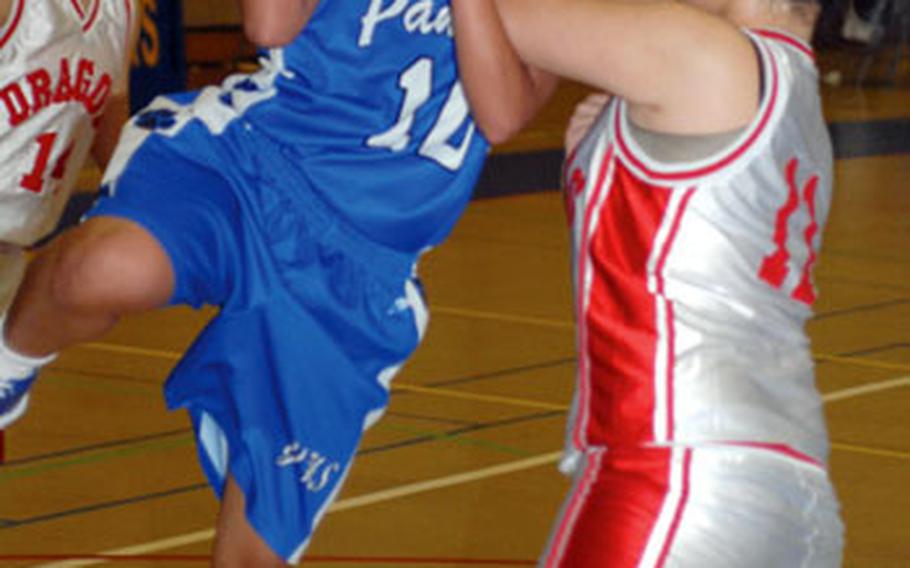 YOKOTA AIR BASE, Japan — Maybe it was all those days of following her father to basketball practice at Yokota High School's Capps Gym.
Or the games of H-O-R-S-E the two would play in the backyard. Or the thrill she got from keeping up with boys in Yokota Air Base's youth basketball leagues for co-ed players.
Whatever it was, Erika Ettl, a freshman and the Yokota High Panthers' "next big thing" at guard, came to girls coach Ric Cabral already battle-tested and pedigreed.
See, her father, Paul, has coached Yokota's boys to the Far East Tournament semifinals three times and one Class AA title. Coach, father and player believe the same thing might be possible for Erika and the Panthers girls.
"She is a true basketball player," said Cabral, a three-time All-Air Force player in his seventh season at Yokota's helm.
"We haven't had that at Yokota in a long time. She's a legitimate player. She knows the game. Cross country keeps her in shape. She has a sports IQ; she can play any sport. And she's a freshman."
She's projected as a four-year starter for Yokota. Already, she's made her mark, leading her team in scoring, averaging 17 points, in the Panthers' first two games, both victories last weekend at Capps.
But she also dished out 14 assists and says she realizes the importance of working together on the court.
"There are four other people in the game. I try to make good passes to them," she said. "Team wins the game. It's not just about one person."
"She passes very well," Cabral said. "She's really unselfish. An assist excites her, getting her teammates involved. She elevates the level of everybody's game."
She started piecing her game together six years ago, after Ettl adopted Erika, who was born in the Philippines. Immediately, Erika began playing youth ball and said she came to like the game and being on a team.
"Feeling a part of a team, team involvement, traveling to other places, playing and just the game. I love the game," she said.
Playing on boys teams made her learn the game at a faster pace. That, plus shooting around at Yokota's boys practices and playing H-O-R-S-E with her father made her a "pretty fast learner," Paul Ettl said.
"She's picked up the game pretty quickly for a freshman," he said. "She has a pretty good sense of the game. She's pretty quick, a good shooter and a good passer."
Though she gets her share of steals, Cabral and Erika agree that her defense may need a little work, playing more with her feet, getting in position, follow her opponent and stop opponents with the ball, rather than reach for steals.
"Defense is harder than offense. I have to work on it," Erika Ettl said, adding that her friends and teammates do a good job of motivating her to play better defense. "When I fall, I get back up and try to make up for it. Do whatever it takes to succeed."
"She's a freshman. She still has a long way to go," Cabral said.
But there's no disputing that Erika has come a long way already, and will continue to make strides and help the team get better with every passing game, Cabral said.
"I knew she was coming," Cabral said of watching Erika grow into a high schooler and her talent evolve.
"She's a coach's daughter. The apple doesn't fall far from the tree," Cabral said. "Paul's done a great job with her. But a lot of it comes from within herself. She just loves the game."
Coach and player expressed hope that that love for the game will someday soon, perhaps as early as this season, mean a trip to the Class AA tournament semifinals, maybe even a berth in the title game, a lofty height that Yokota hasn't experienced since 1995.
"Our team will be fine," said Erika, 16, who is a year younger than the Panthers' Far East title drought — Yokota last captured the crown in 1991.
"We'll go far if we stick together. No drama. Click together. And we'll be all right."