Far East tennis
Every defending champ returns for another shot
---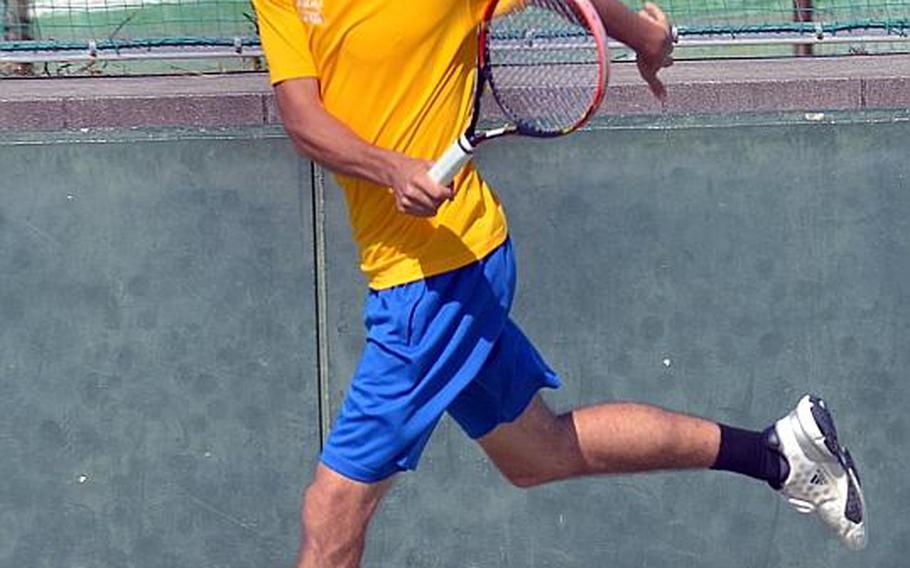 SHIRAKO, Chiba Prefecture, Japan – Many times, defending champions returning to the scene of their triumphs take on a more difficult mission than they faced in rising to the top: Staying there.
That's the tough assignment facing a unique group at next week's Far East high school tennis tournament: All reigning champions return to try to make it back-to-back titles.
"So much pressure; we've been working hard the entire season," said senior Lili Kobayashi of American School In Japan, last year's girls singles and doubles champion.
The pressure can light a fire under defending champions to step up their games. Though they can't try to do too much or over-think things.
"You have to treat everybody the same, no matter who the opponent is," said Juan Borga, a senior with defending boys Division I team champion St. Mary's.
"You have to win the next point. That's how you beat the guy on the other side of the net. If you lose that point, there's always another point to go after. And there's always something to look forward to."
Perhaps not too many points to chase, says Borga's teammate, Marius Ruh, who won the Far East boys singles title last November.
He spoke of the eight-game pro sets that players contest in all events, until the semifinals and finals, which become best-of-three matches featuring six-game sets. Thus, one must play with a lead and keep it.
"You always have to stay on top," Ruh said. "You have to get the lead, especially if it's an eight-game pro set. You don't have much room."
Ruh and Kobayashi are joined in the returning champions gallery by Kobayashi's teammates Nana Yoshimura (girls and mixed doubles), Len Kamemoto and Noah Inahara (boys doubles) and Kaisei Sato (mixed doubles). International school players have won 16 of the last 25 available individual titles.
ASIJ won the girls D-I team title last November, while E.J. King took the Division II boys crown and Yongsan the girls and overall school Division II banners.
Ruh says he's aware of the group queuing up to challenge his reign, including Seoul American's Nick Gagnet, E.J. King's Rikki Kendall and Len Kamemoto of ASIJ.
To put a dent in the international school dominance, "it means we have to work harder," Gagnet said.
Kobayashi must as well, given how she's had such a hard time with Seisen junior Matilde Piras, who's beaten Kobayashi the last three times out, including the last two Kanto Plain finals. Piras was knocked out in the semifinals last year during Kobayashi's Far East title run.
"Losing to Matilde (has) motivated me to work harder," Kobayashi said.
No Cobras team has won titles in back-to-back years; tennis hopes to be the first, Rikki Kendall said.
"This year, more than any of the years before, we have a chance," the younger Kendall said. His Cobras captured the DODDS Japan team title, just ahead of Yokota, and are "confident that we can come out on top" in the D-II chase.
The addition of Akira Goodman, the No. 2 boys singles seed, and Megumi Kodama atop the girls singles seeds, gives the Cobras that boost. They face a stern challenge from a Yokota team featuring the top two DODDS Japan girls players in Rimi Bargmon and Kaia Austin.
---
---
---
---