European H.S. wrestling preview: Lots of returning champs set to hit mats
by
Rusty Bryan
December 4, 2008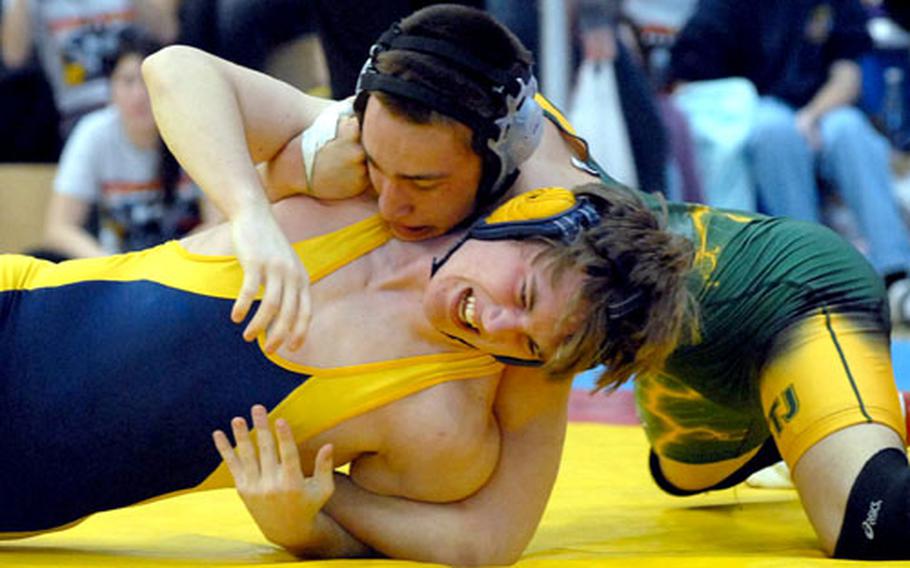 The high school wrestling season opens Saturday at five locations, and no fewer than eight of last season's 13 individual champions are aiming to add European crowns to their trophy cases.
Leading the returners are Baumholder's Edgar Acosta, the 125-pound champion who won at 119 in '07, and 119-pound king Chris Campos, who's projected to wrestle at 125 for Naples this season. The two seniors will be chasing a third European title, with Acosta aiming to make it three in a row. Campos, who won as a freshman in 2006, finished third in 2007 after suffering the sole loss of his career.
"This is my last year, so I want to go to European championships and win my third title," Campos, 77-1 going into his fourth season in a Wildcats singlet, told his coach, Vito Vitulli. "That is my goal."
At AFNORTH, seniors Brock Blankenship and E.J. Ruiz return to the mats fresh from helping the Lions win the European Division III football championship. Under the guidance of coach Greg Blankenship, the Lions will be looking to repeat as Division III wrestling champs. The elder Blankenship also led the school to titles in soccer and football in 2008.
"I coach multiple sports myself," wrote Wiesbaden's Steve Jewell, whose Warriors are the defending European D-II mat champs, "and I can attest to how hard it is to win in every sport."
AFNORTH is the preseason favorite in D-III, with Baumholder, led by Acosta's U.S. Nationals experience, trying to close the gap under coach Glenn Pilarowski. The two contenders will get a close look at each Saturday, when they join D-I champ Ramstein and D-II winner Wiesbaden in a five-team meet at Bitburg.
The Ramstein Royals have won the Division I crown five consecutive years under two coaches. Dave Izzo steered the Royals to the title from 2004 to 2007, and Jeff Pellaton coached the '08 champs. Ramstein starts its quest for a six-pack under the guidance of Tim Cline, with the Royals' traditional depth landing them in the favorites' role, according to Baumholder's Pilarowski.
For the second successive season, St. John's International School of Brussels will wrestle a full DODDS slate, according to coach Gloria Lyon. Last season, a Lions' team of six wrestlers — the first in school history — crowned champions in Michiganders Chris and Matt Lyon. Coach Lyon said St. John's will suit up eight competitors this season, with 135-pound champion Chris projected to go at 140 or 145, and 145-pound king Matt at 145 or 152. But eight competitors probably won't be enough to unseat D-II champ Wiesbaden, which is favored to repeat behind '08 bronze medalists Tahji Peebles and Cody Fischer.
Alconbury, the defending D-IV champ, welcomes five wrestlers coach Bruce Ballard identified as European contenders.
"I see Brussels as our chief rival," Ballard wrote in an e-mail, "but we'll be competitive and may surprise some skeptics … like last year."
Any surprises might come right away — Alconbury opens its season Saturday at Brussels.
Saturday's matches
-At Ansbach — Hohenfels, Vilseck
-At Bitburg — AFNORTH, Baumholder, Ramstein, Wiesbaden
-At Brussels — Alconbury, Lakenheath, St. John's, SHAPE
-At Kaiserslautern — Heidelberg, Mannheim, Patch
-At Vicenza — American Overseas School of Rome, Aviano, Naples, Sigonella
Returning champs
-103 pounds — Garrett Ventrice, Ramstein
-119 — Chris Campos, Naples
-125 — Edgar Acosta, Baumholder
-140 — E.J. Ruiz, AFNORTH
-135 — Chris Lyon, St. John's
-145 — Matt Lyon, St. John's
-160 — Dominic Barrale, Ansbach
-171 — Shawn Havens, Hohenfels