European H.S. volleyball: Defending champs start strong
by
Rusty Bryan
November 2, 2007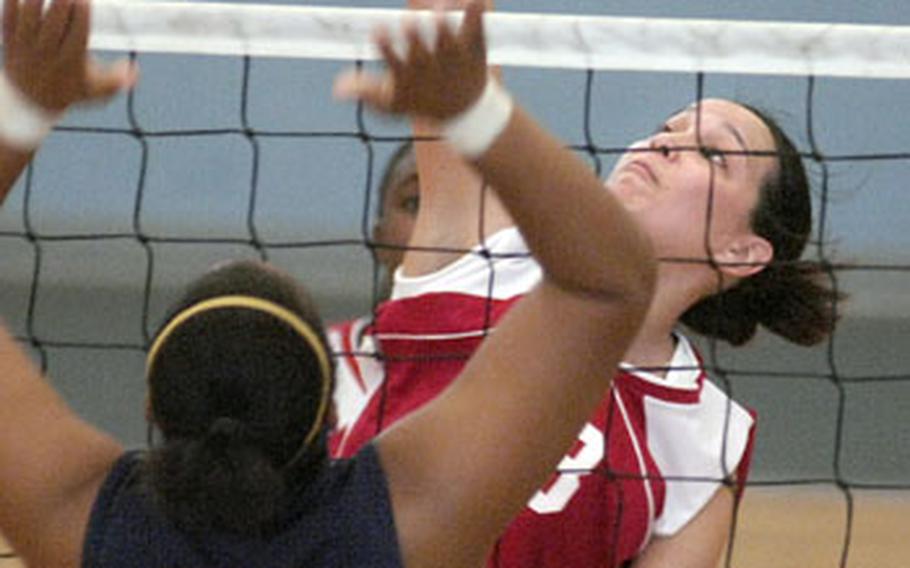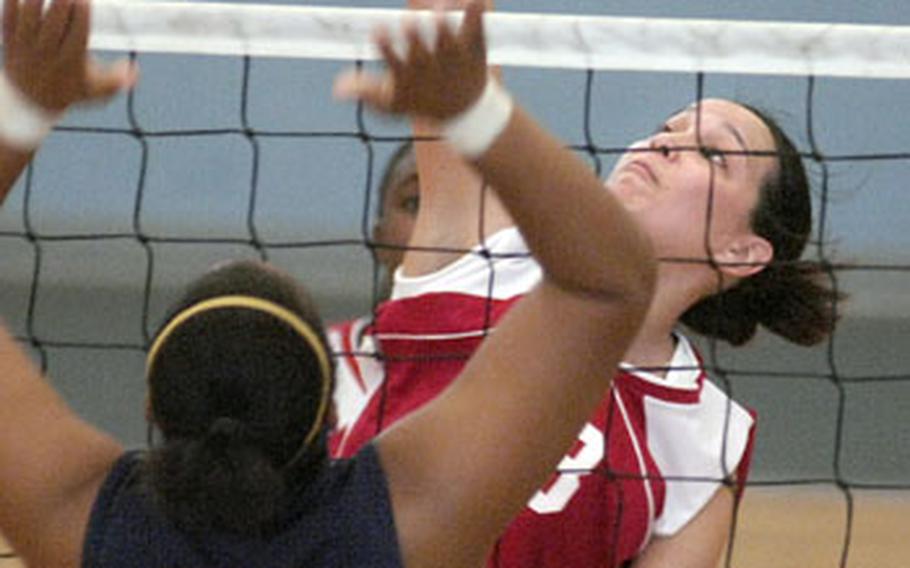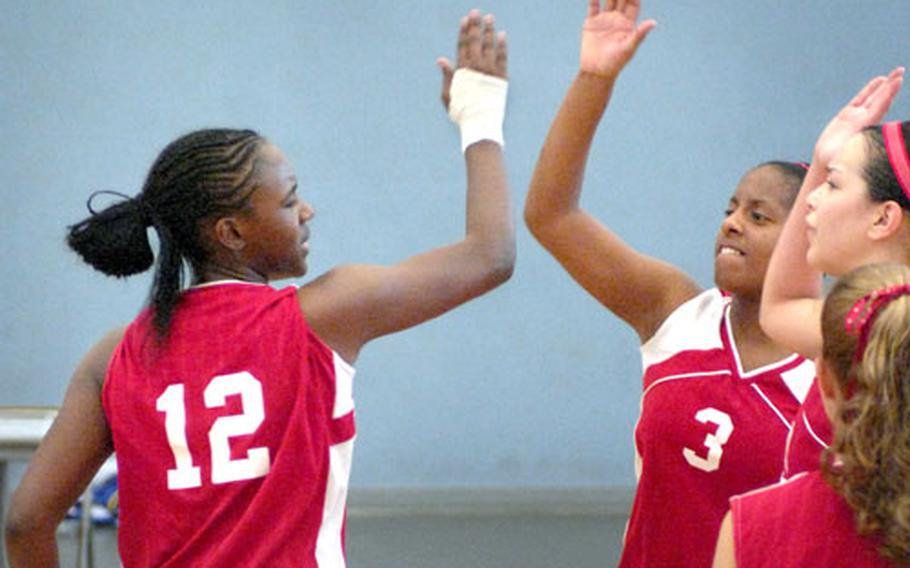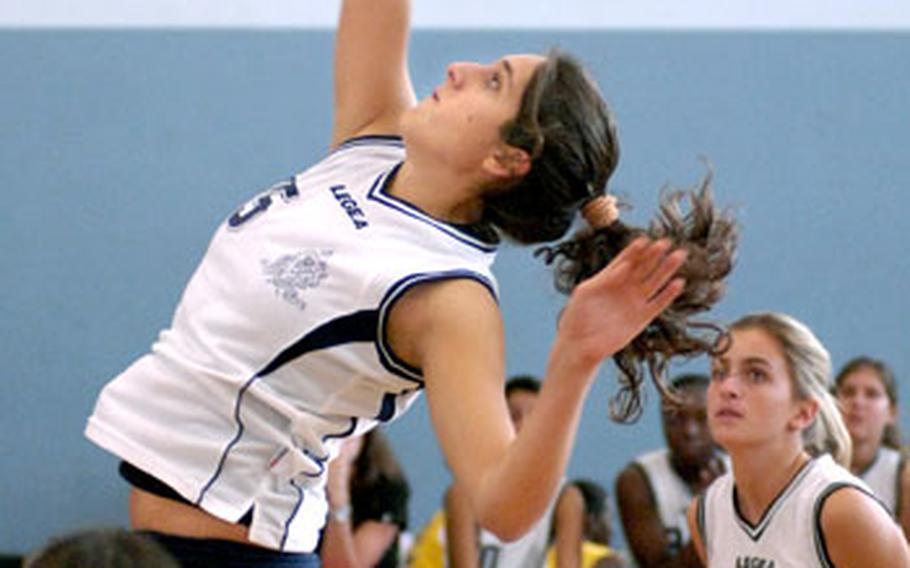 KAISERSLAUTERN, Germany — A full-service game by Lizz McVicker of Brussels led the defending D-IV champs to a pool crown on Thursday, the first day of the 2007 DODDS-Europe girls volleyball championships.
"I was just serving the ball," McVicker said after eight straight points pushed the fourth-seeded Lady Brigands to a 9-0 lead in the 15-point rubber game against No. 1 Rota. "I was not really thinking about it."
The opening blitz launched Brussels to victory in the decisive game of a 25-18, 16-25, 15-10 victory over Rota, which won the Division III crown here last year.
"If you don't serve well and don't receive well, you can't win," Rota coach Judy Scarbrough said.
The Lady Admirals proved their coach's words by serving poorly enough to lose Game 1 with six service errors.
McVicker felt their pain.
"When you miss your serve, you get down," she said. "It's hard to recover."
Returning was Rota's problem in Game 3, when McVicker's low-flying thunderbolts proved too hot to handle. Five of her last eight service points in the run had Rota receivers diving on their faces in vain attempts to get the ball back over the net.
"We always have her serve first," Brussels coach Judy Westland said of McVicker, whose run ended with a blast just wide of the left sideline. "We needed that today."
The victory pushed Brussels (2-1) to the top of its pool on the basis of its head-to-head victory over Rota, which also finished the opening day 2-1.
Third-seeded Hanau moved into contention for the Pool B title with a 2-0 victory over No. 2 Sigonella and a 2-1 verdict over No. 6 Lajes in early play Thursday. The Panthers were in position to wrap up No. 1 in Pool B with a victory over No. 7 Ankara later in the day.
In early play in the other divisions, No. 2 Lakenheath collected two Division I victories and No. 3 Kaiserslautern won its two matches. Top-seeded Aviano and Wiesbaden went 3-0 in Division II; SHAPE was 2-0 with a late game against Black Forest Academy.
In Division III, top-seeded Baumholder and No. 2 Hohenfels romped to opening victories.
Play resumes at 9 a.m. Friday at Ramstein Southside, Vogelweh and Kaiserslautern High School. Friday's survivors advance to Saturday's title games at Ramstein Southside, which run every 90 minutes, beginning with Division IV at 10 a.m. and ending with Division I.
DODDS-Europe girls volleyball championshipsKAISERSLAUTERN, Germany—Early first-day results Thursday in the girls' Divisions I, II, III and IV volleyball tournaments. which end Saturday at Ramstein's Southside Gym. Round-robin matches were best-of-three; semifinals and finals of D-II-IV and all Division I matches were best-of-five:
Division I(at Vogelweh gym) Lakenheath def. Frankfurt International School 25-23, 17-25, 16-25, 25-16, 15-12Kaiserslautern def. Heidelberg 25-10, 25-23, 18-25, 26-24Lakenheath def. Kaiserslautern 25-13, 17-25, 21-25, 25-21, 15-12Ramstein def. FIS 16-25, 25-21, 25-19, 25-20(at Ramstein) Ramstein vs. Heidelberg, lateKaiserslautern vs. FIS, late
Division II(at Ramstein) Bitburg def. Vilseck 26-24, 25-8Ansbach def. Mannheim 26-24, 15-25, 15-10Black Forest Academy def. Naples 27-25, 21-25, 15-9Wiesbaden def. Patch 27-25, 25-16Aviano def. Vilseck 25-14, 25-18SHAPE def. Naples 25-16, 27-25Mannheim def. Bitburg 25-23, 20-25, 15-12Wiesbaden def. BFA 20-25, 25-20, 15-12Aviano def. Ansbach 25-16, 25-20SHAPE def. Patch 25-12, 24-26, 15-12Vilseck def. Mannheim 25-16, 26-28, 15-11Wiesbaden def. Naples 17-25, 25-20, 15-13Aviano def. Bitburg 25-12, 25-11SHAPE vs. BFA, lateVilseck vs. Ansbach, lateNaples vs. Patch, late
Division III(at Vogelweh) Hohenfels def. American Overseas School of Rome 9-25, 27-25, 15-8Marymount International School of Rome def. Würzburg 25-5, 25-22Baumholder def. Milan 25-7, 25-11Bamberg def. Vicenza 25-13, 25-8Bamberg def. Milan 25-18, 25-23Marymount def. AOSR 25-19, 26-24Hohenfels def. AFNORTH 25-11, 25-21Baumholder def. Vicenza 25-17, 25-18Hohenfels vs. Marymount, lateAFNORTH vs. Würzburg, lateBaumholder vs. Bamberg, lateVicenza vs. Milan, lateHohenfels vs. Würzburg, lateAOSR vs. AFNORTH, late
Division IV(at Kaiserslautern High School) Hanau def. Menwith Hill 25-17, 25-14Rota def. Alconbury 25-15, 22-25, 15-8Hanau def. Sigonella 25-22, 25-21Rota def. Incirlik 25-19, 25-10Sigonella def. Menwith Hill 25-20, 25-19Brussels def. Rota 25-18, 16-25, 15-10Lajes def. Ankara 25-17, 25-12Brussels def. Incirlik 25-14, 23-25, 16-14Ankara def. Menwith Hill 25-20, 29-27Alconbury def. Brussels 25-21, 19-25, 15-9Hanau def. Lajes 25-17, 21-25, 15-12Incirlik vs. Alconbury, lateSigonella vs. Lajes, lateHanau vs. Ankara, lateSigonella vs. Ankara, lateLajes vs. Menwith Hill, late