European H.S. tennis preview: Heidelberg's Garcia remains Europe's singular sensation
---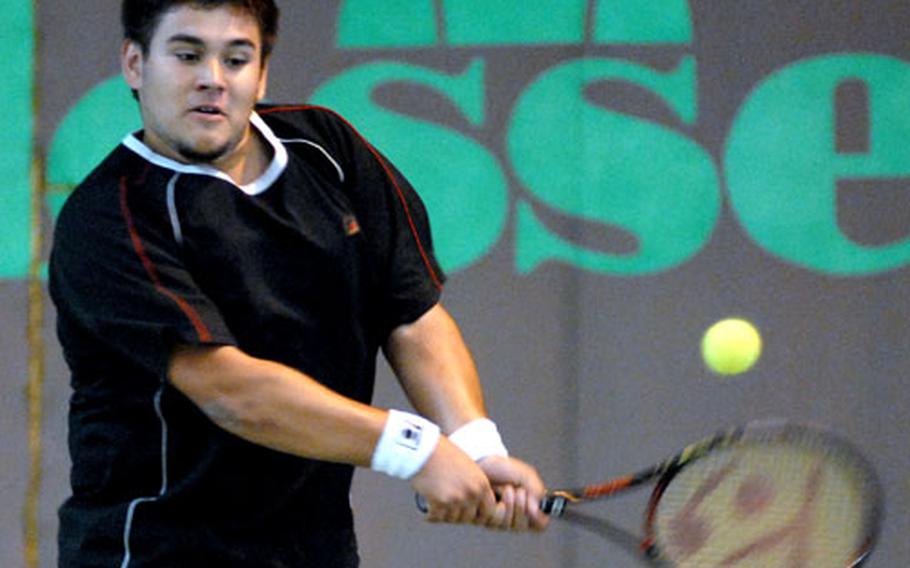 Barring mishap — or a sudden decision to turn pro —Heidelberg's Nick Garcia will win the DODDS-Europe boys' singles tennis championship for a third time.
Even if he's just in it for the exercise.
"The high school season is the beginning of where I really get into shape," Garcia, a year-round player in the German league whose mother is a German tennis pro, said before a recent practice on the clay courts of the Heidelberg Tennis Center. "I can work on conditioning, rhythm and consistency."
Consistent is the word for Garcia, a junior who didn't lose a set last season. He won his four matches in the European championships while losing a measly nine games. Six of those came in a 6-4, 6-2 conquest of Ramstein's Sean Stokstad in the title match.
And while Stokstad also returns to courts this season, a rematch would only come during the season-ending tournament.
Like basketball, softball and soccer, high school tennis has adopted the regional scheduling system intended to keep athletes closer to home and reduce travel costs. There are, however, imbalances.
Region I, through an accident of geography, contains all four schools that won divisional titles in 2007 – International School of Brussels, SHAPE, AFNORTH and Alconbury.
Heidelberg, on the other hand, has been placed in Region III, away from traditional rivals such as Ramstein and ISB.
"We play some schools like Hohenfels and Bamberg, which is having trouble getting a team together," Heidelberg volunteer coach Bill Walker said. "We're going to have trouble finding matches for our JV players."
Heidelberg also seems to be home to the top contenders on the girls' side of the net.
Chelsea Cotter, a senior who finished fourth in Europe the past two seasons, and her teammate Andrea Wheatcroft return. Both spent their summers in tennis camps, Cotter in Texas and Wheatcroft in Barcelona, and both are vying to replace graduated three-time champion Krista Citkovska of SHAPE.
Last year's runner-up, Kara Williamson of International School of Brussels, has returned to Australia, according to her coach, Guy Santagati.
Cotter's still feeling the pressure despite the exodus at the top.
"There's more stress this year," Cotter said, "because it's my last chance."
Like the girls' singles, the titles are vacant in doubles, too. Wiesbaden's Nancy Jensen and Jessica Smith graduated in June, as did Eric Radvany of Ramstein's doubles champs.
An opening might exist as well for the team title in D-I, since Santagati's usually dominant ISB squad is undergoing a youth movement.
"I've got eight boys," he said by telephone on Monday. "Six of them are in the 10th grade and two in the 11th."
The 2008 season begins Saturday at eight sites and ends Oct. 23-25 on the indoor courts in of the Vitis tennis center in Wiesbaden-Nordenstadt.
Defending team champions
Division I — International School of BrusselsDivision II — SHAPEDivision III — AFNORTHDivision IV — Alconbury
Region lineups
Region I — AFNORTH, Alconbury, Brussels, International School of Brussels, Lakenheath, SHAPERegion II — Baumholder, Bitburg, Kaiserslautern, Mannheim, Ramstein, WiesbadenRegion III — Bamberg, Black Forest Academy, Heidelberg, Hohenfels, Patch, VilseckItaly — American Overseas School of Rome, Aviano, Florence, Marymount, Milan, Naples, Sigonella, Vicenza
---
---
---
---