European H.S. golf preview: Champs back, but others are on par
---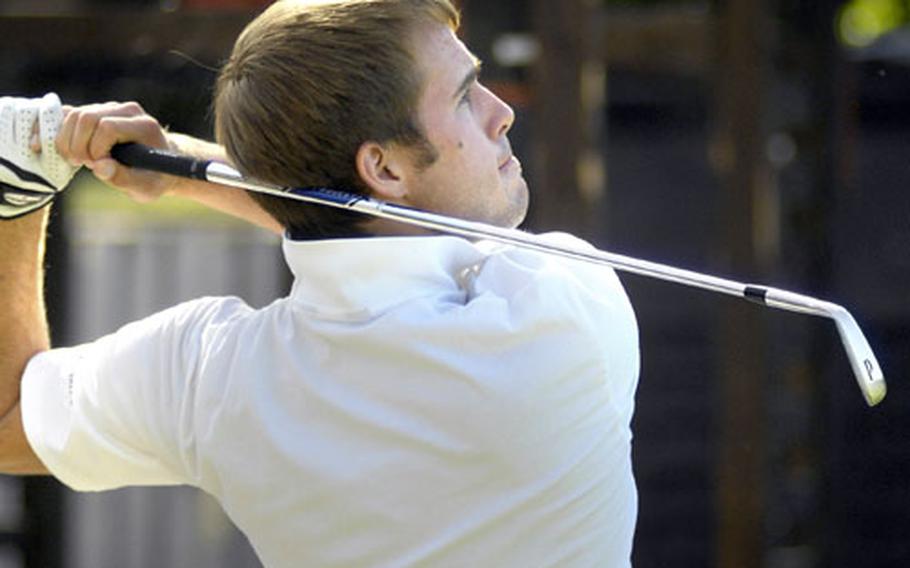 Both champions — Ramstein's Craig Herron and Aviano's Gabbi Dellick —will be back to defend their European high school golf titles when the 2008 season tees off Friday.
However, neither Herron, who won his title by two strokes over returning teammate Gavon Byrd, nor Dellick, who won her crown by two Stableford points – a bogey – over Ramstein's Elizabeth Ward, is taking anything for granted.
Dellick, for example, is expecting much stiffer competition from Ward, who'll be a sophomore this year.
"I heard her Dad set her up with a bunch of pros right after last year's Europeans," she said by telephone last week.
And neither girl can afford to discount the presence of K-town's Barbara Burriss, third last year. She amassed 48 Stableford points in the finale, just seven behind Dellick.
For his part, Herron faces an even bigger potential challenge in teammate Aaron Fitzpatrick, a nationally ranked junior golfer who'll be playing for Ramstein this season. Fitzpatrick, a senior who came to Ramstein during his freshman year, spent part of his summer vacation in North Carolina playing in a sectional qualifier for the U.S. Junior Amateur Championships. He failed to qualify, but the experience should serve him well this fall.
Despite Fitzpatrick's raising of the bar in DODDS-Europe, Herron sees nothing but positives in the presence of his new teammate.
"It makes it more fun for us," Herron said prior to a recent practice. "We'll all benefit from having Aaron play this year."
For his part, Fitzpatrick, who said he carries a three handicap, is happy to being playing for his school at last.
"Finally," he said about earning a Ramstein letter. He then shook his head at the notion that his game might suffer when he's not pressed by a field of similarly ranked players. "I'm just playing to be playing with friends."
Herron, who noted that Fitzpatrick's presence takes "any and all pressure" off his shoulders as the defending champion, got a break in his potential uphill battle against Fitzpatrick when DODDS-Europe elected to use the Stableford scoring system it employs during the regular season in October's European tournament. In the past, the boys' championship was medal play.
Although using points-scoring – one for a double-bogey increasing to six for eagle or ace – allows golfers less consistent than a nationally ranked player to write off any score higher than a double-bogey, Herron was displeased with the idea.
"I prefer stroke play," said Herron, who shot 88-91—179 to win last season. "It's much less forgiving. It lets you see who's the best golfer overall."
Nine teams, all located in Germany, will enjoy a regular season of weekly matches leading up to the European event. Two more, Rota and 2007 runner-up Lakenheath, will play each other Sept 26 in Spain, and their qualifiers will join the qualifiers from Lajes and the Germany schools Oct. 8-9 at Rheinblick golf course in Wiesbaden to determine the best overall golfers for 2008.
Golf schedule
Friday — Bamberg, Patch, Vilseck and Heidelberg at Heidelberg; Baumholder, Kaiserslautern, Ramstein and Bitburg at Bitburg
Sept. 18 — Baumholder, Bitburg, Kaiserslautern and Ramstein at Ramstein; Bamberg, Heidelberg, Patch, Wiesbaden and Vilseck at Vilseck
Sept. 25 — Bamberg, Heidelberg, Ramstein, Vilseck and Patch at Stuttgart
Sept. 26 — Bitburg, Kaiserslautern, Wiesbaden and Baumholder at Baumholder; Lakenheath and Rota at Rota
Oct. 2 — Baumholder, Bitburg, Heidelberg, Kaiserslautern and Ramstein at Ramstein; Patch, Vilseck, Wiesbaden and Bamberg at Bamberg
Oct. 8-9 — European championships at Rheinblick golf course, Wiesbaden-Dotzheim
---
---
---
---