European H.S. basketball roundup: AFNORTH wins 3 of 4 from Menwith Hill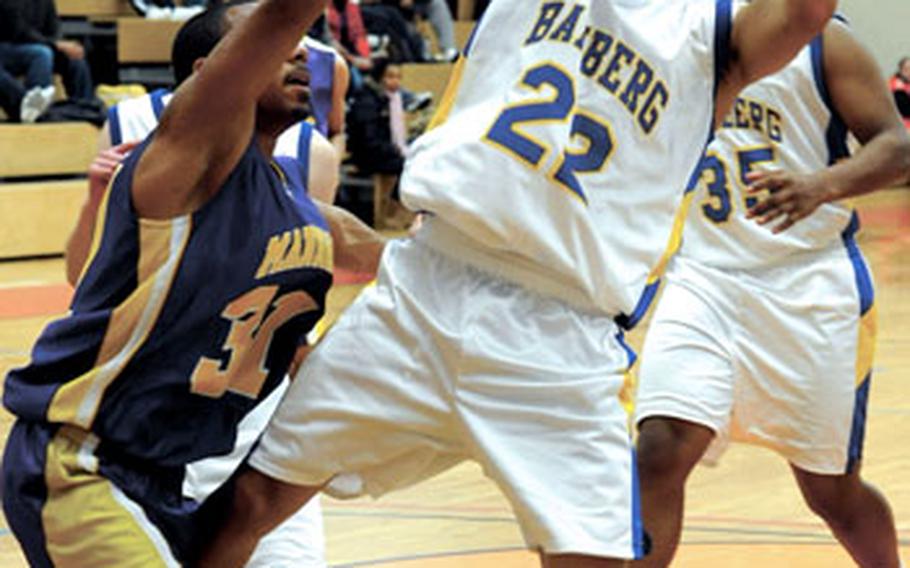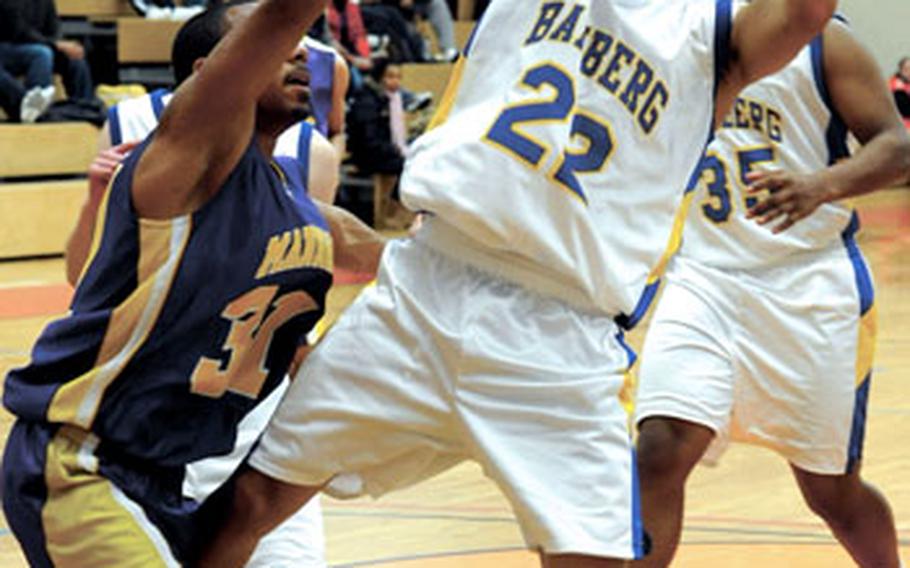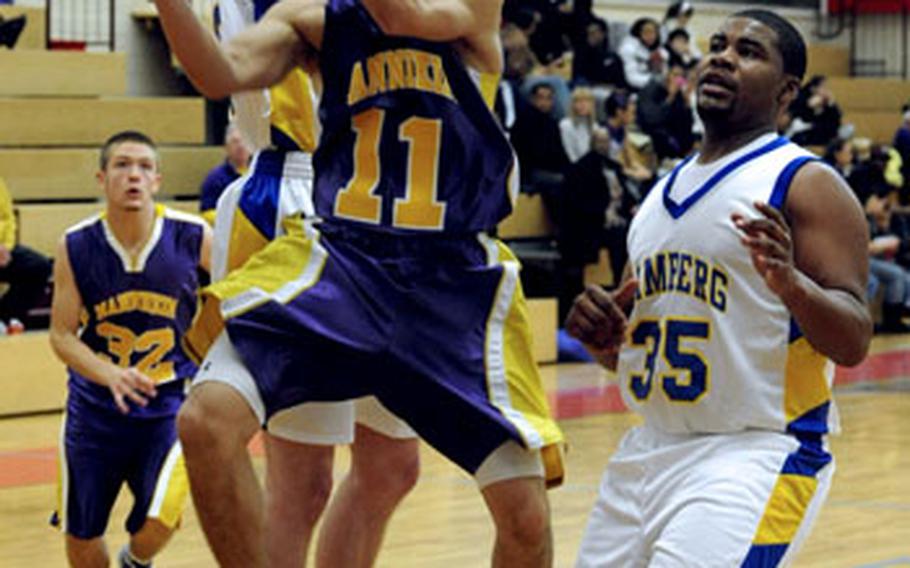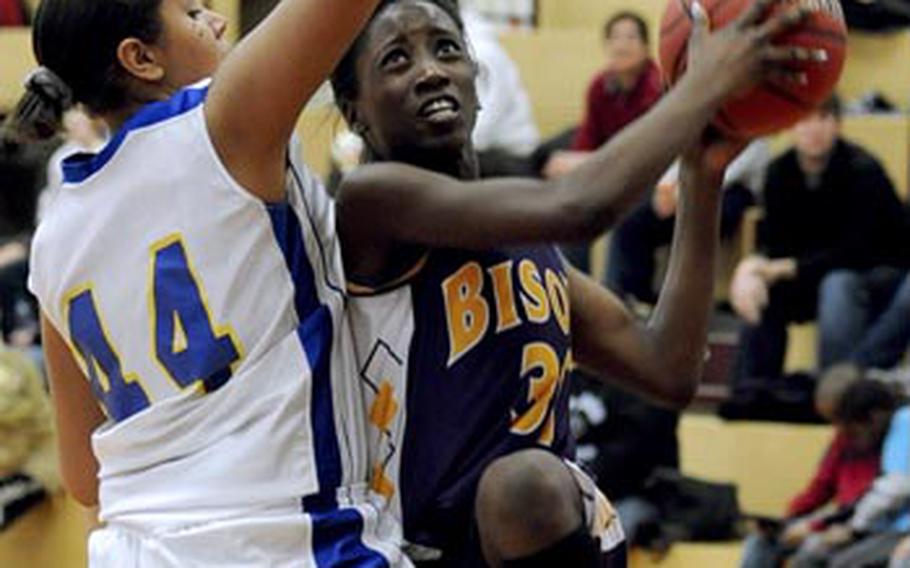 AFNORTH's basketball teams went 3-for-4 against visiting Menwith Hill and 4-0 against the weather Friday and Saturday as DODDS-Europe high schools tried to re-open their 2009-2010 seasons.
While some of Friday's slate went off as scheduled, snow caused postponements or cancellations almost everywhere on Saturday.
AFNORTH's girls, who waited more than a month to erase the taste of an opening-weekend sweep by International School of Brussels, took two from their Division III guests, 32-12 Friday and 33-29 Saturday.
Natalie Everingham led the way Friday with 10 points; her teammate, Brenda Broadwater, shared game-scoring honors with Menwith's Monique McCreary on Saturday with 13. The victories left AFNORTH's girls 2-2 overall and in Region I play.
Menwith Hill's boys, who allowed AFNORTH's Yannick Hickman to get loose for 27 points and 10 rebounds in a 51-26 loss Friday night, picked up the lone road victory reported by any school this weekend by limiting Hickman to 18 points and four rebounds in Saturday's 48-43 victory.
Chris Jackson, held to seven points on Friday, burned AFNORTH (1-3 overall and in Region I) for 21 on Saturday as the Mustangs evened their Region I record to 1-1.
In other games reported on resumption weekend:
Brussels boys 67, SHAPE 47: Friday at Steerebeek, Belgium, Marc Proietto, who scored 11 points and grabbed 10 rebounds, missed a triple double by just two assists as the D-III Brigands routed their winless D-II guests.
Matiss Suideikis scored a game-high 26 points for Brussels (3-0 overall and in Region I), but Brussels coach Chris Vahrenhorst was just as impressed with the performance of Ryan Bottesini as he was with Suideikis and Proietto.
"Bottesini had four steals and was a catalyst with his defensive hustle, every bit as important as Suideikis' 26 points and Proietto's all-around performance," Vahrenhorst reported.
Brussels put the game away early with a 34-12 first-half run.
Brussels girls 26, SHAPE 24: Friday at Steerebeek, Lauren Finley hit a layup on a back-door cut off of an assist from Bria Yazzie with 48 seconds to go, and Brussels held for the victory. Sophomore Bria Yazzie had 12 points, nine rebounds, two steals and two assists to help Brussels remain unbeaten.
"This was a big win for our young team," reported Brussels coach Dexter Bohn, whose team also got six points and seven rebounds from All-Europe center Kathleen Anderson.
Edite Bauska led SHAPE (2-3 overall, 0-1 in Region I) with 10 points and eight rebounds.
Bamberg boys 52, Mannheim 37: Saturday at Mannheim, a talented Barons squad took it easy on their hosts behind Quadel Webb (10 points, five steals) and Joshua Fletcher (nine points, seven rebounds).
"The score could've been much worse," said Mannheim coach David Brown, who added that two of his starters were hobbled by injuries. "(Bamberg) coach (Tim) Smith is a class act. They have good size, good balance and athleticism on the wings; they're going to be tough to beat in the (European) tournament."
Brandon Wright scored eight points and Danny Kieser, who scored a team-high 15 points in Friday night's 63-50 Bamberg victory, snared seven rebounds for Bamberg (4-0 overall) in this non-regional matchup of D-II schools. Mannheim, which got a team-high nine points Saturday from Jeremy Rodney, is 0-6.
Mannheim girls 46, Bamberg 33: Saturday at Mannheim, Alanna Crockwell poured in 19 points and Takira Fowlkes 17 as the Lady Boson avenged Friday night's 41-32 loss to their guests.
The non-regional games left Mannheim with a 4-2 overall record and Bamberg at 3-1.
Heidelberg boys 68, Kaiserslautern 27: Friday at Heidelberg, assists were the order of the day in a non-regional matchup of Division I schools.
Devin Jackson, who scored 11 points and grabbed seven rebounds, handed out six assists to his Heidelberg teammates. Game-high scorer Eugene Jones (12 points) assisted on four Heidelberg field goals and Sean Nyland three. Marcel Simon scored 10 points for unbeaten Heidelberg (3-0), which saw its much-anticipated home game against defending European D-I champ Ramstein scrubbed by Saturday's snow.
K-town (3-2), which got a team-high eight points from Bernard Berwell, trailed 32-12 at halftime.