European Division I H.S. football: Ramstein's defense tops Kaiserslautern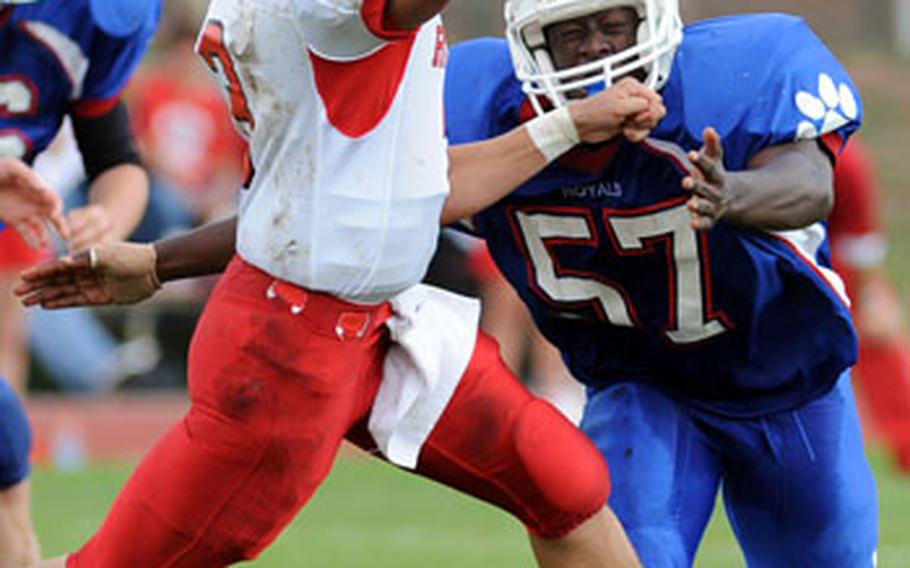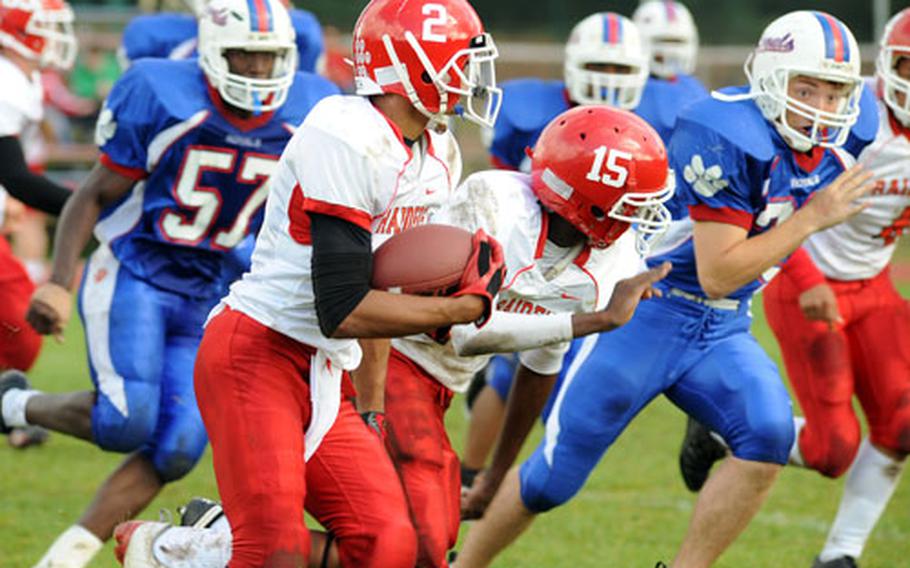 RAMSTEIN AIR BASE, Germany — The Ramstein Royals confined the Kaiserslautern Red Raiders to 57 yards of total offense Saturday en route to a 49-0 high school football victory over their neighborhood rivals.
Ramstein sacked K-town's quarterbacks nine times — defensive end Carey Buchwald had four — in the Division I-North rout, which left the Royals (3-0 overall, 1-0 in I-North) a victory shy of the conference championship.
Senior quarterback Michael Wallace and junior running back Will Canfield each had a hand in three Ramstein touchdowns, all in the first half. Wallace ran for two scores on bursts of 15 and 32 yards. He carried seven times for 105 yards. He also completed a 38-yard TD pass to Canfield.
Canfield added two TD runs before the first half ended. He reached the end zone from 12 yards out with 4:44 to play before intermission, then ran in from 18 yards in the final minutes of the half. He ended with nine rushes for 93 yards and two catches for 50 yards before sitting out the second half, along with Wallace.
Ramstein scored its final points on Aaron Salcido's 57-yard punt return just after halftime and a 14-yard TD run by Lloyd Nathan with 25 seconds left in the game.
Ramstein hosts Vilseck this Saturday in a non-conference game, then travels to Lakenheath on Oct. 24 for its regular-season and I-North finale.
Kaiserslautern fell to 2-2 overall and 0-1 in I-North. The Red Raiders are to host Lakenheath on Saturday in their final conference game of the season.
In other D-I games Saturday:
Vilseck 21, Wiesbaden 18: On a damp day in Vilseck, Cedrell Sanders went over from the 2-yard line in the first quarter, and Angelo Anderson ran for two second-quarter TDs that provided the margin of victory in this I-South game.
Anderson carried 22 times for 156 yards, and Sanders added 82 yards on 16 carries as Vilseck improved to 3-1 overall and 1-1 in I-South.
Wiesbaden cut the deficit to 21-18 with three unanswered TD runs by Daniel Harris. Harris carried 20 times for 191 yards, and Tyrece Davis ran the ball 20 times for 118 yards for Wiesbaden (2-2, 1-1).
Patch 26, Lakenheath 6: At Lakenheath, two TD runs by Julius Johnson-Rich lifted Patch to its first victory of the season over a D-I opponent. Johnson-Rich rushed 12 times for 103 yards, and Kenny Hall also ran for a TD for Patch, which evened its overall record at 2-2. The Panthers routed a German club team 37-6 on Sept. 26. Alex Federinko rushed 11 times for 62 yards to lead Lakenheath (0-4).
Heidelberg 37, Den Haag 10: At Heidelberg, James Montfleury threw three TD passes as the defending European D-I champion downed a Dutch club team in an exhibition. Fleury, 8 of 15 for 175 yards, found Aaron Tribble-Knowles for a 61-yard TD and Chase Boone for TDs of 25 and 45 yards. Thomas Hogue and Napolian Myhand each broke TD runs for Heidelberg.