European Div. II football: SHAPE, ISB earn championship meeting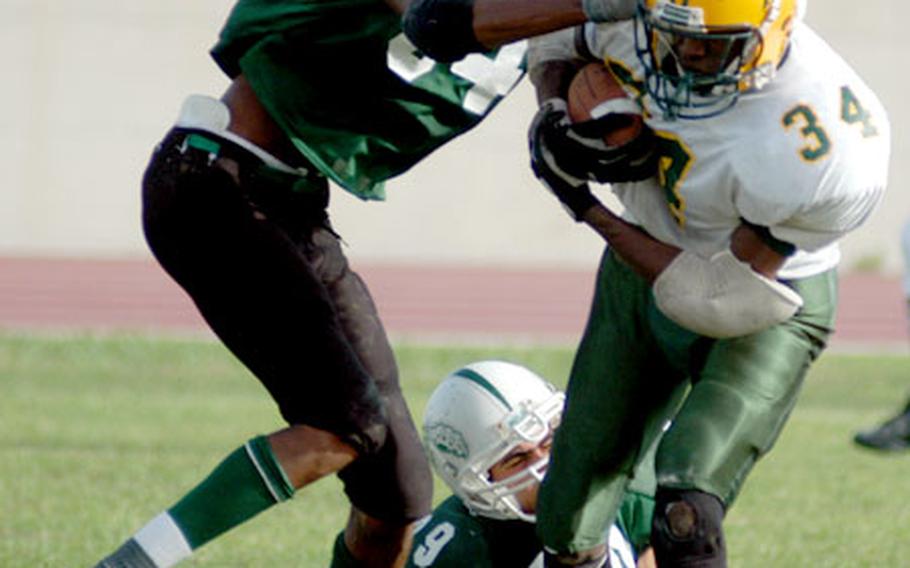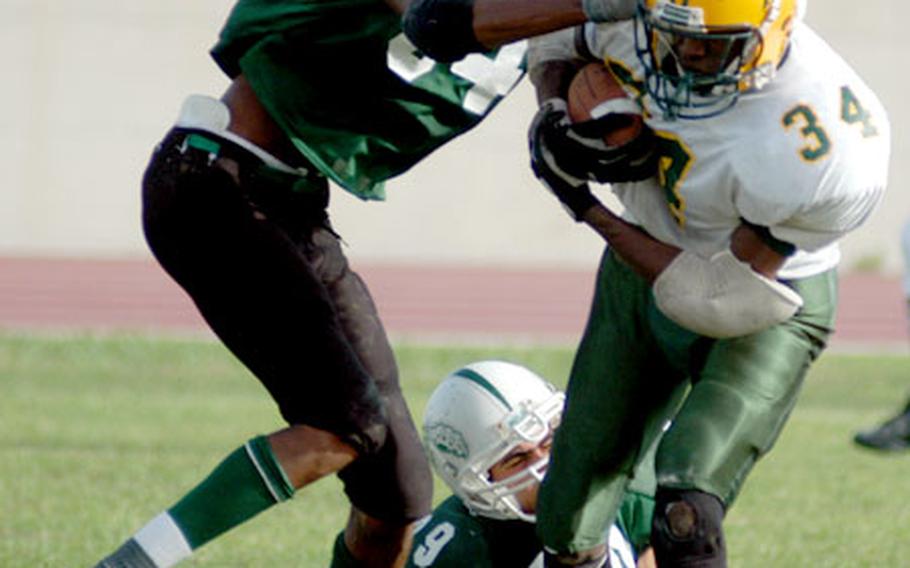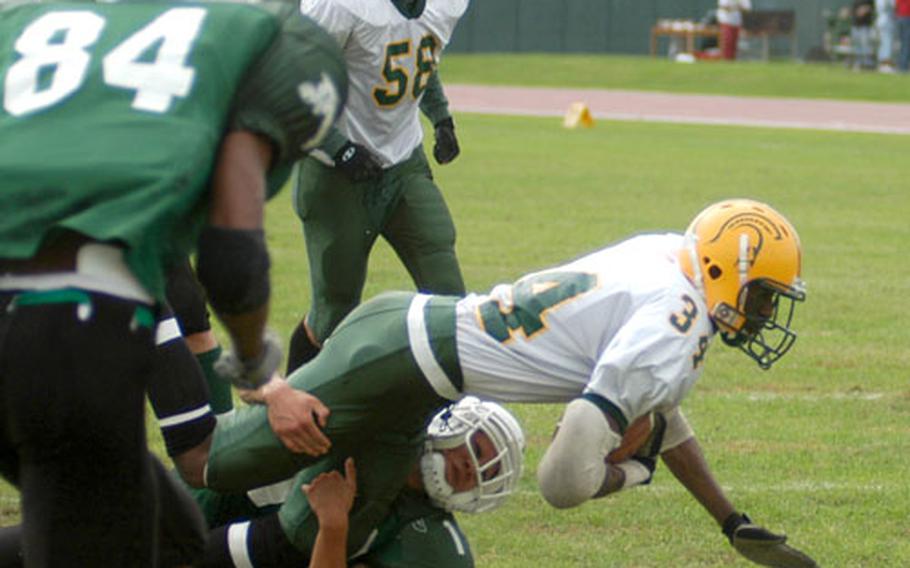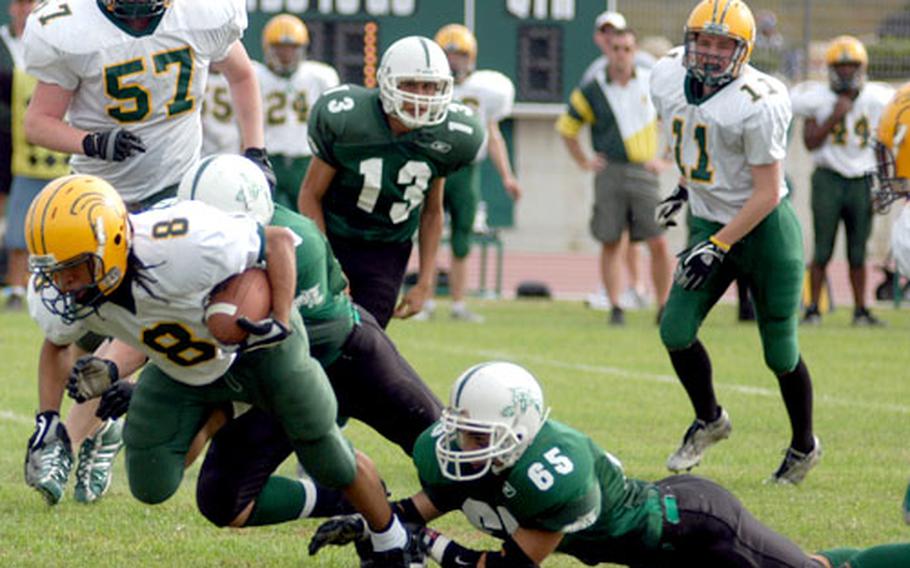 The SHAPE Spartans used a strong ground game and a hard-hitting defense to defeat Naples 21-7 in a Division II semifinal football game Saturday in Naples, Italy.
The Spartans (6-1) jumped out to a 14-0 first-quarter lead.
Five minutes into the game, Stephen Small's 5-yard TD run capped a nine-play, 62-yard drive to give SHAPE a 6-0 lead. Marvin Coombs hit the extra point to make it 7-0.
Then, with 1:46 left in the first quarter, SHAPE's Joe Puttman intercepted a Tyler Terronaz pass at the Spartan 10-yard line and raced 90 yards for a score. Puttman had two interceptions.
"Our defense is physical. They were really hitting people today," said SHAPE coach Kregg Kappenman, whose defense held Naples to just 255 total yards and forced four turnovers.
SHAPE put the game away at 10:48 of the fourth when Richard Rendon ran in from 12 yards out. Coombs' PAT made it 21-0. Rendon finished with 56 yards on eight carries.
SHAPE's leading rusher was Danny Camarena, who carried 18 times for 113 yards. Small added 38 yards on seven carries.
The Spartans controlled the clock with a strong inside run game, Kappenman said.
"Our offensive line really stepped up," the coach said. "We haven't run as well as I'd like, but we kept the ball on the ground and we were able to grind out a lot of yards."
Naples, which fell to 5-2, got on the board with just 1:53 left in the game when Terronaz hit Danillo Stewart with a 41-yard TD strike. Tyler White's PAT set the final score.
Terronez was 6-for-14 for 87 yards.
Jason McKechnie paced the Naples' rushing attack with 24 carries for 140 yards. On defense, the Wildcats were led by Matt Briegel, who had 13 tackles.
But the Wildcats couldn't overcome the turnovers, coach Jim Hall said.
"It was a physical game against a good football team," Hall said. "They wore us down. They forced us to make mistakes."
SHAPE will take on the International School of Brussels in Saturday's championship game in Baumholder, Germany.
ISB 20, Hanau 14
At Brussels, Andrew Vanderlind's last-second interception at the Raiders' 5-yard line sealed a 20-14 victory over Hanau in the Division II semifinals.
Hanau had cut the lead to six points with 15 seconds left in the game when quarterback Ketrone Blanks hit Malcolm Lane for a 5-yard touchdown. The Panthers recovered the onside kick, but Blanks' next pass was snatched up by Vanderlind to end the game.
ISB (7-0) took at 14-0 halftime lead with two second-quarter touchdowns. Drew Phigpen capped a 65-yard drive with an 11-yard touchdown run to give ISB a 6-0 lead.
After getting the ball back on a turnover, Vanderlind hauled in a 10-yard pass from Philip Lipman to make it 12-0. Lipman then hit Phigpen for a two-point conversion.
The Panthers finally got on the board in the fourth quarter when Blanks his Aaron Robinson for an 80-yard score to make it 14-7. But Lipman put the Raiders back up by 14 points with a 37-yard run.
Lipman finished with 183 yards rushing on 22 carries.
Blanks led the Panthers' offensive effort with 212 yards passing. Lane had 11 tackles on the defensive side of the ball for Hanau, which finished the season at 4-3.