European Div. I-II H.S. football: Heidelberg too strong for Ramstein
---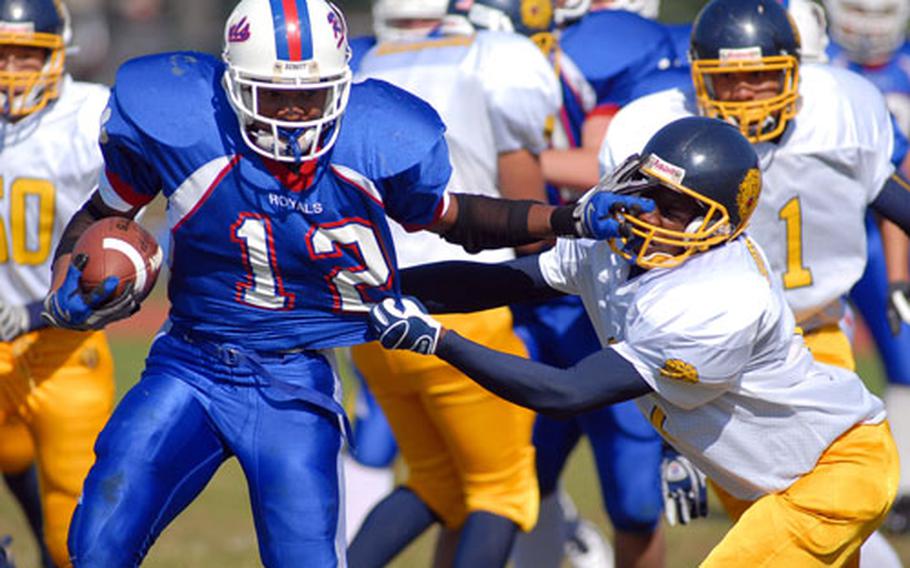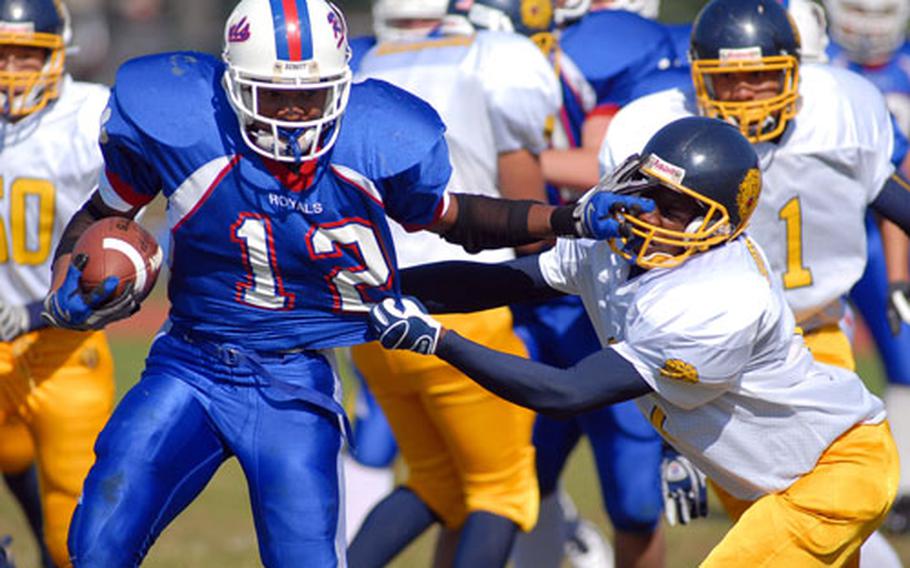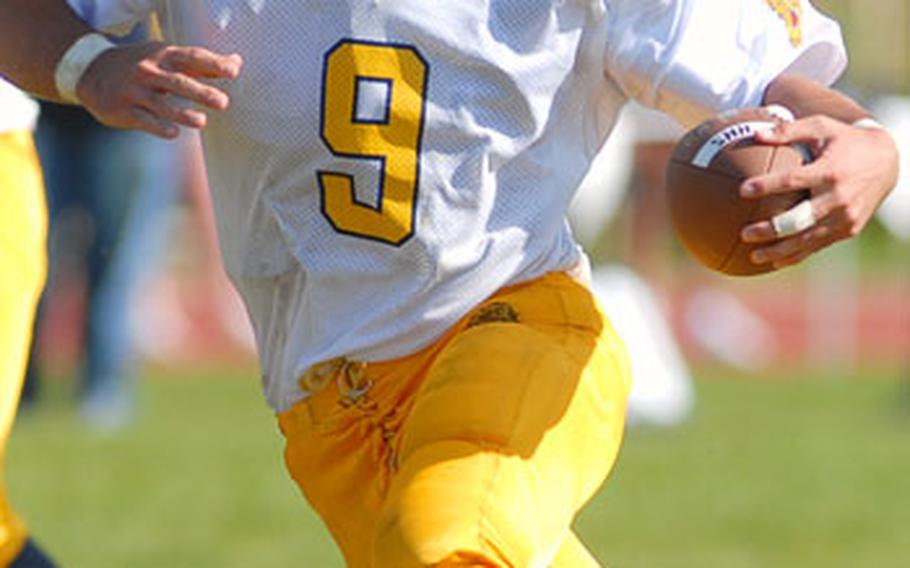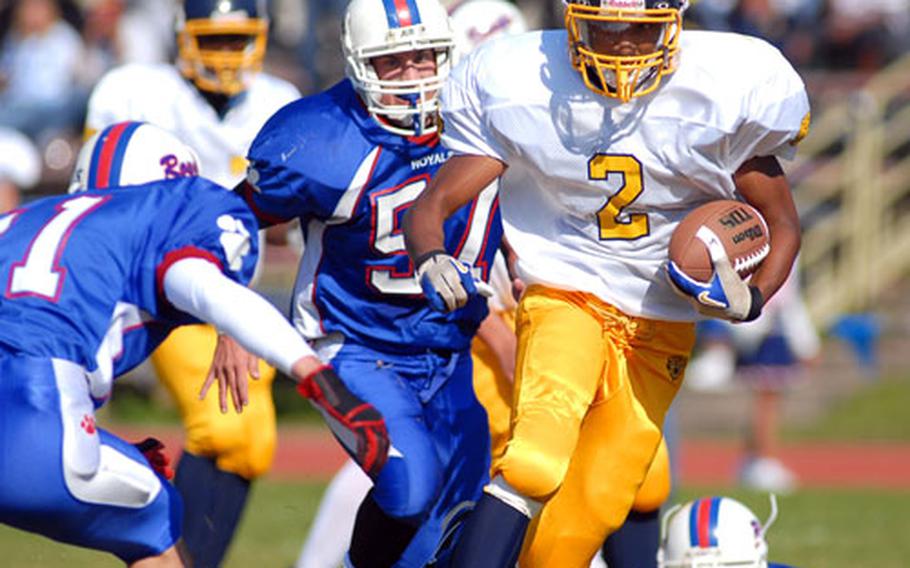 Heidelberg's Kyle Ulses ran for a fourth-quarter touchdown and kicked his second extra point of the day to boost the visiting Lions to a 17-10 victory over Ramstein, the two-time defending European Division I champion, in a nondivision matchup of D-I foes on Saturday.
His nine-yard TD run put the Lions up 17-3, but Ramstein (1-2) answered on a 7-yard TD pass from Thomas Bolton to Aaron Salcido with two minutes to play.
Heidelberg recovered the ensuing onside kick and ran out the clock, according to Ramstein coach Rudy Oliveira.
Ramstein's only lead of the game came in the second quarter, when Steve Stone broke a scoreless tie with a 22-yard field goal.
Heidelberg (2-1), which got an interception, 10 solo tackles and eight assists from Alex Sadusa, kept the game close with a big defensive stand with four seconds left in the second quarter. Tanner Bauer and Chris Cuthbert made the stop on their own 1-yard line.
Ulses, who led Heidelberg with 130 rushing yards on 20 carries, also kicked a 35-yard third-quarter field goal.
In other games Saturday involving D-I and D-II schools:
Kaiserslautern 26, Lakenheath 25: At Kaiserslautern, Jamal McGinnis grabbed a game-winning 22-yard scoring pass from Mateo Gazzale.
The score, with 2:08 left, was the second TD pass of the game for Gazzale, who had given the Red Raiders (2-1) a 13-12 halftime lead with a 20-yard scoring toss to Dominique Avery, according to Kaiserslautern coach Tom Burriss. Kaiserslautern missed the conversion, but kept Lakenheath in check.
Khairi Smith caught a 12-yard scoring pass from Josh Fry for the home team's first TD, and ran 65 yards for another score. He finished with 11 rushes for 128 yards. Gazzale was 7 of 10 passing for 102 yards.
Alex Federinko had two touchdown passes for Lakenheath (1-2). He completed 8 of 20 passes for 146 yards and carried 19 times for 132 yards and, Burriss said
Chris Velazquez, with 14 tackles, and Dimitri Nzerem, with a sack and a pass knockdown, led the K-town defense.
Wiesbaden 35, Patch 7: At Stuttgart, Jeremiah Simms and Marcus Williams each ran for two touchdowns as the D-II Warriors (3-0) dominated their D-I hosts. Simms carried 21 times for 145 yards and Williams ran 12 times for 92 yards to account for the bulk of Wiesbaden's 357 rushing yards.
Kiante Clifton hauled in the Warriors' only pass completion for an 18-yard touchdown.
Justin Phelps, who rushed for 37 yards, was 12 of 21 for 134 passing yards for Patch (0-3). Julius Johnson-Rich caught six of those balls for 62 yards and a 25-yard TD. Teammate Robert Davis hauled in five for 66 yards.
Mannheim 48, Aviano 26: At Aviano, Italy, John Lankford ran for two touchdowns and caught a pass for a third for the Bison (2-1).
Jamel Perteet added a kickoff return TD for the Bison, who jumped to a 24-6 first-quarter lead.
For Aviano (0-3), Denzell Barnett completed 12 of 22 passes for 213 yards and two touchdowns to Jamal Tuck, who grabbed eight passes for 147 yards.
Naples 28, Bamberg 12: Shea Goodnature rushed for 109 yards and three touchdowns as visiting Naples picked up its first victory.
B.J. Thompson scored the first TD for Naples (1-2) after the Wildcats recovered a Bamberg fumble on the Barons' 3-yard line.
Sophomore Tyler Chancellor, who finished with 194 all-purpose yards, scored both TDs for Bamberg (0-3), running for one and returning a kickoff for the other.
Bitburg 24, SHAPE 21: At Bitburg, the Barons went to 3-0 in a game for which details were unavailable at press time. SHAPE (1-2) closed the gap to the final margin with two unanswered TDs in the second half of the game between D-II North foes.
Vilseck 34, ISB 10: On Friday night, Vilseck shook off the stiffness from a long afternoon bus ride to score 20 unanswered points in the second half against the International School of Brussels in Belgium.
Junior fullback Andrew Feazelle ran 15 times for 101 yards and three TDs. He was one of three Falcons to top 100 yards as D-I Vilseck (3-0) ran for 374 total yards, according to ISB coach Will Vreugdenhil. Nico Carr gained 156 yards on 27 rushes and Angelo Anderson, who returned an interception 50 yards for a TD, ran 10 times for 106 yards.
Vilseck also moved effectively through the air behind quarterback Tyler Hall, who completed 9 of 13 passes for 120 yards. Jamal Grant, "a great athlete who finds a way to come down with the ball," according to Vreugdenhil, caught eight of the passes, one for a TD.
Brennan Edwards carried 10 times for 86 yards to lead D-II ISB (1-2). Teammate Gino Culotta rushed for 43 yards on seven attempts against the Vilseck defense led by T.J. Blunt and Kalyn Smith, each of whom made nine tackles and knocked down two passes.
Edwards topped led ISB with 11 solo tackles. Teammate Dominic Culotta had 10 tackles and blocked a PAT kick.
---
---
---
---