European boys basketball: Hanau looks like 'team to beat' in D-IV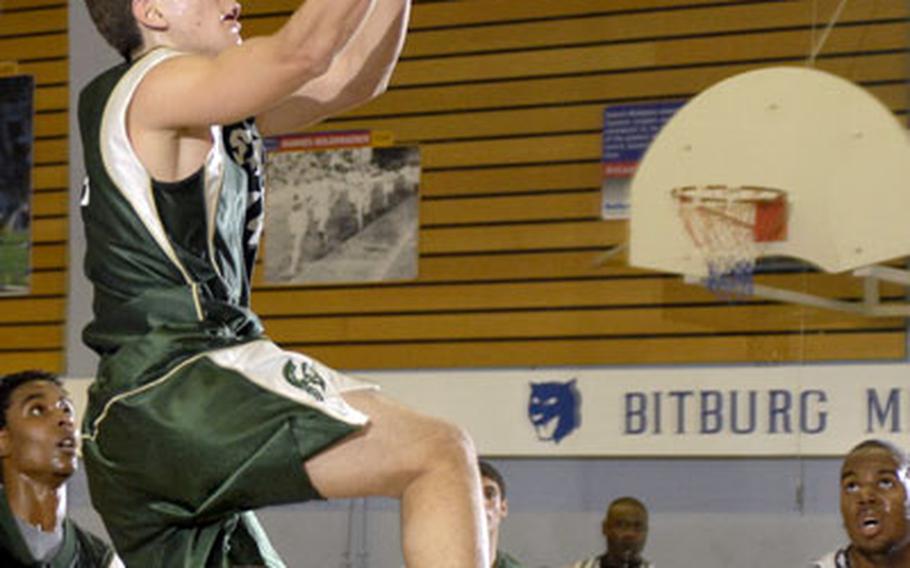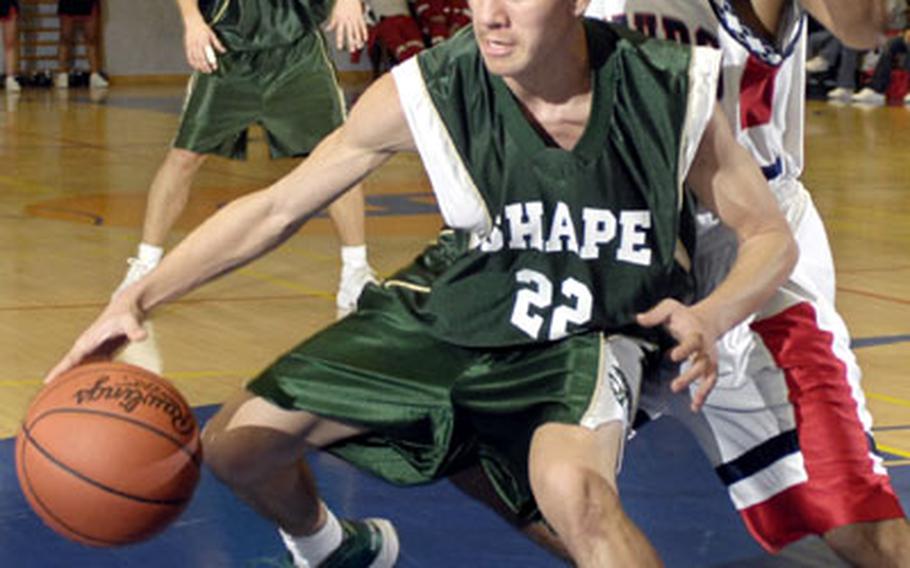 Hanau, two years removed from its Division II European championship, assumed the leader's role in the chase for this season's D-IV title with a weekend sweep of D-IV rival Brussels on Brussels' home court.
The Panthers are "likely to be the team to beat in Division IV this year," Brussels coach Chris Vahrenhorst wrote in a e-mail Saturday reporting Hanau's 51-21 victory Friday night and 42-21 triumph Saturday.
"Both days, Emanuel Moore was nearly unstoppable," Vahrenhorst wrote of the Hanau senior who had 13 points and five rebounds Friday and 26 points and 10 rebounds Saturday.
"But when they need to, Hanau is able to spread around the points to five or six players."
Vahrenhorst pointed out his team was without assists leader Marc Proietto and rebounding leader Nick Bottesini both days because of injuries.
In other boys games of note:
Heidelberg 79, Kaiserslautern 55: At Heidelberg on Friday, the defending European Division I champions rode 21 points and 10 rebounds from senior forward Ryan Rohren to victory over D-I rival Kaiserslautern.
All-Europe junior Chris Frazier added 15 points, four assists and four steals as Heidelberg (4-0) set up a Tuesday night showdown at home against D-I rival Ramstein (4-0). The clash of the unbeatens will close out both schools' pre-holiday schedule.
Marcos Velazquez led Kaiserslautern with 16 points as the Red Raiders concluded their pre-holiday schedule 2-2.
Ramstein 65, AFNORTH 37: On Saturday at Brunssum, the Netherlands, the Royals claimed their fourth straight road victory behind 14 points each from Ben Barnett, Brent Schuck and Scott Sublousky.
Sublousky scored 23 points in a 62-35 victory Friday to set up the weekend sweep.
The Royals play their first home game of the season Jan. 15.
Incirlik 51, Ankara 21: On Saturday at Incirlik, Turkey, Andrew Barker scored 18 points, and Josh Calloway had 11 as the Hodjas wrapped up a two-day, four-game sweep of the visiting Trojans.
Davonte Jackson made seven steals in the finale for Incirlik (4-0). Muzafar Umarov led Ankara (0-4) with 13 points.
Aviano 59, AOSR 58: On Saturday at the American Overseas School of Rome, Xavier Roberson's free throw in the final minute lifted the Saints to victory.
"AOSR had the final shot," Aviano coach Kenneth McNeely said by telephone Saturday, "but we were able to hold them off."
Andre Dean scored 24 points and Jamal Tuck 17 as the Saints (5-1 overall, 2-0 in league play) rebounded from a 60-52 non-conference loss Friday at AOSR (3-1, 1-1).
Vicenza 68, Sigonella 61: On Saturday at Sigonella, Italy, Gary Donald scored 20 points, and Xavier Taylor, coming off a 31-point effort in Friday night's 63-52 victory over Sigonella, added 15 as the Cougars evened their record at 2-2 and league mark at 1-1 with the sweep.
Menwith Hill 87, ACS Hillingdon 56: On Saturday at American Community School Hillingdon, Le'Shawn Adams scored 31 points as the Mustangs completed a sweep of their private-school opponent.
Chase Rexroat had 12 points and 14 rebounds for Menwith Hill, which took a 43-26 halftime lead and rolled to the highest scoring total by a DODDS-Europe school this season. Adams had 21 points Friday night in the Mustangs 70-45 victory.
SHAPE 52, Bitburg 47: SHAPE, last year's D-II runner-up, won behind 15 points from Kelsey Bardell on Saturday at Bitburg. SHAPE (4-0) topped Bitburg (0-3) 62-35 on Friday night.
---
---
---
---