video
Wrestlers' top goal: Be on the mat late Saturday
---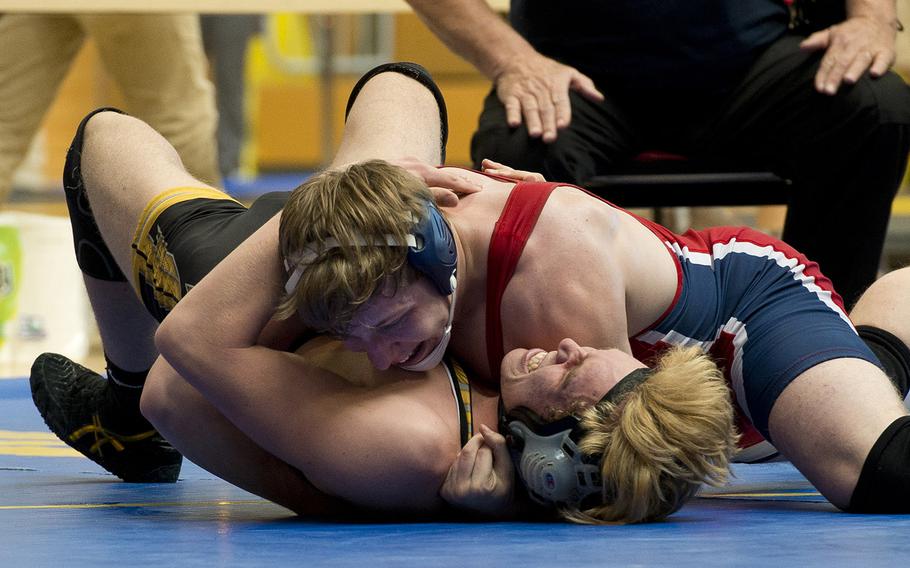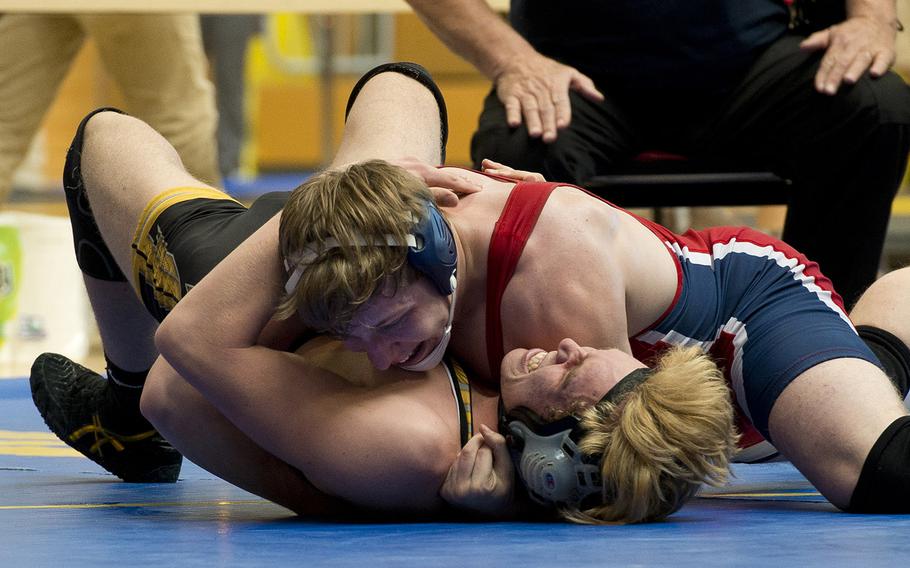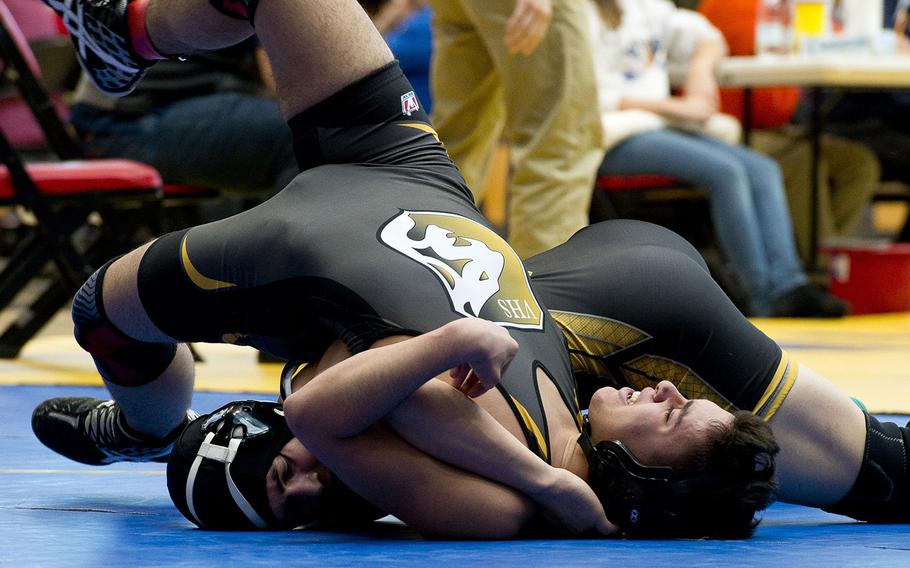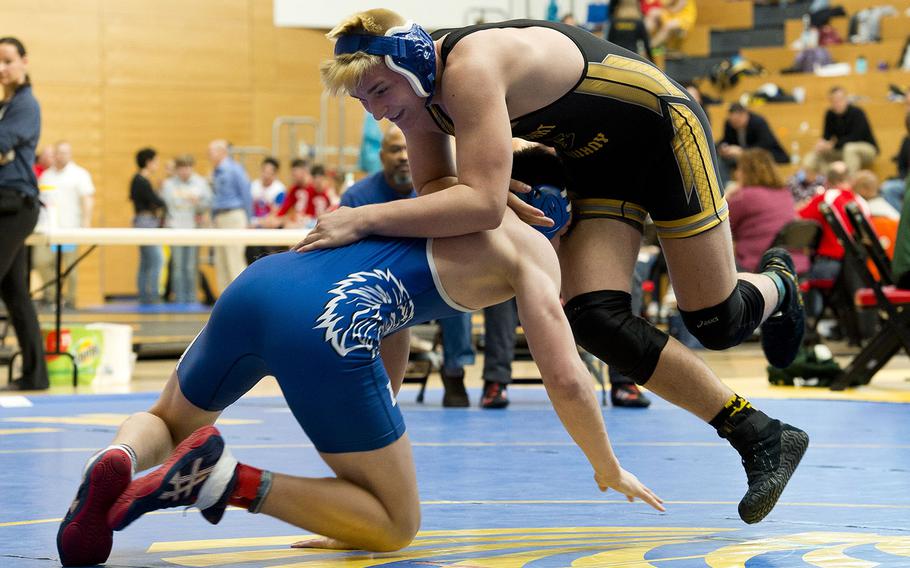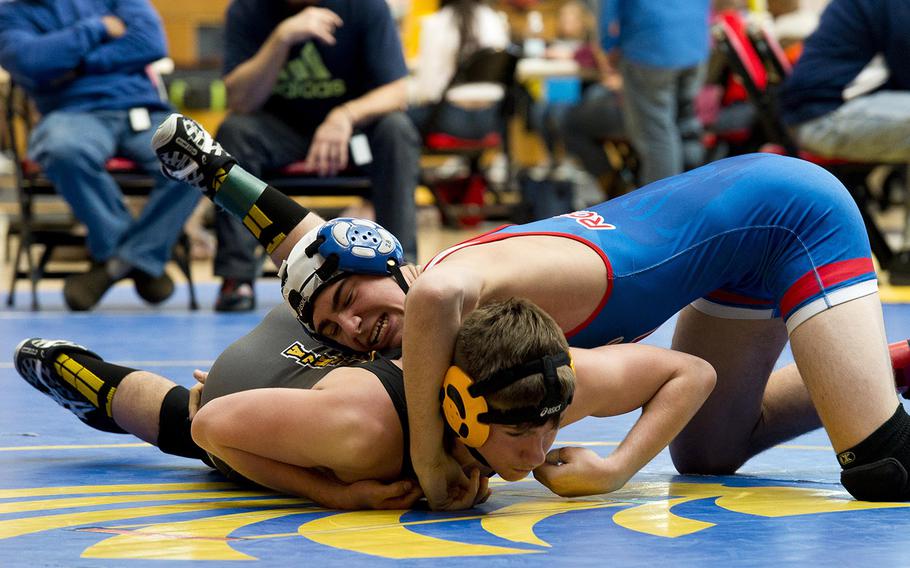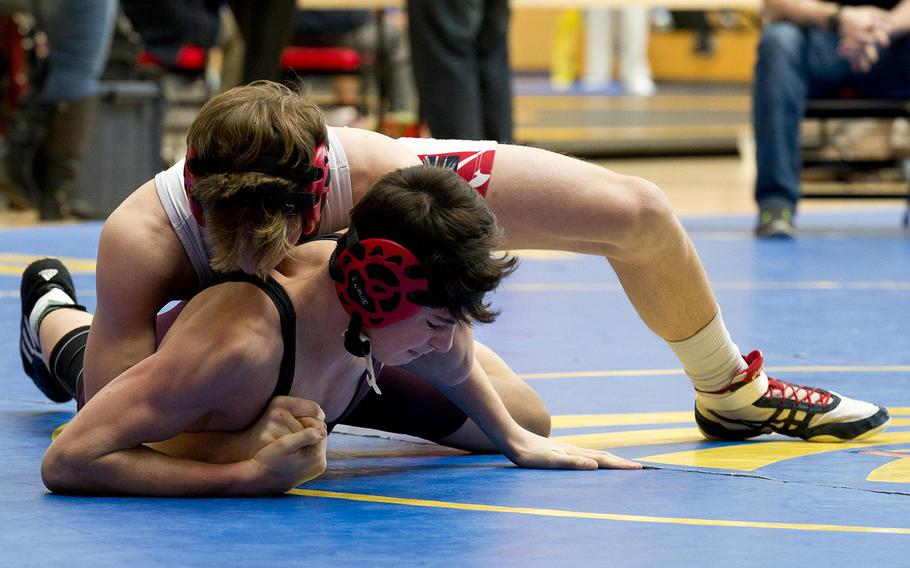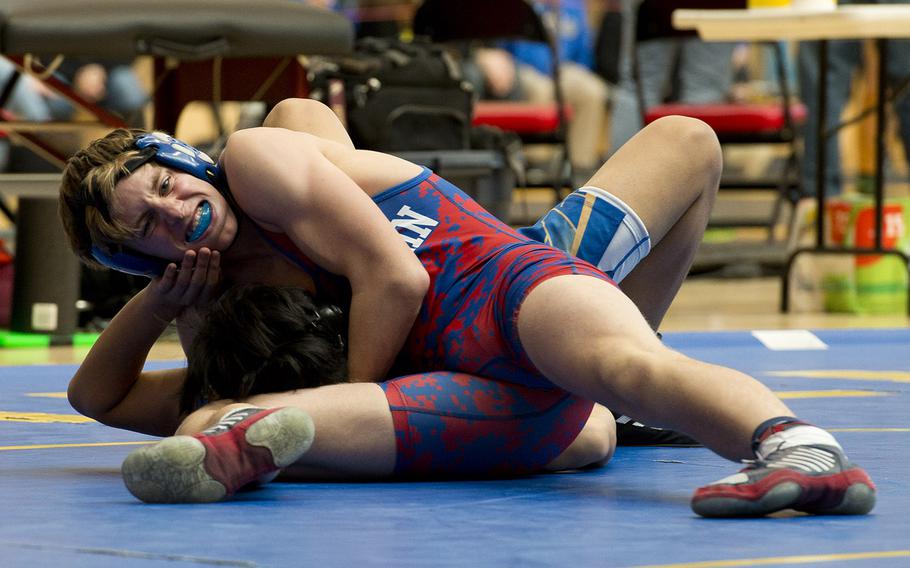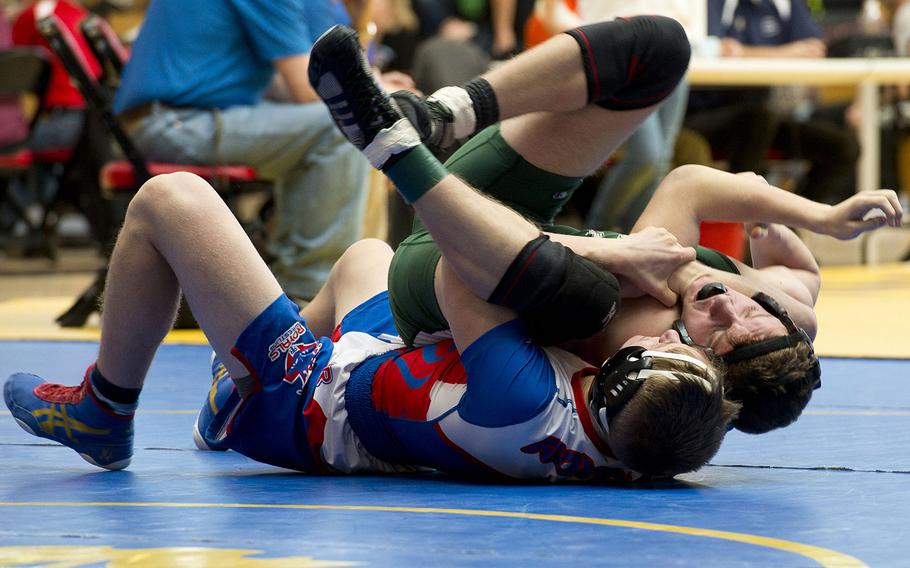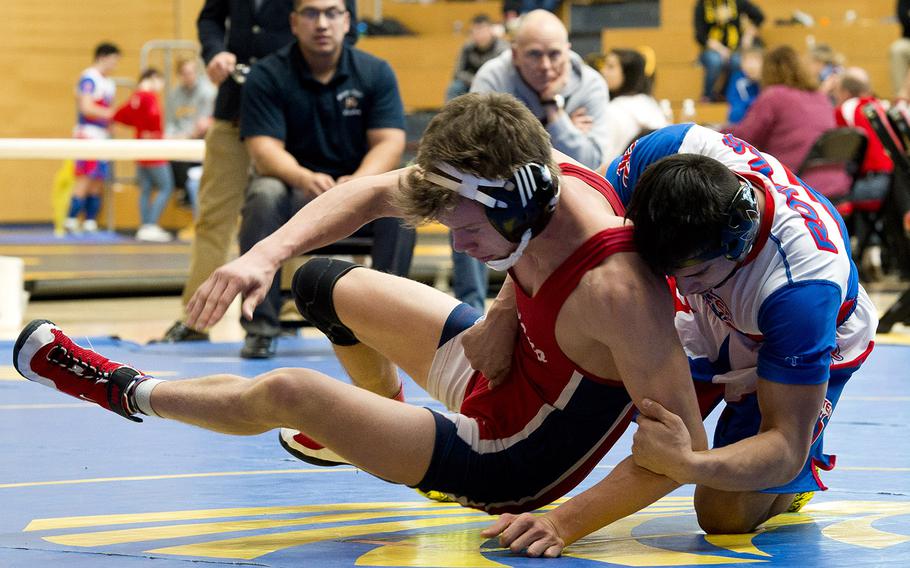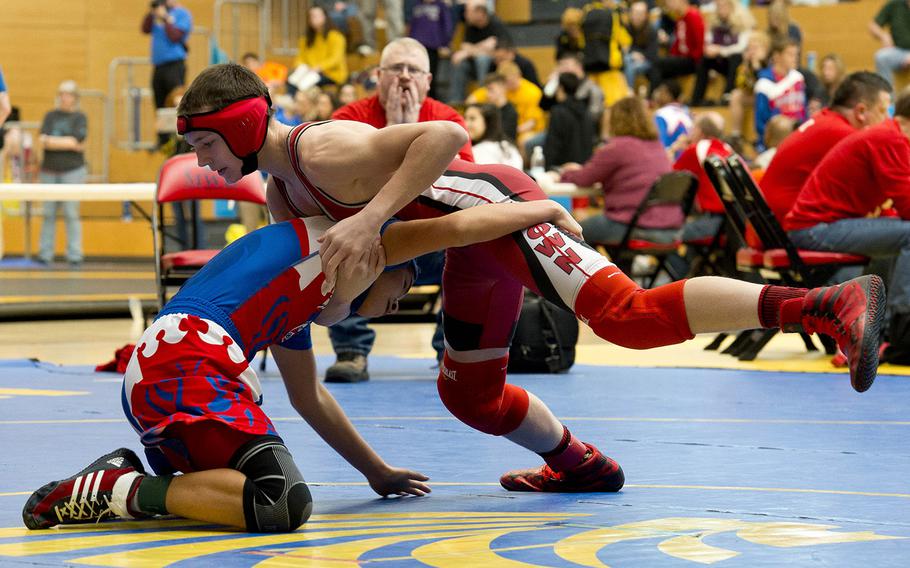 WIESBADEN, Germany – If Saturday at the DODEA-Europe wrestling championships is about winning titles, Friday is about not losing them.
The expected powerhouses across the meet's 14 weight classes performed as expected over Friday's opening four rounds at Clay Kaserne Fitness Center, preserving their chances for claiming gold Saturday afternoon. The two-day event continues Saturday morning with a fifth and final preliminary round, followed by semifinals, third-place matches and, ultimately, the anticipated 14 European title bouts.
Along the way teams will settle the issue of the three team championships. The Stuttgart Panthers are hoping to fend off the hard-charging Ramstein Royals and extend their Division I dynasty, Aviano is a solid bet to defend its Division II crown and Munich International's duo of title contenders might be enough to top Division III.
But that's an issue for Saturday; on Friday, Europe's top wrestlers were preoccupied with advancing through the preliminary rounds and staying in the running for Saturday's elimination rounds.
Robert Baumback, Stuttgart's entry at 170 pounds, explained his strategy for getting through the grueling preliminary rounds.
"A lot of studying the brackets, a lot of knowing who you need to put your effort forth for and who you don't," said Baumback, who won three of his four matches on Friday.
While Baumback found opportunities to conserve energy, the rigorous 152-pound ranks offered few such chances. The stacked 12-man bracket emerged as perhaps the most compelling and competitive of the tournament's 14 weight classes, producing a number of classic matches and setting up an unpredictable Saturday resolution.
SHAPE's Zak Kappenman, the accomplished champion of the northern sectional, ran into early trouble in the form of Aviano's Ethan Laws.
The Saint standout bested Kappenman in a 20-9 major decision, forcing Kappenman to recalibrate his approach and, quite literally, purge the lingering disappointment of the morning setback.
"I just had to throw up a few times to get that out of my system," said Kappenman, who recovered for a 50-second pinfall victory in his second-round bout. "That was a hard-fought match for both of us. We really went at it."
Laws continued his breakout performance later in the day with a 16-11 decision over Wiesbaden's Joshua Theodore, who finished second in Europe at 152 pounds last year. The Aviano sophomore won all four of his matches on Friday and now ranks as a surprise title contender.
Laws didn't even qualify for the European tournament as a freshman last year. But he attended wrestling camps and improved his conditioning over the summer, and is now reaping the rewards of his hard work.
"I lost pretty hard last year," Laws said. "Coming back and kind of destroying it, it's fun."
Laws' undefeated breakout boosted a Saints team focused on a second straight Division II title. Teammate Jacob Gamboa, a contender at 138 pounds, earned four pinfall victories to open his own title bid Friday.
Division III contender Munich International enjoyed a standout day behind brothers Blaise Ronnau and Drake Ronnau. Blaise cruised through the 160-pound ranks, while Drake went unbeaten at 170 pounds.
Large-school contenders Ramstein and Stuttgart, meanwhile, got largely the results they wanted out of Friday. Reigning Stars and Stripes wrestling Athlete of the Year Benjamin Fielding predictably steamrolled the 132-pound ranks; Ramstein's Russell Bodily headlined the Royals' efforts with four pinfall wins at 138 pounds and looks destined for a Saturday matchup with Gamboa.
One of the tournament's most anticipated potential title bouts, a 220-pound clash between veterans Royce Staley of Kaiserslautern and Juan Oestreich of Vilseck, remains on track as each wrestler picked up two decisive wins in as many matches Friday. The two will meet Saturday morning in the final round of preliminary matches.
Twitter: @broomestripes
---
---
---
---