Wrestlers begin the long grind to season-ending finals
by
Christopher Dennis
December 7, 2019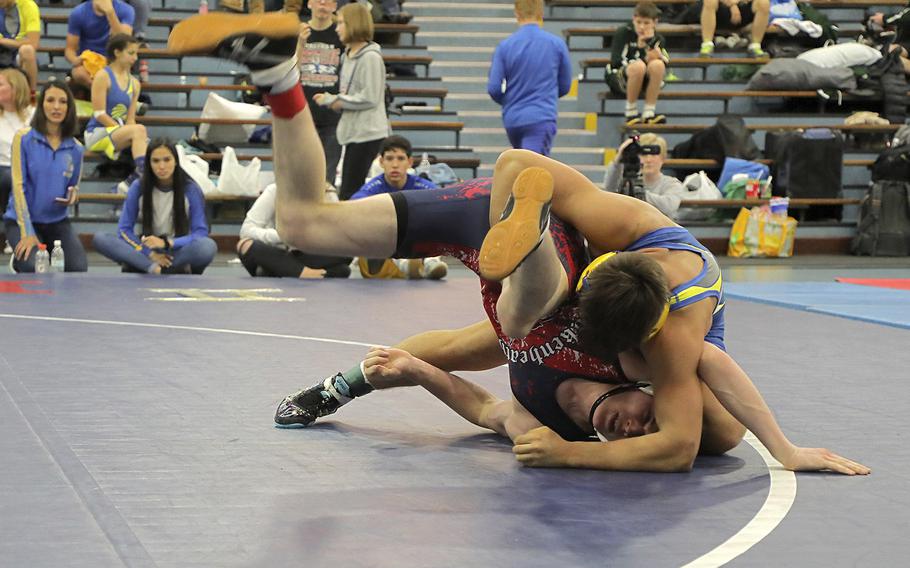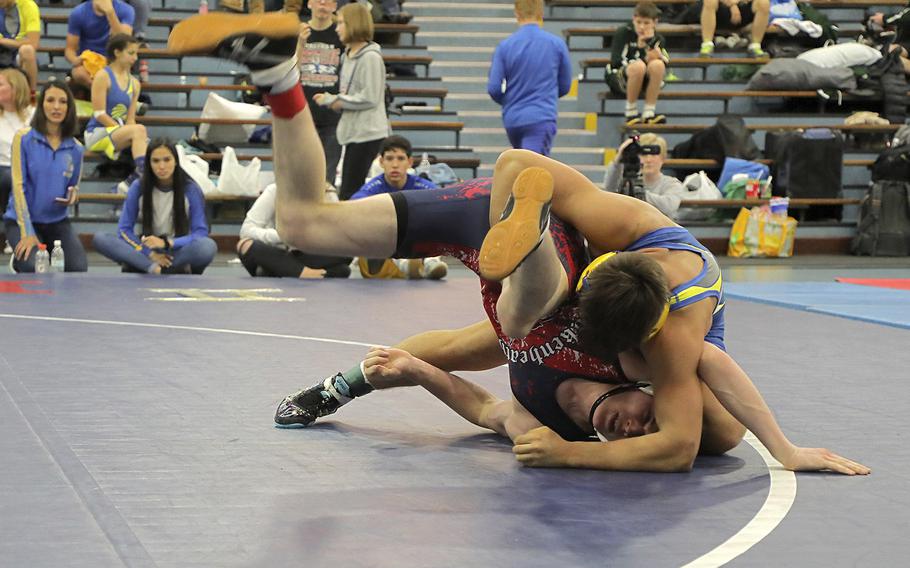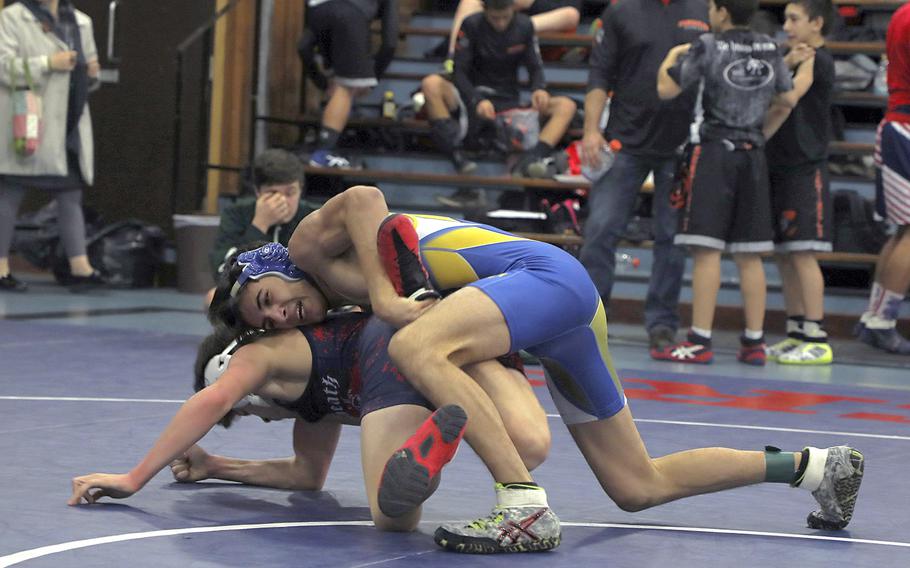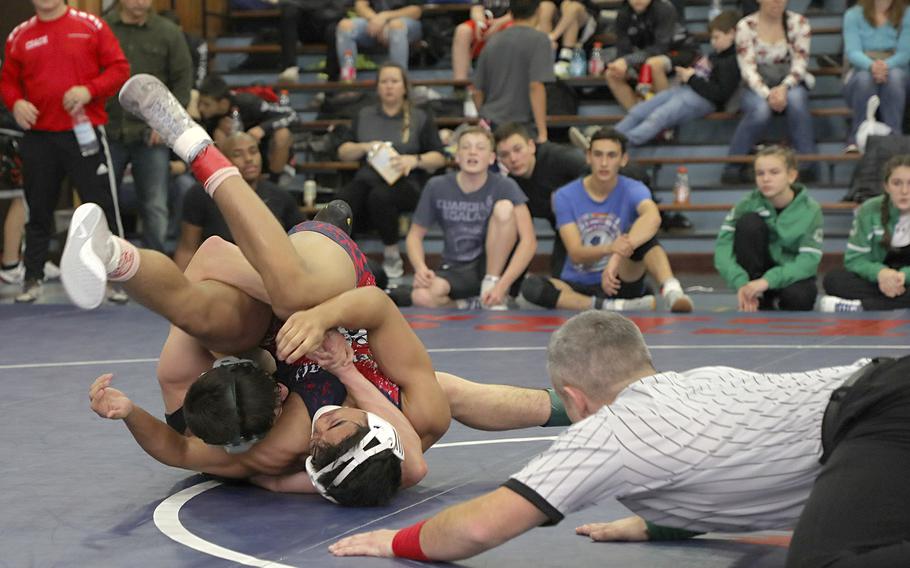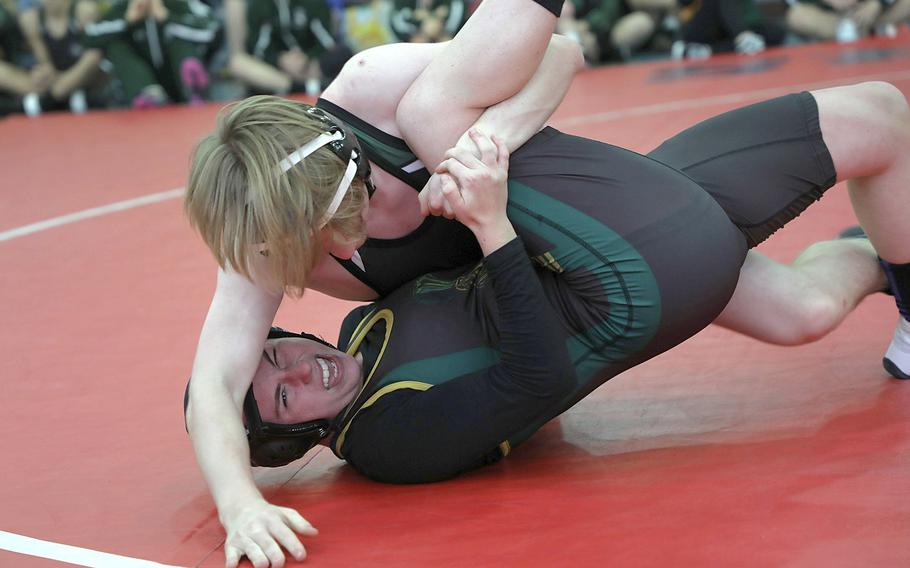 LAKENHEATH, England – Unlike many other sports, wrestling in Europe definitely focuses on the individual. Those coming from bigger schools or backed by established programs certainly might have some advantages.
But when it comes down it, it's one wrestler meeting a single opponent on a mat.
So Saturday's season-opening competition at RAF Lakenheath that featured Division I schools Wiesbaden, SHAPE and Lakenheath had more than a few David-and-Goliath matches – though sometimes it was hard to tell from the uniform who was filling each role. Wrestlers from AFNORTH, Brussels, Alconbury and Spangdahlem were just as likely to fill either role as those from their larger counterparts.
Alconbury's Ivo Sigrist hails from one of the schools with the smallest enrollments in DODEA-Europe. But the 145-pounder qualified for the European tournament last year and turned a few heads Saturday, including that of Lakenheath's Devin Laroya.
"I was caught off guard by Sigrist's technique," Laroya said after losing to him with a fall in the second round.
Laroya and Sigrist will likely see face each other several times in the weeks leading up to the Feb. 14-15 championships that finish the season.
Each will also see a few new opponents from week to week, based on which schools are assigned to the various meets.
Sigrist finished first in his class Saturday. He was far from alone in making an impression, though.
Spangdahlem's Carson Hicks, a European champion at 113 pounds, took first at 120. Alconbury's Dilyn Collins (fifth at 120 in 2018) was first at 138, Wiesbaden's Atreyu Allen (second at 126 in 2018), was first at 132.
Wiesbaden's Jimmy Birchfeld (fourth at 170 in 2018) was first in the same class Saturday.
They were joined by others who either didn't wrestle in Europe a year ago or hope to improve enough to make this year's championship field.
Lakenheath coach Greg Mako said he thought many got off to a good start in that direction.
"It was outstanding competition," he said. "we were very impressed by the level of wrestling in most of the weight categories. We had some great fights at 152, 145 138 120 and at 113. Everyone made this tournament a lot of fun."
The team competition couldn't have been any closer, with the hosts ending up just a half point ahead of Wiesbaden 131-130.5.
dennis.christopher@stripes.com Twitter: @chrisbdennis