D-I girls soccer semifinals
Wildcats, Warriors both going for another 'W'
by
Jennifer H. Svan
May 22, 2019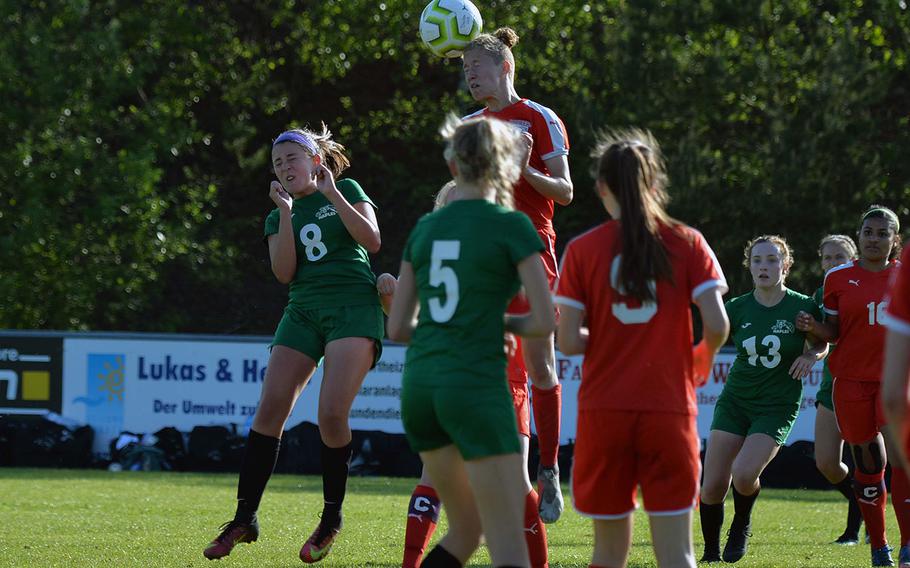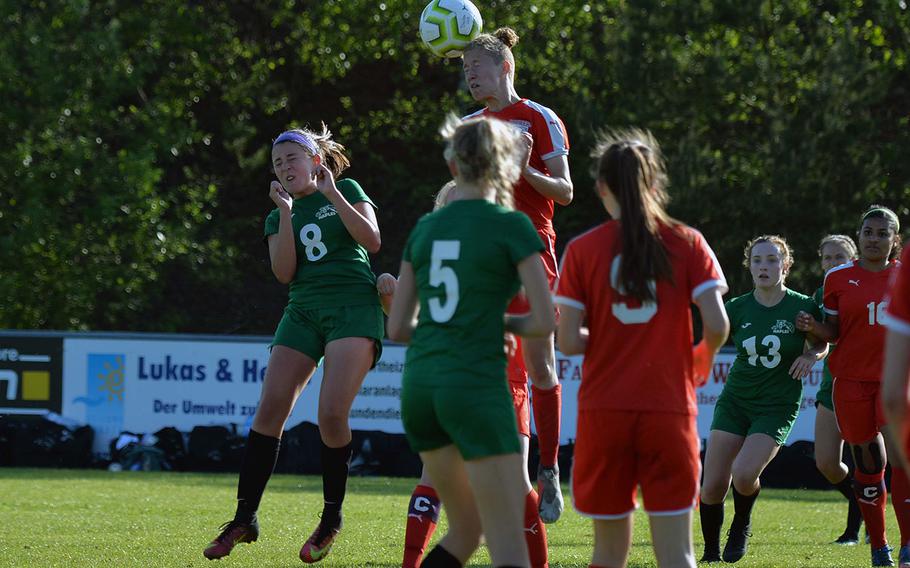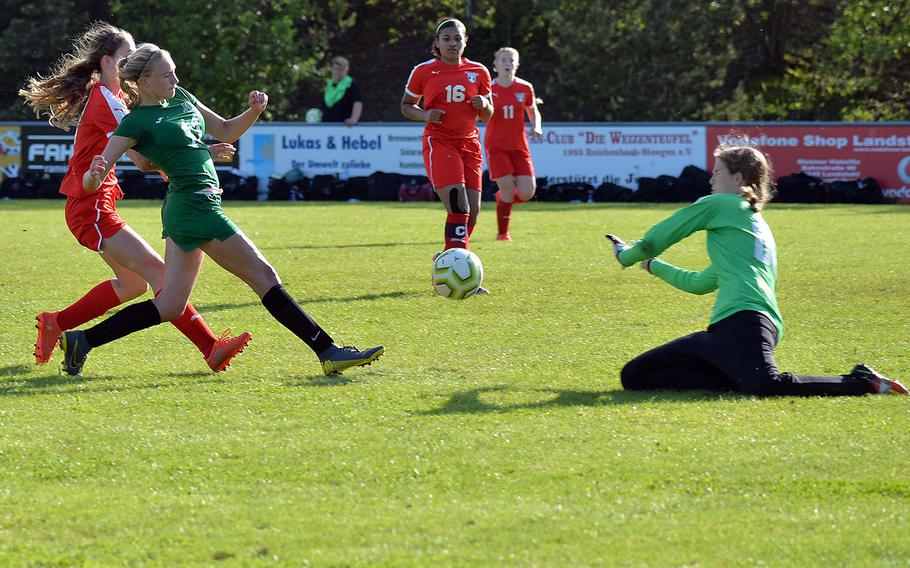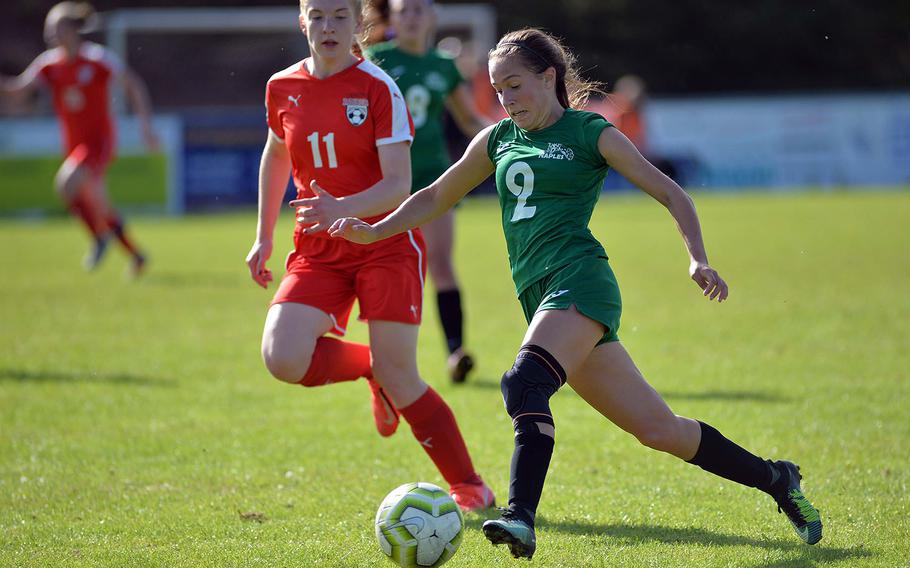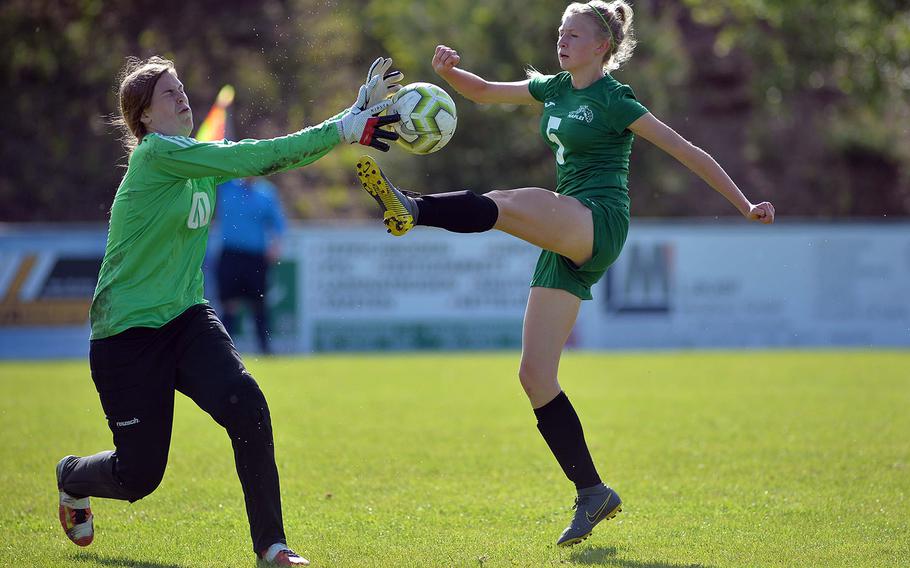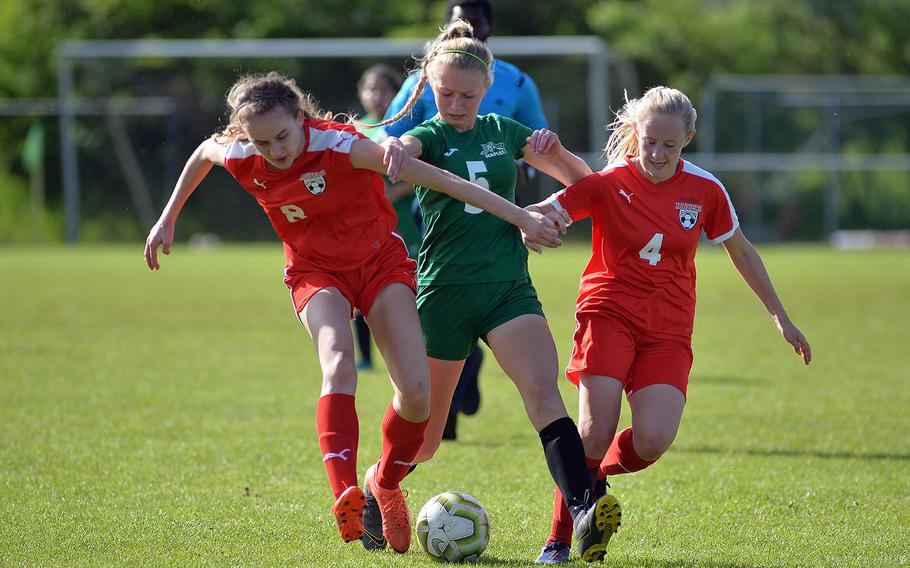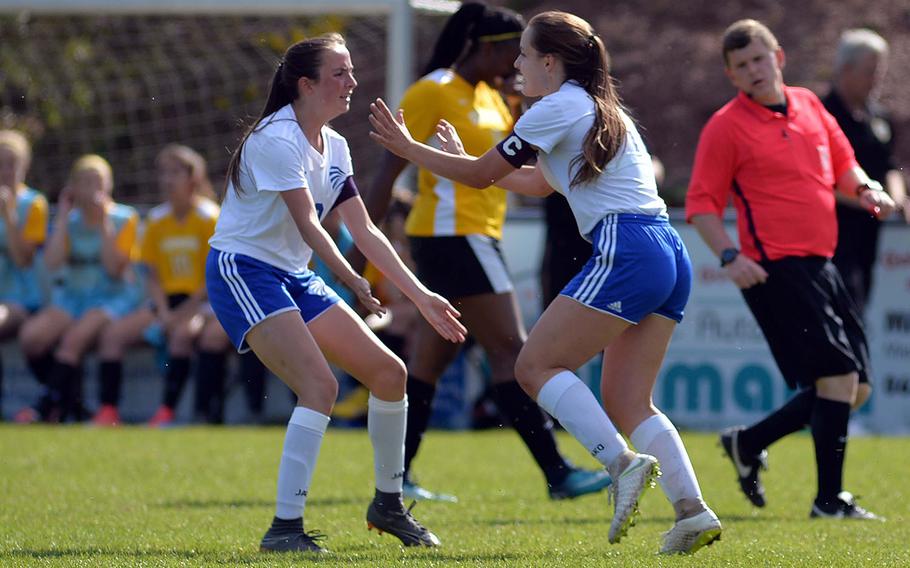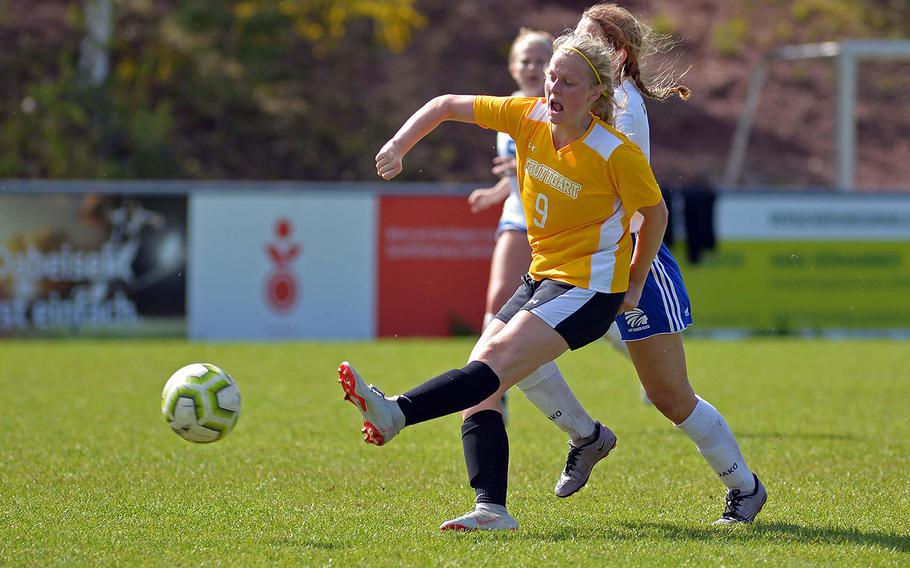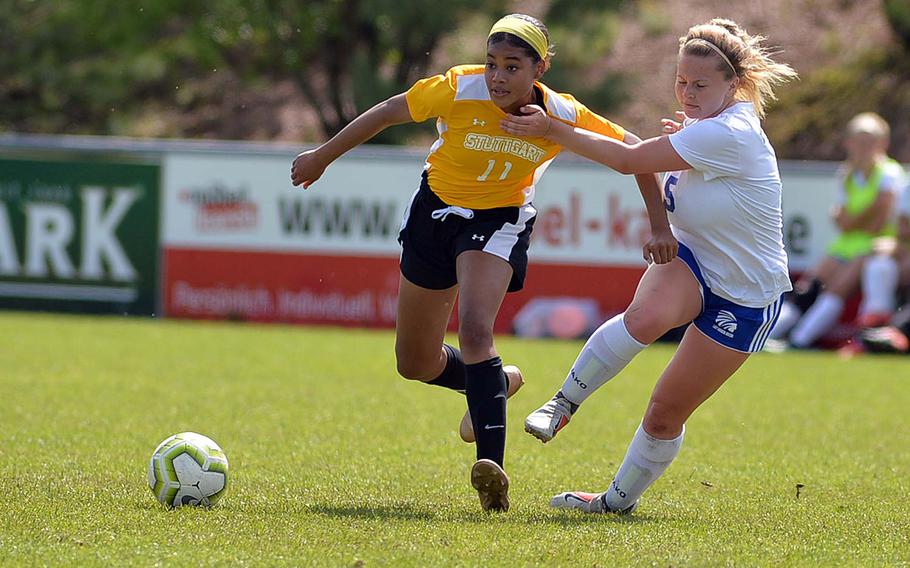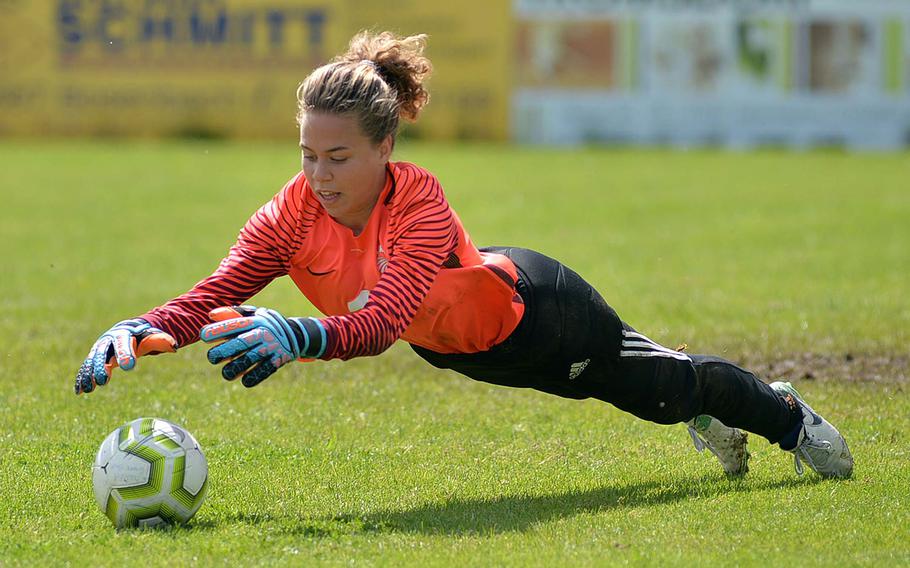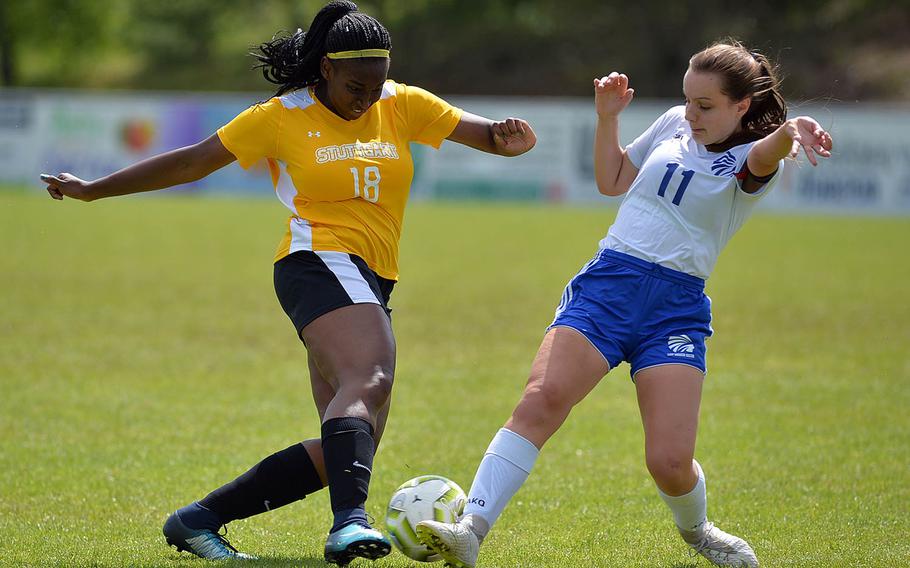 REICHENBACH-STEEGEN, Germany – The Wiesbaden Warriors used a stifling defense to defeat the defending champion Stuttgart Panthers in the Division I DODEA-Europe girls' soccer semifinals Wednesday.
They'll face Naples in the finals Thursday, where a new Division I champion will be crowned. The third-seeded Wildcats took care of Kaiserslautern, 3-0, in their semifinal match.
The Warriors needed double overtime to topple the Panthers, nearly repeating the semifinals from two years ago, when Wiesbaden won in a shootout. But this time, about 90 seconds before the tightly-contested match moved into the penalty-kick phase, senior midfielder Audrey Merhar - on an assist from Erin Goodman - sealed the win, 2-1, for the Warriors.
The victory came one year after the Panthers booted the Warriors out of last year's Division I finals – and on the heels of the teams' 2-2 tie in the regular season finale this spring.
"I'm so proud of my girls," Wiesbaden coach Nicole Angel said. "We fought hard all season. We're always the underdogs."
Stuttgart controlled the ball for most of the game, but the Panthers couldn't catch a lucky break, either misfiring at goal or into the capable hands of goalkeeper Karli Wallace, who had 16 saves.
Stuttgart's only score came on a penalty kick in the second half by senior midfielder Lilly Lakich.
"I felt like we were on their side of the field for the most part," Lakich said. "But their breakaways and their counterattacks, they capitalized on them."
Goodman scored first for the Warriors, launching the ball from the sidelines high into the back end of the net.
"I saw I had an open shot," Goodman said, and from there, relied on "muscle memory."
"It feels amazing," she said of the win.
While the Warriors spoke of feeling like the figurative Division I underdogs, the Wildcats, one of the smaller schools playing in Division I, might fit that role as well. Relatively new to Division I, the Wildcats have been on a quest to get back to the Division I finals since their first large-school championship match in 2016, when they lost to Stuttgart in a 4-0 shutout.
"It's a dream come true," senior midfielder Sydney Millis said. "We really feel like we have a chance this year."
Naples controlled the ball and the tempo against Kaiserslautern. Goals came courtesy of junior striker Vanessa Laird and sophomore striker Roxanne Sasse, who scored twice.
For Kaiserslautern, the loss ended a surprisingly deep run into this year's tourney for the eighth-seeded Raiders.
"We gave it our all," junior defender Paola Zorrilla said. "I know every single player played their best. I'm just very proud of our team."