Wiesbaden to take SHAPE's spot in trip to Rota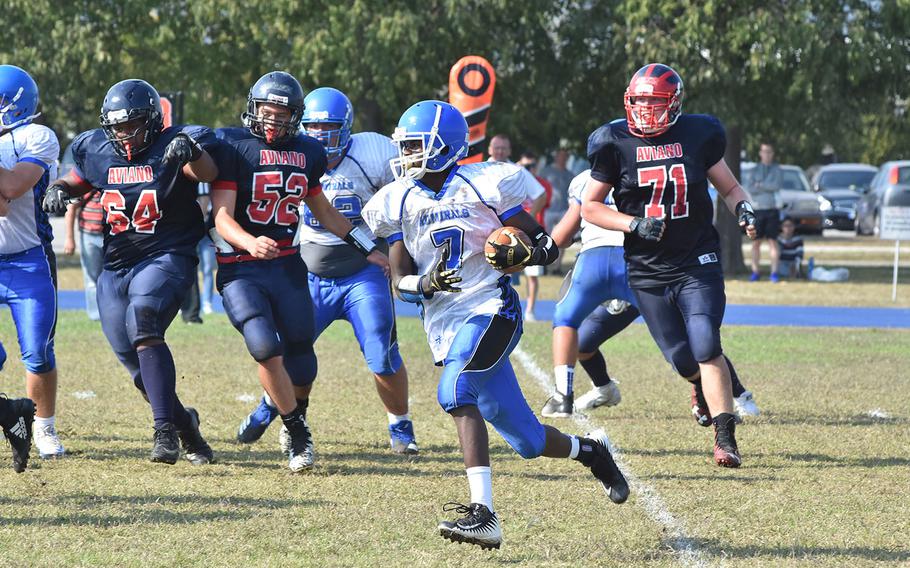 The Division II Rota Admirals will face the Division I Wiesbaden Warriors in a rare interdivisional DODEA-Europe football game Saturday as the Warriors fill in for forfeiting SHAPE and help salvage Rota's homecoming.
Admirals coach Luke Spencer said the program owes "a debt of gratitude" to Wiesbaden's football program, high school and larger community for replacing the scheduled Spartans, who don't have enough players to compete this weekend, and allowing homecoming weekend to proceed.
"They came through for us on short notice, at the end of the season, and that is something that we will not soon forget," Spencer said. "I hope in the future we will be able to repay their efforts in kind."
Wiesbaden is happy to participate, though the Warriors admittedly would have preferred to be otherwise occupied this weekend.
A perennial presence in the playoffs, Wiesbaden struggled to a 1-5 record this fall and were eliminated from playoff contention even before last weekend's 40-26 loss to Lakenheath, leaving them idle as the Division I semifinals play out this weekend.
Warriors head coach Steve Jewell said his team was "resigned" to the disappointing season before this weekend's "surreal" situation materialized.
"The opportunity to play another game energized our entire team to be truthful," said Jewell, who will bring a squad of 18 players to Spain for the game. "I really did not believe it was something that could happen."
For all the good vibes surrounding this impromptu matchup, neither team plans to take it easy on Saturday.
Spencer praised Wiesbaden's "long, proud football tradition," adding that "we are trying to build a consistent football power here in Rota."
A win over a storied Division I program wouldn't hurt that effort.
"We constantly preach that every game is an opportunity," Spencer said. "And we feel the same about this game."
Having filled in when the Admirals needed an opponent, the Warriors intend on being a formidable one.
"Win or lose is not really the point," Jewell said. "But make no mistake, we are coming to play this weekend."
The forfeit victory over SHAPE finalizes the Admirals' record at 4-2. The team remains mathematically alive for a return to the Division II championship game, though it will need an unlikely set of outcomes in this weekend's other divisional matchups to advance.
Twitter: @broomestripes