Wiesbaden sweeps UK foes on court to stay perfect
By
Adam L. Mathis Mathis.Adam@stripes.com
October 3, 2015
---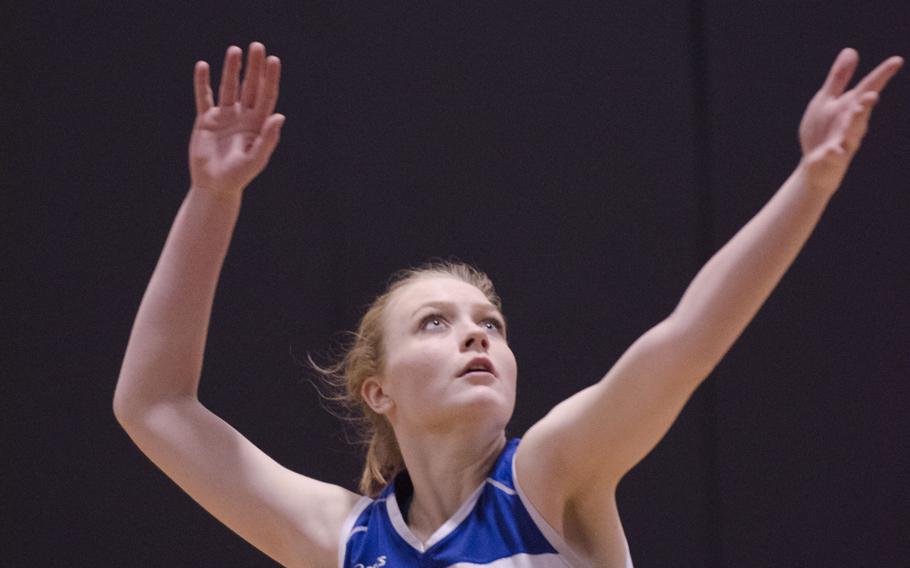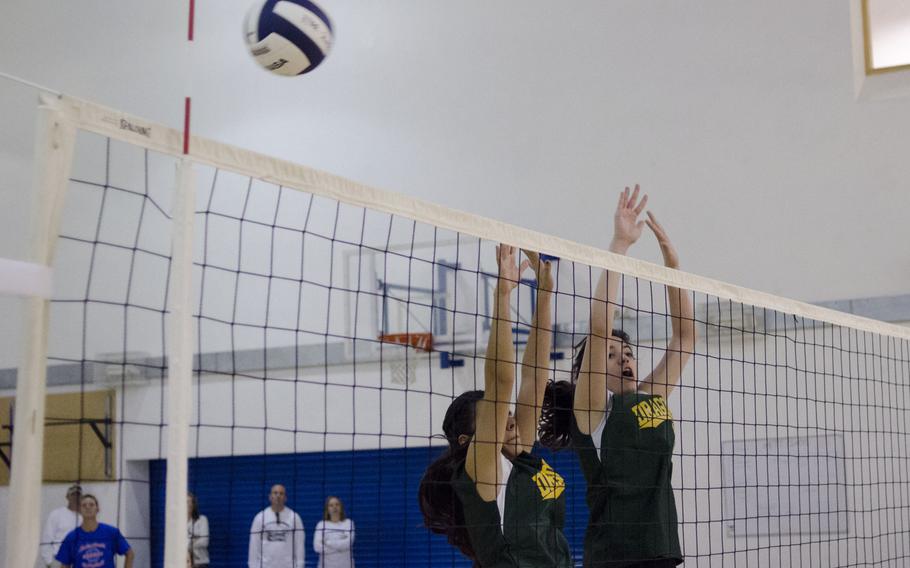 RAF LAKENHEATH, England – Wiesbaden is moving again toward an undefeated volleyball season after taking down two British rivals Saturday during a four-team meet.
The Warriors beat Lakenheath in five sets and Alconbury in three to add to their undefeated season, continuing a run from last year. Wiesbaden finished last season 10-0, then went on to win the postseason tournament.
Spearheading the Warrior attack was Brigantia O'Sadnick with 14 kills, six blocks and four aces against Lakenheath and six aces and four kills against Alconbury. Rosette Gray had eight blocks and four kills against Lakenheath and Melanie Hischel-Weber had four aces and four kills against Alconbury.
After the games, Linnea Velsvaag, Wiesbaden's head coach, praised the leadership of the players on the floorfor quickly recovering after losing the first set to Lakenheath.
"What they do well is recover," Velsvaag said.
Lakenheath and Ramstein split the rest of the day, with Lakenheath beating Ramstein and Ramstein taking down Alconbury, both in three sets.
Ramstein's Montgomery Sauter had 27 digs and four aces and Emily De Rosa had eight assists and two aces against Lakenheath. The Royals' Victoria Rady had six kills and four aces and Sierra Nelson had eight kills and three blocks against Alconbury. Alconbury's Ally Donley had seven aces and five assists against Ramstein.
Nick Highley, Ramstein's associate head coach, said after losing to Lakenheath that his team failed in passing, but excelled in serving.
"When we get a chance to attack, we're a great attacking team," Highley said.
Kat Janssen, head coach for Lakenheath, attributed her team's victory over Ramstein in part to familiarity, having played the Royals last week and the loss to Wiesbaden in part to lack of experience with the Warriors and in part to fatigue, which led to players squabbling a bit.
"Sometimes when they get frustrated they have a hard time coming together as a team and working together," Janssen said.
Twitter: @AMathisStripes
---
---
---
---