DI boys semifinals
Wiesbaden survives thriller for right to face Ramstein
---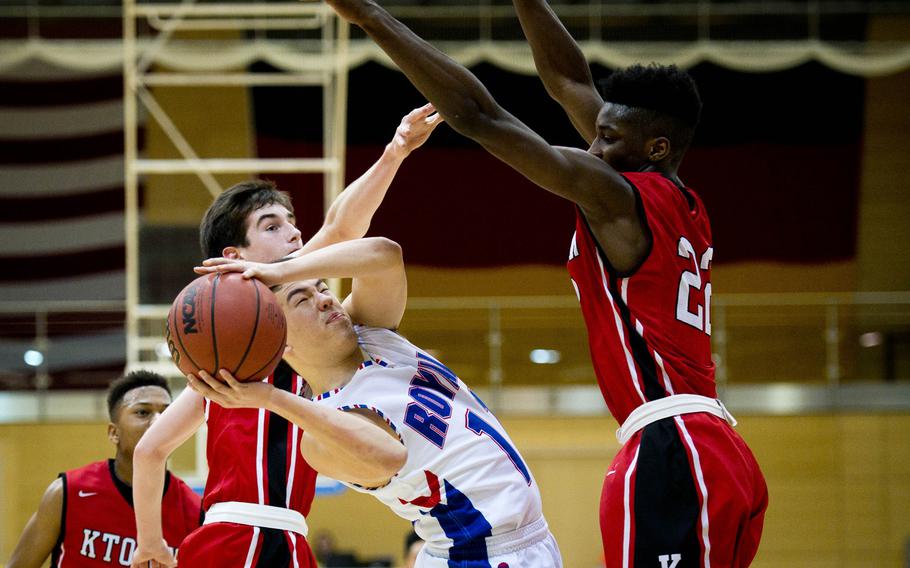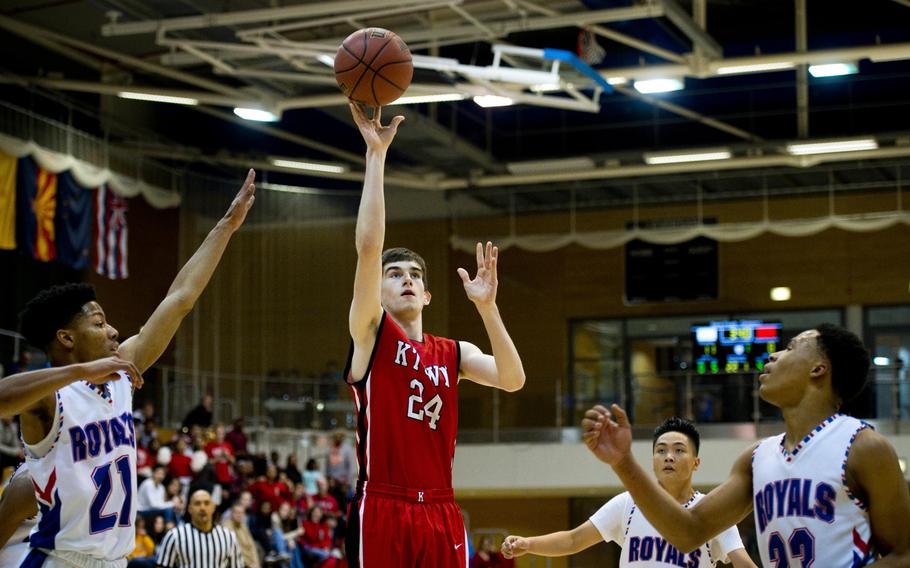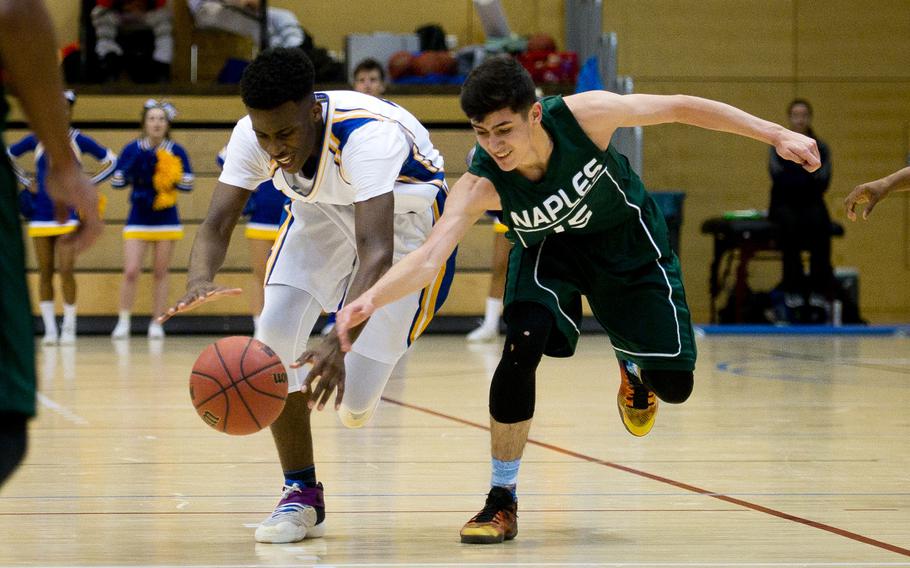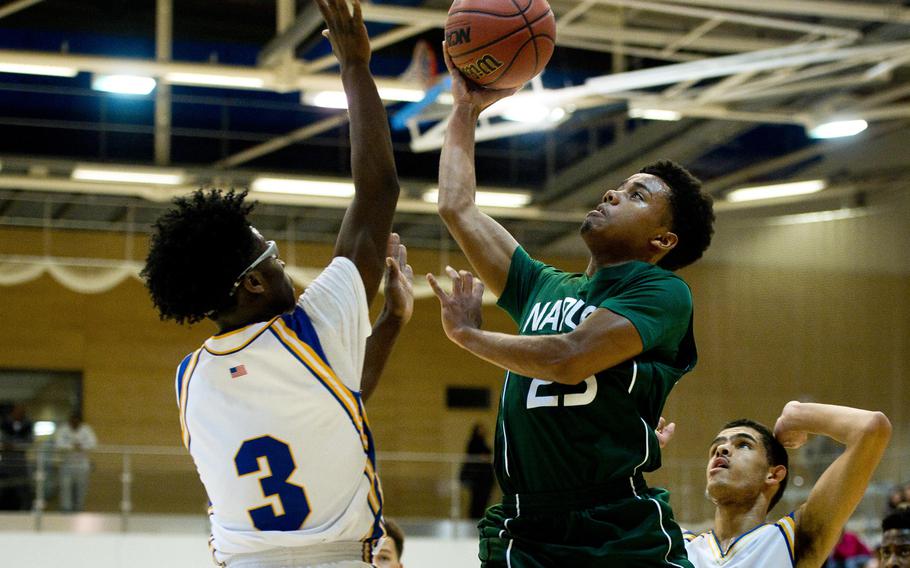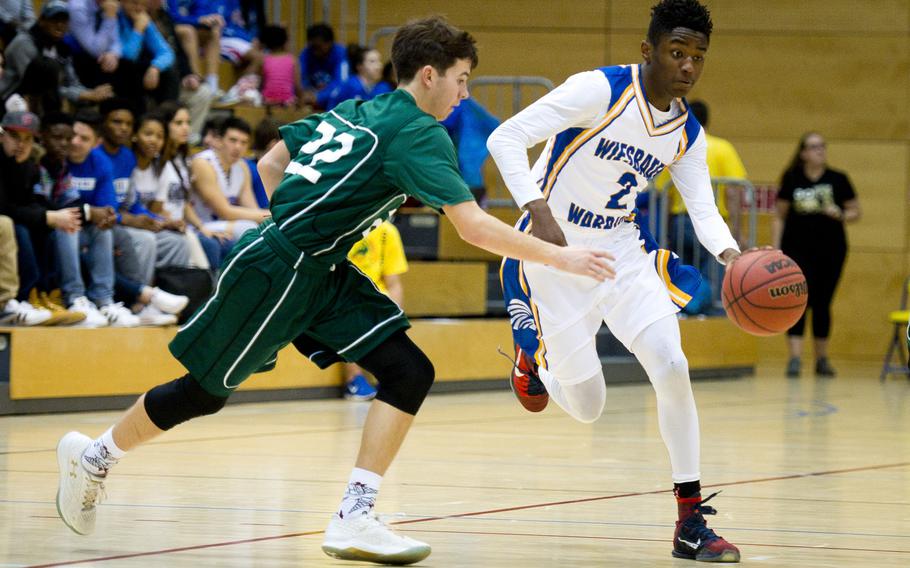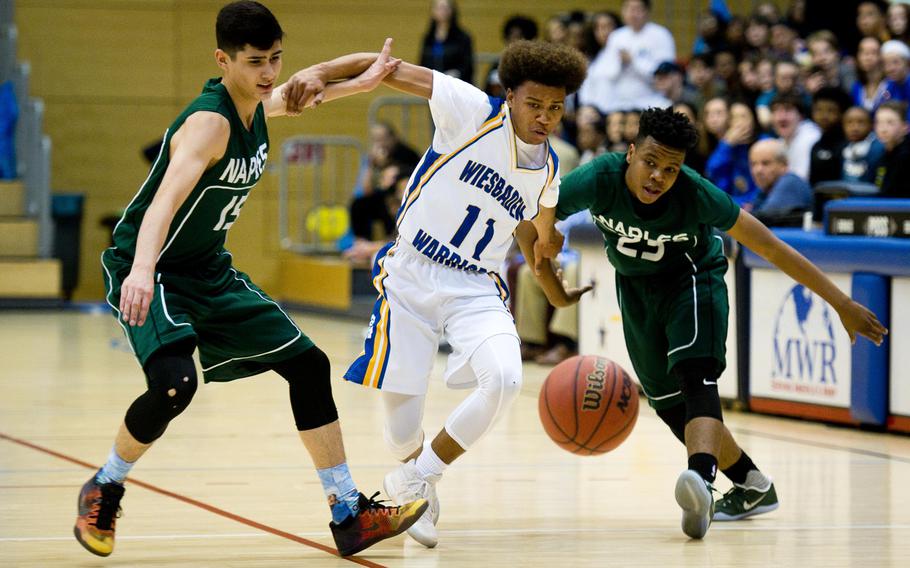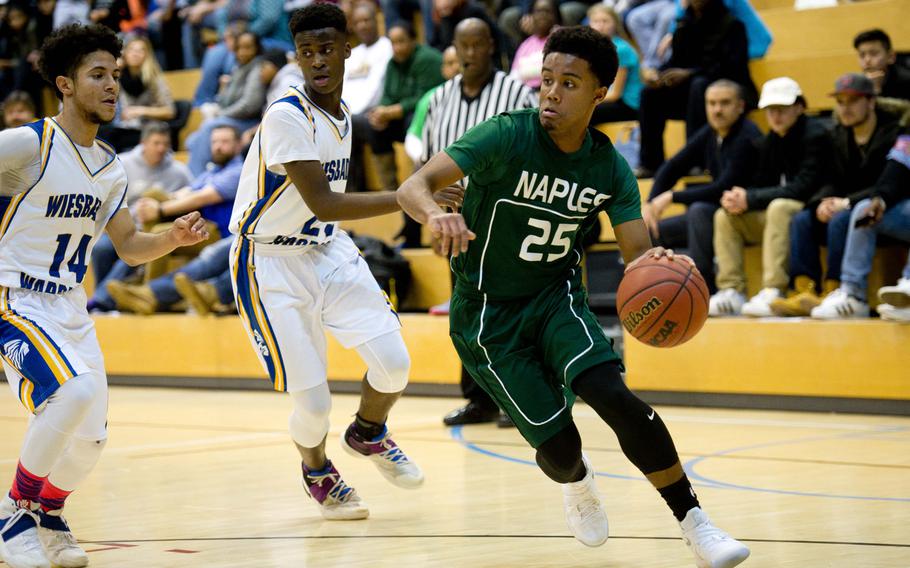 WIESBADEN, Germany – The 2016-17 DODEA-Europe boys basketball championship tournament has been reduced to two possible outcomes.
A long-awaited championship for the hometown Wiesbaden Warriors. Or the continued dynasty of the Warriors' fierce rival, the Ramstein Royals.
Wiesbaden and Ramstein arranged that finale Friday at Clay Kaserne Fitness Center with semifinal victories. The Royals handled the Kaiserslautern Raiders 41-30, while the Warriors needed double overtime to eliminate the Naples Wildcats 63-62.
The teams will play for the Division I title at 7:30 p.m. CET on Saturday at Clay, the main event of a six-game slate of European title games. The Royals will be playing for their third straight championship; Wiesbaden last appeared in the title game in 2014 and hasn't won one since 1999.
That game will also decide the season series between the two Division I powers. Ramstein edged Wiesbaden 46-44 on Dec. 9, handing the Warriors their only loss in 12 divisional games. The Warriors responded Feb. 7 with a 53-33 victory.
Wiesbaden 63, Naples 62: Warriors guard Tyrese Harris is blessed with what his coach David Brown refers to as the "clutch gene" - that unteachable ability to produce outstanding results under immense pressure.
He wasn't the only participant in this, one of the most thrilling DODEA-Europe basketball tournament games in recent memory, to exhibit that trait. But in a game with many standouts, Harris stood the tallest, and he stood last.
Harris scored a driving layup with 20 seconds to play to win a thriller for the host Warriors. That, along with his set of four free throws in the final minute of the first overtime session, was just enough to outlast a Wildcat team on its own nearly irresistible mission to win.
Before Harris replaced him with his game-winner, it was Naples senior guard Terrell Staten that claimed the role of hero. With five seconds to play in the first overtime and his team down three points, Staten coolly dribbled upcourt, curled off a screen and drained a buzzer-beating three-pointer that forced the second overtime session and sent fans of every team but host Wiesbaden into sideline-sprinting hysteria.
Staten's amazing shot was made possible only because Isaah Negron, Wiesbaden's senior sharpshooter, denied the Wildcats a regulation win. Negron drained two three pointers in the final two minutes of regulation, including one to force overtime with 37 seconds to play, to preserve the Warriors' title hopes. He finished with a team-high 25 points, one shy of Staten's game-high 26.
Before that, it was Staten's senior teammate KC Evans that capably auditioned as the game's leading man. The Naples center put together a remarkable fourth-quarter sequence that nearly delivered the upset. Evans, who scored 15 points, drove to the hoop for a three-point play with two and a half minutes remaining, blocked a Negron jumper on the other end and handed out a nifty assist to cutting teammate Tyrone Haynes for a layup to put the Wildcats up four points with just over a minute to play.
But in the end, it was the sophomore guard Harris that carried the day. And that didn't surprise the Warriors at all.
"We trust him above anybody," Brown said. "He's the brain of our team."
True to form, Harris said he felt "very comfortable" taking and making shots under the stressful conditions. But even he was concerned when Naples answered every apparent knockout punch by landing a haymaker of its own.
"It was very scary," said Harris, who finished with 11 points. "When we thought we had them beat, they came back even stronger."
Brilliant performances in a semifinal loss, no matter how remarkable a game it was, were not an outcome Evans and Staten were prepared to accept. The senior duo, a DODEA-Europe fixture over the last four years, came to Wiesbaden with eyes only for the title that has eluded them. The plaudits of peers and coaches can't take the place of a desperately desired victory. But they were offered anyway.
"They gave it everything they had," Naples coach Craig Lord said of his team and the two seniors that led it. "They wanted to win with all their heart."
For Brown, denying Evans and Staten their chance at a title was a necessary evil.
"They're fantastic, and they have been for four years," Brown said of the Wildcat duo. "If they were playing anybody else I'd be rooting for them."
Ramstein 41, Kaiserslautern 30: The annual postseason matchup between the Raiders and Royals happened a day earlier than usual this year. That's about the only thing that was different about it.
Ramstein ended the title hopes of its long-suffering neighbor for a third straight season, this time ousting the Raiders in the semifinals after beating them in the last two European title games.
While Kaiserslautern was ostensibly fueled by two years of simmering frustration, it was the Royals that started the game with the ferocity of a hungry underdog. Ramstein, locked immediately into a swarming pressure defense, rang up a dozen unanswered points before the frazzled Raiders finally found the basket with 2:22 to play in the first quarter.
It didn't get much better from there for Kaiserslautern. The Raiders remained stuck in single digits at halftime and entered the second half in a 16-point hole from which they would never emerge.
Ramstein forward Naser Eaves posted a double-double of 12 points and 14 rebounds, including eight offensive boards. The 6-foot-3 sophomore also anchored the Royals' stingy zone defense and provided countless other difference-making plays.
"He's just a ball of energy," Ramstein coach Andrew O'Connor said. "He gives us so many things." Eaves' contributions begin even before the opening tip, when he takes responsibility for "getting the guys hyped" for the battle to come. The atmosphere he helps create is evident when the team takes the court.
"We're a big family out there," Eaves said. "That's how it is."
Kaiserslautern, meanwhile, was left to ponder less comforting realities, namely its continued plight on the short end of DODEA-Europe's longest and most intense rivalry. The Royals handed Kaiserslautern two losses during the regular season before formally ending that season Friday.
While the Raiders again fell short of a title, they did manage to further burnish their reputation as a team that raises its game in the postseason. Eighth-seeded Kaiserslautern won just two Division I games this regular season, but it matched that number with a pair of tournament wins this week that gave it another berth in the elimination round.
Twitter: @broomestripes
---
---
---
---