Wiesbaden rounding into form; K-town struggling
---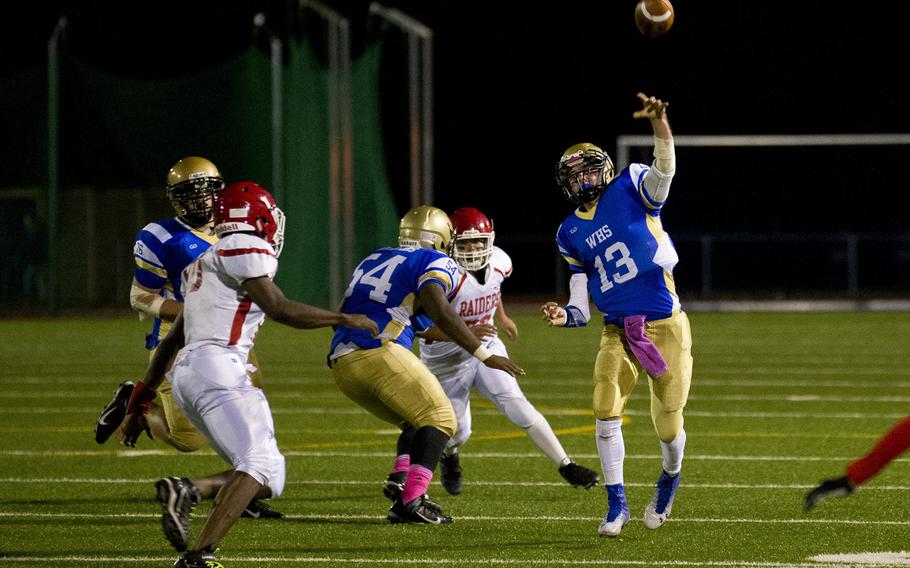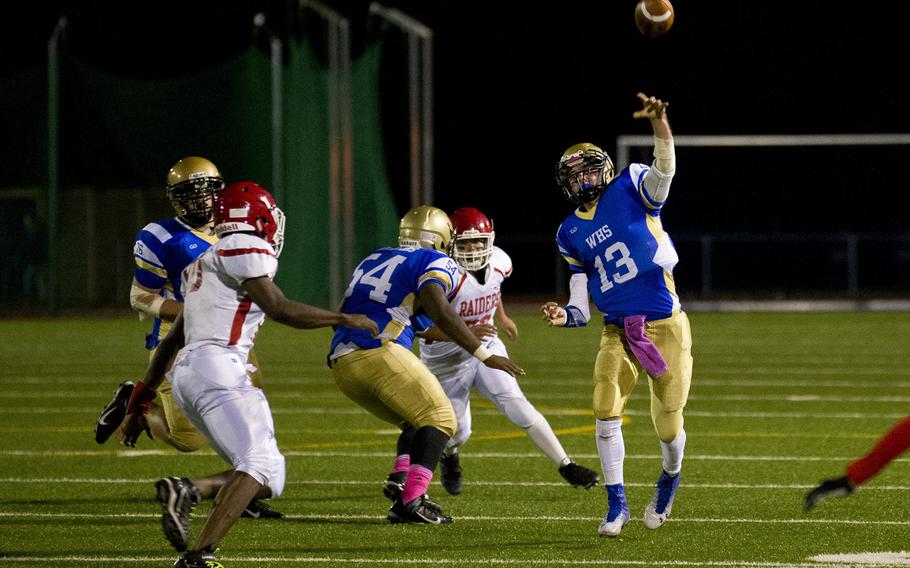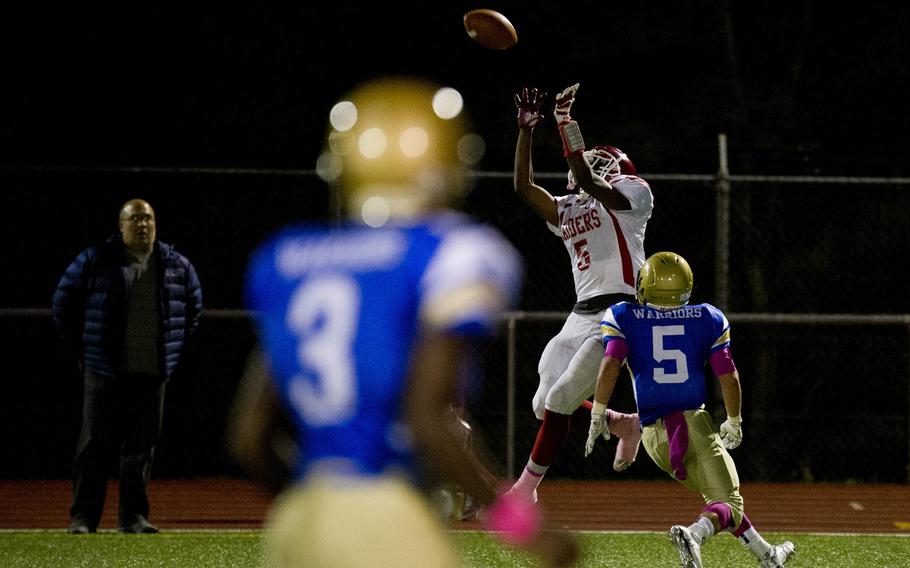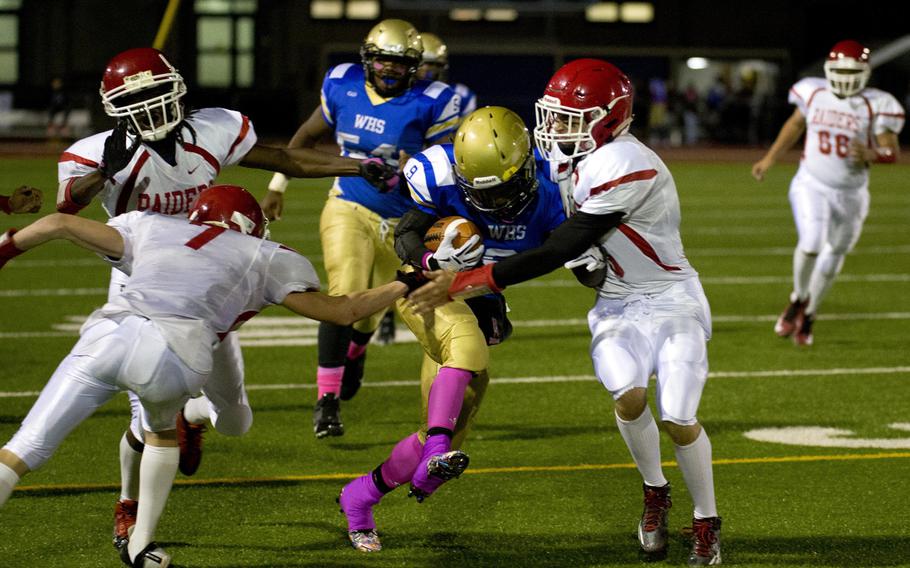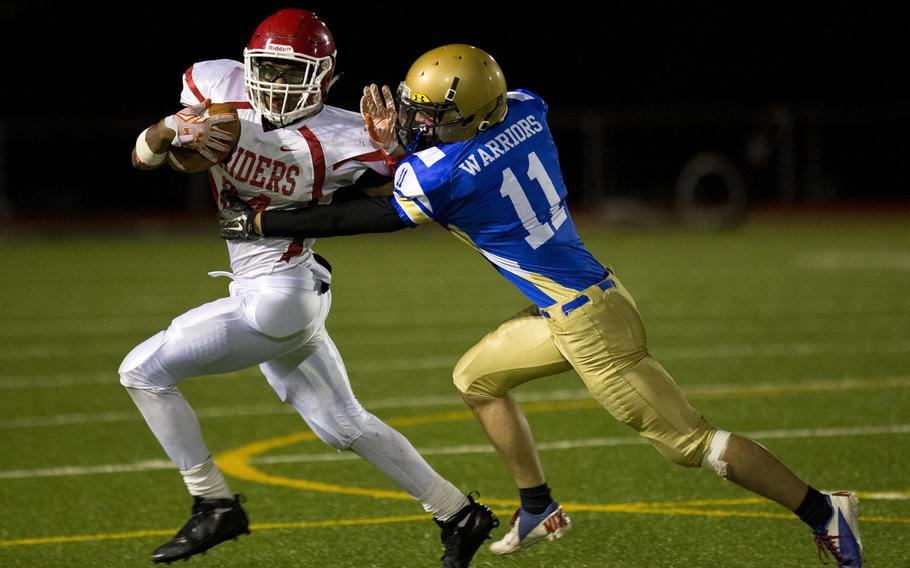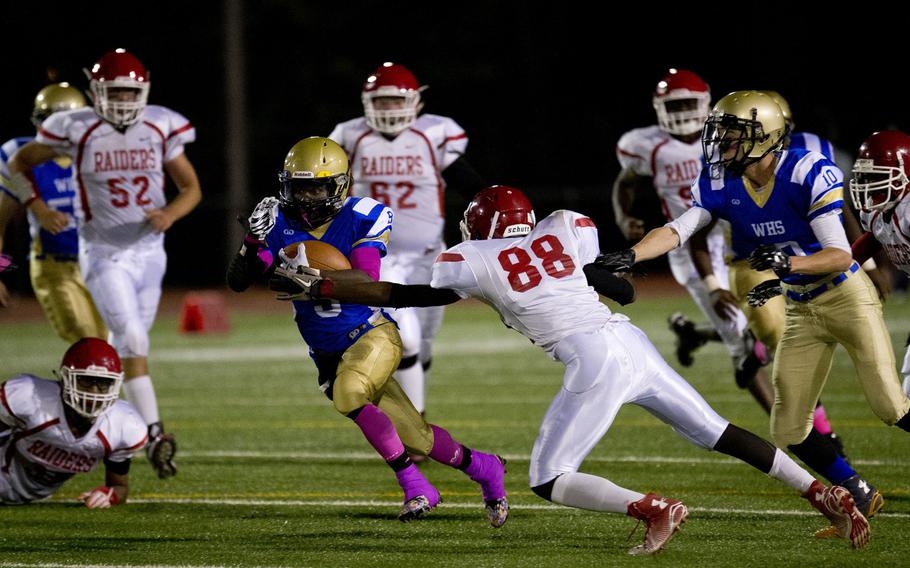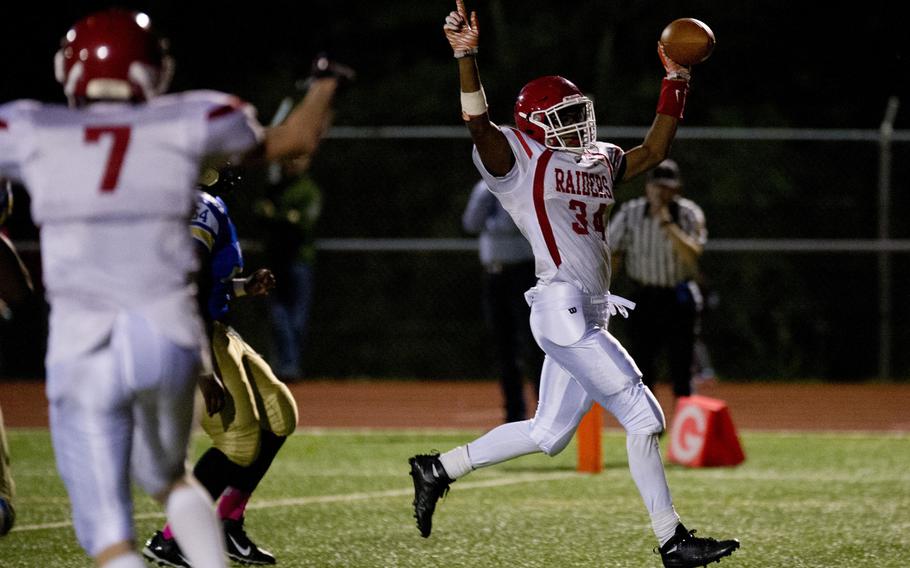 WIESBADEN, Germany -- The Wiesbaden Warriors continued their recent offensive renaissance Friday night with a 34-6 blowout of the overmatched and undermanned Kaiserslautern Raiders.
The Warriors scored three times on the ground and twice through the air to produce their highest point total of the season.
"Luckily we were able to kind of spread it out a bit," Wiesbaden coach Steve Jewell said. "We just wear people down."
Potent as it was, the Wiesbaden cause was helped by an injury-plagued Kaiserslautern team prone to unfortunately timed miscues.
Wiesbaden's first touchdown followed a Kaiserslautern penalty on fourth down that kept the Warrior drive alive. Carlos Ortiz punched in an 11-yard run to break the scoreless tie.
Kaiserslautern's best first half possessions ended under similar discouraging circumstances. A pair of Raider field goal attempts were first backed up by offensive penalties and subsequently blocked by waving Warrior hands.
Deshon Barrow scored on a 20-yard rush and a scrambling Eric Arnold found Jake Bucher for a 15-yard touchdown pass to give the home team a comfortable 21-0 halftime lead.
David Zaryczny put Kaiserslautern on the board with a 10-yard run and Arnold again connected with Bucher as the teams traded third-quarter scores. A fourth-quarter Raider foray into the red zone ended with a fumble, and running back Keyshaun Green scored on Wiesbaden's resulting long drive to ice the game.
The last two weeks have marked a return to form for Wiesbaden, which in recent years has fielded DODDS-Europe's most dynamic offense. But a shutout loss to Ramstein in last year's championship game and an 18-9 season-opening loss to Stuttgart on Sept. 18 put Wiesbaden's high-scoring reputation in danger.
This effort against Kaiserslautern, along with last weekend's 33-20 defeat of Lakenheath, is an encouraging sign for the Warriors.
"I think we're rounding into shape a little," said Arnold, a veteran Warrior who took over at quarterback this fall. "Kids are stepping up."
Wiesbaden will take a 2-1 overall record and 2-0 divisional mark into an Oct. 10 visit to Vilseck.
Winless Kaiserslautern, meanwhile, faces a far more dire predicament.
Raiders coach Aaron Scalise said his already thin team finished Friday night with just 12 healthy players. The lack of reserves left nearly everyone in a Kaiserslautern jersey playing both sides of the ball and often out of their usual positions.
As a result, the Raiders' two-year streak of playoff appearances is in danger as they enter the second half of their schedule. A loss against first-place Stuttgart on Saturday would render the Raiders 0-3 in divisional play and all but end their postseason hopes.
All Kaiserslautern can do is soldier on with its wounded but resilient roster.
"We build camaraderie with the guys that we have, because they're out there giving it. They're busting their tail," Scalise said. "They're working, and they're trying. I can't ask any more of them."
Barrow finished with 198 yards on 17 carries, while Green had 134 yards on 13 carries.
Chris Hobson and freshman Ryan Foote had 11 tackles apiece for the Warriors.
Zaryczny finished with 103 yards for the Raiders; Zachary Schrock led Kaiserslautern with eight tackles.
Twitter: @broomestripes
---
---
---
---