Wiesbaden dominates Day 1 of cross-Alps encounter
by
Kent Harris
April 19, 2019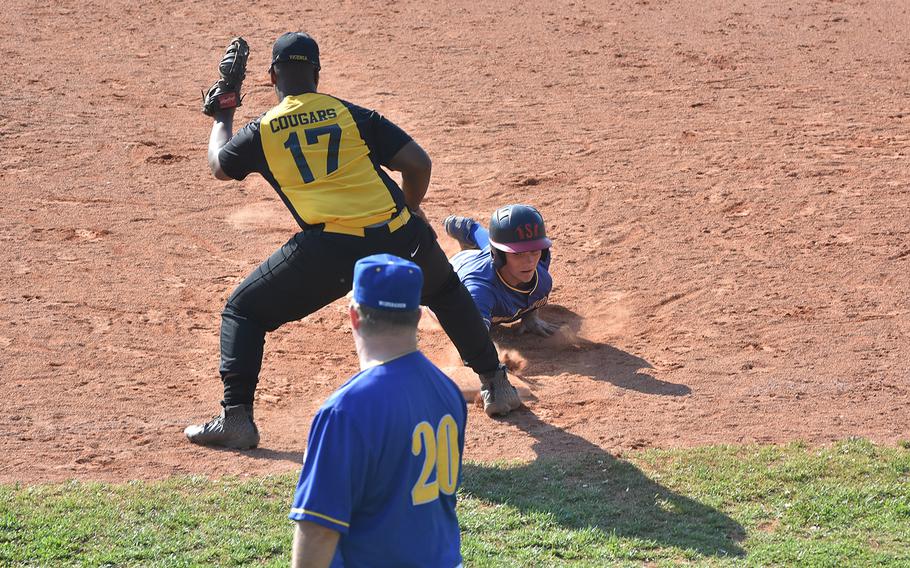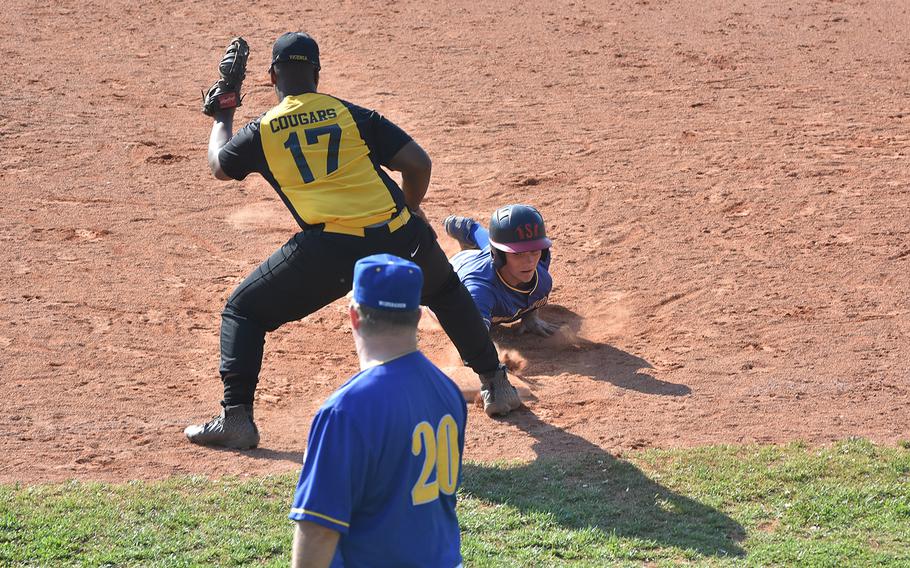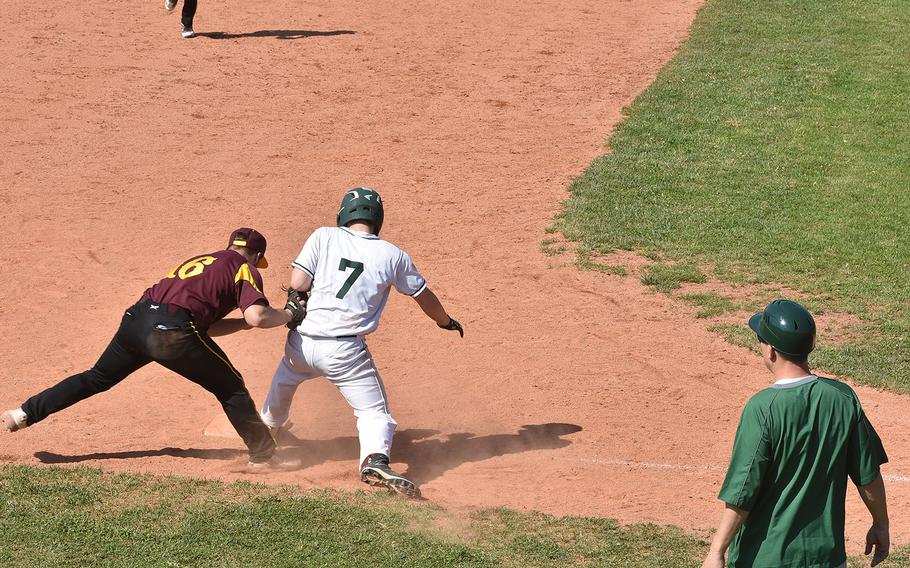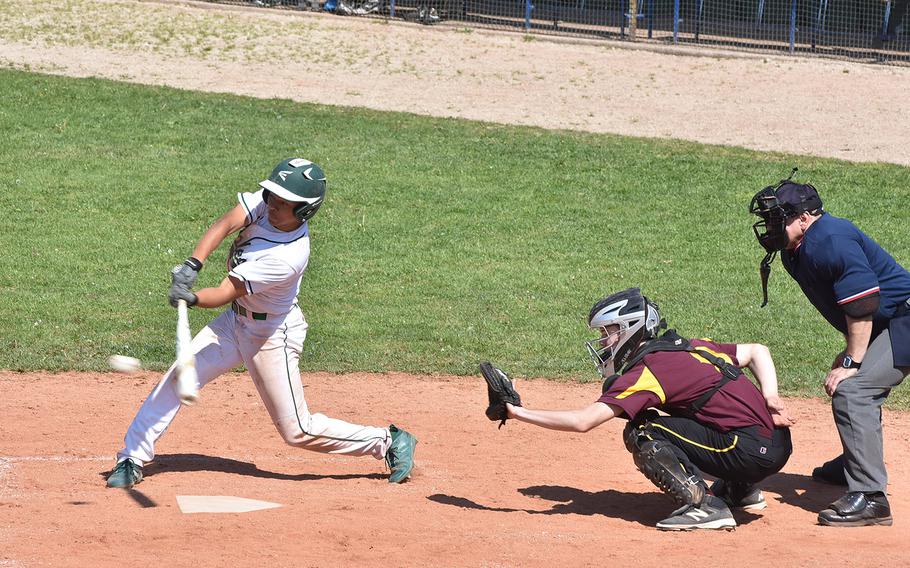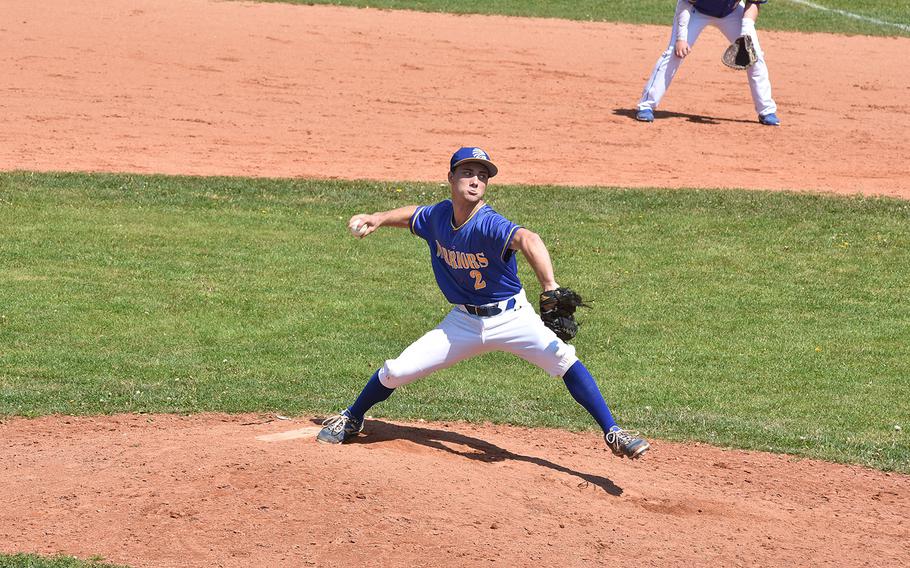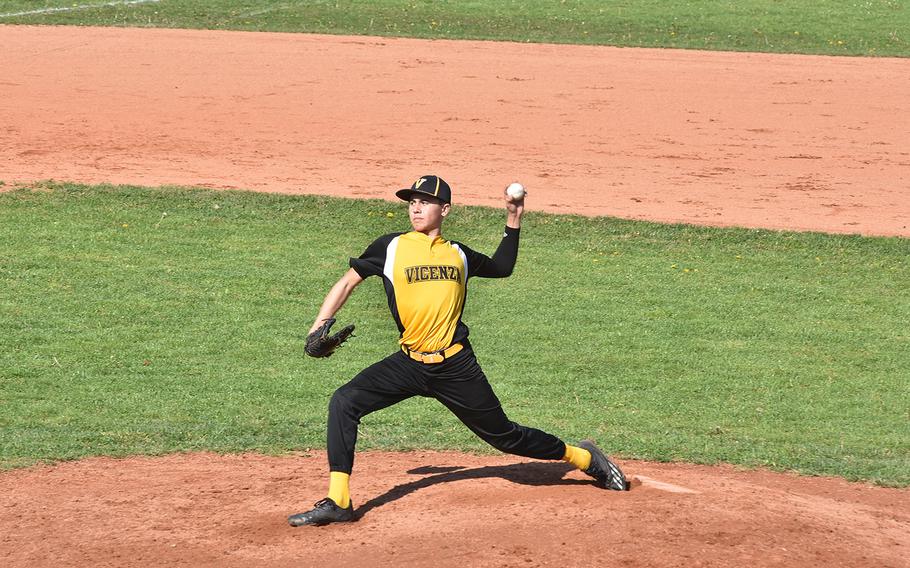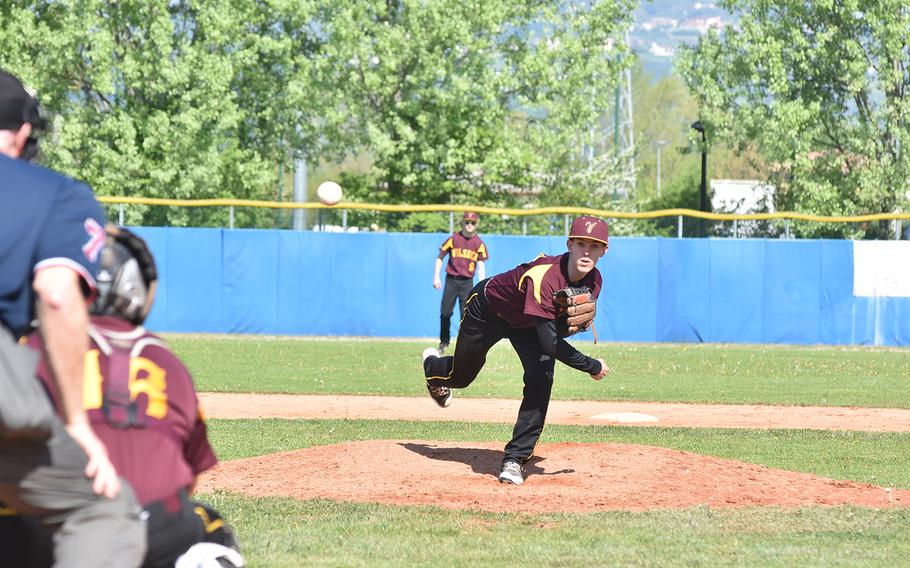 VICENZA, Italy – Steve Jewell has led the Wiesbaden baseball program since it began a decade ago. His Warriors have yet to win a DODEA-Europe title. On the bright side, they've also never a lost a game in Italy.
"Well, we still have two to play tomorrow, so we'll see," Jewell said Friday after Wiesbaden scored convincing victories over Naples and Vicenza in their first trip south of the Alps.
In previous seasons, the Warriors have been known primarily for a potent offense that hasn't been quite enough to offset sometimes shaky pitching.
"The last four years, we've been right on the cusp," Jewell said. "A little play here or there …"
Enter junior transfer Austin Deckinga and freshman Ben Tyler, who dominated their overmatched opponents Friday.
Deckinga pitched into the fourth inning against Naples, allowing a single hit and striking out seven batters in an 11-1 win. Joshua Blake had three hits and Bobby Kennedy, Deckinga and Samuel Houston each drove in two runs.
Tyler was even more impressive in a 15-0 triumph over Vicenza, striking out eight batters in three innings and allowing just a first-inning single.
Deckinga again drove in two runs and Thomas Wieland and R Wilton each had two hits.
Jewell said Friday's pitchers make up just half of what he would consider his rotation – a bounty of arms for a DODEA-Europe team.
"I don't know if it's the best pitching we've had, but we're pretty strong," he said.
He didn't find any doubters Friday.
Naples coach Jim Davis – who saw his team bounce back with a 17-6 victory over Vilseck – termed the Warriors "probably the best team we've seen all year." That includes perennial power Ramstein, which swept the Wildcats in a doubleheader in Vicenza in late March.
Kaiserslautern and Stuttgart visit Vicenza in early May, making it the first time that all the Division I teams in Germany will visit Italy during the regular season, something that all four coaches on Friday supported.
"I've wanted to get down here for years," Jewell said.
Vicenza opened the day by rallying past Vilseck 7-6. The Cougars scored four runs in the bottom of the fourth inning to send the game into extra-inning criteria tied at 5-5. Nick Kinzie scored on a wild pitch to put the Falcons back on top. But Josh Galvin drove in one run and another followed on an error to give the Cougars their second win of the season following an 0-16 campaign a year ago.
"We keep improving," first-year coach David Weiland said. "I think by tournament time we might surprise some people."
The Falcons had an even worse time against the Wildcats, falling behind 17-4 after three innings. All of Vilseck's runs came on a rare three-error play in the second that cleared the bases. Other than that play, though, it was all Naples early on. Keith Rascoe had two hits and scored four times, Ethan Dinsmore and Max Reid each scored three times and Chris Davis and Robby Mitchell drove in two runs apiece.
"We need game experience," Vilseck coach Michael Valenzuela said. "The more experience we have, the more aggressive we'll be able to be and the more good things we'll be able to do."
The four teams meet up again Saturday.