Wiesbaden boys, Ramstein girls early front-runners in golf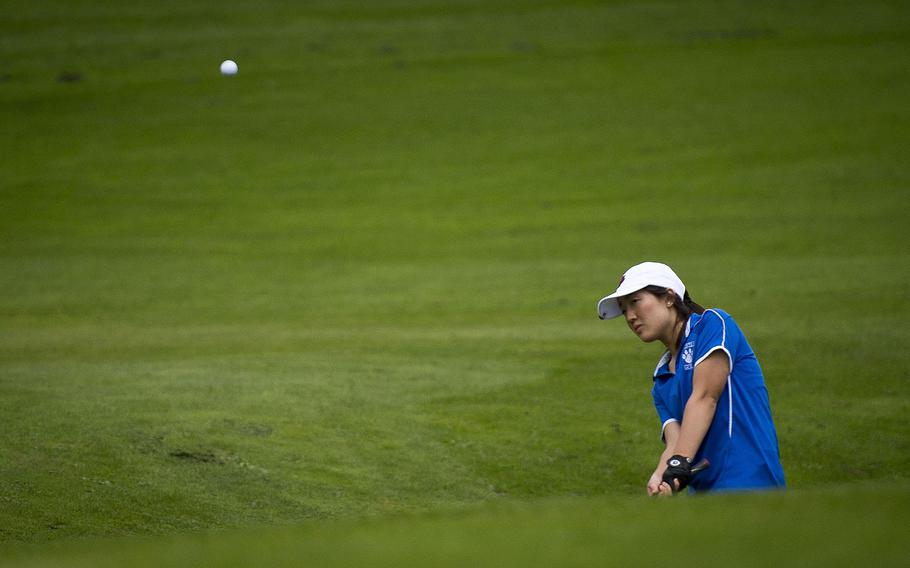 The 2018 DODEA-Europe golf season got underway this week, teeing off the fast-paced run to the school year's first European championship event.
Thursday's major season-opening meet at Ramstein set the stage for what figures to be a fiercely competitive season, for both the individual and team championship races.
The Wiesbaden Warriors edged the Ramstein Royals 112-109 in the Stableford scoring system team tally despite the individual triumph of Ramstein sophomore Ben Todman. Wiesbaden countered with depth, claiming two of the top three spots and three of the top five. Senior Bryan Cortese recorded a score of 38 for the Warriors, landing him just a point behind Todman's 39.
While the boys were evenly matched, the Ramstein girls swept the individual and team races by comfortable margins. The Royals scored 87 points, a full 68 points ahead of runner-up Vilseck, and Ramstein claimed every spot in the top three led by individual winner Phoebe Shin with a score of 33.
Shin is the presumptive champion in waiting after finishing second last year to dynastic champion Jasmin Acker of Kaiserslautern, who completed her three-year reign atop DODEA-Europe girls golf with a senior-year title. Ramstein is eying a repeat as girls team champion after cruising to that title last fall.
Todman and Cortese, meanwhile, top the field of contenders hoping to claim the vacant boys individual title in the absence of 2017 champion Kaden Senkbeil of Kaiserslautern. Cortese finished third at last year's European final meet, while Todman came in fourth. Their season-long matchup should also swing the Royal-Warrior team rivalry; Ramstein won last year's team race 208-185 over Wiesbaden.
In Italy, meanwhile, Naples is relaunching its program after years of dormancy. The Wildcats are led by four seniors and a junior teamed with a set of freshmen and middle-school prospects as the program builds a foundation for the future.
The short regular season leads to the European championship meet Oct. 11-12 at Wiesbaden, the first DODEA-Europe championship event of the 2017-18 school year.
Twitter: @broomestripes