Warriors make plays, Raiders don't - Wiesbaden rolls
---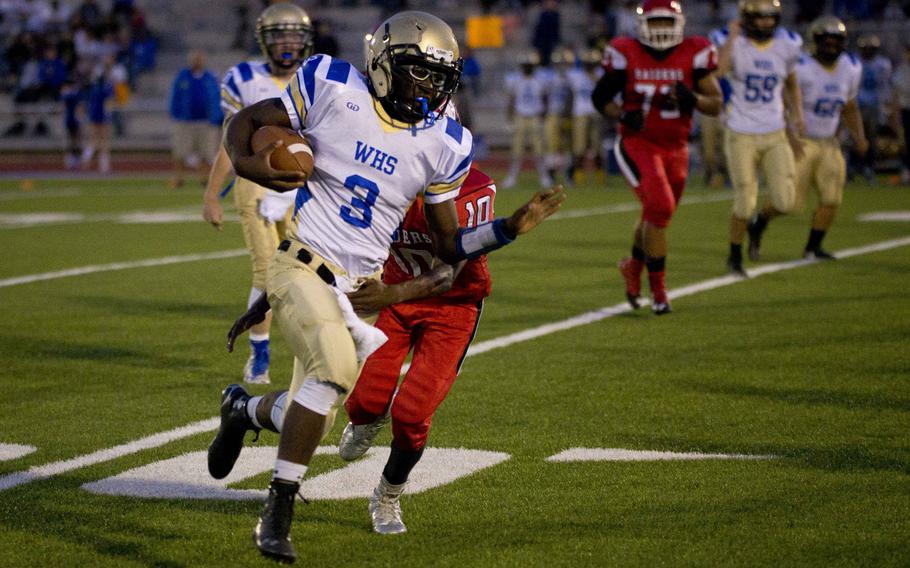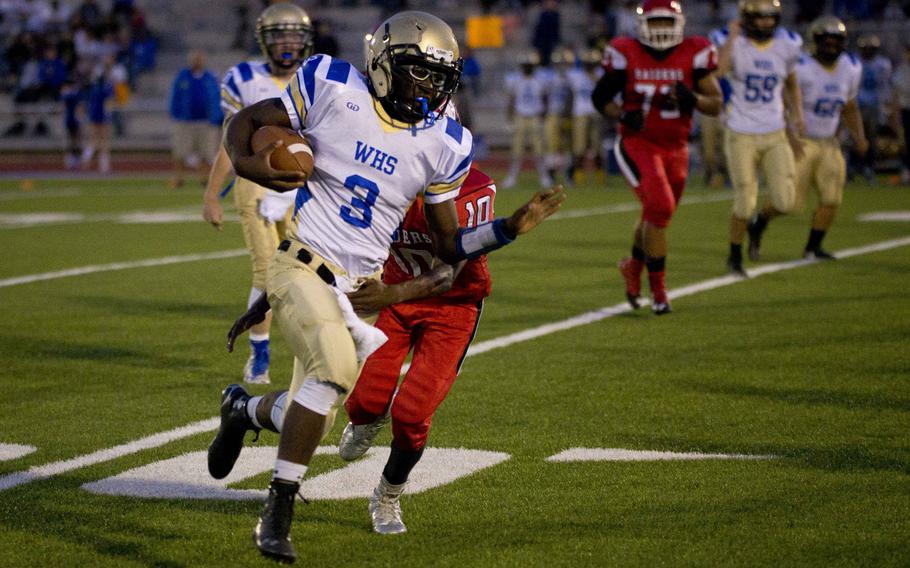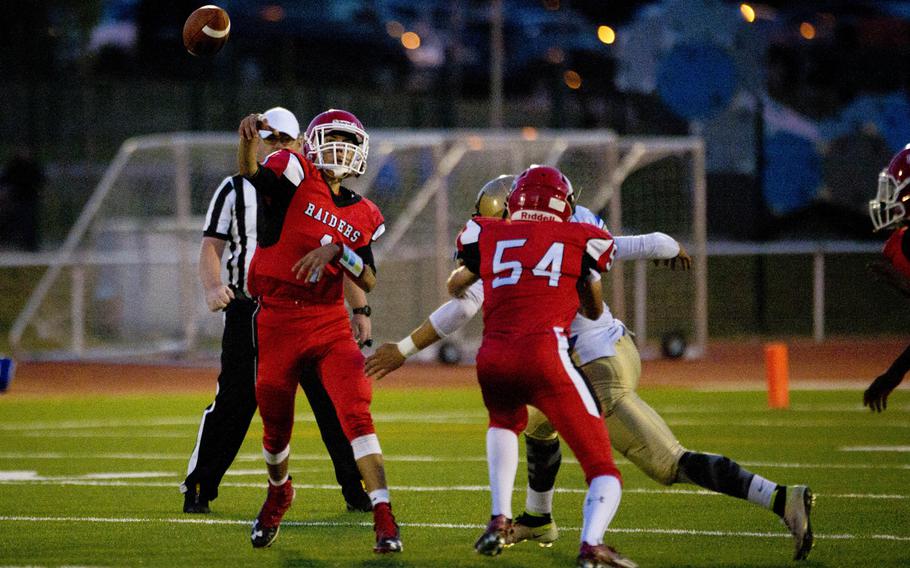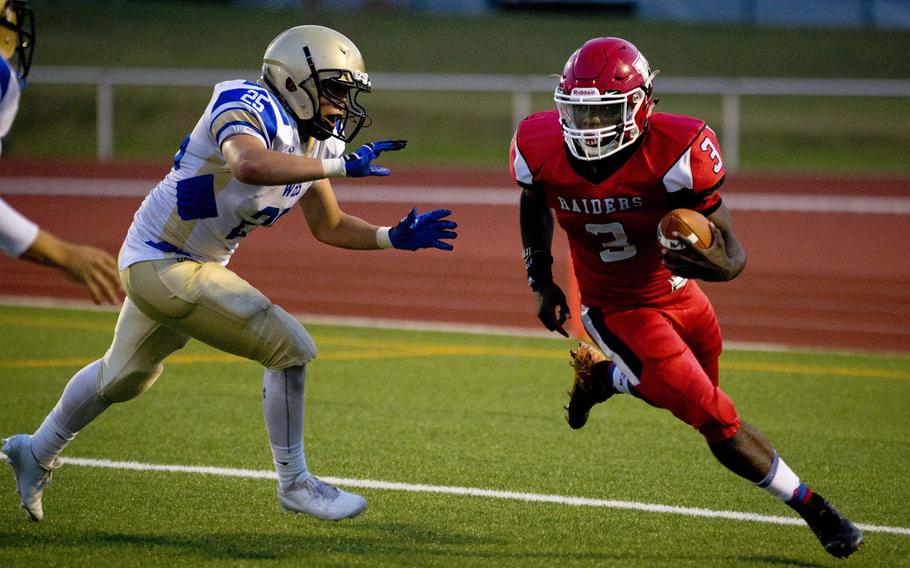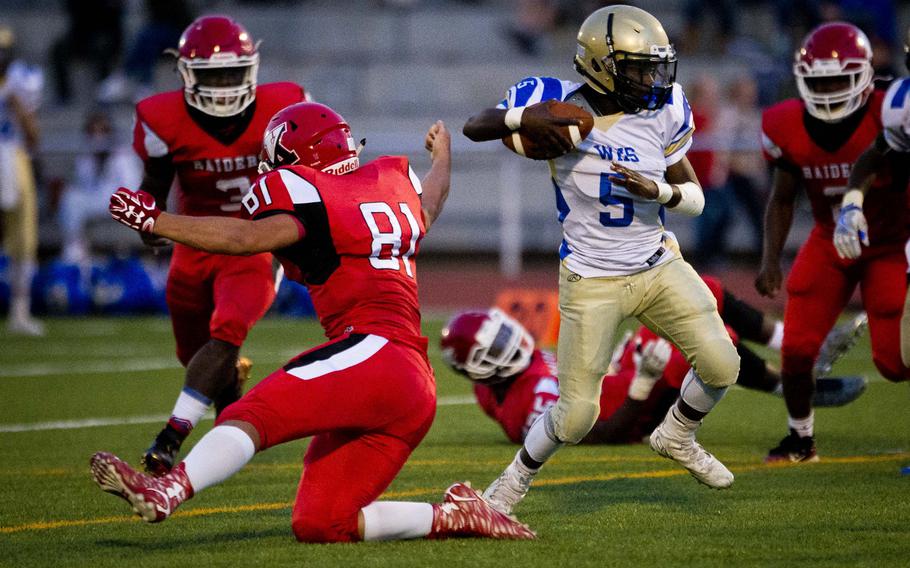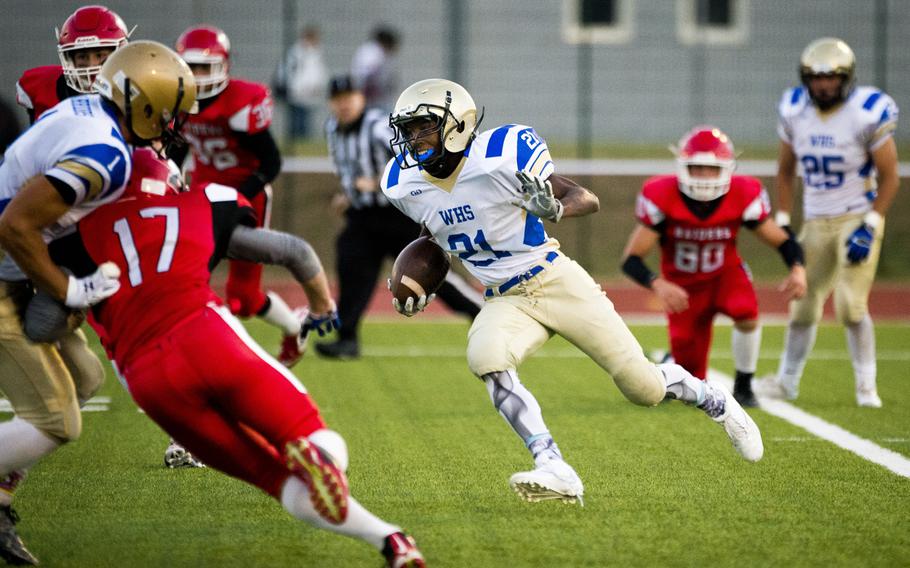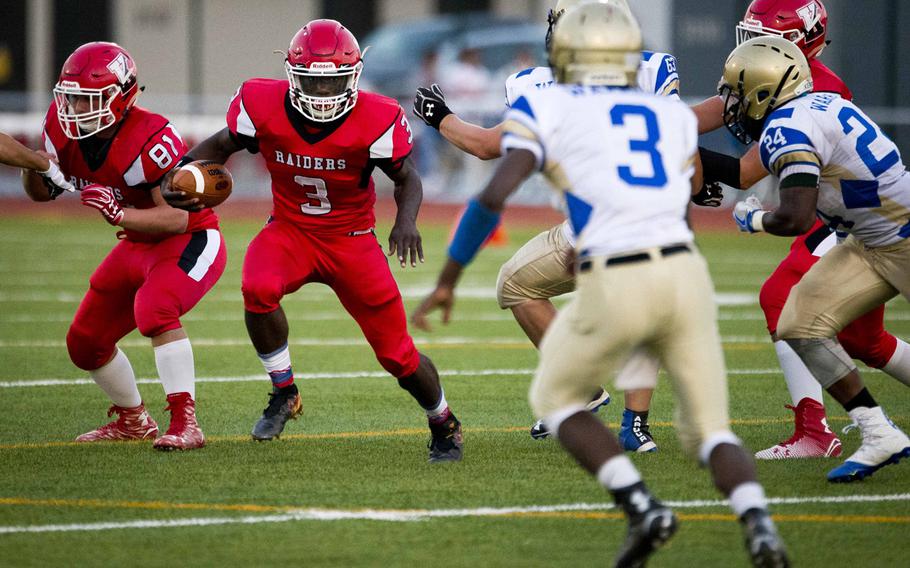 KAISERSLAUTERN, Germany -- Nearly every crucial play went against the Kaiserslautern Raiders, until the game finally got away from them.
The visiting Wiesbaden Warriors spoiled their host's homecoming festivities Friday night, steadily pulling away for a 26-7 victory in a DODEA-Europe Division I football game that was each team's conference opener.
Christopher Hobson led the Warriors with 153 rushing yards and a pair of touchdowns. The senior has been patiently waiting his turn for a starring role in the Warriors' perennially high-powered offense, and now that he's the featured back he's making it count.
"I feel like it's my time. I've been watching all the running backs over the past years,".Hobson said. "This is my moment. I'm ready for it."
Joshua Theodore and Caleb Brown also rushed into the end zone as the Warriors rebounded from a loss to Lakenheath in their Sept. 17 non-conference season opener. Wiesbaden coach Steve Jewell was pleased with Friday's resurgent effort, especially coming from a largely inexperienced roster representing a program that has appeared in three straight Division I European championship games.
"This is a cool group of kids," Jewell said.
Still, he couldn't resist nitpicking.
"We could have put two or three more touchdowns on the board had we just executed a little bit better," Jewell said.
But the Warriors were a savvy group of polished veterans when compared to their error-prone hosts. A sequence late in the second quarter neatly encapsulated the Raiders' struggles.
Down 13-0, Kaiserslautern took possession with an opportunity to pull within a touchdown before the intermission. And the Raiders responded, pushing deep into Warrior territory and setting up first and goal inside the 5 yard line with ample time to complete the drive.
Then the Raiders derailed.
The offense stalled and was forced to settle for a field goal attempt. That kick sailed wide, but a Wiesbaden penalty allowed the Raiders a chance to replay fourth down from about a yard closer. This time the Raiders opted to run for it, and were stopped well short of the end zone as their best chance for a meaningful score dissolved into a demoralizing turnover on downs.
The Warriors breached the end zone twice more before Kaiserslautern finally scored, on a John-Michael Lopez fumble recovery in the waning seconds of the third quarter.
Such struggles aren't unexpected for a team at a very early juncture of a rebuilding project. The Raiders just hope the dues they're paying now eventually pay off.
"We're working at it, trying to get better," first-year head coach Lin Hairstone said. "We're working at it every day."
Twitter: @broomestripes
---
---
---
---